Walking is an activity many millennia old. But today, many artists are still finding fresh ways to use it, reframe it and map it in their practices.
In recent years in Canada, publications like the Spring 2014 C Magazine, themed on walking and edited by Amish Morrell, and exhibitions like "Artists' Walks," curated by Earl Miller for the Art Gallery of Peterborough in winter 2014, have vitally highlighted some of these walking artists and their practices.
Yet it's also worth considering how the last few years—a time of growing protest-march movements in North America, of more widespread understandings of the oppression of Indigenous peoples, and of increased on-foot migration both in Europe and over the Canada-US border—might have shifted how walking is perceived and reworked in current contemporary art.
For settler artists in particular, historical links between walking and colonization also need to be taken into consideration. Rebecca Solnit, author of the classic Wanderlust: A History of Walking, has noted that some walking-related art "smacks of colonialism or at least high-handed tourism."
Here are five artists—five of many—who are navigating this new era, resisting colonialism, racism and ableism in their walking practices, step by step.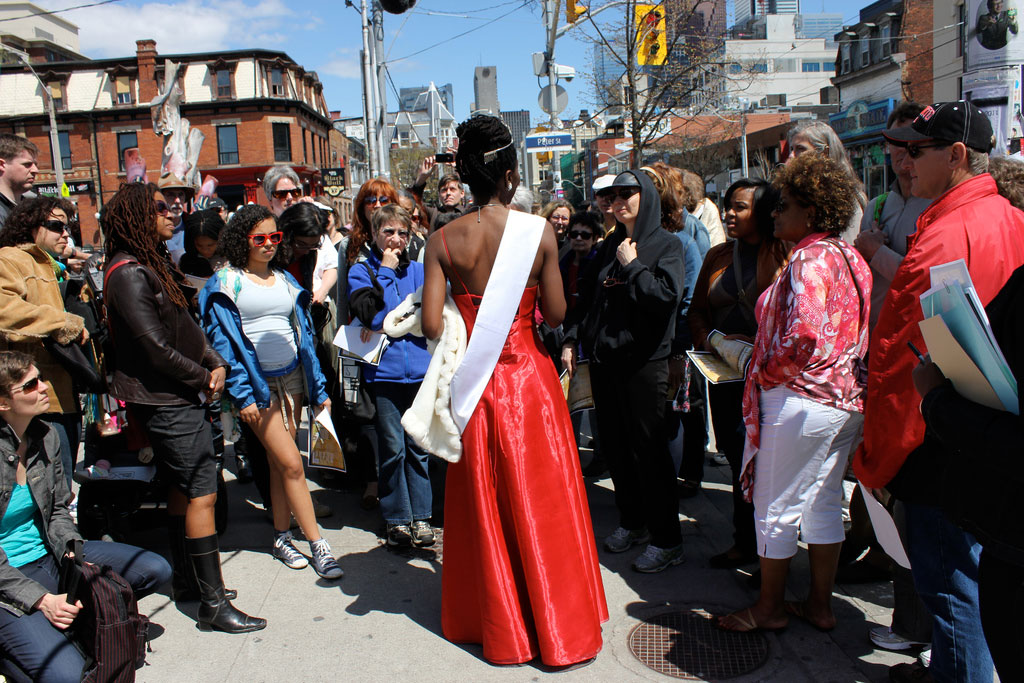 Camille Turner leads her Miss Canadiana Heritage and Culture Walking Tour in 2011. In 2017, Turner is proposing to create a downloadable, self-guided version of the walk, which highlights Black history and heritage in the area of Toronto's Grange Park, home to OCAD University and the Art Gallery of Ontario. Image courtesy of the artist.
Camille Turner: Walking to surface Black histories in white-centric spaces
"For me, walks really bring awareness to the places that we're in in a completely different way than any other types of artwork that I've seen," says Toronto artist Camille Turner. "It really makes people see the space in a completely different way, and I think that's really powerful."
Turner would know—after creating her soundwalk Hush Harbour, which guides participants on a walk near King and Front Streets in Toronto to reimagine the city's Black past and to remap Blackness onto the urban landscape, Turner conducted an online survey to get feedback on the piece.
"[The Hush Harbour participants] said they were looking in a new way at the space they walked through every day," says Turner. "So that way of transforming space is something that walks really do well."
Currently, Turner is working at one of the formal limits of walking-based art—trying to transform the mobile Hush Harbour walk experience into an installation for the Theatre Centre in Toronto.
"There are limitations to walks as well," Turner notes, "because people have to come to the place where the walk is made to experience it. I'm trying to uncouple that, so it can be experienced in other places, and travel."
Turner's understanding of the power of walking to transform experiences of place started well outside of the art realm.
"I've probably gone on lots of different walks, and not necessarily ones that are done by artists," Turner says, saying one of her favourites was "an amazing walk with Ed Mirvish and Sam the Record Man around Kensington Market" in the 1980s.
Perhaps it is the impact of such experiences that drives Turner to imagine how to make the remapping of space and reclaiming of place available via live, in-person walks, and transform that into something downloadable and reproducible.
For example, Turner has proposed that this year she create a digital version of one of the first art walks she ever did: her Miss Canadiana Heritage and Culture Walking Tour.
Originally performed live in 2011, the piece has Turner, in her Miss Canadiana persona, act as tour guide to hidden Black histories of Toronto's Grange neighbourhood. (The area is home to the Art Gallery of Ontario and OCAD University, among other canon-building institutions.)
"I am going to do it as a Google Doc so people can actually do it as a self-guided walking tour," says Turner, who will also remount the work live once more in November 2017.
There may also be a digital or downloadable sound component of the new version of this walk. Turner herself is a great admirer of sonic-walk pioneers like New York's soundwalk.com, which has created a 9/11 memorial walk with Paul Auster, among other pieces.
"I also really love the sonic walks, because for me, it's like time travel—you can bring people backward and forward in time," Turner says. "I use binaural microphones that I put in my ears, so [the recording is] picking up space exactly as I hear it."
And it's not just sound technology that is surfacing in Turner's recent work—in Freedom Tours, a recent collaboration with Cheryl L'Hirondelle for LandMarks2017, Turner organized boat tours around the Thousand Islands area to provide a different kind of mobile storytelling experience. (Turner and L'Hirondelle are also working together on a walk for June 24 in Rouge National Park near Toronto as part of LandMarks2017.)
Ultimately, it is the ability to intervene in history that draws Turner to walking in her practice—especially when it comes to surfacing Black and African experience in spaces constructed by the canon, and by society at large, to read as white or European. (Meetings of past and present Black history also come to the fore in some of Turner's works in other media, like the combination of contemporary photo-portraiture and historical "runaway slave" notice texts in her series Wanted, co-created with Camal Pirbhai and opening in "Every. Now. Then." at the Art Gallery of Ontario on June 28.)
"Walking can be an intervention into history—it's a way of practicing public history, and in bypassing the institutions that create history, you can be a producer of history," says Turner. "I really like these kinds of ways of working, of intervening in space and in the way that power is kind of written itself in the land."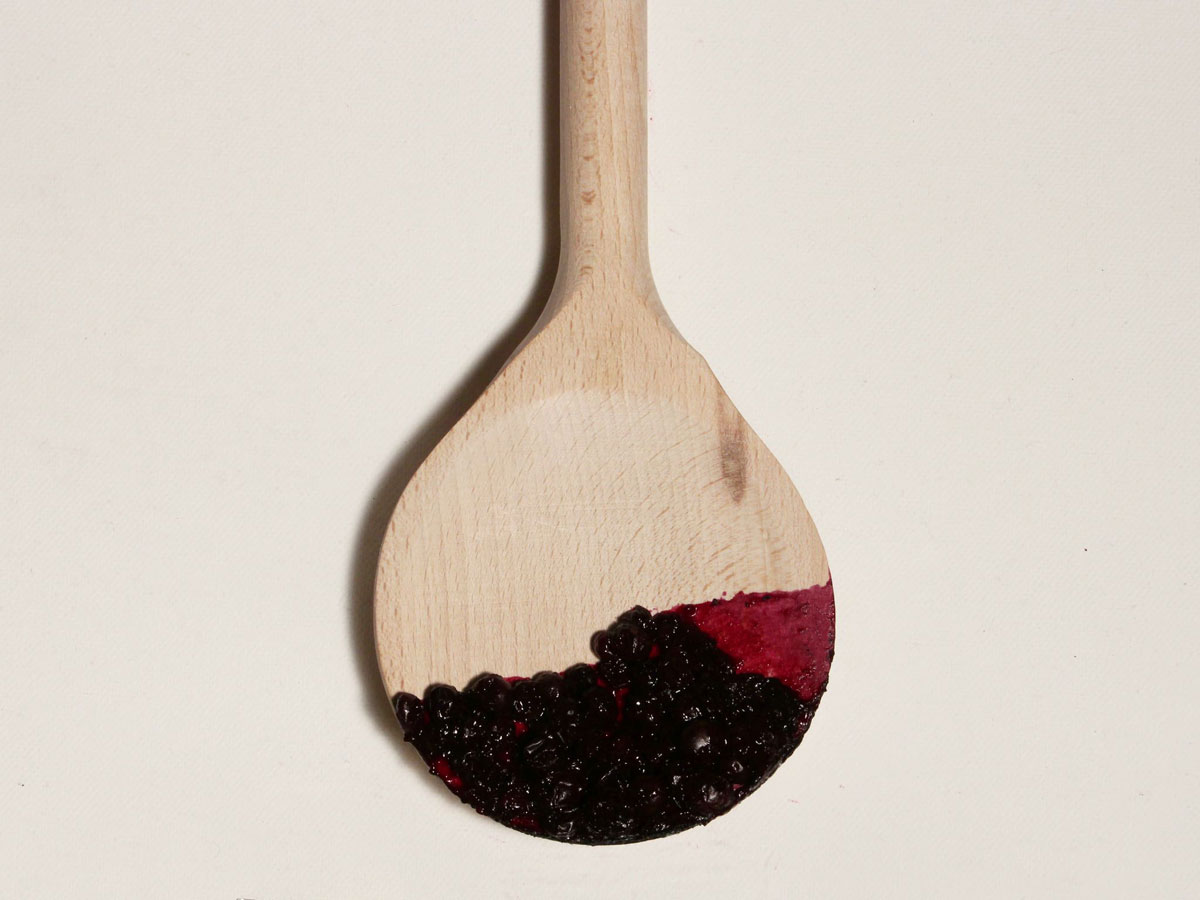 The materials and title of Lisa Myers's work from then we lived on blueberries for about a week pays homage to an on-foot journey her grandfather undertook to flee Shingwauk Residential School in Ontario. Myers herself once did an 11-day walk tracing the route of her grandfather's journey. Photo: via Artcite Facebook page.
Lisa Myers: Tracing the paths of Indigenous ancestors through walking and art
When he was a boy, artist Lisa Myers's Anishinaabe grandfather walked some 250 kilometres along Northern Ontario railroad tracks for one reason: to escape Shingwauk Residential School in Sault Ste. Marie.
Myers recorded her grandfather's account of this journey during a conversation with him in the 1990s—and she listened it to it many times before she made the decision, in 2009, to walk the route he'd described alongside her cousin Shelley Essaunce and her nephew Gabriel.
Myers and the Essaunces took 11 days to walk the 250-kilometre journey.
"After this walk," Myers writes in a 2016 Walter Phillips Gallery exhibition essay titled "Rails and Ties," "I began thinking about how to locate myself within my grandfather's story, and about how I wanted to convey its different iterations. One thing that struck me was that he survived by eating blueberries growing along the tracks. He said, 'and from then on we lived on blueberries for about a week.'"
The latter quotation from her grandfather became the title for a video installation by Myers—one related to trauma, food, walking and survival—that was on view at Artcite in Windsor this spring as part of the exhibition "Walks of Survivance."
"Instead of always repeating his story, [walking] was a way of finding myself in that story," Myers told curator Maya Wilson-Sanchez a few years ago. And by walking, Myers also told Wilson-Sanchez, she was "able to bring the places in the story to life."
"When I recall walking across the railway bridge over the Mississauga River north of Lake Huron," Myers writes in "Rails and Ties," "I think about my fear of the elevation, and how gusts of wind unsteadied my steps. Finding my footing meant looking down and seeing the river rushing 50 feet below the railway ties of that century-old steel bridge. The Mississagi River flows into Lake Huron, the railway crosses the river, and from my grandfather's account of his journey this was the first place (after leaving school) where he heard his language and saw Anishinaabe people cooking and sharing food down by the river. They welcomed him, and fed him."
During her walk in her grandfather's footsteps, Myers also heard stories of other youth who had escaped the way he had. Ultimately, her works on this theme—which include both abstract and map-like prints made with blueberry pigments, as well as documentation of wooden spoons stained with blueberries she has shared with others, also speak to a complex intertwining of group and individual journeys, of landscapes that are real and imagined.
"The spoons represent sharing, sustenance and the gathering of people," Myers writes. "When I line these spoons up side by side, the reddish-blue marks continue from one utensil to the next, recalling an imaginary topography or horizon line created by the trace of berry consumption."
In this sense, walking and artmaking become different ways of tracing and "straining" an experience.
"Straining to survive, or even to be accepted, means the less digestible parts of stories need to be retained, traced, remembered and told," Myers writes.
Of course, Myers is not alone in thinking about walking as a mode of Indigenous resistance and survival.
"There's the water walk that is happening, and which is not directly art-related," Myers said in a phone interview. "But I think Indigenous artists are wanting to also acknowledge that these forms of activism are happening. There was walking from a community in Nunavut, [Idle No More] walking to Ottawa to make a point."
"Walking to safety is a really important narrative in talking about survival, and surpassing survival to freedom," says "Walks of Survivance" curator Srimoyee Mitra.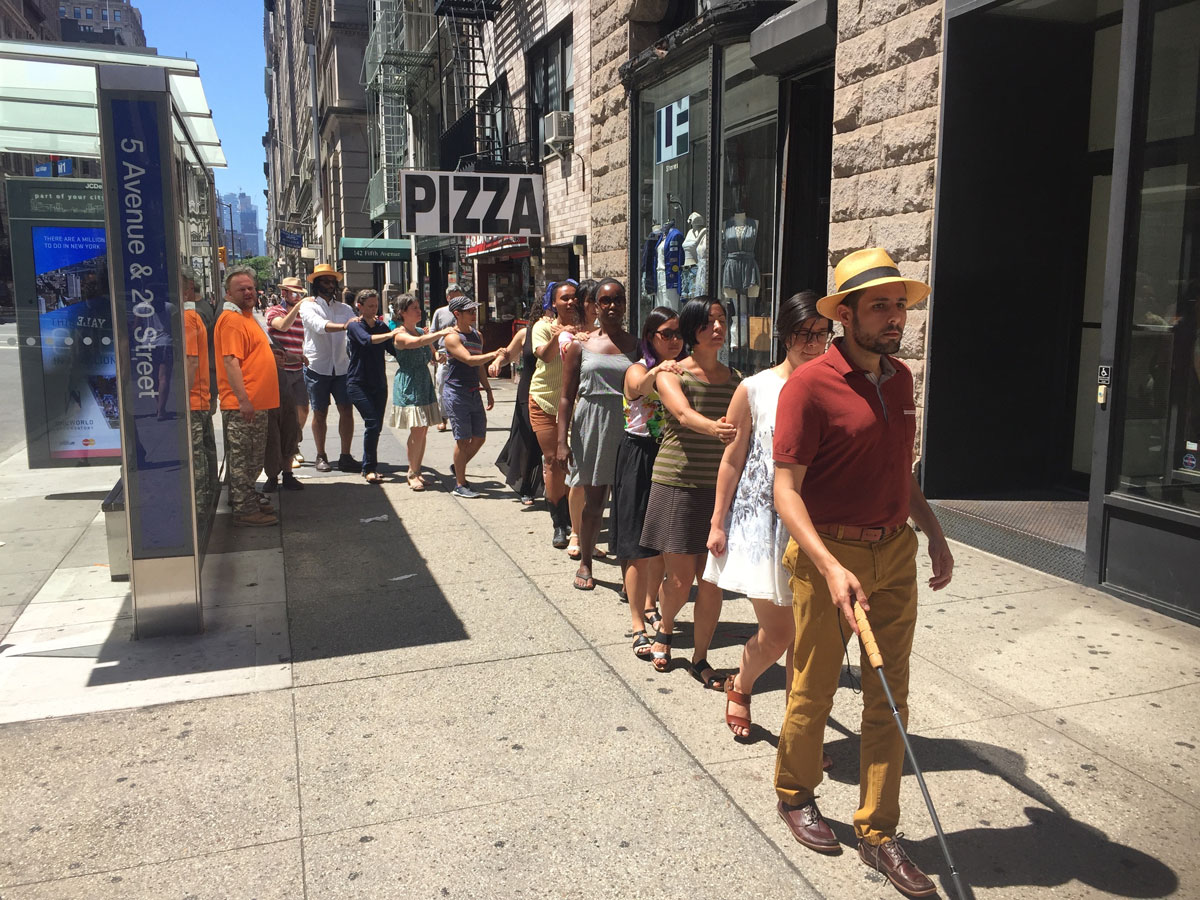 Artist Carmen Papalia leads one of his Blind Field Shuttle walks in New York City as part of the 2016 exhibition "In the Power of Your Care" at the 8th Floor. Photo courtesy the artist.
Carmen Papalia: Decentring the primacy of the visual in art and culture by walking that promotes non-visual learning
Vancouver artist Carmen Papalia's walking-based artworks—recently enacted at Tate Liverpool and in Cambridge, Massachusetts, and launching June 22 in Ottawa, as well as unfurling July 17 in Vancouver—are often hard to miss.
For Blind Field Shuttle, which he has performed in various locales since 2010, Papalia invites participants to close their eyes and walk with him, hand to shoulder, in a human chain that can stretch up to 90 people long. And for White Cane Amplified, created in 2015 and due to be enacted on June 26 starting from the Ottawa Art Gallery Annex, as well as July 17 with VIVO and WalkingLab in Vancouver, Papalia chooses to navigate unfamiliar streets with megaphone-amplified speech expressing his needs and uncertainties—"kind of using a megaphone in place of a white cane, and to perform the social function of the cane," he explains.
Both of these works—compatible with his wider, conceptual Open Access framework—aim to decentre visual experience. It's a conscious goal Papalia himself has made as a self-identified non-visual learner.
"When I started inviting people to walk with me with their eyes closed, it was in an effort to find a community of non-visual learners who might want to share that with me—who would really spend time decentring vision and the visual experience," says Papalia.
But he hopes the effects reach well beyond his own direct connections.
"I feel like [the Blind Field Shuttle walks] are kind of like a political statement," Papalia notes, "in that there is a group of people occupying public space together—it's really a disruption, all these people who are choosing to shut their eyes and practice using their non-visual senses for a given amount of time."
That political aspect of Papalia's work is due to be amplified this summer in an Ottawa walk on June 25 that is overtly structured as a political march.
"The march will be a proper march with a banner and sound system, and we're renting a flatbed trailer and making a display. It's called a March for a New Accessibility." This is well timed given that the Canadian government is currently developing a new accessibility policy.
Interestingly, Papalia thinks of his Open Access framework (which has also been the basis for gallery exhibitions, as well as internal and external workshops at art galleries and museums) as "an anti-policy…because policies tend to an enforcement model that requires people to be responsible to communities of disabled folks, rather than making mutual, long-term relationships with folks being served by them."
Just as a walker must adapt to the environment around them, for instance, Open Access suggests that institutions adapt to the needs of various stakeholders in an active, alive and responsive manner.
"Open Access tries to include many different experiences, including conversations about people, about agency and power and how one might hold agency in a given context—rather than just, you know, being concerned with the conditions of the built environment or equality in the workplace," says Papalia. "And it opens up the conversation about accessibility to non-disabled folks and other people working through various marginalizing experiences."
There is also a quiet (and, with White Cane Amplified, sometimes not so quiet) radicalism to Papalia's group walks—it's a place where trust and mutual exchange, also hallmarks of the Open Access philosophy, are nurtured.
"There is something radical about [eyes-closed walking] in the context of a culture that really privileges the visual experience. There are so many opportunities for us to practice looking…and I think the walking tour is one of the very few invitations that we get to practice using our non-visual senses."
The museum is one place in particular that privileges visual experience—and so it is also a venue that Papalia is increasing leading eyes-closed walks within, too. Each of the Open Access workshops he leads starts with a walk, for instance.
"I can go to a museum, and sometimes there will be objects I can touch—but the idea is you can touch these things as a way to understand what an object looks like…most times the object that will be available to touch will be referring back to a visual object." And it makes sense that, sometimes, it might only be through following Papalia on a walk that museum staff can come to a visceral understanding of this themselves.
Given the broad geographic reach of Papalia's work so far—he is actually more widely exhibited outside of Canada than within it, and he was recently hired to teach art students in Charlotte, North Carolina, for a semester—it's fair to say his walking-based and other work is generating some very necessary conversations and awareness among a largely visual-centric populace.
"I didn't make my work for folks who are already well equipped to navigate conversations about accessibility," Papalia says. "It is mostly the folks who are in positions of power—who are not understanding what systematic oppression looks like, what it does and how it operates."
Jaime Koebel: Uncovering, and correcting, the Indigenous histories marked in Canada's capital
Jaime Koebel is the founder of Indigenous Walks, "a walk and talk tour through downtown Ottawa that brings awareness about social, political and cultural issues while exploring monuments, landscape, architecture and art through an Indigenous perspective," according to its website.
Part of the appeal for Koebel—an Indigenous arts activator who also works in traditional and contemporary Métis/Cree art forms such as dance, fish-scale art and beading—is highlighting Indigenous stories that are alternately cloaked, mistold or misrepresented through monuments in Canada's National Capital Region.
"I open up some information about what each of the monuments is representing, and what each is hiding," says Koebel.
"We take a look at some monuments that have a clearly Aboriginal theme, like monuments to Indigenous veterans, but there might be some monuments that seem to be Indigenous"—and aren't.
There are also, Koebel notes, "monuments that seem to have nothing to do with Indigenous people, but there is no information given" about those Indigenous connections.
And on the flipside, there are monuments in Ottawa that seem to be about Indigenous people, "but are actually more about Canada."
Koebel is well poised to undertake this kind of work—her graduate and undergraduate degrees are in Canadian studies, and she says, "as an Indigenous person having lived in a rural community and moved into an urban centre, that really helps inform my perspective." She is also practiced in looking at art; Koebel works at the National Gallery of Canada, too, where she was assistant curator on its major survey of Dene-Sauteaux artist Alex Janvier.
Having worked at the National Gallery of Canada as an educator during "Sakahàn," a massive exhibition of Indigenous art, Koebel sensed that there was a hunger among non-Indigenous people to learn more about Indigenous histories and cultures.
After conducting youth tours of "Sakahàn," she says, and opening up conversations with youth there about the artworks on view, "what I found so interesting about these conversations was, inevitably, at the end of the tour, I could see these non-Indigenous folks hanging around, and I could see that there was this hunger to know more about Indigenous people."
For Koebel, walking also aligns with her cultural beliefs around Nehiyawak. This Cree term and concept underlines that there are four parts for human beings—that is, spiritual, physical, emotional and mental aspects of the self.
"The one thread that ties" all of Koebel's art forms together, she says, "is that they really include all four aspects of what it means for me to be a human being."
That experience, in part, is what led her to establish Indigenous Walks in 2014. Spring and summer are a particularly busy seasons for the walks, and Koebel also hopes that tour participants right now get a sense of her culture's values during their experience with her Indigenous Walks team.
"I think when people leave the tour, they get a holistic experience, an understanding of those four parts that together form what it means to be a human being," Koebel says.
Pamila Matharu: Hiking to see cities differently, and to walk side-by-side with those on the margins
In 1976, at the age of two-and-a-half, artist and educator Pamila Matharu landed with her family from Birmingham, UK, to "a concrete jungle" apartment-block in Toronto. Later, as "a tween with a ravine in the backyard" in the suburbs, and then as a downtown artist, Matharu says she was "thinking all along that I had acquired knowledge about parks."
"But I really only started to deeply understand my connection to nature and the land," says Matharu, through walks that she started to do a few years ago with Nettie Lambert, a field biologist and acupuncturist who became a friend.
The implications are ones that Matharu wants to bring to others, now—both through her work as a high-school teacher and as a member of the Sister Co-Resister collective, which also includes Kiera Boult, Marilyn Fernandes, Ananda Gabo, Ashlee Harper, Shaista Latif, Syliva Limbana, Sofia Mesa and Annie Wong.
The Sister Co-Resister collective will be part of a group exhibition and conference called "Migrating the Margins" at the Art Gallery of York University this fall, as well as in "Every. Now. Then: Reframing Nationhood," opening June 29 at the Art Gallery of Ontario.
For Matharu, her experiences as a teacher, artist, walker and collective member intertwine in ways she continues to learn from.
"My weekdays are filled with teaching a spectrum of 16-to-21-year-old youth, including those who don't have a lot of access, meaning they've never gone on a vacation out of the city core or margins, let alone a hike," says Matharu in an email. "I started to make connections in my 'art world' life with what a lot of privileged folks in the centre never experience or think about: belonging to our land."
Part of this process of learning as an immigrant-settler and a teacher has come for Matharu by accessing the Toronto District School Board's Urban Indigenous Education Centre in Toronto, particularly through consultations with Tanya Senk and elder Dr. Duke Redbird.
"Decolonizing my pedagogy has significantly helped my art practice become undone and decentred…[and] hiking has been instrumental in these actions," writes Matharu.
Matharu also notes that walking can be both a metaphor and a concrete activity for re-examining allyship and belonging in the arts and elsewhere.
"Belonging is still a very complicated concept for many in the art world, especially when we think of the market forces that pre-exist," writes Matharu. "All we [in Sister Co-Resister] will propose [this fall at the AGYU] is to walk side by side with Indigenous, Two-Spirit, trans and Black lives, sans spectacle but as an act of solidarity building…where we will continue to decentre as a practice, and create a platform for people who never really get forums to be heard. What better way but to centre nature, walking, hiking and sharing that experience?"
Leah Sandals is managing editor, online, at Canadian Art.