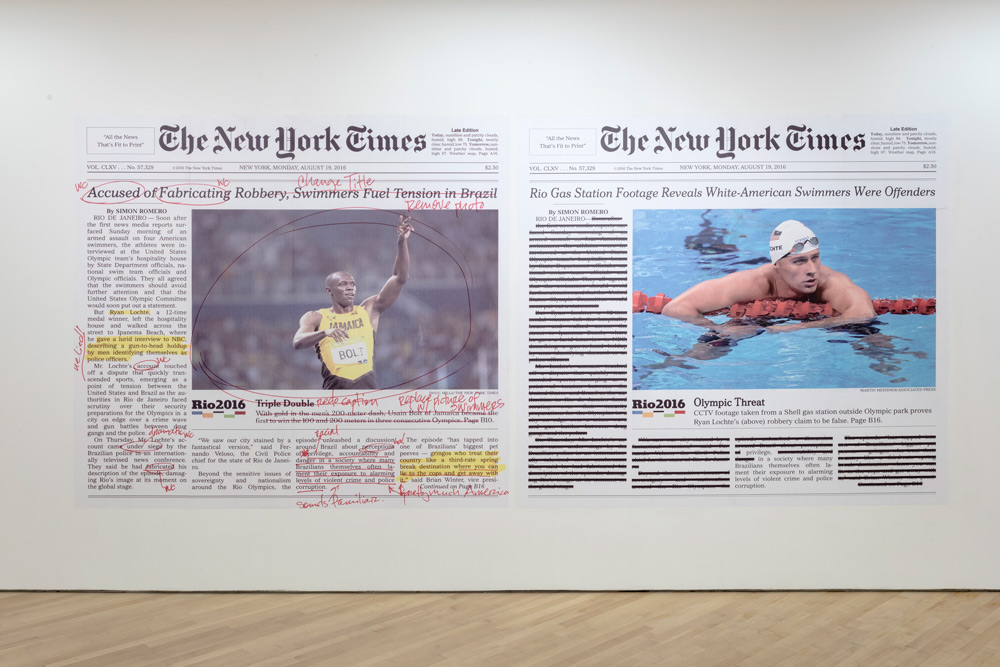 Alexandra Bell, Olympic Threat, 2017. Installation view at "An unassailable and monumental dignity," CONTACT Gallery. Courtesy of the artist. Photo by Toni Hafkenscheid.
The group exhibition "An unassailable and monumental dignity" is on view at Contact Gallery until November 18. In it, works by artists Alexandra Bell, Mohamed Bourouissa, Leslie Hewitt, Aaron Jones and Keisha Scarville address representation and Black masculinity. These emerging and mid-career artists use different approaches to the medium to unravel violent stereotypes inherently tied to photographic representations of Black men, and the works assembled for this exhibition are a well-rounded example of how collage, found objects and re-assemblage are being used by Black artists in contemporary art. Together, the works in "An unassailable and monumental dignity" jostle and unhinge some very staid representations of Black masculinity that have become entrenched in mass media. As societal understandings of gender and sexuality develop and expand, an exhibition like this importantly marks a fixed point in a distinct, ongoing conversation.
"An unassailable and monumental dignity" comes at a time when museums, galleries and art institutions are featuring more Black artist practices. In recent months, Toronto art spaces have been host to many solo and group exhibitions by Black artists, including Deanna Bowen at Mercer Union; Cauleen Smith, Camille Turner and Jerome Havre at TPW; Tau Lewis and Curtis Santiago at Cooper Cole; Siwa Mgoboza at Matter; Sandra Brewster at Georgia Scherman Projects; Dawoud Bey at Ryerson Image Centre; Isaac Julien at the ROM; and Zun Lee and Jalani Morgan at Ryerson Image Centre and Black Artists Network Dialogue.
The exciting upshot of this new attention on Black artists' works is that a multiplicity can emerge in our understanding of Black aesthetics and Black artistic practices in Canada, where a local art history in which to contextualize such works is still in formation. Exhibitions like this one add to a growing regard for excellence in Black creative work, especially as an avenue through which to address larger social justice issues facing racialized communities.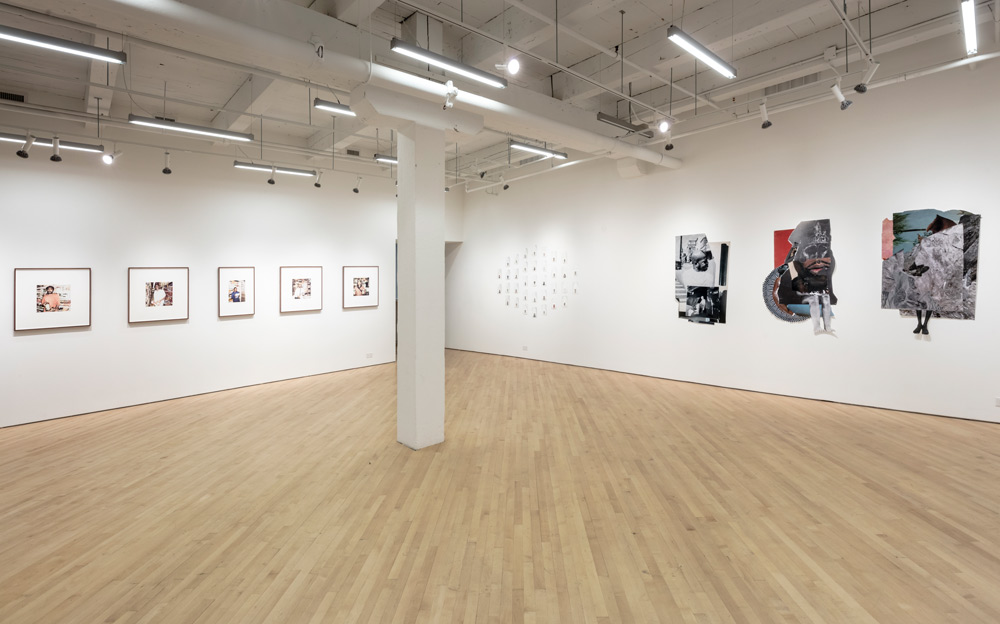 "An unassailable and monumental dignity," installation view, CONTACT Gallery. Photo by Toni Hafkenscheid.
In an e-mail exchange, exhibition curator Heather Rigg explained her approach to putting together the show. She began by describing the influence of theorist bell hooks:
I always refer back to the writings of bell hooks for her poignant essays on race and visual culture. Many of the her works that I return to are from the early to mid 90s, and it is interesting (and important) to consider them within the context of 2017. Her 1995 essay "In Our Glory: Photography and Black Life" illuminates the power and importance of the family camera and vernacular photography. In her words: "Cameras gave to black folks, irrespective of class, a means by which we could participate fully in the production of images." These types of photographs fill the void of positive, intimate, everyday photographs of loving Black families, in visual culture.

hooks' 1992 book Black Looks, Race and Representation perhaps speaks most closely the exhibition as a whole. The introduction to the book opens with the sentence: "If we compare the relative progress African Americans have made in education and employment to the struggle to gain control over how we are represented, particularly in the mass media, we see that there has been little change in the area of representation."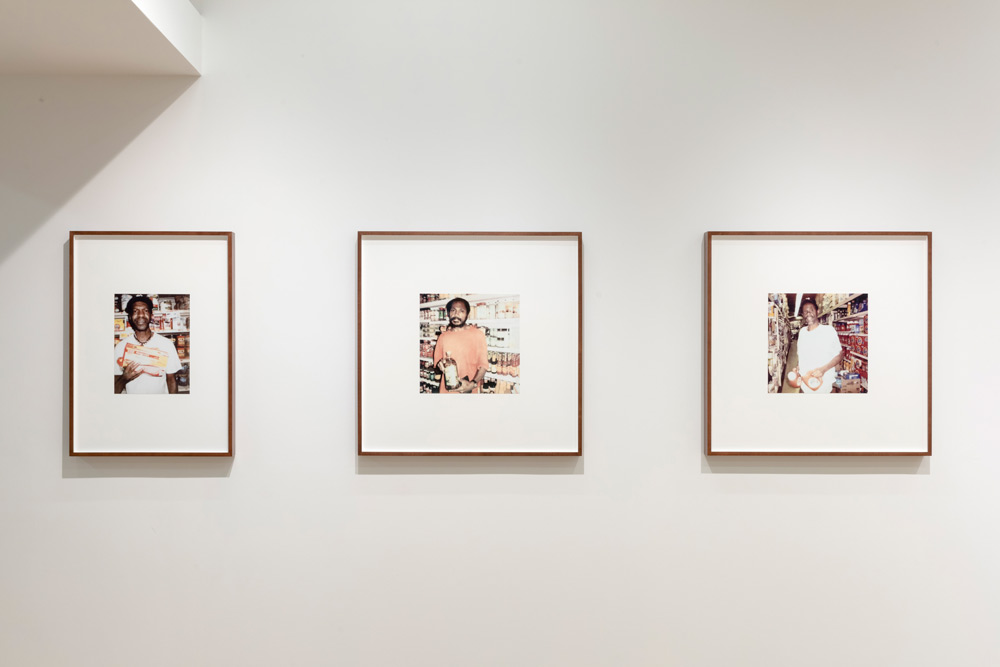 Mohamed Bourouissa, selection from the Shoplifters series, 2014–2015.  Installation view at "An unassailable and monumental dignity," CONTACT Gallery. Courtesy the artist and kamel mennour, Paris/London. Photo by Toni Hafkenscheid.
My interest in this subject [representing Black masculinity] and desire to create an exhibition on this topic came from my intrigue with Mohamed Bourouissa's Shoplifters series. I felt the work provided a layered look at images of Black males in the public sphere. They begged questions regarding the relationship between subject and photographer, the complexities of the situation the "shoplifters" are in, their willingness to have their photographs taken, and their gaze. I felt that Bourouissa's recontextualization of these photographs into formal portraits provided a strong dialogue with other artists working in similar, albeit disparate manners, and I wanted to build a conversation around that.  The topic felt pertinent given the severe lacuna of positive imagery of Black males in news media and popular culture. I felt it timely and important to put together an exhibition that asks viewers to unpack the way we read and understand publicly viewed photographs of Black males.

All of the artists have very different practices. What they all have in common is that they are using found photographs and objects to question the intersecting forces and racial biases that place photographic images of Black males in public spaces. I was drawn to the intimacy of Keisha Scarville's Passport series, how personal the series is, while providing a collective look at passport photographs and how they a/effect the way we identify ourselves and others.
Keisha Scarville, Passports, 2012–2017. Installation view at "An unassailable and monumental dignity," CONTACT Gallery. Photo by Toni Hafkenscheid.
I also felt Scarville's series provided a great connection to the collage work of Aaron Jones and Bourouissa's portraiture work. The passport photograph is also reminiscent of mugshots and other forms of images that can often accompany a news story, creating an interesting juxtaposition with Alexandra Bell's work. While Bell's Counternarratives series is the most literal undoing of racial bias, I like that her work shows editors, writers and publishers the power of words and images, and how to tell stories from a place of equality and moral responsibility. Even more importantly the work shows readers how to read, and empowers them to question everything.

Leslie Hewitt's Still Life Series also asks us to consider the relationship between text and image through the bringing together of vernacular snapshots with books such as James Baldwin's The Fire Next Time (where the title of the exhibition comes from). Her practice is rooted in sculpture and I like that her work foregrounds tactility and three-dimensionality.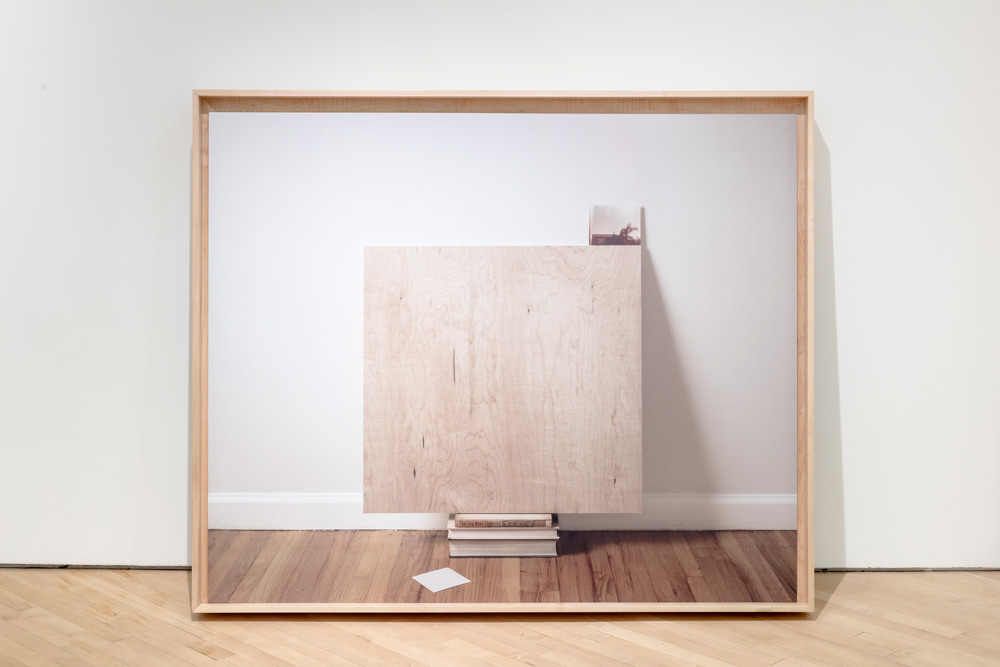 Leslie Hewitt, Untitled Candid, 2013. Installation view at "An unassailable and monumental dignity," CONTACT Gallery. Courtesy of the artist and Sikkema Jenkins Gallery. Photo by Toni Hafkenscheid.
"In Our Glory" provides great context and insight to the use of vernacular family photographs in Hewitt's work. I think it is important that such objects are presented within the same gallery space as images we see daily in the New York Times, for example, or in those found in print publication such as with the work of Aaron Jones.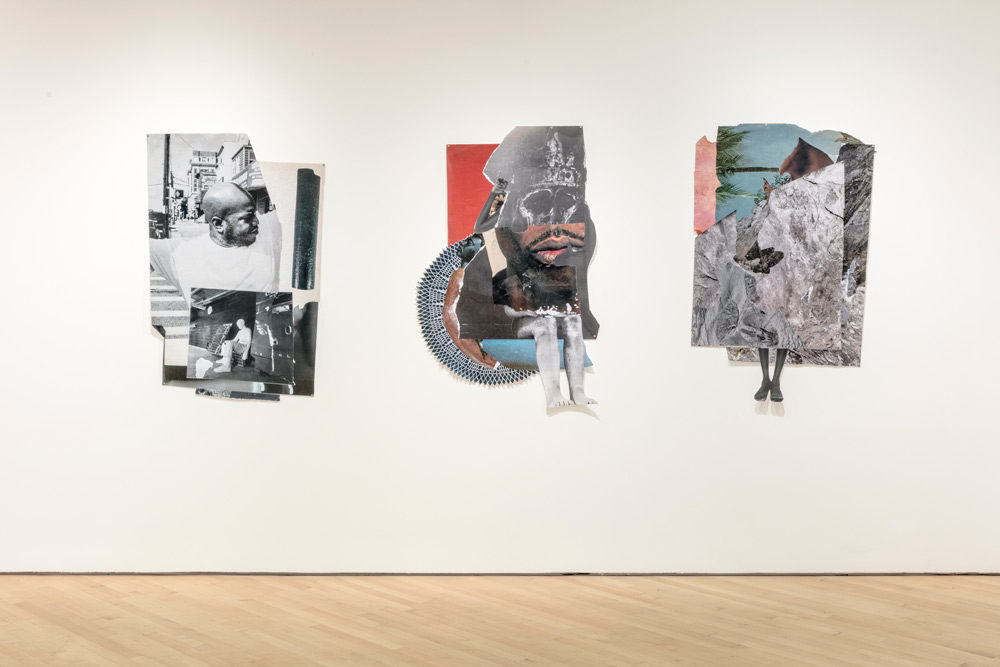 Aaron Jones, Untitled, 2017, Installation view at "An unassailable and monumental dignity," CONTACT Gallery. Courtesy of the artist. Photo by Toni Hafkenscheid.
I did think about including work that also explored publicly positioned images of Black women, however, as with images of Black men in the public sphere is it a very large topic, one that I feel needs a space and exhibition dedicated exclusively to it. With An unassailable and monumental dignity I am very happy that three of the five artists are women of colour, all of whom have divergent practices that speak to the way Black men are visualized.