"I am using my arm to determine the length of the gaze."
                                             —Eve Tuck and C. Ree, "A Glossary of Haunting"
In summer 2017, community members from Six Nations of the Grand River set up a blockade on a section of Argyle Street in Caledonia, Ontario—an area now known as Kanonhstaton. The blockade took place on the grounds at the centre of the Grand River land dispute, land that the Crown had granted Six Nations in 1784 under the Haldimand Proclamation and that the community has never ceded. The 2017 Caledonia blockade came just over a decade after an instance of direct action that would come to be known as the Caledonia Standoff, when community members of Six Nations and their supporters occupied an area of Kanonhsaton (formerly the Douglas Creek Estates) which was proposed for residential development by Henco Industries.
In the wake of the Caledonia Standoff, Ontario promised to return the land in question to Six Nations. The dispute continued within the community when, according to an August Toronto Star article, the Ontario government went back on its promise, and the land in question was put into a government-backed federal corporation by the Six Nations Elected Band Council. The Haudenosaunee Confederacy—led by a Grand Council consisting of 50 chiefs representing the clans of the Mohawks, Oneidas, Onondagas, Cayugas, Senecas and Tuscaroras who reside throughout present-day United States and Canada—insists that the land at the centre of the Grand River land dispute is outside federal jurisdiction and colonial management, and as the Toronto Star notes, and should be entrusted to the Confederacy, not the government-backed band council.
This is the context for Lacie Burning's Reflection Series (2017), an expanded version of their installation and photographic project Reflection Piece (2016). As Indigenous peoples, we cannot remove our experience—our genders, bodies and disassociations—from our relationships to territory. As further environmental degradation plagues our communities and our homelands, so too does the colonial destroy our spirits, bodies and minds.
For Burning, Reflection Series was an enactment of their presence on the land and in their home territories. Burning simply asked of themselves, "What do I look like—what does it look like—when I assert my sovereignty over the land as a [Kanien'kehá:ka] person in Caledonia?" In the photo series, a shadowy black figure darts through a wooded area donning a reflective mask, like a dream or a vision. The ghostly figure is a stand-in for Burning, yet is eerily dissociative, otherworldly and phantom-like.
It was this fluidity between physical and psychic space within the Haudenosaunee worldview that attracted Burning to working with masks and fabric. In Ojibway ontologies, materialities like masks and fabrics are spiritual objects that bring us closer to the in-between places; they make apparent the spectres that live among us. Because of its proximity with temporal realms, the mask in Reflection Series and Reflection Piece is handled with the utmost care, as if it were sacred, just like our bodies and their covenants with the land. There are even strict protocols around who can handle and share space with the mask.
But the body is a complex place to hold sacred selfhood, especially for those of us who disassociate. Because of trauma. Because imposed colonial genders fit like an itchy wool sweater that is a few sizes too small. Because our lands are constantly in a state of being destroyed. A few weeks after Burning shot Reflection Series, the portion of forest that was its backdrop was cut down, making apparent that colonial affect on our bodies is a twofold process:
1. Colonialism removes Indigenous bodies from the land in order to make way for the destruction of our Mother. When Indigenous relationships to territory are in flux, then so too is our groundedness in the physicality of the aesthetic present.
2. Our bodies are made to feel so foreign to us, so alien, that we must project our spiritual self into otherworldly realms—we must disassociate.
Reflection Series, then, is the haunting of a genderless ghost body, a protest on the lands that taught Burning resistance, and a disruption of the supposedly clear idea of what it means to be an Indigenous person assuredly enacting sovereignty over their lands.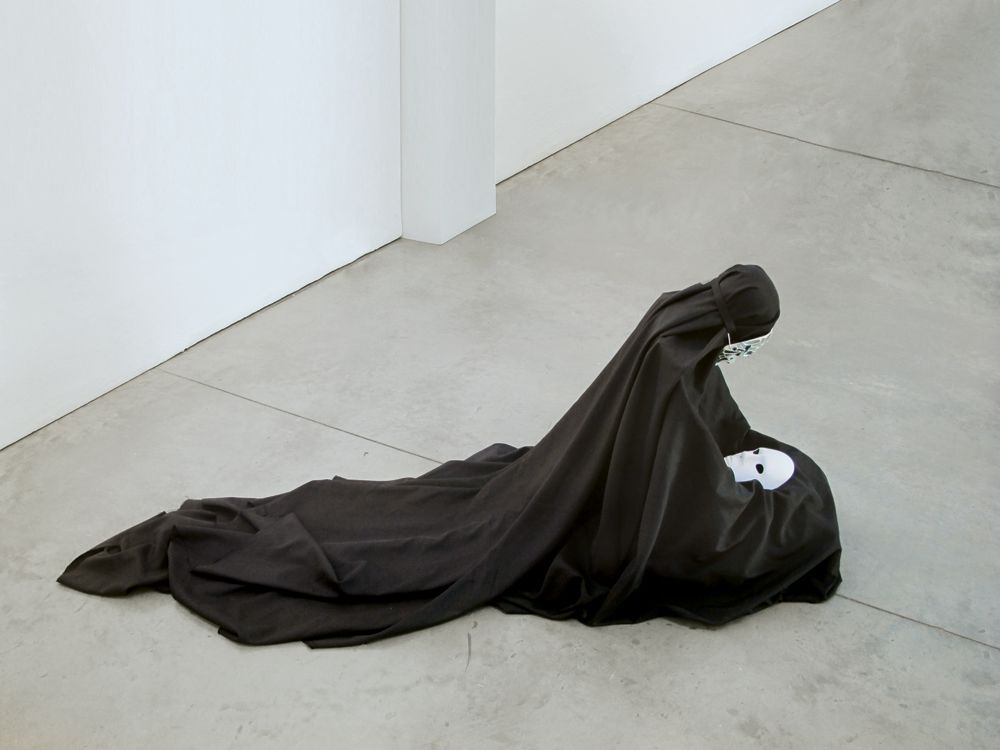 Lacie Burning, Reflection Piece, 2016. Mirror, cardboard, masks, styrofoam and wood. 88.9 cm x 60.0 cm x 2.13 m.
The mask in Reflection Piece was collaged together from a mirror that Burning's friend smashed and the pair then deconstructed and reconstructed. Though not in mind while initiating the project, this relationship between settler and Indigenous bodies became more interesting after its creation. As Indigenous peoples, we like to believe that we project with clarity our identities and our presence over vast territories as peoples with deep kinships to land. But our identities can become a form of mask that we wear when we present ourselves to the world. Our identities can become further fractured, still, when seen through the settler gaze.
Though the friend Burning worked with is a settler, she is also kin—Burning's longest-known friend, in fact. And when the Caledonia Standoff happened in 2006, the two learned a lot from their relationship and, in the context of their identities and the resulting colonial relations, ultimately succeeded in transforming one another's thinking. Burning brought their friend close, enacting reciprocity by trying to help her understand the relationships between Six Nations and the settlers in the surrounding communities. By giving their friend the power to fracture this mirrored mask that reflected back to settlers only what they wished to see, Burning gave their friend the power to effectively smash through the veneer of colonial identity. This is a profound act of care and love, the act of opening up and creating vulnerability with those we love. The act of seeing and being seen.
But let's be careful when treading the line with reconciliatory discourse. Masculinist decolonizing methodologies have become increasingly co-opted by a culture of colonially imposed heteropatriarchy. It is a mentality that perpetuates the politics of refusal in a way that can be unaccountable to issues of intra-community class differentiation and relational responsibility. Reflection Piece speaks to a more rigorous reading of the relationship between settlers and Indigenous peoples. What about the settlers we care for, the ones we love and the ones we have come to call kin? The figure in Reflection Piece presents a deep vulnerability of Burning's: the realization that unsettling our territories is a process that Indigenous peoples must take responsibility for alongside settlers by acknowledging internalized colonialism, reflecting upon it and actively wanting to change it.
It's almost perplexing, isn't it, that a leap of faith such as this can exist in the apocalypse—after the imposition of colonial capitalism and the eradication of Indigenous ways of being, knowing and relating. Theorist Lauren Berlant might even call this "cruel optimism." But this is exactly the limit of rigid political theory that does not call to the heart: our hearts are not always logical, but to them we must be kind. Our bodies are sacred, after all. We've been harmed enough. Had our intimacies ripped right from our hearts; our bodies removed from the land and disassociated. We don't need anymore land/body/love trauma today.
At the Caledonia protest site during summer 2017, Burning was reminded that the individual is never greater than the cause. It's traditionally uncommon for Indigenous peoples to hierarchically place certain people above one another within land resistance movements. Instead, protest sites function as a community, and everyone uses their gifts to the best of their ability.
We may dissociate from our bodies, from our lands, but community always brings us back and makes us humble. And just as our communities define our experiences of being on the land, as Indigenous peoples, the land influences our relationships with our genders and bodies.
How do you connect with your territories when they are in a constant state of being destroyed and pillaged? How do you understand your unique way of embodying non-binary Indigenous gender when your traditional ways of being on the land have been disrupted—including non-binary ways of participating in community ceremony, which remains largely cisgender-centric?
Reflection Piece considers the warrior-like image of front-line resistance that appears calculated, self-assured and resurgent. It reaffirms that though we have phantom-like relationships to enacting our presence on our lands, we still fit here. In the end, we are warriors, too, and it's always community that calls us home.
Lacie Burning is a Kanien'kehá:ka artist and curator raised on Six Nations of the Grand River. They work in photography, video, installation and sculpture, and are currently studying at the Emily Carr University of Art and Design. Lindsay Nixon is Indigenous editor-at-large at Canadian Art.
This post is adapted from a feature in the Winter 2018 issue of Canadian Art, which is themed on "Care and Wellness."