We know where we come from: the waters of our mother. The sacred lifegiving force rumbles along river rocks, laps at the shores of the Great Lakes and announces the birth of our future ancestors. It is no coincidence that women are central to the growing Indigenous-led anti-pipeline movements emerging across Turtle Island (North America). We are carried in water for nine moons before entering this world. In Anishinaabek society, it is women's responsibility to take care of the water. What may be more surprising is that it is artists that are leading the movement to protect the sacred and restore relational responsibilities.
The future of humanity depends on the health of the water, and the health of the water depends on the great awakening that is underway. In our hearts and lodges, at feasts, blockades and round dances in the streets, the anti-pipeline movement is embedded in rich kinship ties to all our relations. We have treaties with all of creation. Honouring these sacred agreements with plant, animal and water nations is essential to the restoration of Indigenous self-determination. Colonial Aboriginal rights discourse cannot be expected to encompass collective and highly contextualized Indigenous experiences that connect us to our living responsibilities to the land and waters.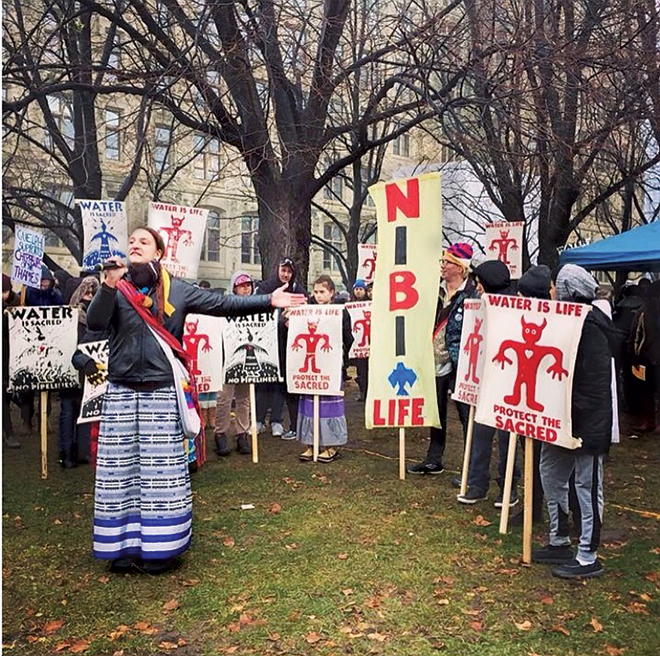 Sâkihitowin Awâsis with protestors outside the Supreme Court of Canada, demonstrating against offshore seismic tests near Clyde River, Nunavut, and the Enbridge Line 9 pipeline, November 30, 2016. Photo: Soha Kneen.
Drawing on the generations of Indigenous artists that have come before her, Michif artist Christi Belcourt explores symbolism in nature through metaphors for Indigenous rights, environmental justice and spirituality. The intrinsic connection that Indigenous peoples have to the sentience and genealogy of landscapes is inspirited in Belcourt's work and embodied in the beads, hide, clay, copper, birch bark and plant fibres that define her practice. This deep sense of relational community and material form extends from the waters and thunderbirds to our grandmothers, aunties and sisters who have carried copper pails around the Great Lakes and along countless rivers, praying for the water and future generations.
"The waters are viewed as the life blood of Mother Earth, so highly regarded that certain lakes were considered off-limits except only to grandmothers, who would go harvest medicines there," Belcourt told the crowd in her keynote address "The Revolution Has Begun" at the Maamwizing Conference in Sudbury in November 2016. "Our relationships to the spirits are ones that are marked by extreme gratitude, humbleness and respect."
I first met Belcourt in July 2016 at a water gathering in Ketegaunseebee. With offering in hand, I fumbled to ask if I could tattoo a Woodland floral design she created on my shoulder. (She enthusiastically agreed.) The gathering was organized by the Onaman Collective, a grassroots arts initiative formed in 2014 by Belcourt, Michif artist Erin Marie Konsmo and Anishinaabe artist Isaac Murdoch. Onaman is the name of the red ochre paint used by Anishinaabek, Nehiyawak and Michif peoples. It is also used as a clotting agent for wounds in traditional medicine—a telling metaphor for the intergenerational healing associated with the land-based knowledge and language revitalization cultivated by the collective's wide-ranging creative projects and community collaborations. Their work encircled us at the water gathering, from the designs on the T-shirts of water protectors raising funds for language camps to the lodges that were built by hand to gather and hold ceremony in.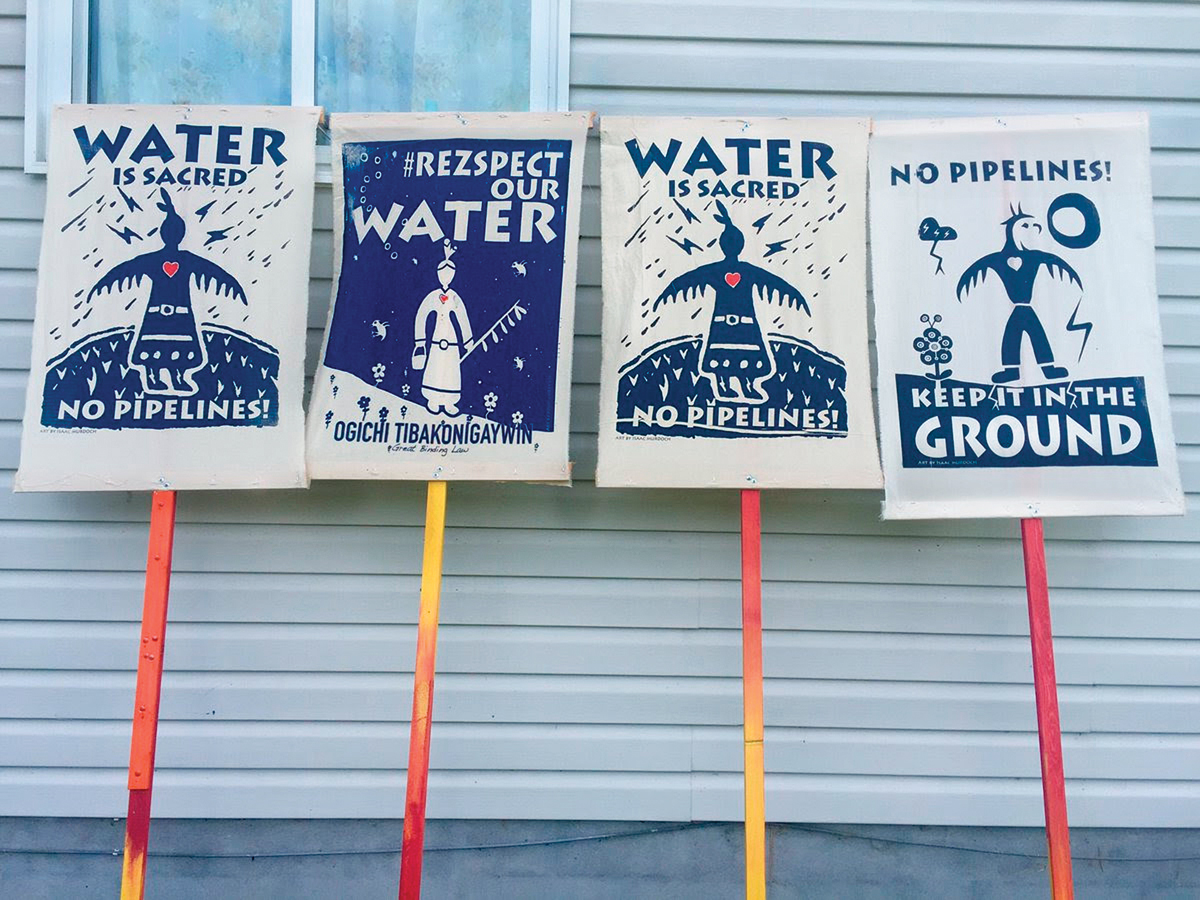 Banners set up for a rally on Highway 17 near Espanola, Ontario, against the Enbridge Line 5 pipeline, October 2016. Courtesy Onaman Collective.
Climate change and tar sands pipelines pose direct threats to the resurgence of Indigenous knowledge systems and land-based governance. From the Kalamazoo River, Michigan, to the Peruvian Amazon, oil pipelines have led to devastating environmental contamination that dispossesses Indigenous peoples from ancestral lands and ways of living.
Konsmo's work evokes a visceral response to the ways in which extractive industries exist as colonial violence against the land and water, and against Native bodies, spirits, families and nations. Their self-portraits invoke a very personal and intimate experience. In Environmental Violence (2014), for example, a wrench being held to their wrist simultaneously emphasizes that the construction of pipelines causes direct harm to Indigenous bodies, and how the phrase "throw a monkey wrench in the works" is used to describe sabotage as a form of protest.
In keeping with Onaman's focus on open collaboration and empowerment, Konsmo's use of stencils, spray paint, Sharpies, condoms and text has lent itself to street practice and community ownership. Their work brings awareness to sexual and reproductive health, furthers place-based struggles and complements direct action through a connection to ceremony and community experience.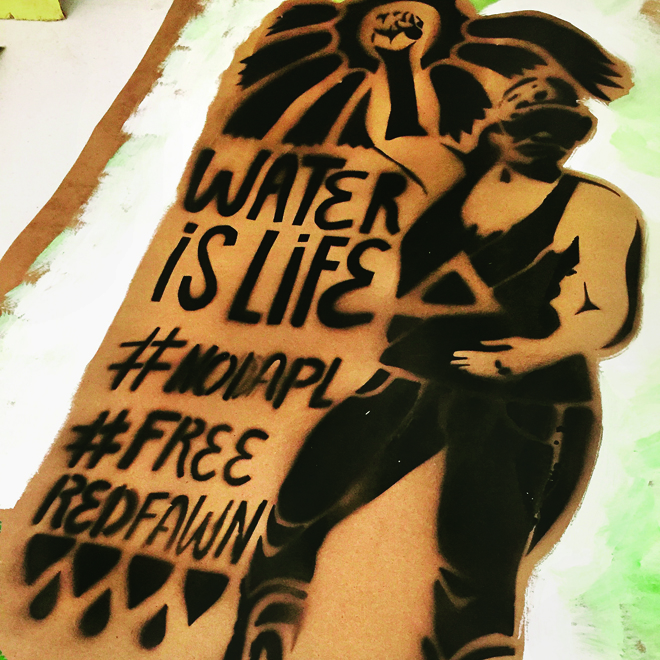 Stencil by Katie Rita used to protest charges against Standing Rock demonstrator Red Fawn Fallis, November, 2016. Photo: Simon Moya-Smith.
Ceremony is land-based and life-long healing from cultural wounds inflicted by 500 years of colonialism. Our languages and ways of living never died—they have been sleeping. Today we are looking to our ancestors to help us find a good way forward. There is a resounding call across Turtle Island: Waniska! Wake up! Indigenous resistance to pipelines is rooted in the answering resurgence of our languages, ways of living and diverse kinship relations.
Murdoch's work articulates these complexities of past, present and future through visionary storytelling and pictography grounded in rich oral traditions. On social media, his practice is leveraged with wit and provocation to restore clan governance and abolish Indian Act oppression. Engaging traditional knowledge in contemporary and often unconventional ways, he offers timely stories of powerful spiritual beings, such as Thunderbird Woman, that move people to action and encourage relationship building with waters all over the world.
From the front lines of Standing Rock and the front lawn of the Supreme Court, to Ireland and even Japan, Thunderbird Woman is making an appearance wherever there is resistance to the destruction of the waters. She speaks to the potential of the current moment, and the power of our spirit helpers. She tells us we are on the right path, picking up the beautiful way of life our ancestors have left us.
As we awaken to the realities of the climate collapse, ongoing mass extinction and ecological disaster, it is of the utmost importance that we find creative ways to re-establish relationships with the spirit of the land and waters. Art that is rooted in our collective struggle not only embodies the spirit of place-specific knowledge, cultural and kinship systems, but also moves us to action.
Pipeline resistance is sustained by the bold voices of grassroots organizations like the Onaman Collective. The collaborative activism of youth mural–making, canoe building, traditional food camps, birch-bark harvesting, community art builds, screenprinting workshops and protest-banner templates available online give life to movements and to change.
Anti-pipeline art brings together entire communities of often-unlikely comrades and resonates across diverse cultures. It is these very ways of knowing and living that are humanity's best—if not only—chance at preventing the oncoming environmental crisis.
As Belcourt observes in "The Revolution Has Begun," "This is a new era of water. All around the world we are witnessing the rise of what is to be a water revolution by the people—regular people, who want nothing more than to have clean water for their children."
This post is adapted from an article originally published in the Summer 2017 issue of Canadian Art. To get every issue of our magazine delivered to you before it hits newsstands, visit canadianart.ca/subscribe.