Madelyne Beckles
Toronto artist Madelyne Beckles works across media to consider femininity, blackness and conceptions of womanhood as they are transmuted through popular culture, art history and contemporary theory. In Womanism is a Form of Feminism Focused Especially on the Conditions and Concerns of Black Women (2016), for example, Beckles uses the conceit of an infomercial to sell feminist and critical race theory. Her persona as a seemingly oxymoronic flirty feminist killjoy critiques academia and the forms of cultural capital that circulate through its systems of valuation. Beckles is cognizant of the ongoing need for intersectional practices in feminist spaces: "People talk about intersectionality in theory but are often unaccountable in living an intersectional life, and this is mostly due to self-segregation by class, race, queerness, ability, etc. It requires that one be deeply self-reflective, and then do a lot of work…which is not the most sexy." Beckles's forthcoming collaboration with Delilah Rosier restages the story of a 1968 pulp-erotica novella that recounts the life of a poor, so-described sexually liberated Black teenager. The book is by a man Beckles describes as "a very famous and well-respected white, male Canadian artist" who writes in a way that is far from nuanced. Works like this continue Beckles's rigorous and cheeky engagement with the politics and aesthetics of the canon, allyship, agency and Black femme sexuality.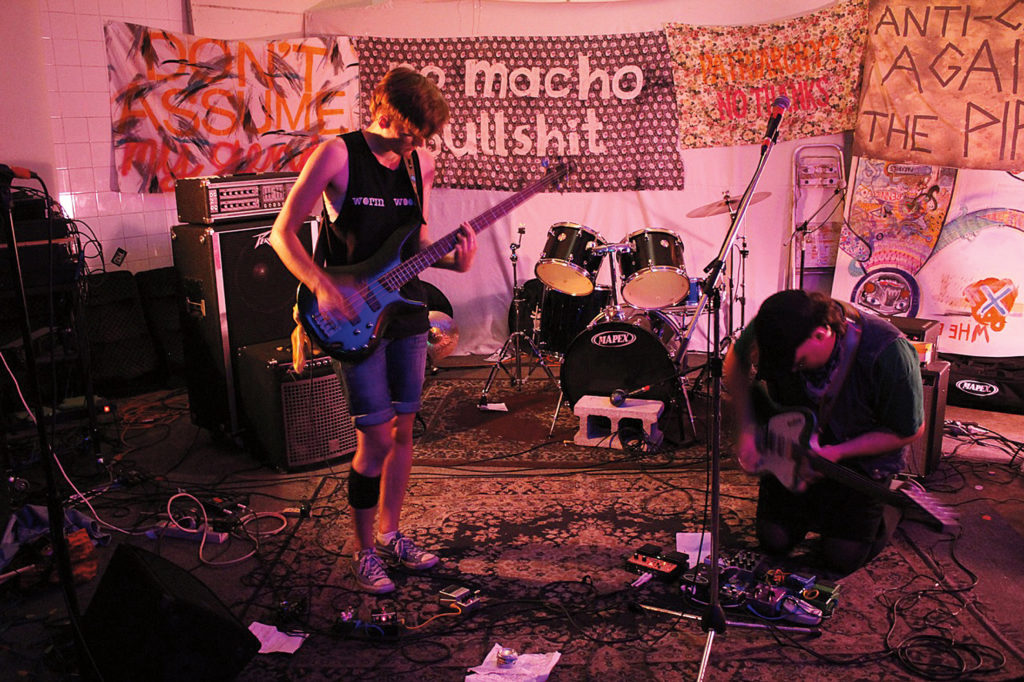 Leo Keiser and Jaye Kovach (performance documentation) at Shout Back! Festival, Vancouver, 2013. Photo: Megan Cross.
Leo Keiser and Jaye Kovach
Musicians Leo Keiser and Jaye Kovach, a.k.a. Homo Monstrous, make music they describe as gender carnage, glitter grunge and dysphoria rock. Kovach is an artist who works in installation, video and sound, net art and tattooing, while Keiser also plays in a rock duo called MechaDroid, and creates experimental sounds in their solo project Dandelion. Based in Treaty 4 Territory in Saskatchewan, Homo Monstrous extends the influences of feminist punk music and art pop, invoking a uniquely trans-feminist, prairie-core sensibility. Embracing an aggressively femme, DIY aesthetic, Homo Monstrous makes space for queers and women in a historically male-dominated, anti-gay and anti-trans scene. They resist what they call the "monolithic, toxically positive empowerment" of the LGBTQ community, channelling instead a way of being "gay/queer/trans that isn't palatable in a social sense." Kovach notes: "I'm skeptical of femme. It has this aura of coolness I find suspect—why 'femme' and not 'woman'? I think I was at my most femme before I became a woman. The beginning of Homo Monstrous was [also] the beginning of my gender transition; I remember femme carrying a power that it doesn't have now." Keiser also has a conflicted relationship to femme: "Positioning myself close to femme puts my identity at risk." But, reclaiming words like "pansy," Keiser "loves the idea that I'm some form of perverted, failed masculinity, that I tried to be something butch-adjacent and missed horribly. Maybe I'm more like ef-femme-inate?"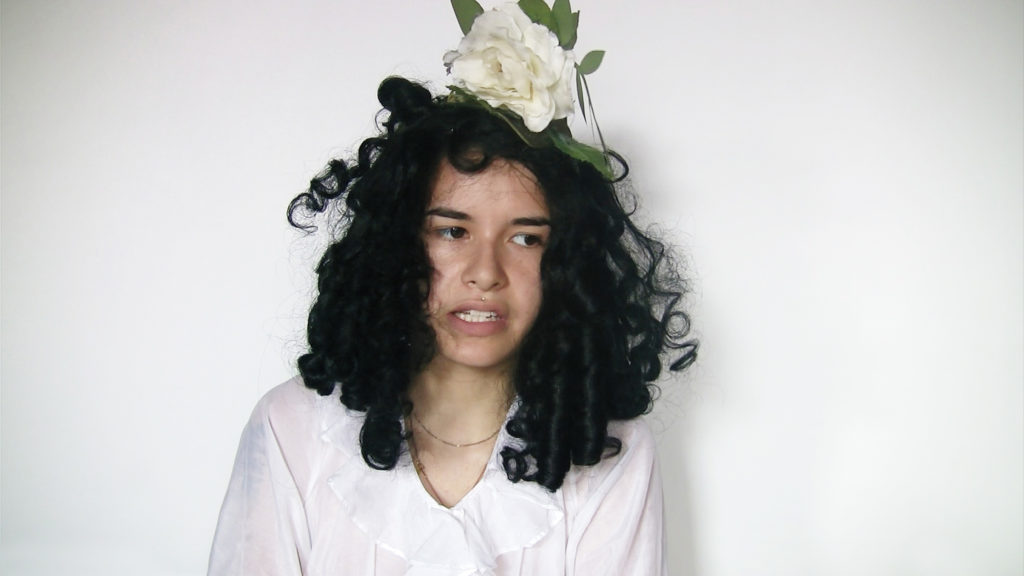 Calla Durose-Moya,
séance
(still), 2017. Video, 16 min 46 sec.
Calla Durose-Moya
Video artist and filmmaker Calla Durose-Moya has an increasing interest in making hybrid moving-image work. Her analog videos are influenced by the work of prominent Canadian video artists (such as Lisa Steele, and Emily Vey Duke and Cooper Battersby) who activate the feminist idea that "the personal is political" through a medium conducive to both literal and metaphorical self-reflection. Durose-Moya's approach to making contemporary art is shaped by the DIY ethos of both early video art and punk subcultures. When she performs for the camera, she is bringing a queer, racialized and disabled woman into view and working to embody and subvert different personas (some fictional, some historical). In séance (2017), she switches between playing herself and the persona of a white settler-colonial woman, a so-called pioneer of Peterborough. Over the course of the video, Durose-Moya takes a colonial-style wig on and off while reading from a script composed of different non-fiction sources, including Canadian colonial women speaking violently about local Indigenous people, and postcolonial theory by Leanne Betasamosake Simpson, Paulo Freire and Frantz Fanon. Her queer, feminist polemic on the ongoing issue of settler colonialisms in Canada is highly citational yet startlingly accessible. In other videos, she takes a similarly DIY approach, like in adverse effects (2018), where she addresses her experience of mental health issues by describing the "shitty" side effects of her medications.
Portrait of jaye simpson by Nalakwsis, 2018. Courtesy Huffpost Canada.
jaye simpson
jaye simpson is an Oji-Cree Anishinaabe Two-Spirit writer, artist and poet from Skownan Nation and Sapotaweyak Cree Nation, in Treaty 2 and Treaty 4 Territories in Manitoba. There is often an explicitly activist dimension to their writing, which they read or perform live with a charged vulnerability and a fierce, loving dynamism. They write from their lived perspective as a survivor to address structural racism and the multifaceted experiences of Indigenous youth navigating foster care and family services in relation to colonial traumas of the Sixties Scoop, the residential school system and the Millennium Scoop. In their spoken-word reading "Let's Talk About White Vegan Witches," performed at the 2018 Vancouver Poetry Slam, they addressed the stark colonialism, classism and inaccessibility within present-day West Coast food movements: "Let's talk about all of the white vegan witches who are against the seal hunt, who are against Indigeneity, who are against food sovereignty. Let's talk about that for one fucking minute," simpson pronounces, to the sound of the audience snapping their fingers in applause. "Let's talk about how you call my Indigeneity and spirituality 'magic,' because that's how you understand it—it's not fucking magic!…Call them Elders. Call them medicine men and medicine women. Call them sacred. Keep them alive." This year, simpson was a co-organizer for Growing Room's Indigenous Brilliance, a reading series in Vancouver, where they performed alongside Indigenous women and 2SQ artists and writers, including Molly Cross-Blanchard and Arielle Twist.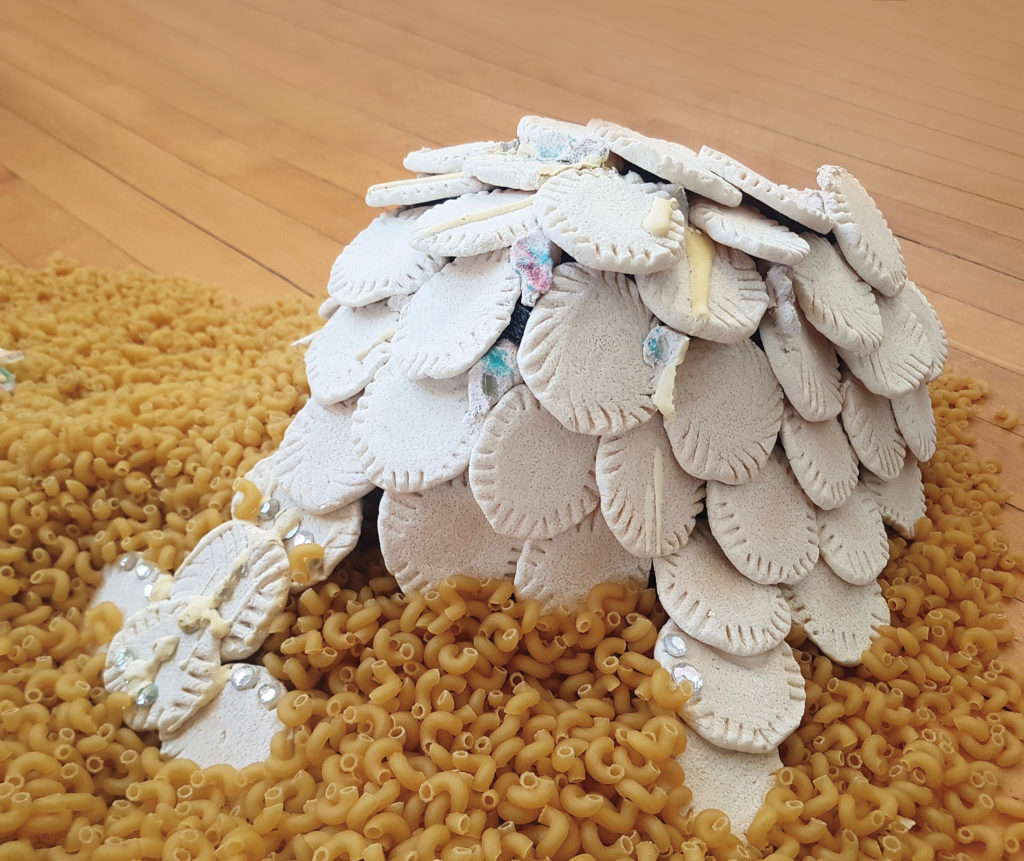 Zoë Schneider,
Fat Armour
, 2019. Foam, plaster, silicone, sand, glass, salt dough, pasta and found debris, dimensions variable.
Zoë Schneider
Based in Treaty 4 Territory in Saskatchewan, artist Zoë Schneider creates sculptures that articulate conditions of ambivalence for living as a self-identified fat woman. Her work makes space for affirming fatness and processing fat anxiety, dissociation and shame in relation to gender expression. She uses tensive combinations of texture, colour and shape: walls are made of "bricks" (loaves of white bread) and shellacked sandwich buns. Recurring tones of pastel pinks, blues and peaches-and-cream recall cake or decorative icing. Schneider extends the fat-positive feminisms of contemporary artists like Cindy Baker and Shoog McDaniel, creating sculptures and installations that are soft and maximalist, playfully sensual and joyously material. In works like Moon Pools (2016), the artist reflects weight cycling and yo-yo dieting through the choice of materials—specific rocks and crystals, oils and teas—held in concrete-cast lunar phases. "My body takes up space in a way that is often reluctantly masculinized due to my size," Schneider notes, "I sit in a strange zone where I feel a stubborn defiance toward my expected performances of both femininity and masculinity." In the context of mainstream body positivity (which as the artist puts it, "has become exclusionary to the very people who created it: superfat, racialized, gender-nonconforming people") the work stands as a saturated counter to the diluting effects of the status quo.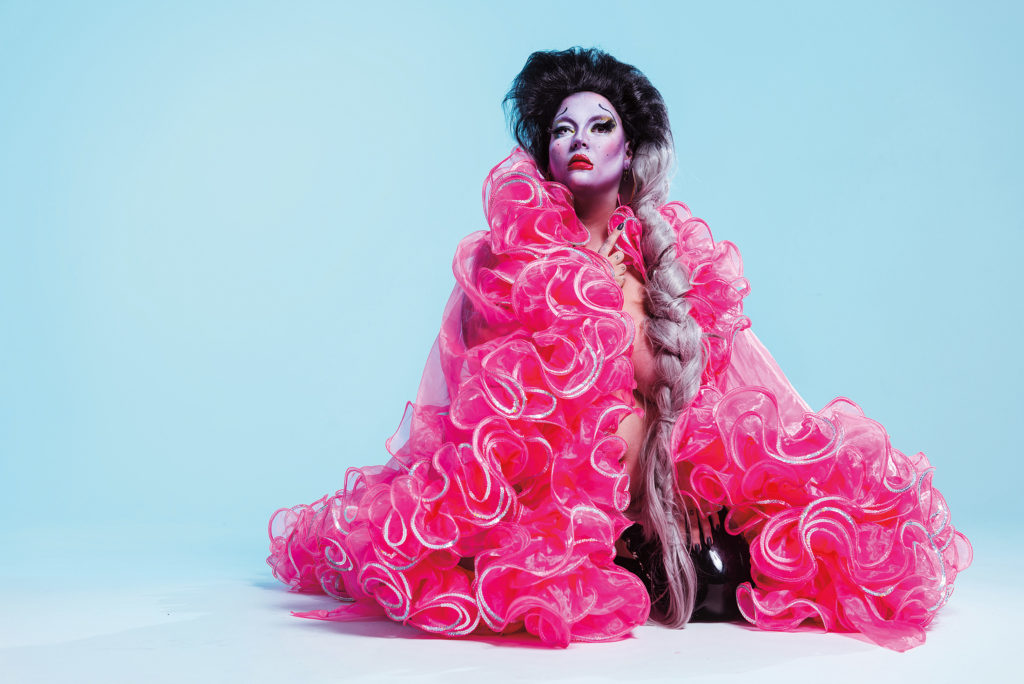 Acacia Christensen a.k.a. Weird Alice Yankadic. Photo: Joel Devereux.
Acacia Christensen
The wide-ranging performances of artist Acacia Christensen include drag, wrestling and comedy. Currently based in Melbourne, Australia, she is collaborating with simple the drag qween on the live monthly event Failure: The Game Show. Camp is an important aesthetic strategy and philosophy for Christensen, who moves between personas as an integral part of her practice—from the genderqueer femme drag queen Weird Alice Yankadic to the doughnut-studded wrestler Doughnut Messaround. "I am a loud, fat, queer femme, and regardless of how I'm read that's something that I always push to the fore. It's important, especially when people who identify as femme are expected to always be dainty and small," the artist says. The comedy aspect of her practice allows her to unpack fraught issues in ways that feel cathartic. During an especially funny scene at the League of Lady Wrestlers 2016 live show on Toronto Island, Doughnut Messaround was in the ring with the semi-truck driver Big Rig (played by artist Jennifer Crawford)—another of the more physically engaged wrestlers in the league. As Big Rig boorishly berated Doughnut for being a liberal hipster whose privilege and ignorance of working-class life was embodied by their choice to eat overpriced vegan doughnuts, the audience laughed to the point of tears. "Politics is always tricky, but not if you're willing to listen and learn. One of the biggest challenges we all face is call-out and cancel culture, especially in the queer community: it leaves little room for people to learn and grow."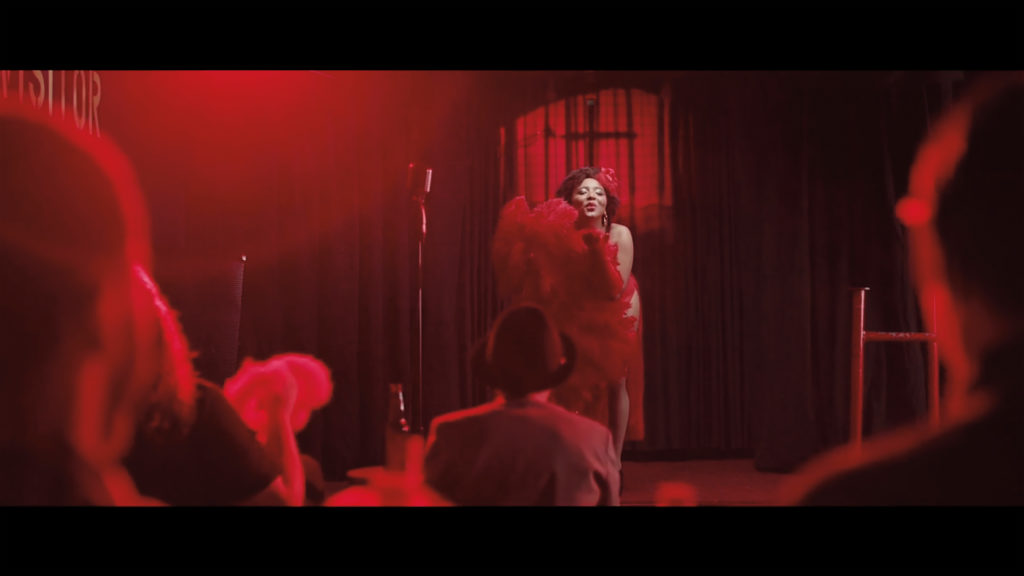 Steph Young,
Tipping Point
(still), 2016. Film, 7 min 10 sec.
Steph Young
Steph Young is an artist, filmmaker and performer who also works as a community support worker for youth with lived experiences of mental illness. She has made short-fiction and documentary films that focus on queerness, the environment, mental health and drag; these include the queer romantic comedy Tipping Point (2016), which Young describes as "the kind of film I always wanted to see as a shy, socially awkward teenager developing crushes on my peers and attempting to navigate my sexuality and gender identity." A bigender artist, identifying as both male and female, Young explains that "[Drag] gave me permission to revisit my masculinity and femininity, both on and off the stage. I've always felt much more comfortable behind the camera. By allowing myself to create an exaggerated male alter ego named Felix Static, I felt empowered in a way that other art forms didn't make me feel. Drag allowed me to embody my art practice, while also giving me space to come into my gender identity." In 2013, Young co-founded the Halifax Drag Kings as a way of making space for different kinds of gender-diverse expression and play in her communities. Young is especially excited by a new wave of local performers who are challenging traditional expectations of drag: "women who perform as queens, men who perform as kings and folks who completely destroy the binary and participate in performance we like to call Genderfuck."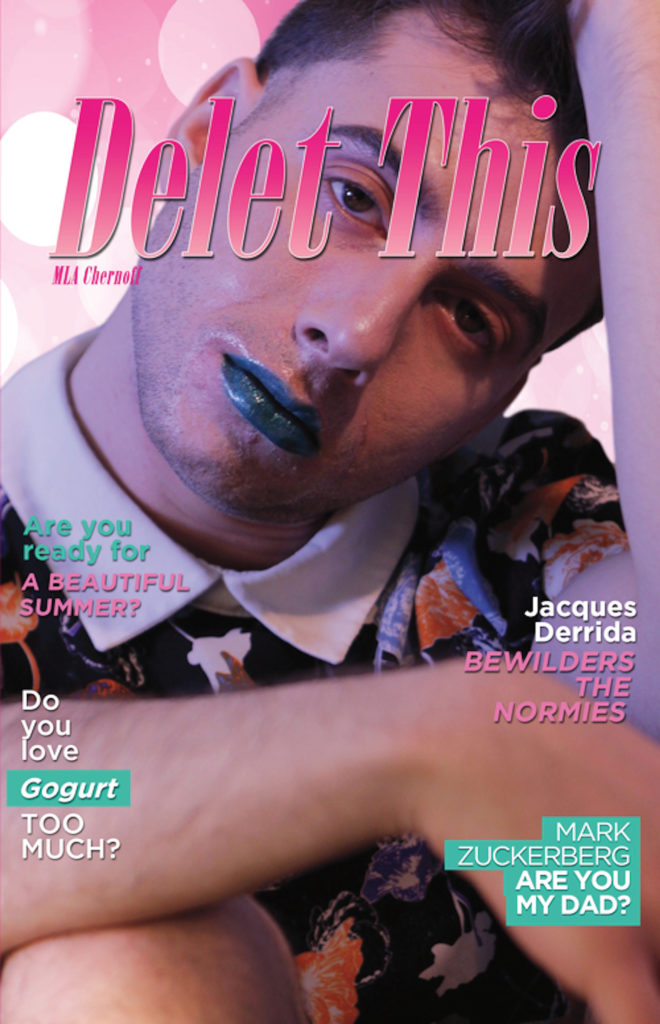 MLA Chernoff,
delet this
(chapbook cover), 2018. Courtesy the author.
MLA Chernoff
Whether at a poetry reading or an academic conference, MLA Chernoff tends to have a disarming, even baffling, effect on audiences. They are like a feminist, gender-nonconforming Andy Kaufman for the 21st century, whose highly performative artist-persona is enmeshed with their real life "self." Working as a non-binary writer and performance artist, they conjoin post-internet culture, queer erotics, Judaism, theory and literature in comedic and explosive ways. In their debut chapbook delet this (2018), mental health and 1990s and 2000s paraphernalia meets the death drive, concrete poetry and eggplant emojis. One is sarcastically titled "'Mark Zuckerberg is Literally My Father Starter Pack' Starter Pack," another "might delet soon but felt cute in this pic." Chernoff sees what they term "being-femme" as a nourishing, even healing, way of being in the world, "a mode of living…that finds its footing in a queer-trans aestheticism I came to understand through the infinite whims of digital interfaces and content generation. I'm inspired by the multitudes of queer comrades within meme-ing communities, and beyond, who have disclosed to me the relationships between cis-ness, respectability, professionalization, privilege, monetization and categorization." Chernoff recently got their first tattoo, of a concrete poem by Gary Barwin based on the structure of bpNichol's "Blues"; the word "eros" becomes "sore" and back again, in a shapeshifting semiotic move that extends their conceptual play with language to their own body.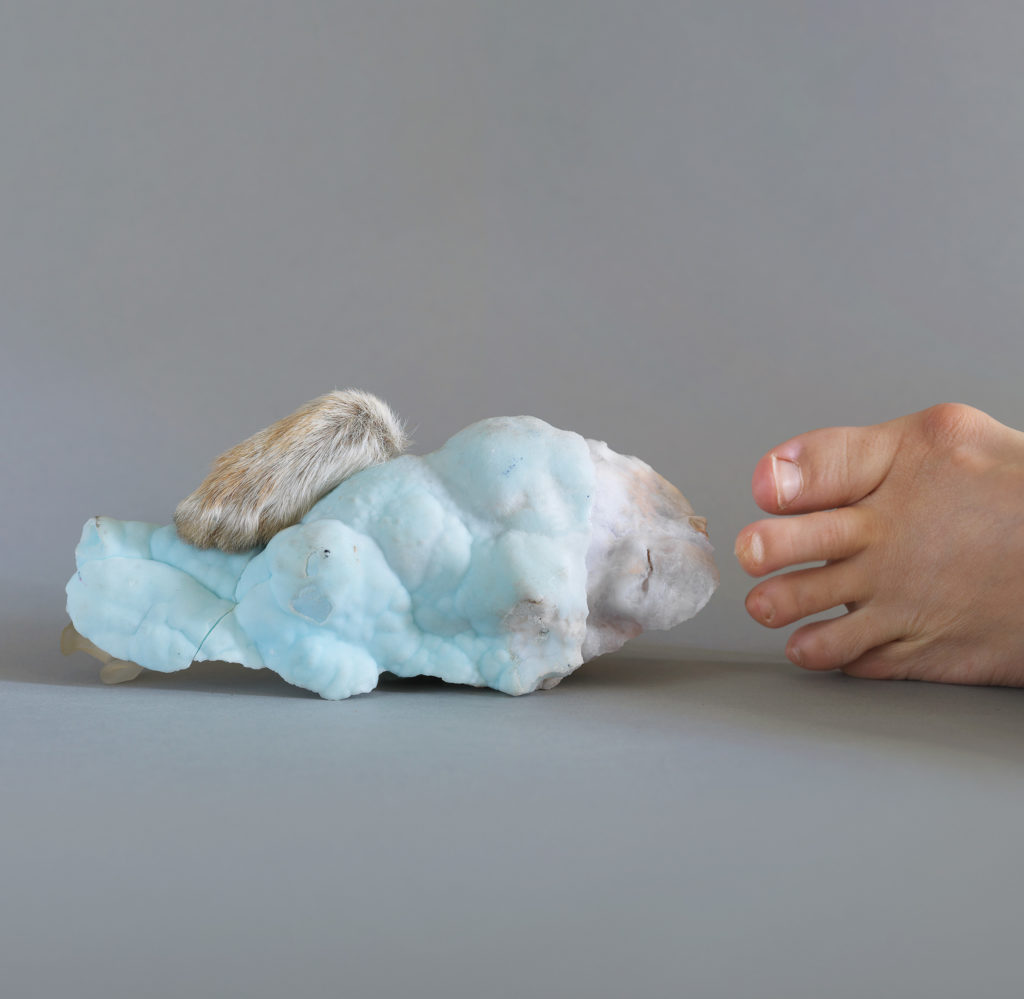 Maegan Hill-Carroll,
A Proximate Gesture, Golden ratio Rabbit
, 2018. Bamboo ink-jet print with wood, 40.6 x 50.8 cm. Courtesy the artist.
Maegan Hill-Carroll
Vancouver artist Maegan Hill-Carroll works primarily with photo-based practices, as well as video, installation and sound. She previously experimented with large-format photography, using intimate, close-up views rather than the "macho, bravado scale" that frequently signals the colonial impulse of landscape photography. Now she is exploring the figure of Lucretia—the Roman noblewoman who took her own life after a king's son raped her—as part of a research-based body of work. Her curiosity began after encountering a painting of Lucretia by Lucas Cranach the Elder at the Los Angeles County Museum of Art. She learned that Cranach painted Lucretia nearly 40 times, eroticizing the woman's violent death in ways that are romantic, titillating and infantilizing. For her recent exhibition "Lucretia's Toe" at Wil Aballe Art Projects, she recuperated the representation of Lucretia by photographing close-up details of five of Cranach's Lucretia paintings and sculptural mise-en-scènes set up in her studio. Through these works, Hill-Carroll invokes a new kind of fluid, psychosexual visual language, conjoining objects and gestures in open-ended, queer-feeling ways. In Still held Dribble of Blood (2018), Lucretia's wrists and hands are printed with ink-jet on bamboo paper; Cranach's painting is presented as a warm, textured image that invokes embodiment, ichor and touch, and it defamiliarizes Lucretia-as-imagined-by-men through a haptic attention to a woman's pain. The artist plays with the feminine characters and libidinal debris of art history, attuning to the possibilities of matter, colour, mythology and form.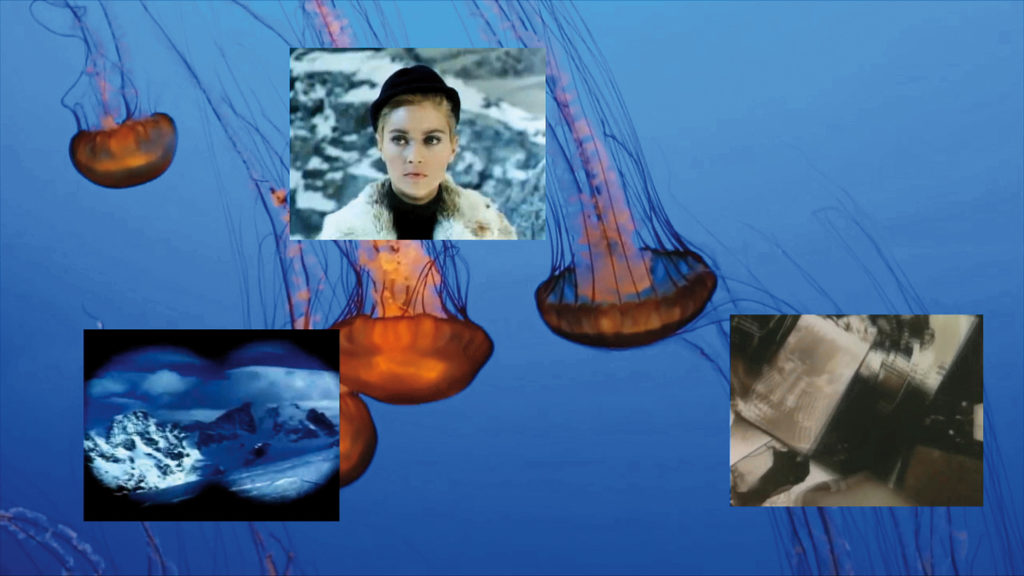 Kim Kielhofner,
Reading Patterns Together
(still), 2016. Video, 8 min 53 sec.
Kim Kielhofner
Interdisciplinary artist Kim Kielhofner creates parafictional narratives and "autoportraits" by interweaving collage, sculpture, drawing, photography, performance and text into her video art. Her Reading Patterns Together (2016) is part of a series of iterative video work that engages practices of reading and incorporates visual metaphors alongside an almost paranoiac pattern-recognition in the world around her. In her studio in Montreal, Kielhofner assembles material objects by drawing associations between colour and shape, and layering them through philosophical storytelling. References accumulate in the videos—from appropriated clips of women in the history of cinema to the artist's reading of Clarice Lispector's The Hour of the Star. Disassembling archetypes and rules, her videos invite us into another kind of space, an incantatory world with its own uncanny logic: "I'm trying to open a space where these objects—as subjects—can exist beyond their intended trajectory, where objects are used beyond their imagined life. There is an embrace of hesitation, doubt. My voice is not to be taken as authority, but it is your guide." Currently, Kielhofner is working with actor Barbara Ulrich on an intergenerational collaboration that extends her practice of reimagining cinematic histories and ideas of synchronicity, speculation and time through performances for the camera.