Picture a remote island where artists make the rules, are paid for their labour, and are encouraged to create, disrupt, and take breaks to go swimming. Everyone has enough space to sleep, make, and exhibit work. Hierarchies collapse, centre and periphery dissolve, and there are enough oysters for everyone.
This artist-run utopia may seem like a non-place which exists only between the temples of overworked and underpaid artists. However from September 21 to 24, the curatorial minds behind Flotilla hosted a national gathering of artist-run centres in downtown Charlottetown that temporarily brought this vision to life.
More than 20 artist-run centres and collectives installed projects in vacant storefronts, on the open water and in home spaces, inviting visitors to test-drive their newest programming. Artists such as D'Arcy Wilson and Divya Mehra delivered performances disguised as keynotes from behind a podium. Panel discussions took a circular orientation, such as those led by Anishinaabe artist Raven Davis and by Mi'kmaq poet Shannon Webb-Campbell.
During this decentralized artist-run biennial, arts workers from across the country roamed through a network of loosely-bound satellite projects, embodying the nautical metaphor of a flotilla. Co-hosted by the Artist-Run Centres and Collectives Conference and the Association of Artist-Run Centres from the Atlantic, Flotilla faced the realities of the Atlantic artist-run sector, focusing on themes of nomadism, isolation, site-specificity and fluidity.
Even in the short time when I was working on Flotilla's administrative team, I had difficulty describing the hybrid event to the curious and confused public. Rather than a conference, project lead Becka Viau describes it as a "showcase" which offers delegates "the opportunity to just walk a city, creating a hub of artistic and artist-led activity."
Viau is an artistic juggernaut on PEI, and her team oversees most of Charlottetown's summer festivals including Art in the Open, PEI Fest, and Reading Town PEI. "Art is not about power structures," she says. For Flotilla, she wanted "to be responsive and compassionate towards letting the artists lead."
In many aspects of the gathering, participation and disruption was encouraged, and it wasn't long before hand-drawn Flotilla passes were circulating on official lanyards. Counterfeit passes and artistic knick-knacks were "sold" in Art City's FREE STORE, a Flotilla pop up shop with a cardboard cash register. Winnipeg artist hannah_g became the Anecdotalist in Residence, disseminating critical gossip that she overheard at Flotilla events through social media. These autonomous (albeit sanctioned) interventions held a mirror up to artist-run culture in Canada, simultaneously critiquing the system while feeding the system itself.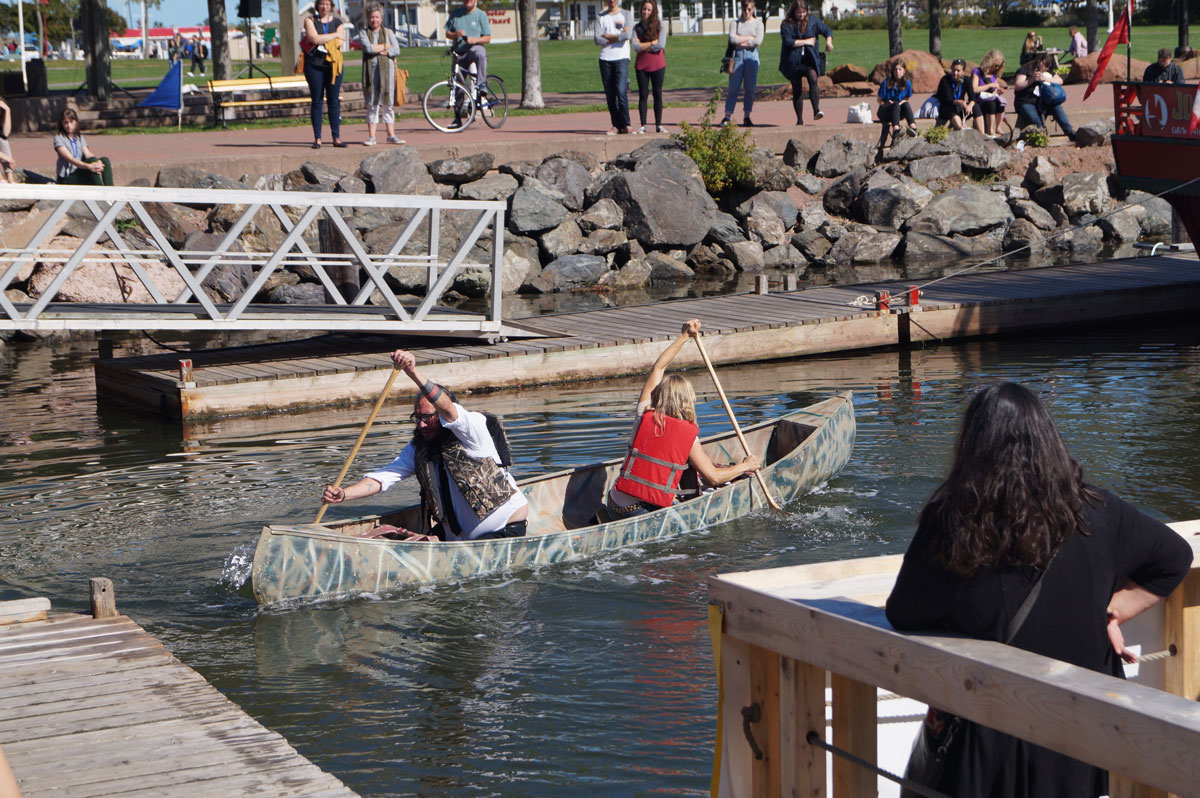 Terrance Houle (left) and Lisa Birke (right) performing Different Ways at Confederation Landing. Photo: Flotilla.
Confederation Landing, the site where the Fathers of Confederation docked in 1864, became a temporary performance art venue over the weekend. Lisa Birke and Terrance Houle performed Different Ways, enacting the failures of the Charlottetown Conference which their people (female delegates and Indigenous leaders) were never invited to attend. On the same site, Jordan Bennett and Lori Blondeau performed Samqwan/nipiy, uniting the Mi'kmaq and Cree words for water, and offering locally sourced lobster in a performative feast.
One of Flotilla's most ambitious projects was the Floating Warren, a water-borne venue created by an independent collective of nine artists. The system of interlocking docks stretched out from the shoreline and was equipped with an off-shore pirate radio station. Andrew Maize flew kites created in collaboration with local high school students, Lindsay Dobbin gathered underwater sounds through a hydrophone, and Gary Markle mobilized an escape pod tethered to the pavilion, which floated towards the abyss beyond.
Two months before it launched, Flotilla lost a core member of its curatorial team, Mary MacDonald, who played a crucial role in the initial development of the Flotilla model. The writer, curator and former director of Eastern Edge Gallery is beloved in the Atlantic arts community for her significant contributions to the critical and curatorial landscape of Atlantic Canada. Her article "Artist-Run Life" in the Overcast revealed her vision for artist-run culture in the Atlantic. She described a place where artists could call the shots—"open-source galleries where anyone can participate, inherit the code, and make changes."
Mary's vision for Flotilla was ambitious, and the curatorial team, led by artistic director Michael McCormack, created a utopia born out of the social and economic realities faced by arts collectives.
"With our interests in social justice and political action, of course we're always looking to a horizon," says Zach Gough, curator of the Floating Warren. "If we don't have moments of celebration, how can we continue our drudgery in moments of austere neo-liberalism."
As cultural workers left the island, I wondered whether Flotilla emphasized the gap between dream and reality, or whether it had the emancipatory potential to shape the face of the artist-run sector. Flotilla seems, now, like it never happened—it was a counter-reality, a non-place, a place locked in time. As Mary put it, "a place about now, right now, all the time now."
Amanda Shore is a curator and writer currently based in Montreal.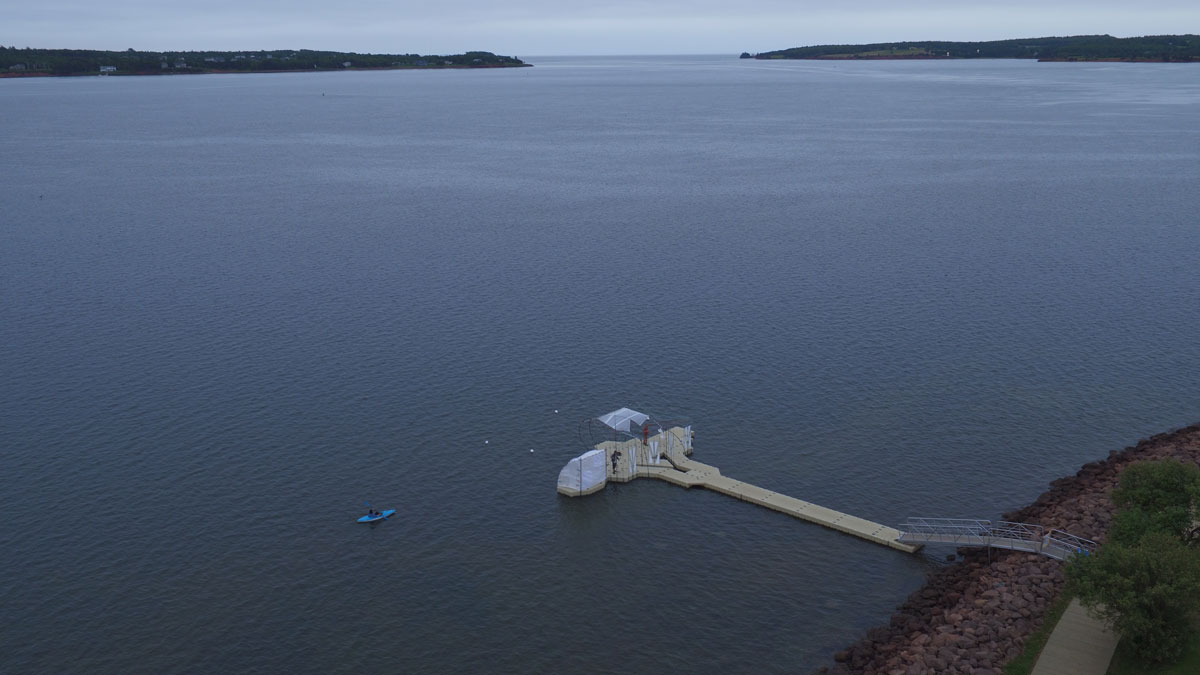 Aerial view of the Floating Warren at Flotilla in Charlottetown. Photo: Floating Warren Pavilion & Projects.