There is much at stake for emerging Indigenous artists. Contemporary Indigenous artists, such as Jeneen Frei Njootli, often find themselves oscillating between contradictory world views and ways of being. This includes responsibility to their communities and the expectations of the art industry. The two are not always aligned, and this can create friction. Frei Njootli is a rising star on Canada's contemporary art scene, having already achieved a notable exhibition record and accolades that include the Contemporary Art Society of Vancouver's 2017 Artist Prize and being longlisted for the 2017 Sobey Art Award. Despite the hype, Frei Njootli precariously balances her status as an emerging artist based in Vancouver (a career that, at this point, barely pays the bills) with her accountability to her family and home community of Old Crow, Yukon, where she is a member of the self-governing Vuntut Gwitchin First Nation. Finding work-life harmony between two or more home bases is a challenge faced by many Indigenous arts professionals, adding extra stress to the already difficult task of making a living as an artist.
For many Indigenous artists, there is a sense of tension when working within colonial structures that are inherently racist in their foundations. As Indigenous artists, we maintain the right to withhold personal and cultural information as an assertion of sovereignty and artistic freedom in the face of colonial oppression—an act of protection against appropriation and abuse at the hands of museums and art spaces. This need for protection results from the history of colonial institutions objectifying and exploiting Indigenous bodies and lands for museum collections, perpetuating the myth that Indigenous peoples are extinct, and thereby being complicit in the genocide of Indigenous peoples.
Contemporary Indigenous artists have been addressing these issues for decades, a notable example being James Luna's performance The Artifact Piece (1987), in which Luna critiques the way museums display Indigenous peoples by encasing himself, covered with only a loincloth, in a museum vitrine. Luna's work exposes the need for Indigenous peoples to be vigilant about protecting our bodies and communities from exploitation. Western-informed and Indigenous emerging artists in Canada face similar challenges when entering a competitive art market with uncertain career prospects ("Western" here referring to artists who were educated from a Western European art perspective, and now work within the dominant Canadian art scene). But as Indigenous artists, we experience unique pressures to represent our families and home communities, and to remain strongly rooted in our cultural heritages as an integral part of our professional practices. There is often the added consideration of leaving our communities for educational and professional pursuits in the city, or working for industries that are in conflict with our values. As Indigenous peoples, we are often held responsible for representing our cultures with dignity and pride, committing in our work and lives to being advocates for positive change for future generations.
The dichotomy of honouring family and culture while pursuing professional goals and having to be an advocate for Indigenous rights within a Western-dominated art scene can be an exhausting experience for Indigenous arts professionals. Frei Njootli's recent exhibition "red rose and lidii" at the Southern Alberta Art Gallery explored these tensions between Western and Indigenous art methodologies and ways of being. Being Indigenous with one foot in the institution and the other foot in the community is, as Frei Njootli says, "like a jig that covers diverse grounds and 'sites of mixing'"—an uneasy situation that contributes to burnout for many Indigenous artists.
In an open-source document on her website titled "Indigenous Artist Manifesto," artist Tricia Livingston compiles a list of maxims created by and for Indigenous artists, among them: "The boundaries between craft and art shall not be categorized"; "Ideas of traditional versus contemporary are of no significance to us"; "We refuse to become commodified objects or to be observed as a spectacle"; and "We refuse to be subject to ethnographic or anthropological study." Frei Njootli's practice incorporates this ideology and draws upon her multi-faceted experiences as a hunter and art-school graduate. Her making practice utilizes a diverse range of mediums such as drawing, watercolour, beading, textiles, wearables, printmaking, photographic processes, performance, sound, the preparation and sharing of Indigenous foods, art education, advocacy and activism (as she demonstrates in her efforts with the ReMatriate Collective). Kinship and land are recurring themes in her work and are of the utmost importance in "red rose and lidii." Bringing familial elements into the gallery, even covertly, makes one vulnerable to exploitation—a risk that many Indigenous artists encounter within the colonial context because Indigenous practice is often rooted in identity and place.
"nichih," the prickly wild rose of the north in the Vuntut Gwitchin language, is commonly seen throughout the Northern Hemisphere and is a significant summer flower to the Gwitchin people. The rose motif is a common emblem found in Gwitchin decorative art. Frei Njootli's grandmother loved roses and the beaded red rose in this exhibition is distinctive to her family's visual aesthetic and designs. But the beadworks themselves are not presented in the exhibition. Instead of showcasing them directly, Frei Njootli presents impressions of these beadworks as body prints—a process that involved first pressing them into her flesh, then transferring the oily impressions onto steel, invoking David Hammons's famous body prints.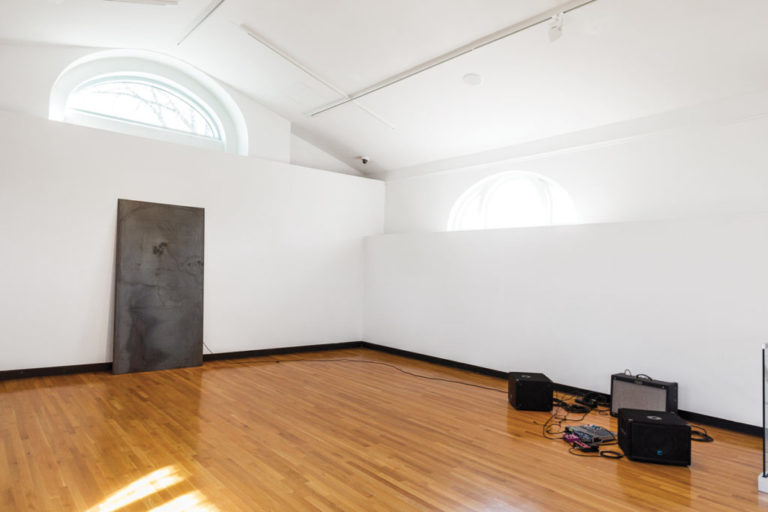 Left: Jeneen Frei Njootli,
not always legible, her labour seeping
, 2017. Steel and grease, 2.4 m x 1.2 m x 0.3 cm. Right: Jeneen Frei Njootli,
double needle (silhouette of tin with a wooden chamber and strings)
, 2017. Sound and music equipment, dimensions variable. Image courtesy Southern Alberta Art Gallery. Photo: Jaime Vedres.
"lidii" refers to what is commonly known as Labrador or muskeg tea. The leaves of lidii can be harvested year-round to treat a number of ailments, including digestive problems and menstrual pain. The underside of the lidii leaf is coloured orange, which is significant in "red rose and lidii" as Frei Njootli uses this colour to represent Indigenous experience, human and non-human, instead of the typical red colour often associated with Indigenous peoples. Enjoying lidii around the kitchen table can be a lively event with family and friends: recounting tales from a successful hunt, storytelling, laughing, playing cards, beading, fiddling and dancing. Frei Njootli attempts to introduce these elements to an otherwise inhospitable and sterile gallery environment. Her love for her family, culture and land is expressed through her art, as reflected in the intimate imagery made with her body prints.
"red rose and lidii" addresses the complexities of being an Indigenous person whose ways of being have been restricted due to colonial processes such as the reservation, pass, residential school and foster care systems, to name just a few. These strategies aimed to clear the land for settlement and the development of resource-extraction industries that continually threaten pristine Indigenous territories. Paradoxically, Indigenous peoples often find themselves working within colonial industries, including galleries and museums, and this can create a feeling of inner unease and fatigue.
Frei Njootli parallels resource-extraction industries with the mining of Indigenous knowledge and labour within creative industries by inserting four 200-pound steel sheets into the gallery space, echoing Richard Serra's monumental sculptural works. She draws a connection between the exploitation of Indigenous lands and natural resources, such as the mining and processing of iron ore, and the Indigenous labour expected within the "white cube" and beyond. Like an unfixed photograph that continues to expose itself, the steel surfaces will erode over time as Frei Njootli's oily marks slowly reveal glimpses of her family's beadworks a symbolic gesture toward intergenerational transference of knowledge and Indigenous resistance against colonial forces, as if to say, "We are still here; this is our land."
During a one-time, unrecorded performance on the opening night of "red rose and lidii," Frei Njootli channelled the spirit of Ana Mendieta, the acclaimed Cuban-American performance artist who tragically died in 1985 under suspicious circumstances. Audience members were reminded of Mendieta's 1974 performance Untitled (Blood Sign #2/Body Tracks) as Frei Njootli raised her hands, as if in protest or surrender, and then smeared them down the surface of an amplified steel panel to create a cacophony of sound. The intangible quality of the sound was felt, but impossible to commodify or hold. Sound is the foundation of all creation and has the capacity to communicate beyond the physical realm. By activating the vibrations of the steel sheets with the bodies that were in attendance during the performance, Frei Njootli refused to make her own body and voice a spectacle. The performance was an offering to the non-human and formless beings through sound—a gesture that undermines and renders irrelevant the colonial control and racist expectations of Canadian art institutions and audiences.
Indigenous peoples in creative industries know the demands made on our intellectual and physical labour, as well as the experience of emotional and spiritual depletion that no amount of financial compensation can ever recover. Galleries and museums can be unwelcoming colonial spaces that perpetuate histories of exploitation and the commodification of Indigenous peoples. On top of institutional stressors, Indigenous peoples adhere to a sense of duty and responsibility to their communities and cultures, and feel a demand to positively transform the colonial institutions they work within for the sake of future generations. For Indigenous persons such as Frei Njootli, the pressure of establishing oneself as a professional artist in uncertain economic times, while having to fight for fair and timely compensation against racial discrimination within the art industry, is a sure recipe for burnout.
Although the recent recommendations made by the Truth and Reconciliation Commission of Canada have prompted institutions to improve relations with Indigenous peoples, there is still much work to be done to create safe and supportive spaces within the colonial context for Indigenous cultural practitioners. The last year saw both controversial and positive steps in recognizing the work of Indigenous arts professionals. Without the support of creative professionals, the demand on Indigenous emotional labour required to transform Canada's arts institutions will increase, and the responsibility to educate the public about Indigenous concerns will continue to fall on the shoulders of Indigenous peoples. The lack of support within colonial institutions also highlights the continuing need for sovereign Indigenous initiatives, led by and for Indigenous peoples. Despite the challenges and contradictions faced by Indigenous artists like Frei Njootli, we persevere because artistic practice is a way of life—a way of love—and as Indigenous peoples, we must continue to lift each other up, and carry on with resiliency and self-determination.
This post is adapted from the article "Burnout" in Canadian Art's Spring 2018 issue, which is themed on "Dirty Words."