On January 20, 2021, Jill Biden highlighted a Robert S. Duncanson painting at the US inauguration reception. Find out about Duncanson's years in Montreal and connections with Canadian artists in this story from our Fall 2020 issue, "Chroma"
On January 20, 2021, Jill Biden highlighted a Robert S. Duncanson painting at the US inauguration reception. Find out about Duncanson's years in Montreal and connections with Canadian artists in this story from our Fall 2020 issue, "Chroma"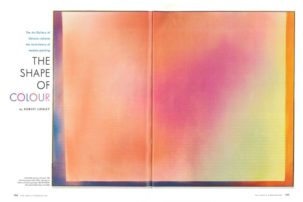 With "The Shape of Colour: Excursions in Colour Field Art, 1950-2005," his first major exhibition as curator of contemporary art at the Art Gallery of Ontario, David Moos has made a strong statement and done the Toronto art scene a great service.
In this feature from our Fall 2005 issue, journalist Deborah Campbell examines the work of Steven Shearer.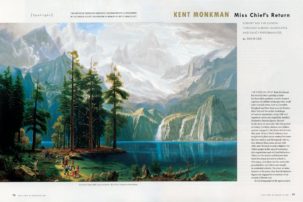 The Toronto artist Kent Monkman has recently been gaining acclaim for beautifully painted, ornately framed canvases of sublime landscapes that recall early colonial artists such as Cornelius Krieghoff and Paul Kane and the Hudson River School.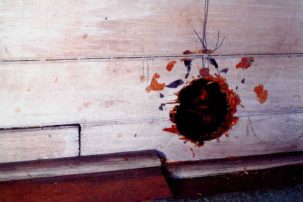 Jeff Wall is sitting quietly, his chin propped up by his thumb, his gaze drifting impassively over the thick-felted purple chairs that rise up and away in front of him.
A look inside the goofy-smart fairy-tale world of the iconoclastic Vancouver artist Myfanwy MacLeod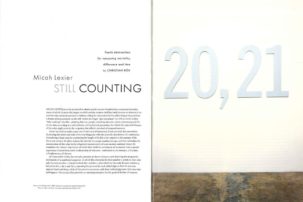 Micah Lexier's distinctive conceptualist abstractions take a poetic measure of mortality and difference Spring 2005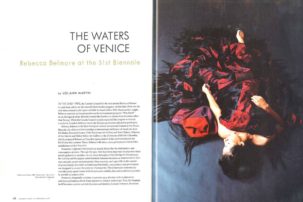 The Canadian artist Rebecca Belmore comes to the 51st Venice Biennale with a bracing, provocative new work Summer 2005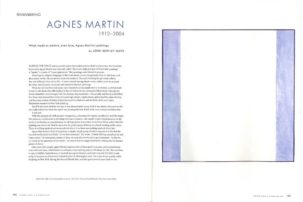 During the long and successful career that ended with her death in December, the Canadian-born artist Agnes Martin was variously called "the ascetic high priestess of Minimalist painting," a "mystic," a creator of "visual epiphanies." Her paintings were likened to prayers.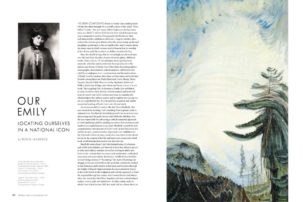 What do Emily Carr's life and art mean to us here and now?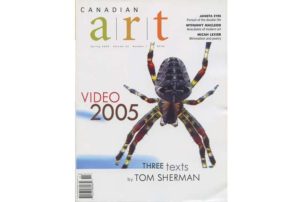 A media arts legend holds forth on the past and future relevance of the 21st century's "predominant medium" Spring 2005