Note to the reader: I am using this monthly column to think out loud in public about questions and controversies arising from my current research for a book about contemporary Indigenous art from 1980 to 1995.
Solo exhibitions are extremely important, but it is often group shows that define artistic movements. This is certainly the case with the discourse of contemporary Indigenous art that was constructed in large part through a series of important group exhibitions in the 1980s and early '90s.
I entered the art world as a profoundly naïve art student in 1988, so I missed seeing many of the exhibitions I will be writing about. I have begun visiting museum archives to view installation photographs and other documents that will help me better understand what they were like, but so far I have been grappling with these exhibitions primarily through their catalogues.
I have discovered that there are more ways to do this than simply reading them.
Outside my office is a workspace with several large tables used by Emily Carr graduate students. Sometimes, when they are not in use, I briefly take them over, spreading out books, catalogues and magazines. I do this because I can often best make sense of groups of things visually and spatially. It is especially helpful in compensating for my weakness with numbers; a string of dates on a page means almost nothing to me.
It has helped me enormously, for example, to take all of my group exhibition catalogues and lay them out in piles, year by year, from 1980 to 1995. In years that I have no publications for, I leave empty spaces (I place the catalogues in the year in which the exhibition opened, rather than the date of publication, when there is a discrepancy). My collection is not yet complete, but it nevertheless gives a sense of the level of activity in a given year.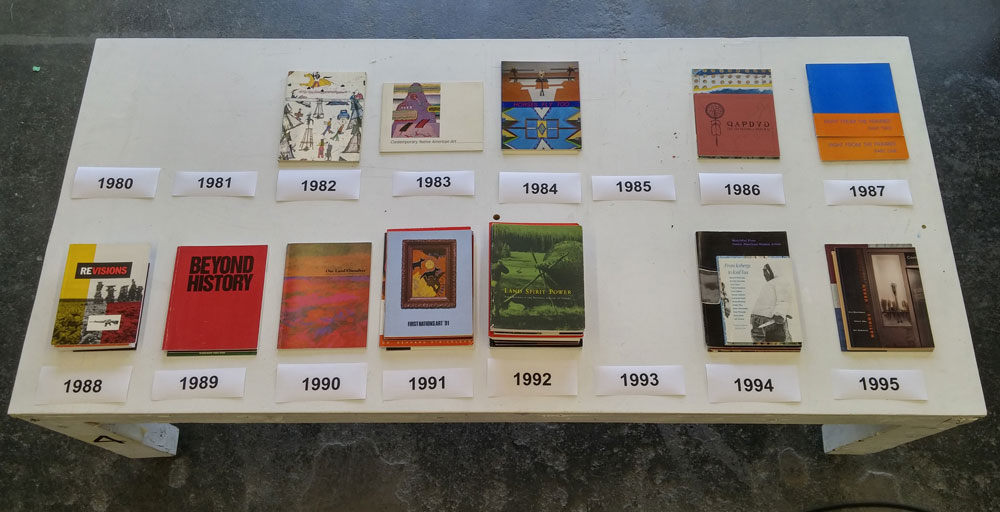 Arranging catalogues of major Indigenous-art group exhibitions of the 1980s and early 1990s indicates some gaps, as well as surges, in activity. Photo: Richard Hill.
I should mention that my project is focused on artists who were using the strategies and approaches of international contemporary art. To clarify that focus in laying out my catalogues, I have therefore not included exhibitions that circulated primarily outside that framework, such as "Norval Morrisseau and the Emergence of the Image Makers," reluctantly mounted at the Art Gallery of the Ontario in 1984, or shows that included contemporary art amongst historical work, such as "The Arts of the North American Indian" at the Philbrook Art Center (now the Philbrook Museum of Art) in Tulsa. Drawing such lines inevitably exaggerates distinctions that may, in reality, be blurry, but this is already a huge project, so I am placing limits were I can to make it viable.
Looking at the photograph of these catalogues arranged chronologically, it is evident that the 1982 catalogue for "New Work By a New Generation" is an outlier, and that it is not until 1986 that group shows considered important enough to rate a catalogue started to appear regularly. The year 1992 saw an explosion not only in the number of catalogues, but in their sizes, too. This resulted from a combination of growing interest in the discourse, and the paradoxical fact that 1992 marked the quincentenary of Columbus's arrival in the Americas. While institutions were obviously encouraged to commemorate Columbus, some curators and artists were able, with varying degrees of success, to use this moment of attention to critical or subversive ends.
That's why my stack of catalogues for 1992 is 8.3 centimetres high, more than double its nearest rival, 1988. And almost all of 1988's height belongs to the thick catalogue documenting the odd collaboration between the University of Wurzburg in Germany and the Canadian Museum of Civilization that led to the exhibition "In the Shadow of the Sun," which opened that year in Dortmund. The German version of the catalogue is a beautiful production, and the English version literally looks as though it was designed on a typewriter.
In a 1992 interview, James Luna, worried that this attention would be a one-time phenomenon, asked: "Will you call me in 1993?" Although 1993 saw little visible exhibition activity in the wake of 1992, artists must certainly have been getting calls from curators that year, because things picked back up again in 1994 and 1995, and have continued since.
Laying out my catalogues geographically is also revealing. During a visit to my office, my friend Lisa Myers "tiled" a crude map of southern Canada and the United States so that we could print it out in sections and tape it all together. Then we laid the catalogues down to get a sense of what happened where. Because many of the shows travelled to multiple venues, this mapping gave a sense of who was originating exhibitions, rather than all the places they were seen.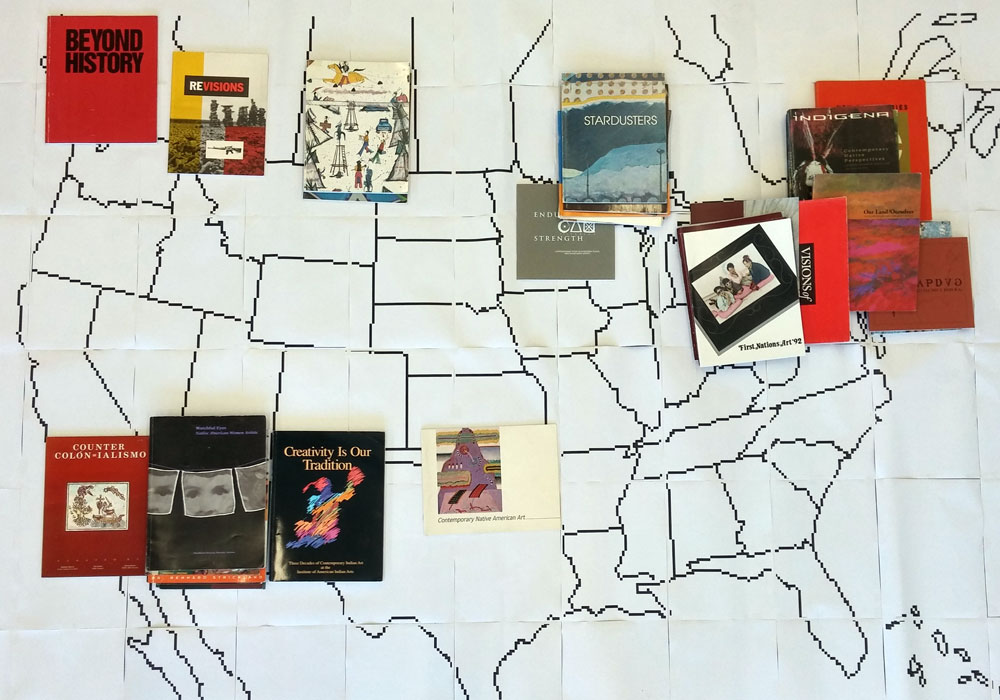 A rough geographic mapping of some of the major Indigenous-art group exhibitions of the 1980s and early 1990s. Photo: Richard Hill.
Some concentrations signalled the activity of institutions mandated to focus on Indigenous art, including what was then the new Thunder Bay Art Gallery in Northwestern Ontario, the Heard Museum in Phoenix, and the Woodland Cultural Centre in Brantford.
Other locations, with fewer catalogues, indicate institutions that were just beginning to have more involvement with contemporary Indigenous art, such as the McMichael Canadian Collection in Kleinburg (just north of Toronto) and the Banff Centre. Others seem simply to reflect the particular interest of an institution (often in a region with a large Indigenous population) or the initiatives of independent curators.
Here are nine exhibitions that stand out for me, in chronological order. As usual, mileage may vary, so don't hesitate to let me know what I've missed.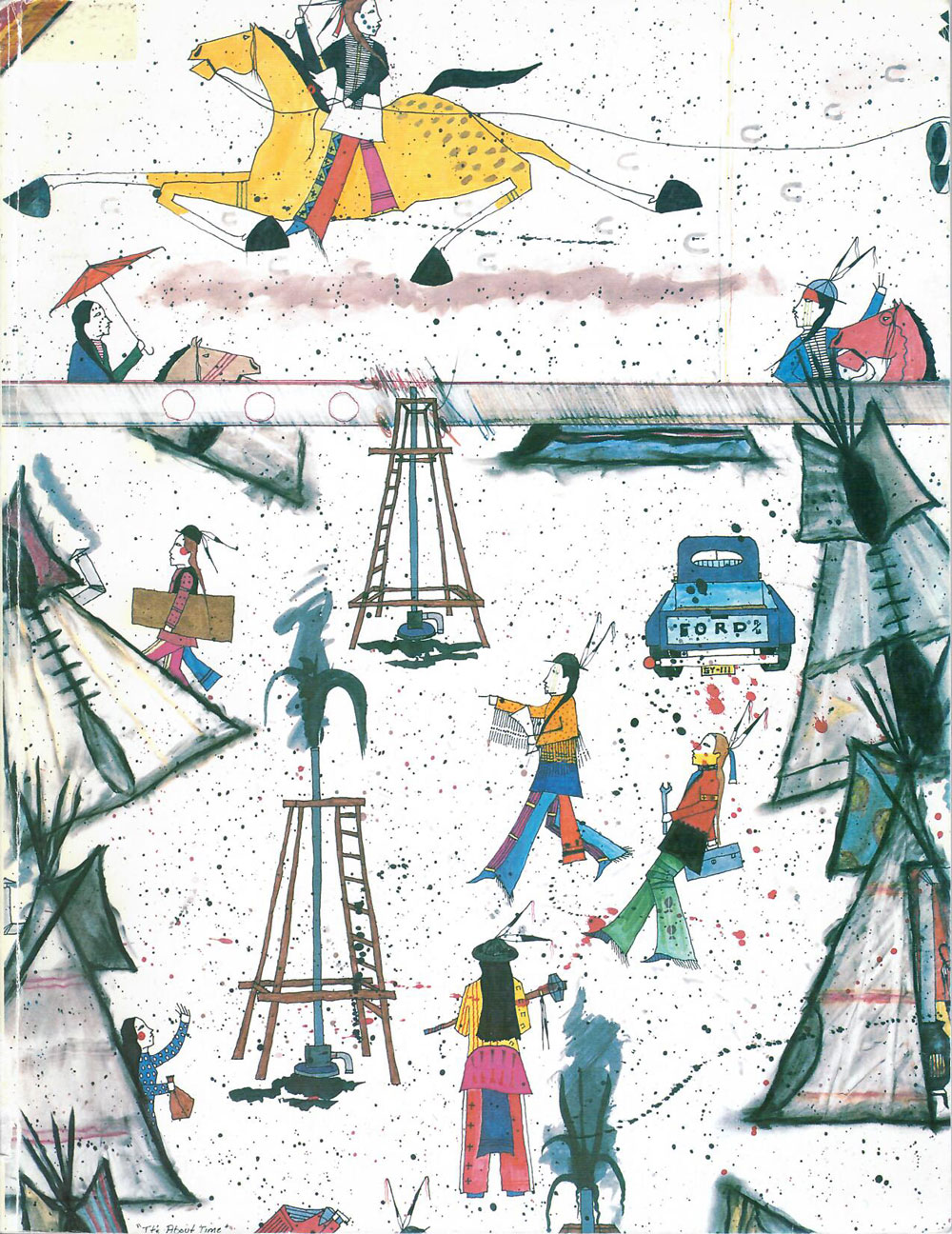 1. "New Work By a New Generation" at the Norman MacKenzie Gallery & Saskatchewan Indian Federated College in Regina (1982)
Curated by Bob Boyer, Robert Houle & Carol Phillips
Artists: Abraham Anghik, Carl Beam, Bob Boyer, Domingo Cisneros, Douglas Coffin, Larry Emerson, Phyllis Fife, Harry Fonseca, Robert Houle, George C. Longfish, Leonard Paul, Edward Poitras, Jaune Quick-To-See Smith, R. Lee White and Dana A. Williams
In collaboration with the Saskatchewan Indian Federated College, the MacKenzie mounted the first exhibition in Canada that attempted to situate the work of an emerging generation of art-school-trained artists. They were, as MacKenzie director Carol Phillips wrote, "artists of North American Indian ancestry who are applying contemporary art concepts, techniques and styles, but who retain, either imagistically or philosophically, connections to their personal heritage."
Robert Houle's groundbreaking catalogue essay "The Emergence of a New Aesthetic Tradition" provided one of our first tools for navigating this transcultural situation, providing a sympathetic and insightful handling of the various artistic heritages making and remaking themselves under the banner of contemporary art. The roster includes artists from Canada and the US, and the curators deserve credit for providing a selection of what looks, even in retrospect, like some of the best work being created at the time.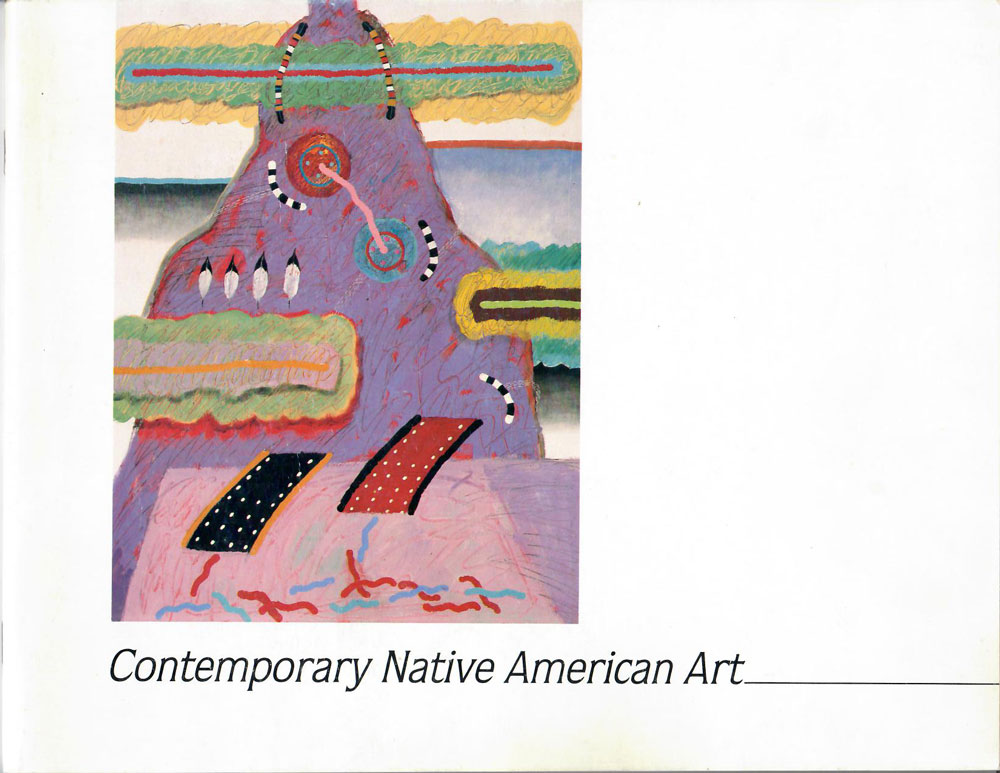 2. "Contemporary Native American Art" at Oklahoma State University's Gardiner Art Gallery in Stillwater (1983)
Curated by Richard A. Bivins
Artists: Lorenzo Clayton, Karita Coffey, Richard Glazer Danay, Larry Emerson, Joseph Feddersen, Harry Fonseca, Ted Garner, Edgar Heap of Birds, Robert Houle, G. Peter Jemison, Armond Lara, Sylvia Lark, George Longfish, Truman Lowe, Gerald McMaster, Leatrice Mikkelsen, Kay Miller, George Morrison, Neil Parsons, Jaune Quick-to-See Smith, Gail Tremblay, Brian D. Tripp, Theodore B. Villa, Kay WalkingStick, Emmi Whitehorse and Gary Yazzie
The generic title of this exhibition provides a sense of how novel the field was back in 1983. A university art gallery is perhaps an unlikely venue for such a large show, but as with "New Work By a New Generation," the curators appear to have deliberately included artists from both Canada and United States, and that they set out to make sense of a new phenomena requiring explanation.
The catalogue's key essay is a consideration of "Contradictions in Indian Territory" by George C. Longfish and Joan Randall. Often writing back to specific then-recent literature expressing angst about the modern/traditional schism, the essay begins with a plea to viewers "to suspend what they 'know' to be Indian art" and consider what such works have to say about contemporary reality. They insist that the artists "are unapologetically Indian people," (imagine even having to say this!) who "do not allow superficial contradictions of their different Indian realities to limit their creativity."
Longfish and Randall then provide a long list of potential experiences reflected in the work, ranging from traditional ceremony to pop-culture stereotypes, activist histories, and the ubiquity of consumer culture. They conclude by telling the reader that if they are able to consider this range of influences, "perhaps you will find that the contradictions of Indian territory are authentically Indian."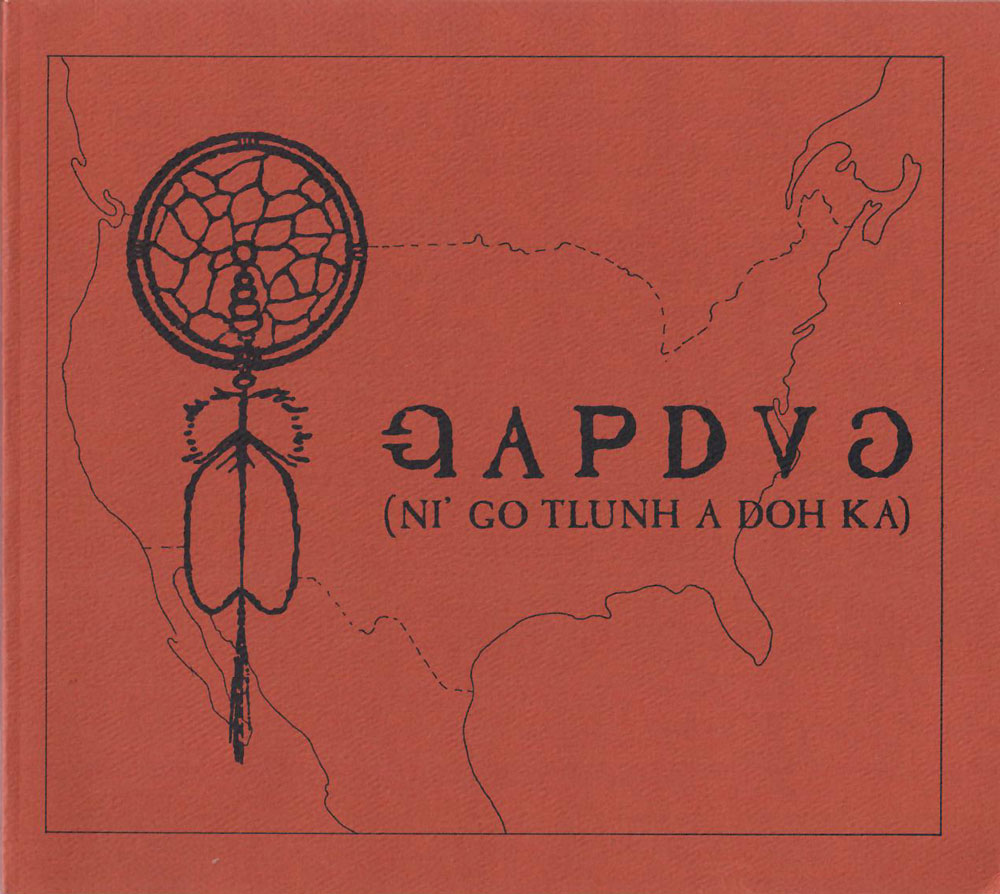 3. "Ni'Go Tlung A Doh Ka" [We Are Always Turning Around On Purpose] at SUNY Old Westbury's Amelie A. Wallace Gallery on Long Island (1986)
Curated by Jimmie Durham & Jean Fisher
Artists: Jimmie Durham, Edgar Heap of Birds, G. Peter Jemison, Jean Lamarr, Jolene Rickard and Richard Ray Whitman
During the mid 1980s, Jean Fisher was a British art critic living in New York, where she taught at SUNY Old Westbury and wrote regularly for Artforum. At the time, Fisher was one of the few white art writers looking beyond the still culturally homogenous mainstream New York art scene to the lively "minority" art worlds that were busy creating space for themselves. (As artist Jimmie Durham put it, he found himself being "part of a gang of minority artists and we curated shows with each other all the time.")
Fisher recalls watching an arts program on television in New York that she thought "summed up the general attitude to Native American arts." On the program, a teacher, during a visit to an exhibition of Indigenous art at the Museum of Natural History, explained to her pupils that "this was what the Indians made when they lived on our land." This insidious gesture nullified territorial claims not only in the present, but retroactively. Indigenous art and culture existed only in the past and could only be valued as a legacy to the current settlers.
Fisher decided to use her access to a campus gallery to curate a contemporary Indigenous art exhibition that could challenge this history of exclusion and misrepresentation. She was adamant that she work with an Indigenous co-curator and was introduced by a colleague to Jimmie Durham. Durham agreed to participate in exchange for help with publicity on a campaign for Indigenous water rights that he was working on for the Women of All Red Nations.
In his catalogue essay, Durham insisted, "We want to be participants in all of art's discourses. We expect that those discourses must allow more voices." What often prevents this, he wrote, "is an unspoken demand that we not exist as ourselves in this world, this terrible week, but exist only as nostalgic echoes of our ancestors—the 'real' Indians."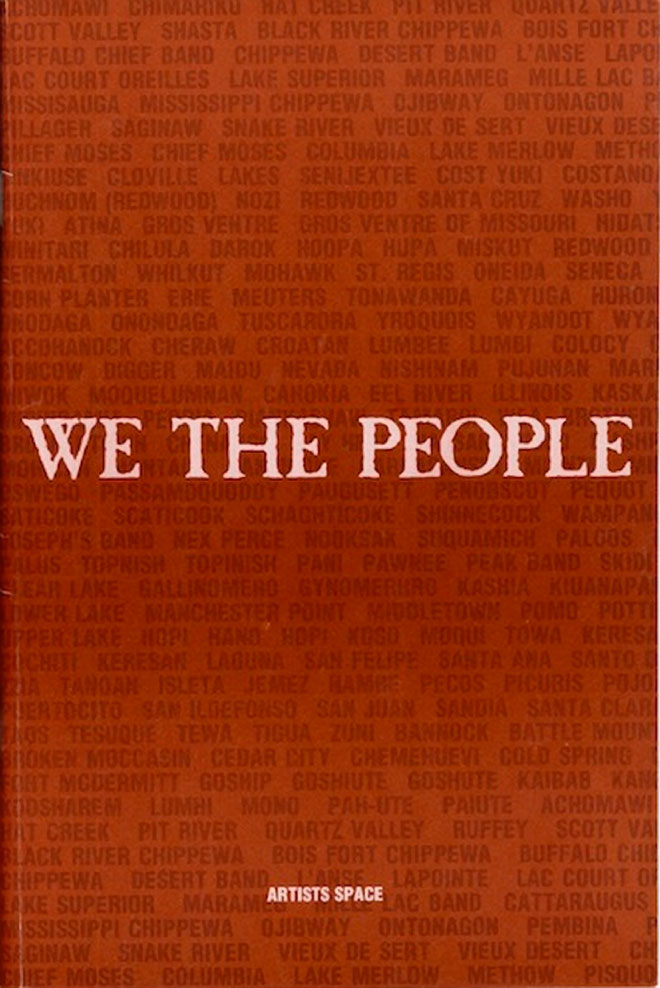 4. "We the People" at Artists Space in New York (1987)
Curated by Jimmie Durham & Jean Fisher
Artists: Pena Bonita, Jimmie Durham, Harry Fonseca, Marsha Gomez, Tom Huft, G. Peter Jemison, Jean LaMarr, Alan Michelson, Joe Nevaquaya, Jolene Rickard, Susana Santos, Asiba Tupahache, Kay Walkingstick and Richard Ray Whitman
The year following "Ni'Go Tlung A Doh Ka," Fisher and Durham collaborated again, bringing a larger group of artists together for "We the People" at Artists Space, then located in Tribeca.
Essays for this 1987 show pushed further into the question of misrepresentation.
Durham wrote, "We want to figure out how not to entertain you, yet still engage you in discussions about what is really the center of your reality, although always an invisible center."
Paul Chaat Smith marvelled at the romantic affection so many Americans seem to feel for American Indians, asking, "Why can't Americans hate us? Here we are a constant reminder that this country is profoundly evil, born in unspeakable crimes."
This romanticism, Smith suggests, is as debilitating as outright hatred. Yet he concludes his essay hopefully, imagining that "someplace Indians are plotting a new way to see the world, and be seen."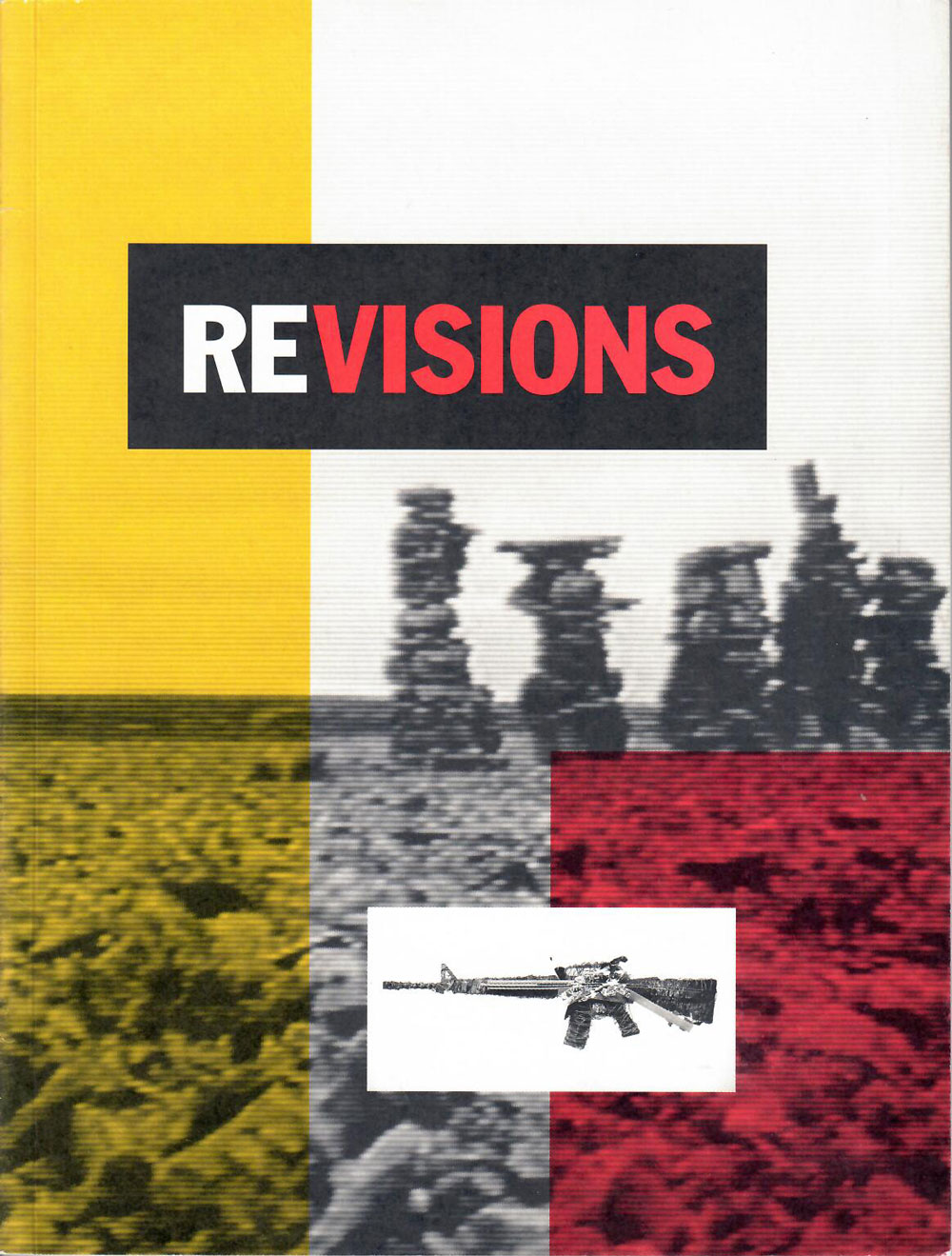 5. "Revisions" at the Walter Phillips Gallery in Banff (1988)
Curated by Helga Pakasaar
Artists: Joane Cardinal-Schubert, Jimmie Durham, Edgar Heap Of Birds, Zacharias Kunuk, Mike Macdonald, Alan Michelson, Edward Poitras and Pierre Sioui
"Revisions" was the first opportunity since 1983 to reconnect the histories of exhibitions that had been developing in Canada and the United States. Jean Fisher remembers that "curators travelled from Canada" to see "We the People," and then included several artists that Fisher and Durham had been working with. Here, they also included Durham's art, and a new essay by Fisher.
The uniformly strong work and thoughtful essays by Indigenous and non-Indigenous writers in"Revisions" provide a sense of a discourse that was maturing, although these essays would only become available to the public in 1992 when the catalogue was, at last, published.
Nevertheless, earlier assertions of "Indian modernity" have been complicated by the sharp critical positions staked out by Durham and Fisher, and they are also increasingly intersecting with the critical tools and political agendas of other socially engaged art practices and theoretical frameworks of the time.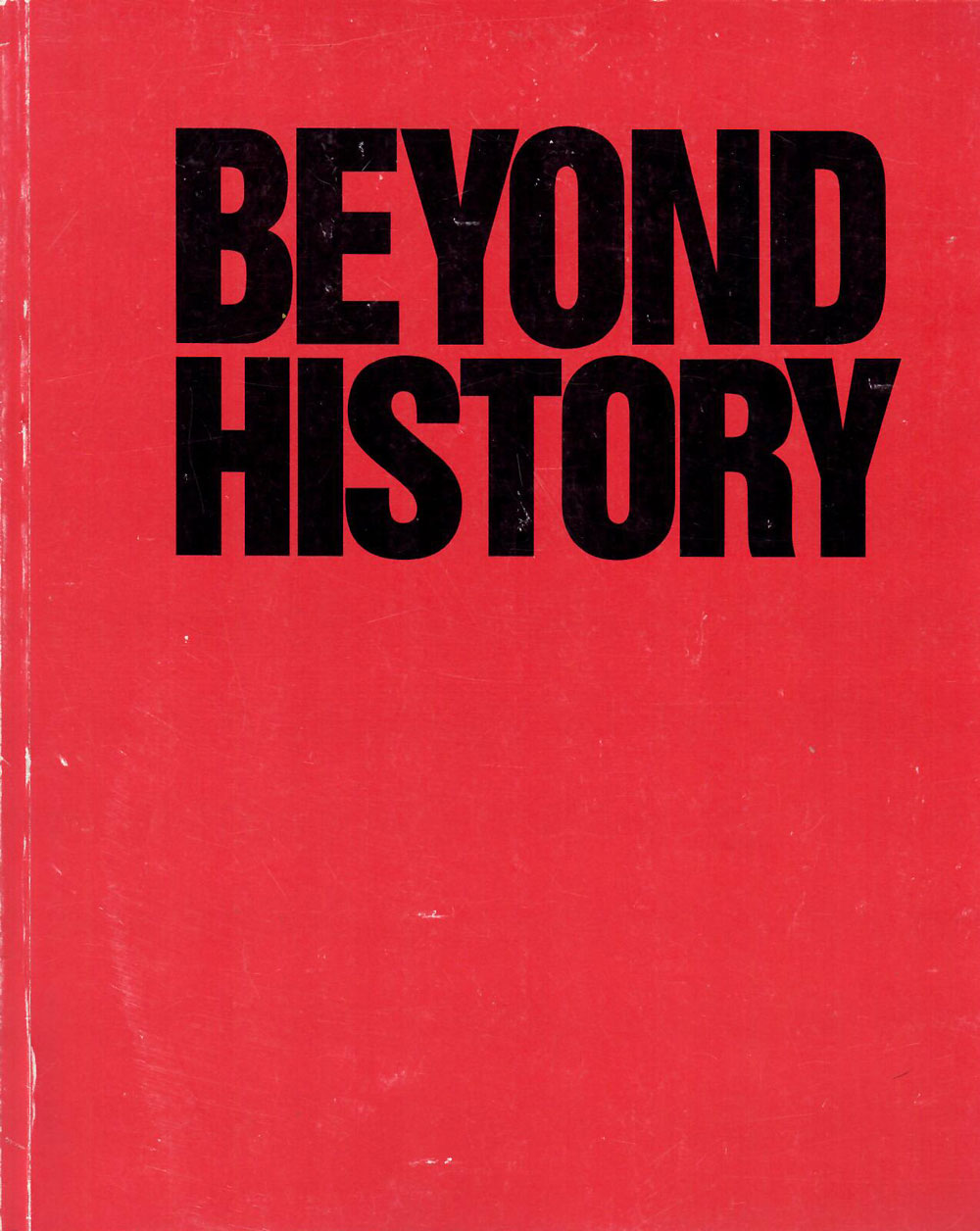 6. "Beyond History" at the Vancouver Art Gallery (1989)
Curated by Karen Duffek & Tom Hill
Artists: Carl Beam, Joane Cardinal-Schubert, Robert Houle, Ron Noganosh, Edward Poitras, Bob Boyer, Domingo Cisneros, Mike Macdonald, Edward Poitras, Jane Ash Poitras and Pierre Sioui
The title of this exhibition might easily mislead the viewer, since the essays and artworks tend actually to be obsessed with the problem of history. The approach is therefore less a transcendence than an immersion in, and revision of, the facts and methods of history in general, and Indigenous art history in particular.
Although this show was a collaboration between the Woodland Cultural Centre and the Vancouver Art Gallery, when the VAG curator assigned to the project left the institution, curatorial responsibility for the project was handed over to Karen Duffek, an anthropologist then working as a guest curator at the UBC Museum of Anthropology. It is difficult not to read this decision as the VAG's answer to debate at the time about whether art history or anthropology was the proper discipline for the study of Indigenous art.
Duffek has said since that she felt out of her element writing about contemporary art, although she proved herself then (and subsequently) to be an astute observer with much to say.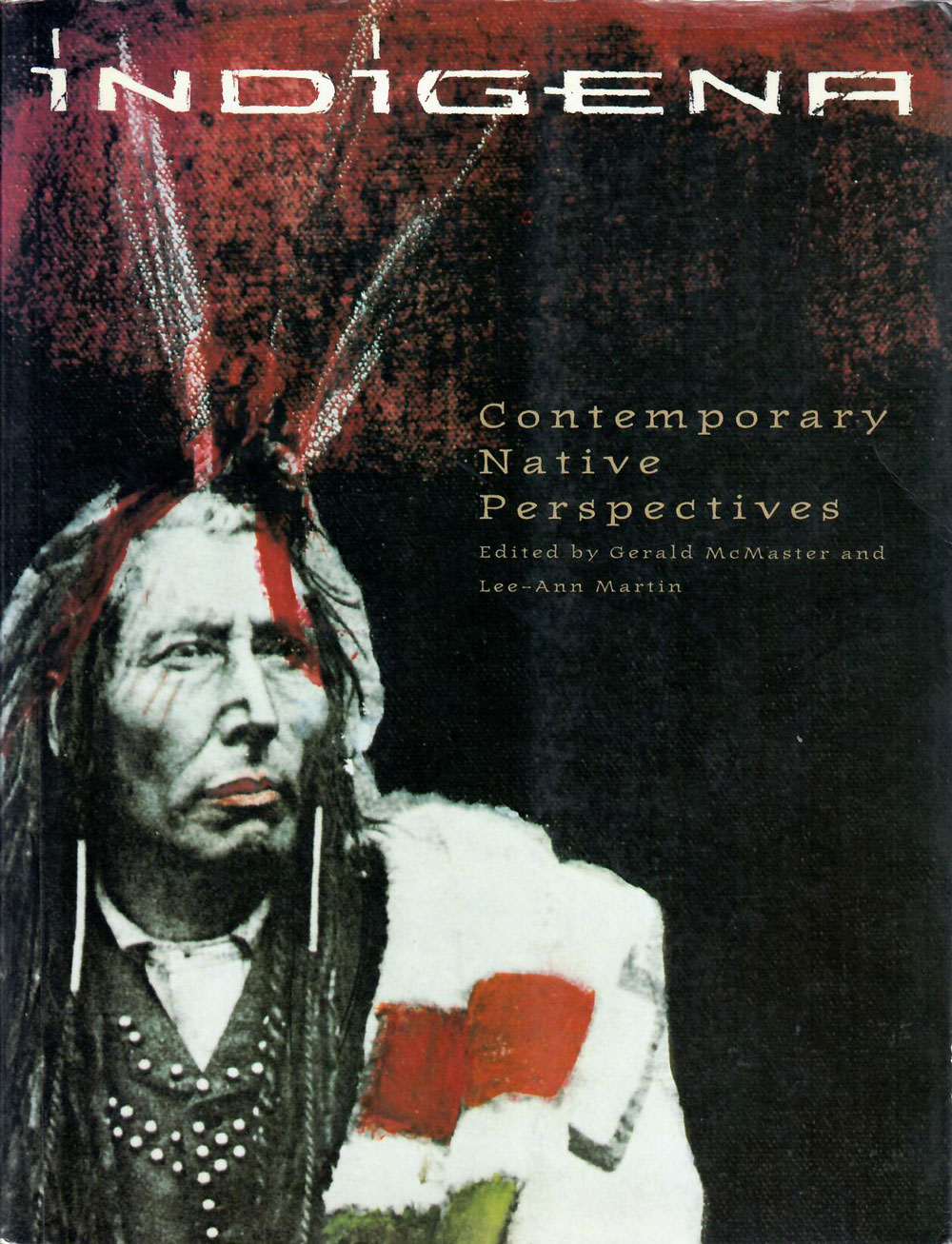 7. "Indigena" at the Canadian Museum of Civilization (now Canadian Museum of History) in Hull (1992)
Curated by Lee-Ann Martin & Gerald McMaster
Artists: Kenny Baird, Rebecca Baird, Carl Beam, Lance Belanger, Bob Boyer, Joane Cardinal-Schubert, Domingo Cisneros, Joe David, Jim Logan, George Longfish, Mike Macdonald, Edward Poitras, Jane Ash Poitras, Rick Rivet, Eric Robertson, Luke Simon, Nick Sikkuark, Lucy Tasseor and Lawrence Paul Yuxweluptun
"Indigena" was a survey of recent Canadian Indigenous art by a national institution with the resources to include many artists and publish a major catalogue; by far the most substantial we have looked at so far. It is also the first exhibition on this list initiated and curated entirely by curators of Indigenous heritage. All of the catalogue essays are by Indigenous writers as well.
This was no doubt because Gerald McMaster had an established curatorial position at the museum and was cleverly able to leverage the pressure to acknowledge the Columbus quincentenary into a proposal for a contemporary art exhibition explicitly designed to address Indigenous perspectives on Columbus's colonial legacy. As the advertising campaign read, "Perhaps if they'd stolen your land, your culture and your spirit, you'd paint a different picture of history too."
This activist stance infuriated John Bentley Mays, who was then the art critic for the Globe and Mail. He believed that the European arrival in the Americas was "too obviously wondrous in its cultural consequences to portray as a fiasco" and dismissed the exhibition itself as "anti-white propaganda."
8. "Land, Spirit, Power" at the National Gallery of Canada in Ottawa (1992)
Curated by Diana Nemiroff, Charlotte Townsend-Gault & Robert Houle
Artists: Carl Beam, Rebecca Belmore, Dempsey Bob, Domingo Cisneros, Robert Davidson, Jimmie Durham, Dorothy Grant, Edgar Heap Of Birds, Faye HeavyShield, Alex Janvier, Zacharias Kunuk, James Lavadour, Truman Lowe, James Luna, Teresa Marshall, Alanis Obomsawin, Kay WalkingStick and Lawrence Paul Yuxweluptun
I think of "Land, Spirit, Power" and "Indigena" as pendant exhibitions staged by Canada's two major national museums. Each was an ambitious survey, and during the overlap in their runs, they were literally within sight of one another across the Ottawa River.
Considering the shows together, I have often marvelled that two groups of discerning curators chose almost completely different artists. Only three artists were included in both shows. This was partly because "Indigena" was, to its detriment, limited to artists from Canada. But it also suggests that, even then, a comprehensive and definitive statement about Indigenous art in general was already beyond the ability of a single large exhibition to capture.
"Land, Spirit, Power" also marked an unprecedented level of mainstream recognition. In the past, Indigenous art would not have been considered the proper remit of the National Gallery, and would have been confined to the other side of the river.
In his review in the Globe, John Bentley Mays suspected this recognition would be short-lived, describing it as a "white-guilt exhibition of work by Canadians and Americans from aboriginal backgrounds, most of whom have never been seen before at the NGC, and will probably never be seen there again." Fortunately, his powers of prognostication were no better developed than his openness, at the time, to new cultural perspectives.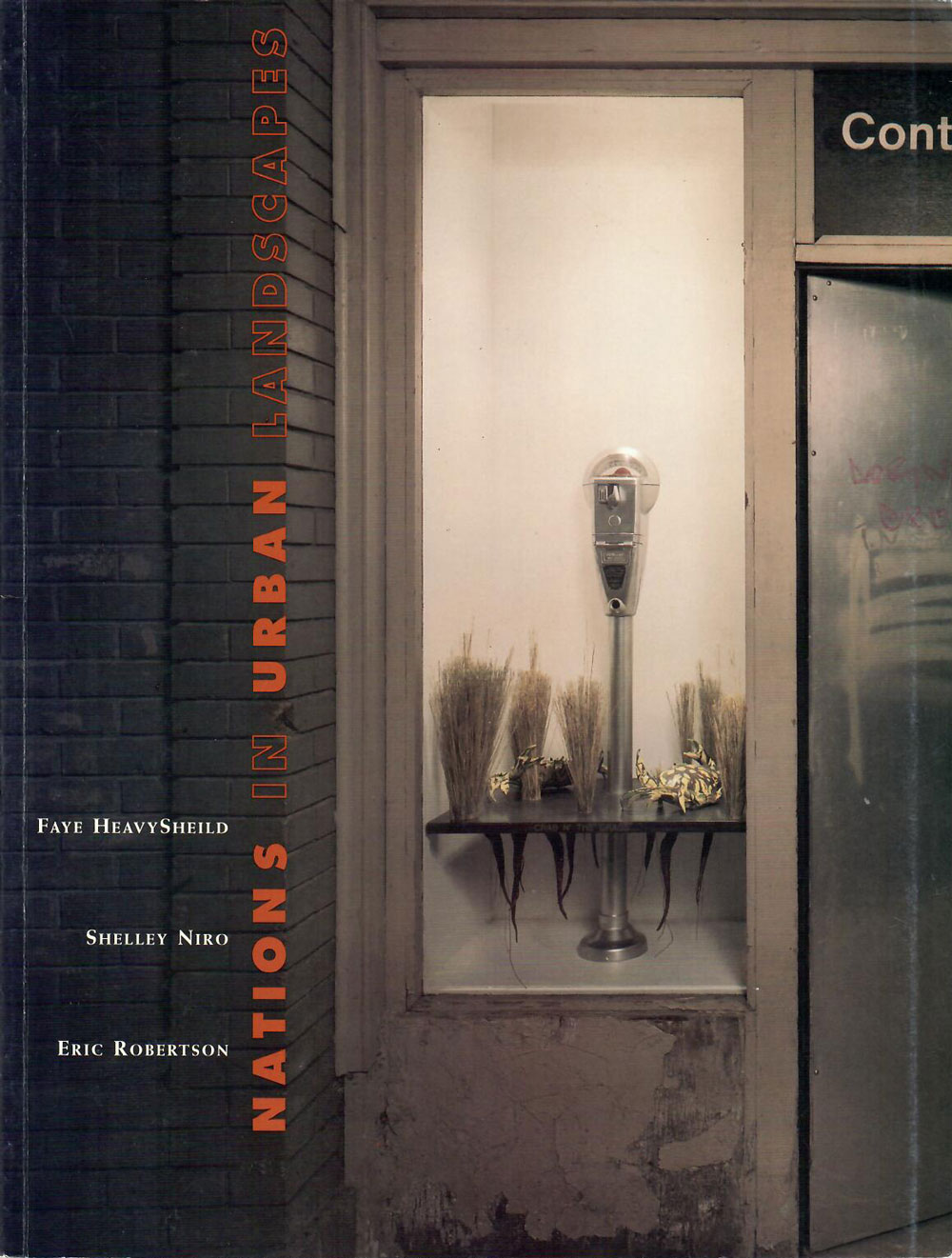 9. "Nations in Urban Landscapes" at the Contemporary Art Gallery in Vancouver (1995)
Curated by Marcia Crosby
Artists: Faye HeavyShield, Shelley Niro and Eric Robertson
Marcia Crosby's brilliant exhibition "Nations in Urban Landscapes" marks a turning point in the discourse we have been following. Until this point, all of the exhibitions were aimed at identifying and making sense of the general situation of contemporary Indigenous artists, ending with some very complex readings of what that might amount to.
At this moment, many curators began to wonder whether ethnicity alone might no longer be a reasonable premise for a group exhibition. In some cases, this meant a new focus on exploring individual practices in depth through solo exhibitions; in cases, this meant finding more specific themes to explore, or including Indigenous artists in group exhibitions with themes not specific to their ethnicity. (Occasionally, a throwback to what I sometimes jokingly refer to as the "What are the Indians up to?" approach still emerges. The most recent was the preposterously regressive and intellectually bankrupt "Changing Hands: Art Without Reservation" exhibitions organized by the Museum of Arts and Design in New York City.)
Crosby's show, however, set the standard for a critical focus that builds on existing issues and pushes them forward in challenging new directions. She described the exhibition's goal as locating "First Nations outside the demarcated space of Indian reserves, traditional territories, and the land and resource disputes between First Nations and Canadian governments; that is, outside the place where aboriginal people are recognized 'officially' as having authority, and where the signposts of clearly defined 'difference' are still determined by the conventions of authenticity, origins and tradition."
Now those are questions worth grappling with.
Richard William Hill is Canada Research Chair in Indigenous Studies at Emily Carr University of Art and Design in Vancouver. If you have advice, information, documents or anything else that might help him with his research on Indigenous art from 1980 to 1995, he would be grateful to hear from you: richardhill@ecuad.ca. Thanks to the many people who have already been in touch.