Note to the reader: I am using this monthly column to think out loud in public about questions and controversies arising from my current research for a book about contemporary Indigenous art from 1980 to 1995.
Lately, I have been thinking it might be illuminating to borrow Arthur Koestler's method for casting a "secular horoscope."
Koestler began his 1952 autobiography Arrow in the Blue with his own secular horoscope, explaining, "Astrology is founded on the belief that man is formed by his cosmic environment; Marx held that he is the product of his social environment." Thanks to the invention of the daily newspaper, and related archives, Koestler argued, it is possible to recover a lot of specific information from the time when you were born and sift it with an eye to its cultural importance for the life to come.
There are two reasons that I want to go back to the year and place of my birth—namely, Vancouver in 1967—and cast my Indigenous art horoscope, particularly in the context of researching a book about contemporary Indigenous art from 1980 to 1995.
The first reason is the recognition that all histories have prehistories. When you bracket off a particular period for study, as I have, the decision is inevitably, from some perspective, arbitrary and violent. Every act of definition and inclusion is, after all, also an act of exclusion, severing lines of continuity and connection to earlier pasts. Yet that pre-history persists, sending out gravitational waves from the past that are recognizable only by their subsequent effects on our objects of study.
The second reason arises from my awareness that, in my own work, I have always followed my muses, inevitably sacrificing the impulse toward comprehensiveness to particular enthusiasms. As I find myself doing that with this project, I have naturally been thinking about my personal relationship to the history I have been researching, and the consequences my own experiences and eccentricities might have on the outcome.
In 1967's Hombre, Paul Newman played a white man raised by and sympathetic to the Apache.
Chart One: The Alignment of Popular Culture
In 1967, representations of Indigenous peoples were ubiquitous thanks to Hollywood film and television Westerns, but our own voices and images were virtually invisible in popular culture or public life. In literature, for example, N. Scott Momaday's breakthrough novel, House Made of Dawn, which is often credited with launching a literary "Native American Renaissance," was still one year away.
In 1967, there were only three US networks producing television comedies and dramas, but between them they had on the air at least fifteen Western dramas, three Western sitcoms and at least two Western cartoons (search Youtube for Go Go Gophers if you are in the mood to be deeply offended).There was also a Western-themed newspaper comic strip called Tumbleweeds, featuring cowboys and a local Indian tribe called the "Poohawks." To add a little race-relations context, the first inter-racial kiss on television—on Star Trek, between Captain Kirk and Lieutenant Uhura—was still one year away.
1967 also saw the release of Hombre, starring Paul Newman as a white man raised by and sympathetic to the Apache. Although not free of the clichés and stereotypes of the genre, it was an early attempt to raise revisionist questions about the fundamental racism of the genre.
Forecast Following From Chart One: The Alignment of Popular Culture
Even a hint of optimism will be enough: things can only get better. Artists and writers will see that one of their first tasks is to theorize and dismantle this history of misrepresentation.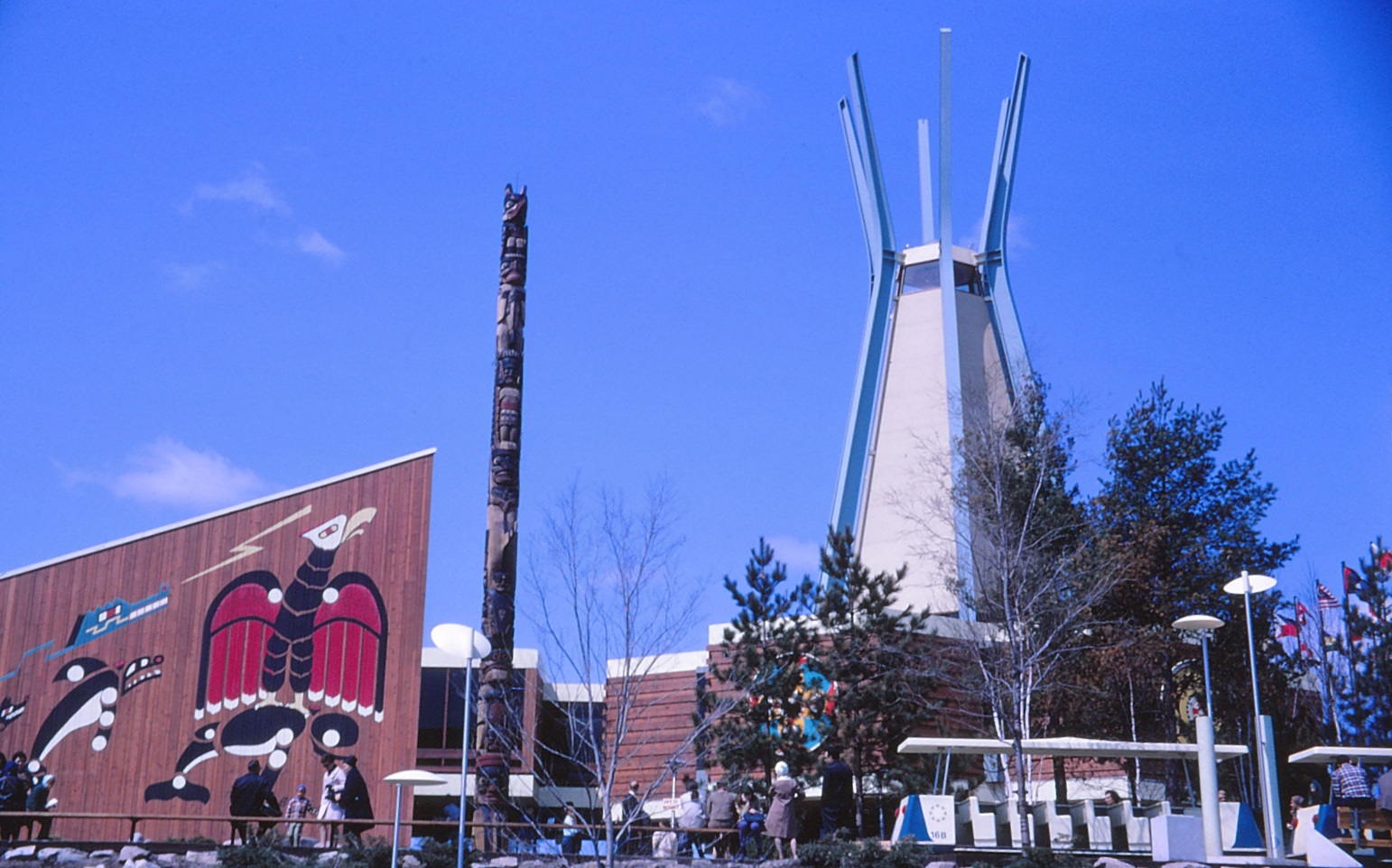 A view of the Indians of Canada Pavilion at Expo 67 in Montreal. The display inside the pavilion presented some critical takes on Indigenous life in Canada. Photo: Laurent Belanger via Wikimedia.
Chart Two: The Alignment of Indigenous Political Consciousness
An explosion of Indigenous activism may have been unleashed in Canada and the US in the 1970s, but in 1967, this long-brewing discontent still festered beneath the surface of public awareness. As Paul Chaat Smith and Robert Warrior noted in Like A Hurricane, their history of the Indigenous political movement in the US, it had been taken for granted (and even as a point of pride by some Indigenous advocacy groups) that, unlike "restive" African Americans, "Indians Don't Protest."
One tip of that iceberg that surfaced in 1967 was the youth movement activist Clyde Warrior's testimony before the President's National Advisory Commission on Rural Poverty. His words would become a battle cry: "We are not free. We do not make choices. Our choices are made for us; we are the poor. For those of us who live on reservations these choices and decisions are made by federal administrators, bureaucrats, and their "yes men," euphemistically called tribal governments." The American Indian Movement would be founded one year later.
In Canada there was a more visible eruption thanks to the focus provided by the centennial celebrations and Expo 67, which I will discuss below.
Forecast Following From Chart Two: The Alignment of Indigenous Political Consciousness
Attitudes will continue to change, but resistance will be fierce, from Wounded Knee to the Mohawk defense of Kanesatake. The threat also persists that the political capital earned by activists will be blunted or co-opted by improvements to the situations of a growing Indigenous middle class, while underlying conditions do not fundamentally shift.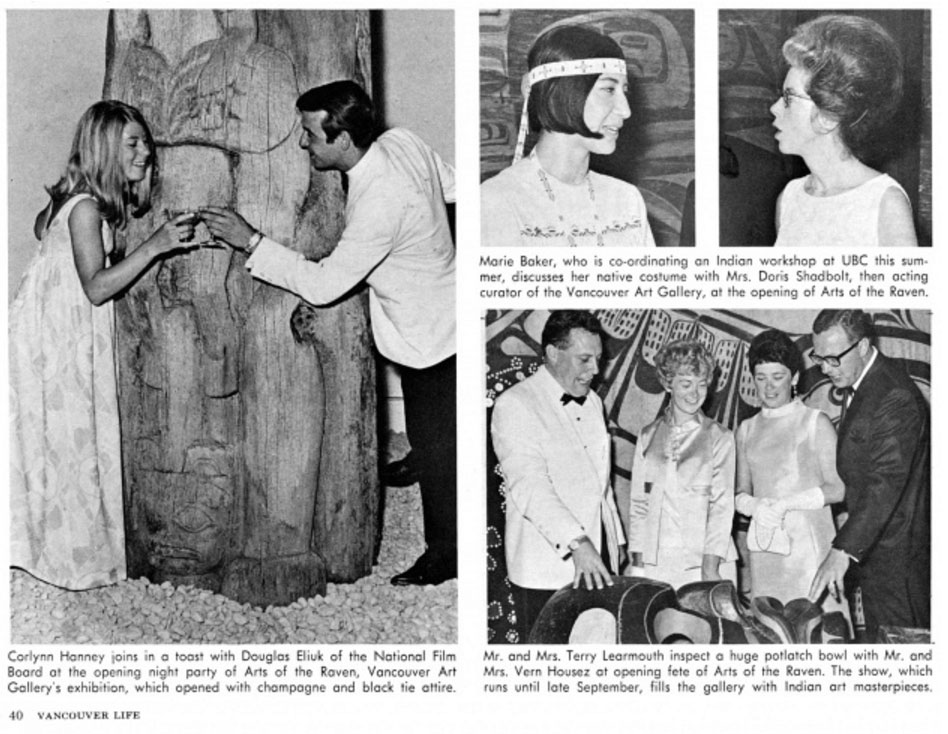 A 1967 photo spread in Vancouver Life documented some of the scenes from the opening of "Arts of the Raven: Masterworks of the Northwest Coast" at the Vancouver Art Gallery. Image via the Vancouver Art in the Sixties website.
Chart Three: The Alignment of Indigenous Exhibitions
In 1967, Indigenous art—historical and contemporary—struggled to find a place for itself within a still dominant Modernist paradigm. The false choice offered was often between the categories of the modern or the primitive.
For example, the language used by the New York auction house Parke-Bernet Galleries to title a 1967 auction is tellingly dated. On offer to the highest bidder was: "Primitive art: African, Oceanic, American Indian, Pacific Northwest Coast and Pre-Columbian." The objects were described as "duplicates from the collection of Governor Nelson A. Rockefeller and the Museum of Primitive Art, New York."
In Canada's centennial year, artists and exhibition organizers either celebrated or attempted to subvert the appropriation of Indigenous art and culture into the Canadian National narrative.
The Indians of Canada Pavilion at Expo 67 was a problematic space that Indigenous artists and organizers worked hard to turn to their ends. Despite artworks by Alex Janvier and Norval Morrisseau being altered against their wishes and other unhappy compromises, Indigenous perspectives critical of the Canadian government did find their way into the pavilion. This surprising outcome arose out of the creation of an Indigenous Advisory Council that was—after threatening to walk away from the process and take their concerns to the media—able to wrestle a degree of control over the exhibit. As Tom Hill, who was involved in the project, put it, "The government really wanted a positive image in that pavilion and what they got was the truth. That's what really shocked them the most."
This critical content at the Expo 67 pavilion also surprised and offended some of the three million visitors, but the response in the Canadian press was generally supportive, including an editorial in the Globe & Mail that echoed Hill's assessment: "Visitors in the Canadian Indian pavilion…are not elated at what they see. …though all that the Indians have done is describe with photographs and statistics the story of their progress since Confederation." It was a period in which there was sympathy to the "plight of the Indian," but not yet wide awareness or anxiety about the potential radical consequences of Indigenous activism.
In my home city of Vancouver, there was "an exhibition in honour of the one hundredth anniversary of Canadian Confederation": namely, "Arts of the Raven: Masterworks of the Northwest Coast" at the Vancouver Art Gallery. It featured historical and contemporary work and attempted to shift appreciation from an anthropological to a modernist artistic context of aesthetic appreciation.
I would like to imagine that my parents or other relatives might have gone to see "Arts of the Raven," but I think that the chances of any of them entering a museum back then are close to nil.
There was also architectural activity in 1967 that would have future museological significance. In that year, Douglas Cardinal's St Mary's Church was under construction in Red Deer, Alberta. This stunning building already featured the signature curves that Cardinal would bring to his designs for two major museums: the Canadian Museum of Civilization (now the Canadian Museum of History) and the Smithsonian National Museum of the American Indian. His fascination with curvilinear design led to strife during his studies at the University of British Columbia in the 1950s, where a modernist rectilinear program dominated. Failure to conform led eventually to a confrontation with the director, who reportedly told him he had "the wrong family background," to succeed in the field.
Forecast Based on Chart Three: The Alignment of Indigenous Exhibitions
Contemporary Indigenous artists are going to see access to exhibitions and the institutions that put them on as a key goal, making inroads in the 1970s and bigger breakthroughs in the 1980s and 1990s. A lot of people who, like me, expect to be artists are going to figure out that they are also going to need to be curators and writers.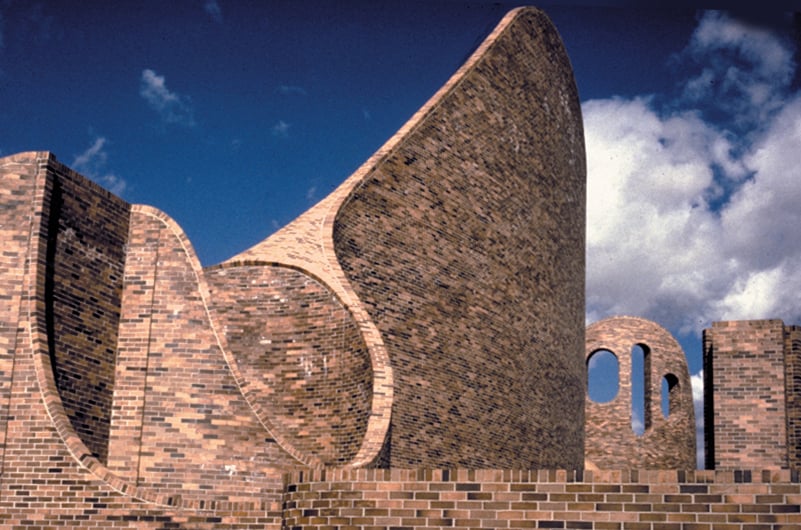 A view of Douglas Cardinal's St. Mary's Church in Red Deer, Alberta. Cardinal was reportedly chastised during his architectural training at UBC for not having the right "background" to be an architect.
Chart Four: The Alignment of Indigenous Artists
It was challenge to be an Indigenous artist in 1967. It was not easy to get training or to negotiate the modern/primitive divide noted above. The Institute of American Indian Arts, which had been underway since 1962, embraced a modernist agenda and emphasis on individual vision. Many other artists sought training in mainstream art schools.
Here's a sample of what a few specific artists were doing:
In the 1960s, Carl Beam had five children, had not yet gone to art school and was working in various industrial labour jobs. Fortunately he would find his way to art school in the early 1970s.
In 1967, Bob Boyer graduated from high school. The next year, he would enrol in the University of Saskatchewan. Ted Godwin, his one-time professor and longstanding friend, wrote that Boyer was "the first Native Canadian I had encountered in a university context." Boyer would go on to an impressive artistic career and to be instrumental in the development of the fine arts program at the Saskatchewan Indian Federated College (now First Nations University of Canada).
In 1967, artist George Longfish was working on his BFA at the School of the Art Institute of Chicago, despite that fact that, as he put it later, "There wasn't the idea of going to college in my family." Longfish took a position in Native American studies at UC Davis in 1972, where he taught for 30 years and developed the C.N. Gorman Museum, a site of frequent exhibitions of contemporary Indigenous art.
In 1967, artist T.C. Cannon was in Vietnam with the 101 Airborne Division. He had already attended the Institute of American Indian Art in Santa Fe, studying under Fritz Scholder, and had gone on to the San Francisco Art Institute, before dropping out to enlist in the army.
In December 1967, Cannon wrote to his former dorm counsellor at IAIA, Robert Harcourt, stating, "I have already seen some young men die…and I don't like it…" In another letter he told him, "…take care of the Institute and the students and make sure they go to college because they sure as hell don't have any business over here. …Remind them that they are the ones that must make the Indian world of tomorrow and no one else is there to do it for them."
In 1967, Daphne Odjig was in Easterville, Manitoba, where her husband was a community development officer for the provincial government. While there she did many pen and ink drawings of people from the reserve.
In 1967, artists George Clutesi, Noel Wuttunee, Gerald Tailfeathers, Ross Woods, Alex Janvier, Tom Hill, Norval Morrisseau, Francis Kagige and Jean-Marie Gros-Louis were all contributing work to Expo 67. Hill remembers it as an important moment for them to meet and become aware of themselves as a group. This was surely then one of the birthplaces of the idea of contemporary Indigenous art as a pan-community project rather than a series of isolated regional phenomena. Hill's experience of the power of display led him immediately toward a career in curating.
There were also a number of artists who had already found varying degrees of mainstream art world success in 1967 by not making their Indigenous heritage an explicit aspect of their art.
Artist Raymond Boisjoly mentioned the most famous of these, Robert Rauschenberg, in a comment on one of my recent columns. In 1967, Rauschenberg was an international celebrity artist and he has since maintained as secure a position in the canon as any artist of the later half of the 20th century. He acknowledged his Cherokee heritage, but it never came to the foreground in explanations of his art.
Rauschenberg's success meant that in 1967, while Indigenous Canadian artists were showing in the Indians of Canada Pavilion at Expo 67, Rauschenberg was part of the "American Painting Now" exhibition, in the US Pavilion's geodesic dome designed by Buckminster Fuller.
This light treatment of an Indigenous heritage might look almost seductive again now, when the balance has shifted so far in the other direction. I am sure there must be young artists out there chafing at—as a few always have—the expectation that their art focus primarily on Indigenous signs and subjects.
Another fascinating example is Robert Markle, an artist who was at the very centre of Toronto's cultural scene in 1967. His erotic, expressionistic paintings of strippers and seedy bar life exemplified the sexual revolution and hard drinking and drugging artistic counterculture of the period.
When the BBC series Panorama made a documentary on Canadian national identity in the lead-up to Expo 67, they went to people in the arts for perspective. Markle was chosen to provide a tour of Toronto from the perspective of a major artist and cultural figure.
That same year Markle was busy working on an article about his friend, folk singer Gordon Lightfoot, for a national magazine. A few years later, he would play Rembrandt in Patrick Watson's docudrama series Witness to History. Peter Unwin describes his performance as "…utterly convincing…uncomfortably so, as if Rembrandt was some minor artist attempting to imitate—him."
Yet he was born Robert Maracle, not Markle. Unwin suggests that his mother may have arranged his name change to screen him from the racism such a recognizably Haudenosaunee surname might have attracted. For much of his career, and certainly the 1960s when his career was at its peak, his Mohawk heritage was rarely discussed.
Later in his life Markle flirted with his Mohawk heritage in his art more often, and mused publicly that the Indigenous art community seemed to be about to claim him as one of their own. But this has never entirely come to pass. For one thing, he did not live long enough to negotiate the transaction himself. In 1990, he died in a collision while driving drunk. A decade or two earlier, this might have counted as a tragically glamorous fate for a hard-drinking artist and only fuelled his legend, but by 1990, this was certainly no longer the case.
More importantly, the rise of interest in Indigenous art ran in parallel with other social justice movements, including feminism. Feminist critique of the objectification of the female body, for a time at least, seemed to put Markle's art beyond the pale. My friend and former Art Gallery of Ontario and York colleague Anna Hudson and others have tried to recuperate him in all his spectacular and problematic complexity, but thus far he remains largely in the wilderness.
Even artists whose careers we associate with the contemporary Indigenous art movement were not necessarily taking on Indigenous subject matter in 1967. Kay WalkingStick, for example, earned her BFA in 1959, but did not bring Indigenous subjects into her work until the 1980s.
We can perhaps understand why when we consider artist and curator Tom Hill's account of his father's attempt to convince him not to attend art school. It was not, as you might expect, because he thought a career as an artist would not be financially viable, but rather because the only Indigenous art world he could imagine was one dominated by tourist kitsch. As Hill tells it:
It took me a few years to really understand his comments. It wasn't until I began to struggle to have my work taken more seriously and accepted for what it was—'Art'—that I found I was being relegated to a special cultural niche here in Canada in which 'Indian' was the key word…. I was tired of working outside modernism, of being the 'authentic' Indian artist making anthropology or tourist mementoes while white artists made serious art.
Fortunately for all of us, Hill did go, and in 1967 he graduated from the Ontario College of Art. An Indigenous art world without Tom Hill's contributions does not bear considering.
Forecast Based on Chart Four: The Alignment of Indigenous Artists
Things are going to stay complicated. Even the language we use will constantly be changing. Still, a new category that we might now call contemporary Indigenous art will emerge to be defined, contested and redefined. Just as one corner gets neatly pinned down, another will pop up. It will be everything but boring.
Horoscope Summary
Having completed this exercise, I see that I have not only been charting the social milieu that I was born into, but registering a series of debts to the past. To everyone I have mentioned here and the many others who, before I was born, were setting things in motion that would one day benefit all of us: thank you.
Richard William Hill is Canada Research Chair in Indigenous Studies at Emily Carr University of Art and Design in Vancouver. If you have advice, information, documents or anything else that might help him with his research on Indigenous art from 1980 to 1995, he would be grateful to hear from you: richardhill@ecuad.ca. Thanks to the many people who have already been in touch.