Note to the reader: I am using this column to think out loud in public about questions and controversies arising from my current research for a book about contemporary Indigenous art from 1980 to 1995. Because the columns have tended to be longer and more involved than I initially imagined, I have decided to change the schedule to once every other month from here on in. (It would be ironic if a few years from now I had a nice collection of columns, but no book!)

My greatest ambition for my book on Indigenous art from 1980 to 1995—and therefore what I most fear getting wrong—is to be able to provide the analytical rigour that the art demands while also conveying the drama of events and personalities.
Too much emphasis on events, and the book will become overly journalistic and biographical: approaches that are often criticized as intellectually lightweight and conservative. But if the work is strictly analytical I worry about missing out on conveying the real drama of what went on.
This balancing act is particularly vexed in the case of Indigenous art, because, despite the frequent claims to radically different cultural approaches to writing and curating, the actual approaches taken, especially by larger institutions, are often familiar and well-established methods of canon building. The effect is often to cement artists' recognition by the institution and perhaps also within the field of "Indigenous art," but at the expense of the work's radical potential. This, in turn, can alienate artists further from the mainstream art world, which is often looking for something more intellectually ambitious and adventurous.
The reasons for this conservatism are complex. On one hand, Indigenous curators have, understandably, been eager to establish a history for the field and to institutionally reify it. This has, at times, led to exhibitions and catalogues that rely on the biographical and anecdotal at the expense of more avant-garde analytical approaches. That said, the resulting catalogues have been extremely useful for the research I'm currently undertaking, as well as for teaching, so there is certainly something to be said for laying the foundations.
Likewise, contemporary Indigenous art also has a parallel history (and a late-19th and early-20th century pre-history) that takes place in response to, for want of a better term, various "Indian art" tourist markets. These markets tend to be deeply conservative in what they support and how they frame art, leaning toward the perverse but still powerful Modernist combination of appeals to traditional authenticity and formalist aesthetics.
The history of exclusion from art museums has also meant that many Indigenous art exhibitions have and continue to take place in ethnographic or other sorts of museums that do not otherwise exhibit contemporary art. This often means that project managers, exhibit and catalogue designers, editors and perhaps even curators may not be that familiar with the art discourse they find themselves participating in.
The oddest subset of such institutions are the many "cowboy and Indian" museums around the American West, many of which supplement their deeply problematic collections with exhibitions of contemporary Indigenous art. Even mainstream museums in the American West are not immune. Many have "Western Art" wings that turn out to be devoted not to, say, Manet and Rembrandt, but to cowboy and Indian kitsch paintings and sculptures.
It all gets complicated when contemporary Indigenous art ends up in the mix. The Eiteljorg Museum of American Indians and Western Art, in Indianapolis, is a good example. The Eiteljorg has established a well-funded fellowship that has supported many fine artists of Indigenous heritage from both sides of the border, helping to build a remarkable collection since it was established in 1999.
That this all takes place within the institutional framework of silly cowboy and Indian paintings, however, is not beside the point. And occasionally the institution's distance from the contemporary art world spills over into the production of exhibitions and catalogues on contemporary art. Can you think of a contemporary art museum, for example, that would publish a catalogue in which quotes are rendered in a handwriting font, as we see (below) in the 2013 Fellowship catalogue? I can't either. It really drains the seriousness out of Lawrence Paul Yuxweluptun's words, doesn't it?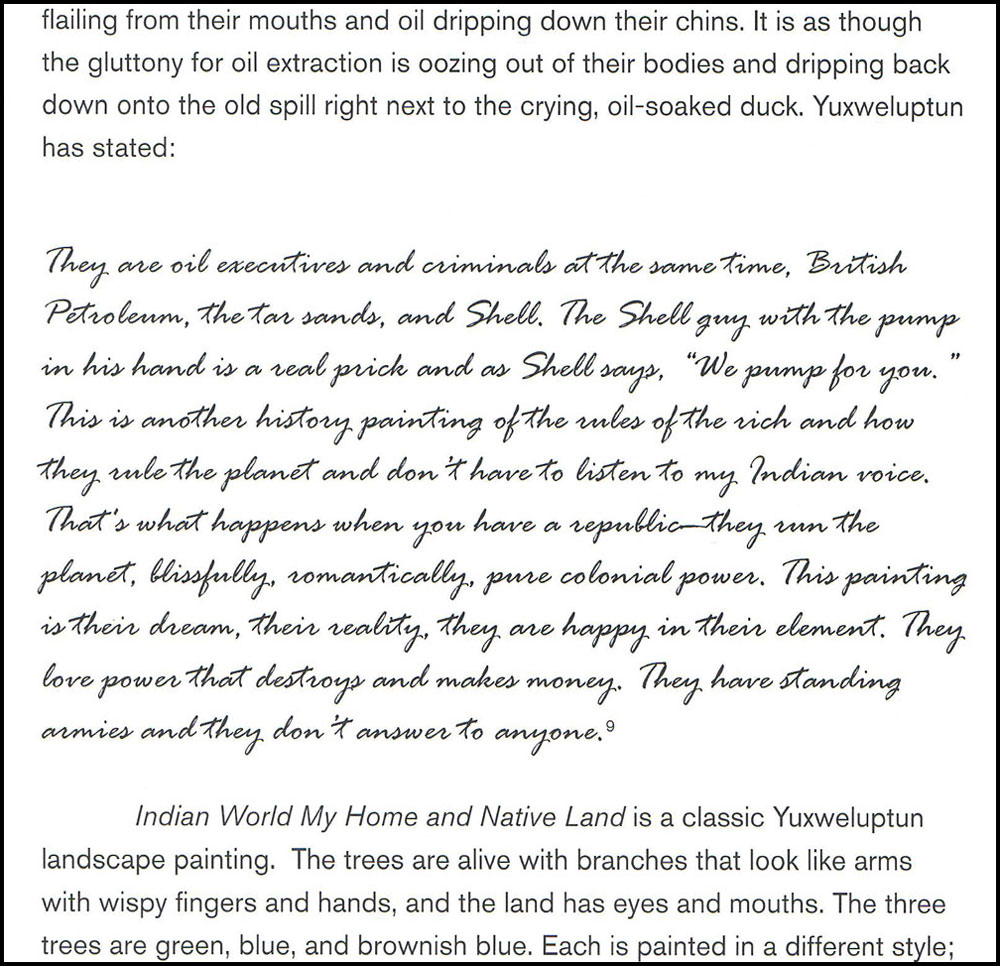 A close-up of a page from the 2013 Eiteljorg Museum fellowship catalogue shows quotations from contemporary artist Lawrence Paul Yuxweluptun rendered, anachronistically for contemporary art publications, in a "handwritten" script. Photo: Richard Hill.
Another pet peeve is the inclusion of photographs of artists in exhibition catalogues and especially on exhibition didactic panels or title walls. This is something other artists rarely face anymore, thanks to a critique of the cult of the artist-celebrity and a general consensus that in the gallery it is the art that matters, not the appearance of the artist.
I should say that I don't mind this strategy in the case of exhibitions with a historical focus, in which photographs can be used to provide a sense of a moment and a scene that no longer exists. But in a contemporary exhibition I find myself asking why this happens so often to Indigenous artists. Is it only a question of being out of sync with the art world, or is their something stranger at work? Does the focus on identity in the art somehow require visual evidence of the maker in some way? If so, we need to think seriously about the implications of this.
So how do we decide what to do in relation to mainstream art-world expectations? I was going to write the sort of thing that I have often heard: that Indigenous artists, writers and curators are free to re-imagine all of these conventions from our own perspectives. But then I realized I was being a bit absurd. Freedom to challenge mainstream conventions is not some special privilege we have by virtue of being Indigenous. Everybody has that right. Indeed, the critique of mainstream methods is and has been a mainstream tradition—perhaps the definitive tradition—in contemporary art since Modernism.
Challenging conventions is part of a critically rigorous practice. The point is to try to do it wisely. As I move forward with my own project, the question I keep asking myself is not so much, "What is the most Indigenous way to do this?" but, "What is, given everything I know about the work, the history and the needs of the present, the best way to proceed?" This gives me the widest range of tools to work with.
When it comes to walking the line between analysis and biography, for example, an important inspiration has come from an unlikely source. Last year I read journalist William L. Shirer's The Rise and Fall of the Third Reich. Despite its many flaws of method and analysis—including the insidiously casual homophobia of the period—I remained amazed at how effectively the author was able to draw me into the narrative.
Of course the period is inherently dramatic and, in many cases, events were so horrific as to render any account inadequate to the scale of suffering and evil that occurred. I have read and been deeply moved by many accounts of the Nazi era, especially those personal accounts that draw you into events at a human scale. But none of the sweeping general histories I have read engaged me as consistently as Shirer's. As a writer I wanted to understand why that was.
I decided that there were two things that seemed to be working on me in combination. The first was that Shirer covered many of the events he recounts in his book when they happened, and was particularly skilled at recreating the sense of suspense regarding what will happen next, even though most of his readers, myself included, knew the main events of the story in advance.
The second is that Shirer was entirely partisan. He despised Nazi fascism. So as the reader finds themselves wondering (despite knowing full well they will) whether the Nazi regime will really get away with their latest set of outrageous lies or territorial conquest, the suspense is given depth and seriousness through a shared moral outrage. Wasn't there, I kept thinking, some way to stop this sooner? How could you inoculate a culture against this sort of demagoguery?
Moral outrage is not the tone I will be shooting for in my book, and events are, thankfully, considerably less dramatic. But that doesn't mean that they are without drama or moral consequence. Far from it. I lived through part of the history I am writing about and, as much as possible, I hope to capture what was at stake and how people made things happen.
My perspective is also partisan, to be sure, and while this fires the project with a sense of the significance of events, it is also a potential weakness if it blinds me to other possibilities. I hope to guard against that weakness by remaining open to new methods and points of view and by a commitment to not let partisanship triumph at the expense of the facts as I know them.
Wish me luck.
Richard William Hill is Canada Research Chair in Indigenous Studies at Emily Carr University of Art and Design in Vancouver. If you have advice, information, documents or anything else that might help him with his research on Indigenous art from 1980 to 1995, he would be grateful to hear from you: richardhill@ecuad.ca. Thanks to the many people who have already been in touch.