The Polygon Gallery, formerly Presentation House Gallery, opened to the public on November 18 with a bold new waterfront building at the foot of Lonsdale Avenue in North Vancouver. The purpose-built facility, designed by Patkau Architects, is 25,000 square feet, a great increase to the renowned photography and media gallery's exhibition and event spaces.
Hoisted above an airy, street-level glass atrium, the second floor is clad in industrial grating over glimmering polished steel with a saw-tooth roof, giving the institution a landmark quality worthy of its longstanding reputation. The design is simple and eye-catching, adding to other iconic North Shore features nearby—the rotating neon 'Q' sign of the Lonsdale Quay Market, for one.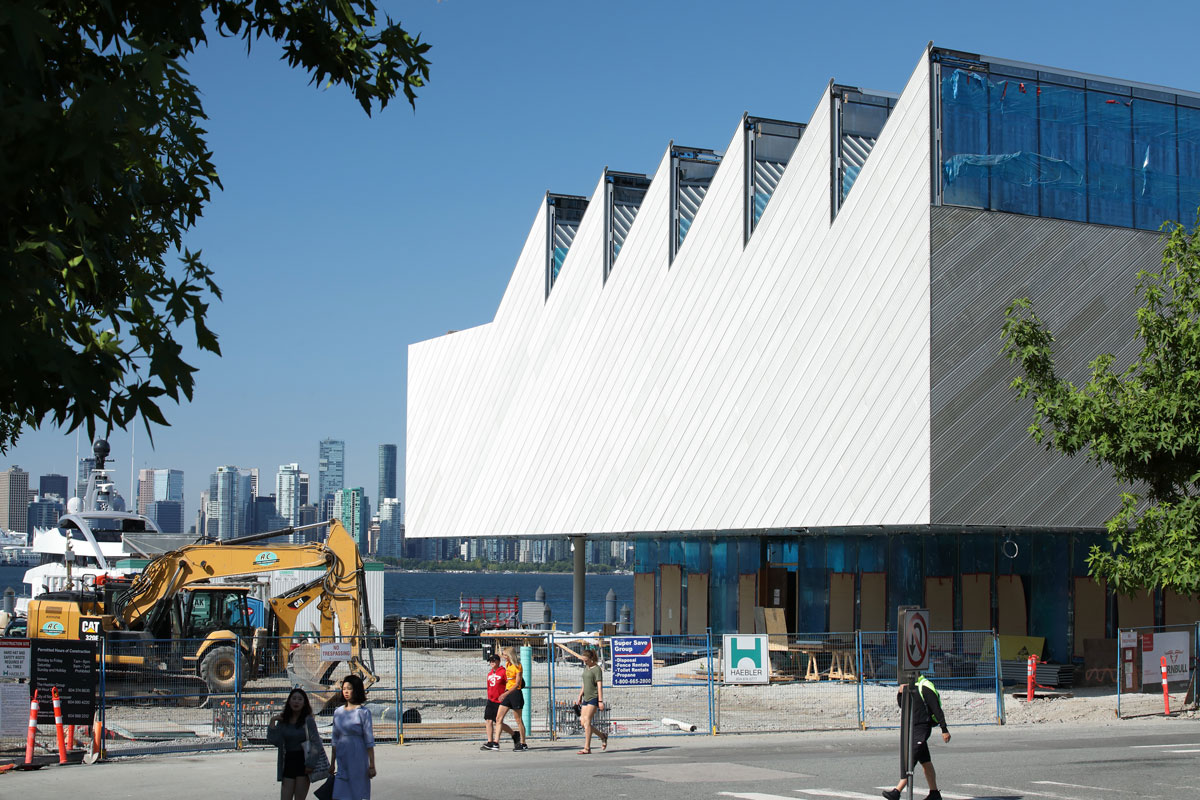 A view of the Polygon Gallery while it was under construction earlier this year in North Vancouver. A sawtooth roof makes the gallery, long housed in a nondescript building nearby, much more visually distinct in the landscape. Photo: Courtesy Polygon Gallery.
For some 40 years, a few blocks up the hill from Polygon's new location, Presentation House Gallery shared an unassuming building on Chesterfield Avenue. A former girls' school, then North Vancouver City Hall and RCMP Station, its unremarkable outside was at odds with the programming inside.
Over those four decades, Presentation House Gallery connected its BC audience to an international discourse through exhibitions that showcased (and often combined) historic, contemporary, regional and international perspectives. The organization was, and remains, a leader in the production of culture and knowledge, through its context within the Lower Mainland and reaching far beyond.
Polygon's website offers an archive of past shows, including photo documentation and scans of promotional ephemera dating back as far as 1983. Among them: the first Canadian solo show of works by Claude Cahun, curated by Karen Love in 1998; the exhibition "Hannah Hoch: Collages 1889–1978" in 1993; "Diane Arbus: Magazine Work 1969–1971" in 1987; and the first comprehensive survey of work by Anne Collier in 2008.
The organization's recent name change acknowledges a lead donation of $4 million from the Audain Foundation and Polygon Homes Ltd.; Michael Audain is chairman of both. While a rebranding was always in the cards—there was frequently public confusion between Presentation House Gallery and Presentation House Theatre, a fact I can attest to as a former gallery employee—the new moniker would have been more universally welcomed had it been a reflection of the gallery's legacy, rather than its funding.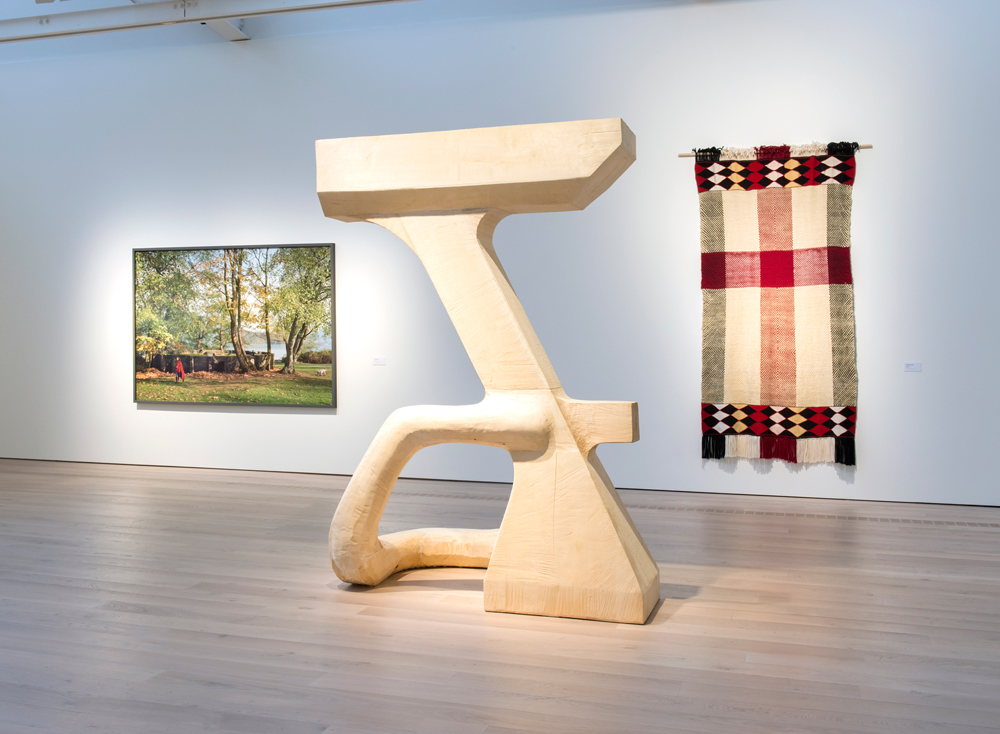 A view of the exhibition "N. Vancouver" at Polygon Gallery. Left: Stephen Waddell, Hive Burner, 2017. Archival pigment print. Courtesy the artist and Monte Clark Gallery. Centre: Cameron Kerr, Taylor Way Overpass, 2017. Yellow cedar, plywood, mixed media. Courtesy the artist. Right: X Wemilut / Lisa Lewis, Honouring the Father, 2007–2008. Woven wool. Collection of the Squamish Lil'wat Cultural Centre. Photo: © Scott Massey Site Photography, 2017.
The inaugural exhibition at the new home for the gallery is titled "N. Vancouver," and it plays, accordingly, on location. It features existing and commissioned works relating to the North Shore and by artists connected to it—some are current or former residents, or have studios nearby.
"N. Vancouver" also reflects on the history of the gallery, presenting work from many who have previously exhibited at Presentation House Gallery, or as part of its offsite projects—Myfanwy MacLeod, Babak Golkar, Jeremy Shaw and Raymond Boisjoly, among other returnees.
There are also notable ways in which the exhibition artwork itself plays off the architecture of the new building.
The Polygon's transparent ground floor, for instance, and its integration within what will soon be a bustling public square, invites impromptu viewership from passersby. So now, without entering the building, looking in through the floor-to-ceiling glass panels, you can see Tim Lee's Lonsdale Quay, North Vancouver, August 21, 2017, which is a video of the recent solar eclipse as seen through the aforementioned 'Q' sign.
Around the corner, in a glass enclosure facing Carrie Cates Court, is Raw Goods by Holly Ward, consisting of two pointed piles of coal and sulphur. The work is prefaced by her earlier Island (2005/2009), in which a pile of dirt is transferred around the gallery by staff. In this current case, movement is projected onto the materials through their visual association with nearby export terminals.
Also viewable from outside of the gallery is Myfanwy MacLeod's The Butcher's Apron, a one-eighth scale recreation of Captain Vancouver's HMS Discovery—the ship that, in the 1790s, carried Europeans to one of their first points of contact with the Coast Salish population living here. The vessel is shown as it existed once it was converted into a prison ship in the 1810s—a fittingly unheroic representation.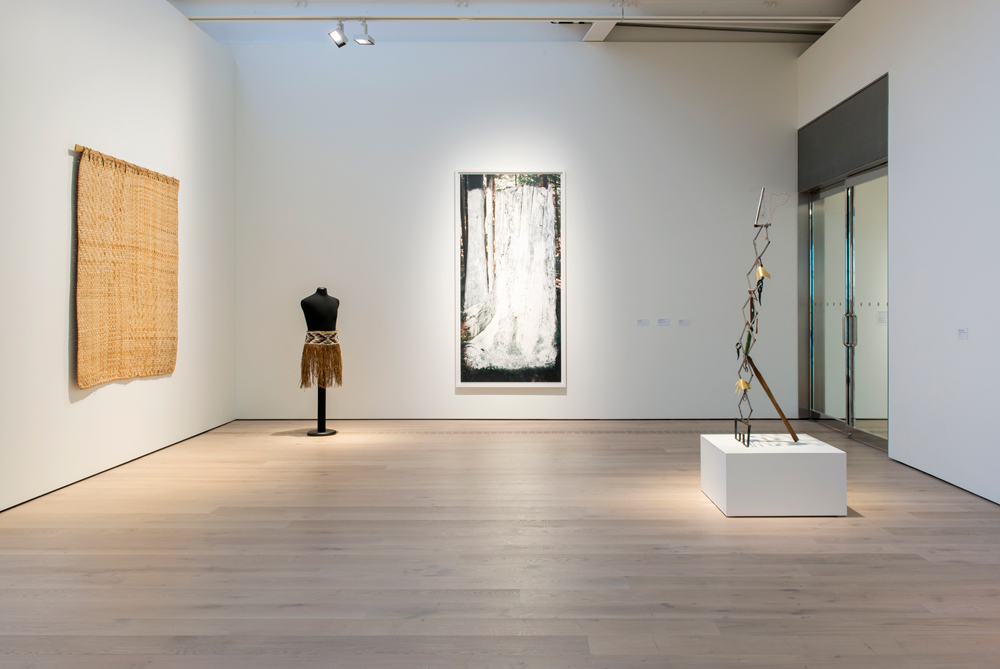 A view of the exhibition "N. Vancouver" at the Polygon Gallery. Far left: Melvin Williams, Cedar bark mat, 2008. Collection of the Squamish Lil'wat Cultural Centre. Centre left: Sesemiya / Tracy Williams, Ha7lh en skwalwen, 2017. Yellow cedar bark, mountain goat wool spun with eagle down, sheep's wool, store-bought wool, deer fat, saltwater. Centre right: Andrew Dadson, White Tree, 2017. Inkjet print mounted on Dibond. Courtesy private collection. Right: Gabrielle L'Hirondelle Hill, The Highest and Best Use, from Four Spells For the End of Property: Preempt, Improve, The Highest and Best Use, Be Long, 2017. Mixed media (de-accessioned artefacts from the North Vancouver Museum and Archives). Photo: © Scott Massey Site Photography, 2017.
MacLeod's sculpture launches a 10-year commissioning program made possible by the Burrard Arts Foundation—one work per year. Its nod to makeshift structures hearkens, again, back to the original Presentation House Gallery, where windows were sealed behind layers of drywall and paint, among other ad hoc modifications.
That old gallery was located at the top of several flights of stairs and had idiosyncrasies fitting for a century-old building—winding passageways and mounting summer heat. The fact that it maintained a strong international reputation in spite of its venue speaks to the ingenuity of its curators and preparators.
Back on Chesterfield Avenue, staff problem-solved around limitations using necessarily unorthodox approaches: I was once part of a team of six that hand-maneuvered huge and impossibly heavy frames down the north stairwell, across a sloping lawn, and into the exterior doors of the preparatory room. At one point, a sizeable storage space in the west gallery was permanently sealed over to make a large, uninterrupted wall. And I recall at least one show required massive portable dehumidifiers—humming elephants in the room.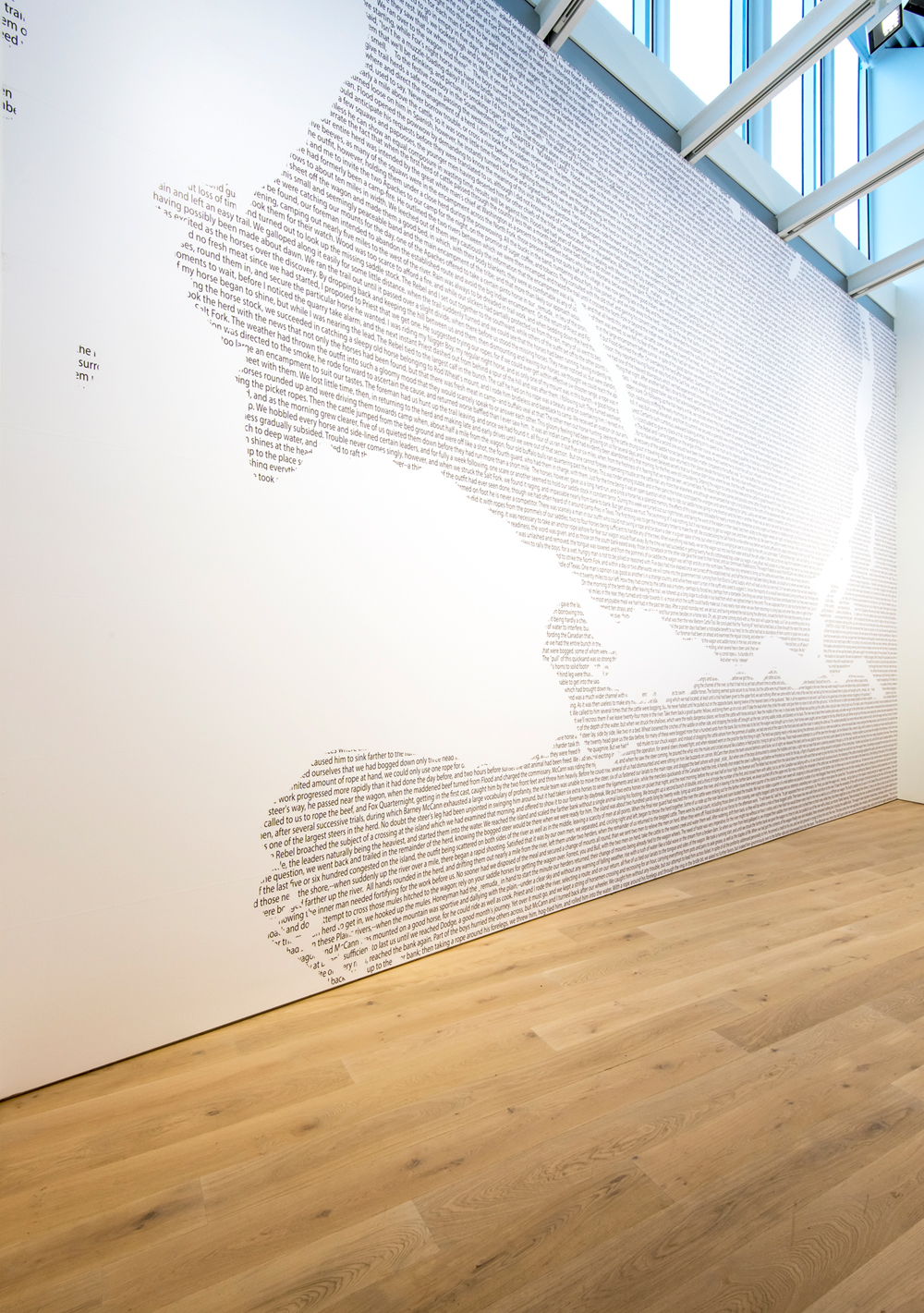 Jordan Abel, Cartography (12), 2017. Text on vinyl. Courtesy the artist. Photo: © Scott Massey Site Photography, 2017.
I can only imagine what the staff of Polygon will accomplish with the ability to focus attention beyond overcoming installation-related obstacles. The new gallery has high, vaulted ceilings, with north-facing windows, an LED lighting system, a freight elevator, and an environmental infrastructure for controlling temperature and humidity. There's also an event hall and catering kitchen, a gift shop and a spot for a future café.
Some of the former gallery's most important assets have been maintained at the new location, too—namely its longtime personnel, director Reid Shier, chief curator Helga Pakasaar and gallery manager Diane Evans.
Shier and Pakassaar's contributions are more outwardly apparent—Shier's effort towards the realization of Polygon spans more than a decade, and Pakassaar's curatorial feats with the gallery date back over two decades.
Evans is the organization's unsung hero: Since 1987, she has overseen exhibition installations, and she is the mastermind behind the curated bookstore, now located on the second floor and online. Her extensive knowledge of darkroom processes and photographers both historic and contemporary contributes to an always thoughtful selection of titles for purchase. Additionally, through her role as instructor in the photography program at Emily Carr University (where she should be tenured faculty, by the way) Evans facilitates a constant reciprocal engagement between the gallery and a flow of young artists and curators.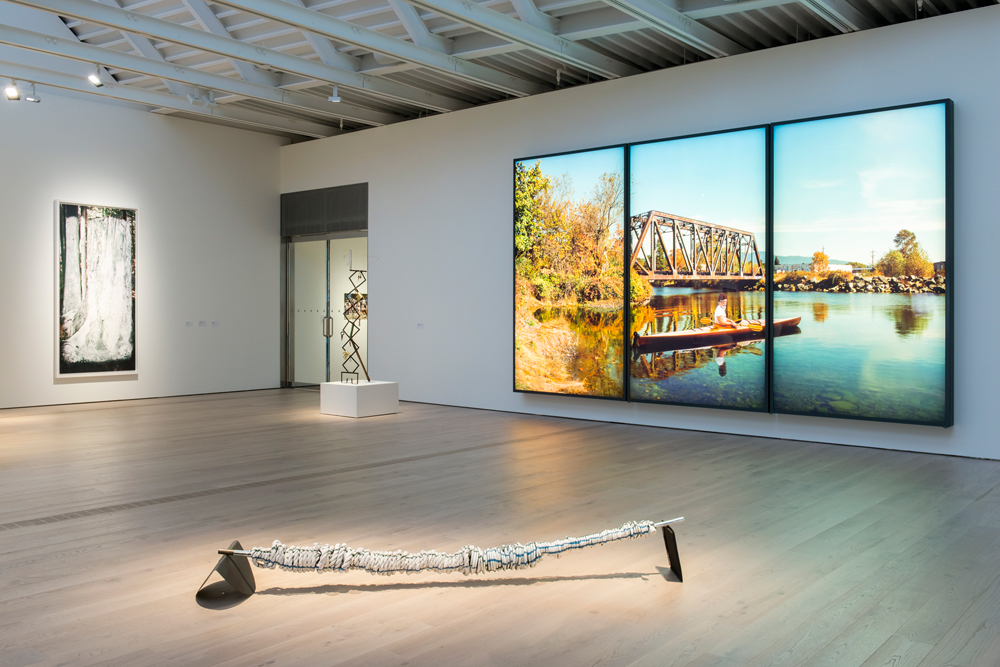 A view of the new exhibition "N. Vancouver" at Polygon Gallery. Front and back middle: Gabrielle L'Hirondelle Hill, Be Long, from Four Effigies For the End of Property: Preempt, Improve, The Highest and Best Use, Be Long, 2017. Mixed media (de-accessioned artefacts from the North Vancouver Museum and Archives). Courtesy the artist. Back left: Andrew Dadson, White Tree, 2017. Inkjet print mounted on Dibond. Courtesy private collection. Back right: Rodney Graham, Paddler, Mouth of the Seymour, 2012–2013. 3 chromogenic transparencies on lightboxes. Collection of the Vancouver Art Gallery, purchased with funds from the Vancouver Art Gallery Acquisition fund and a financial gift from Phil Lind. Photo: © Scott Massey Site Photography, 2017.
"This gallery allows us to show all the artwork that we could possibly imagine," said Shier during opening week. For "N. Vancouver," this also includes photographic works by Vancouver photoconceptualist greats Stan Douglas, Rodney Graham and Jeff Wall; weavings by Squamish Nation artists Lisa Lewis (X Wemilut), Shelley Thomas (Katxinamet) and Tracy Williams (Sesemiya); and sculptures by Cameron Kerr and Gabrielle L'Hirondelle Hill.
Gabrielle L'Hirondelle Hill's four sculptures, with the combined title Four Effigies For the End of Property: Preempt, Improve, The Highest and Best Use, Be Long (2017) were all made with deaccessioned objects from the North Vancouver Museum and Archives, whose new home will soon inhabit Polygon's neighbouring lot. Nearly all of Hill's materials—hoses, fencing, funnels and shapes cut from metal sheeting—carried an accession date of 1992, and are speculated to have been collected and catalogued by the museum from the closing of Versatile Pacific Shipyards, which once occupied this very site.
Hill's works challenge modes of land use, occupation and ownership, reaching into this location's relatively recent history in order to eloquently suggest forthcoming precarity and instability.
And her project is an example of Polygon's commitment to the facilitation of critical discourse: while celebrating the hard-fought achievement of this new property, the gallery has simultaneously commissioned a work that seems to prophesy its eventual end. For the foreseeable future, let's toast to Polygon's promising new era.
Lucien Durey is an artist and writer based in Vancouver.