Arrive at the historic 401 Richmond Street West building in Toronto on any given Friday night, and you could easily find hundreds of artists, visitors and cultural workers wandering between different gallery openings and talks. Founded in 1994 by the Zeidler family, 401 (as it's known) realized the urbanist Jane Jacobs's notion that new ideas need old buildings. The former manufacturing building was transformed to provide space to more than 140 microenterprises and arts organizations: artist-run centres, festivals, theatre companies, supportive arts institutions, environmental agencies, design firms, commercial galleries, social-service providers, artist studios, cafes, shops and a daycare among them. But this might not be the case for long.
In October of 2016, tenants of 401—myself included, as the director of the artist-run centre Gallery 44—received hand-delivered notices that spelled out a grim future for the building. The Municipal Property Assessment Corporation (MPAC), which calculates commercial property taxes based on "best and highest use," determined that 401's taxes should mirror the rampant commercial and condo development in the Richmond and Spadina neighbourhood. Urbanspace, who owns and manages the building, would now be taxed based on market rents, as opposed to the subsidized rents currently being charged.
Imagine the government collecting personal income tax based on the prospect that you could be employed as a doctor or lawyer rather than your actual career—that's essentially the equivalent of MPAC's assessment. While the building and tenants have been paying incremental property tax increases of around two percent annually, this latest MPAC assessment is unsustainable for the building's occupants who are suddenly swallowing unexpected rent increases of around $13,000 for 2017. And this is just the beginning of a race towards unprecedented valuations and unaffordable property taxes.
The building's tenants came together quickly after the initial notice from Urbanspace and started pressuring the municipal and provincial governments to find a short and long-term solution that would safeguard 401 from further tax increases and, subsequently, higher rents. The City rallied behind 401. Councillor Joe Cressy has attended several tenant meetings convened to address this issue and has been working with Margie Zeidler, 401's founder and president, and the building's internal steering committee to rezone 401 and stave off at least some future tax hikes. Provincially, there has been little support for 401.
One possible solution that the tenants have pushed for: have the province adopt a new property tax class that would account for the realities of mixed use and creative spaces. This legislation would safeguard 401 tenants from inflated property tax (and therefore rent), and hopefully encourage socially engaged development practices that would incentivize more developments like 401 in Ontario. For now, though, tenants of 401 wait with a collective sense of uncertainty, and fear that the building will no longer provide affordable space in the downtown core.
MPAC's tax calculation, based on the "best and highest use," overlooks the fact that the building already operates at its best and highest use, as the tenants have pointed out during this process. 401 is certainly not a utopic space. It lacks total accessibility and, as everywhere, tensions do arise between tenants and the landlord. For the most part, however, it fosters a profound sense of camaraderie. At its best and highest use, 401 functions like an intimate neighbourhood. The kind of neighbourhood where furniture, installation materials or equipment is left out and ends up being used by a neighbour. Or the kind where, if you need a proverbial cup of sugar (in this case technical advice or help with a grant), you can ask next door and be sure to get help.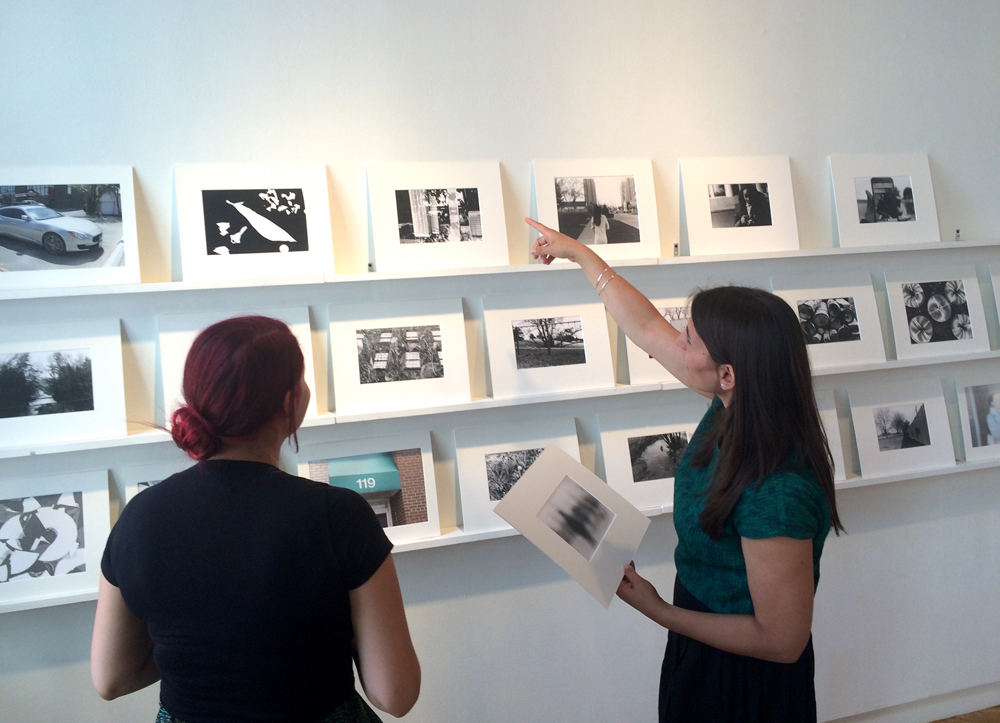 Visitors at Gallery 44 in 401 Richmond.
Co-habitation creates so many possibilities that foster artistic resiliency and knowledge sharing. As Deirdre Logue, development director at Vtape, says, "intense mutual investments and productive co-dependence" are fundamental to many of the arts organizations in 401, and the building itself reinforces these values. Collaborative projects, of which there are countless examples, often materialize by way of accidental cross-pollination, through the very human interactions that take place in the building—picking up kids from childcare, waiting in line for the washroom, getting a coffee and so on.
This proximity to partners and peers also helps artists secure meaningful professional development. Cultural workers Aidan Cowling and Sally Lee both credit 401's supportive networks with helping them move between different organizations and roles within the building. For Cowling, this includes recent communications positions with long-term tenants Gallery 44 and the Images Festival, while Lee transitioned from being executive director at Toronto Reel Asian International Film Festival to being the executive director of CARFAC Ontario.
"The building was so key to my entry into the Toronto art world," artist Michèle Pearson Clarke told me. She recalls that volunteering with Inside Out LGBT Film Festival and spending time in 401 helped her enter other institutions and galleries. The welcome she received at Inside Out led to exhibiting with Trinity Square Video, which created more opportunities. As Clarke notes, the building's shared audiences, stakeholders, patrons and communities mean that artists can more easily navigate through the art world, which can otherwise be unreceptive and inaccessible. "What 401 did for me was allow me to give myself permission to make work as a black, queer, immigrant person, who didn't go to art school and didn't go to film school," explains Clarke.
What would losing 401 mean? The loss is difficult, but not impossible, to quantify. According to the Canadian Arts Data/Données sur les arts au Canada (CADAC), 1,340 public activities, 1,586 arts education programs and 133 exhibitions were coordinated by 401 tenants in 2015/16, and the building's artist-run centres support over 2,700 members. These figures reveal a mere fraction of the building's impact, as CADAC only accounts for those organizations receiving operating funding.
Statistics aside, if tenants, specifically publicly funded non-profits and charitable organizations, vacate the building, it will be at the expense of taxpayer dollars. Vtape, imagineNATIVE Film and Media Arts Festival, South Asian Visual Arts Centre (SAVAC), Toronto Reel Asian International Film Festival and FADO Performance Art Centre recently pooled their resources to jointly secure a long-term lease and to renovate a 7,500-square-foot space on the 4th floor that includes offices, classrooms, a screening room and a research centre. With a price tag of close to $1,000,000—mostly fundraised through public grants—the project was intended to leverage resources across several organizations to create security and long-term capacity building. But this move is now at risk of becoming an unstable undertaking. Major renovations and capital improvements have been made in 401 by numerous organizations with long-term leases including Open Studio, A Space Gallery, Gallery 44 and Trinity Square Video. All of these projects have been made possible through municipal and provincial funding; how can our current governments so easily default on their own investments? And gamble with their constituents' assets?
These figures cannot fully express the sense of devastation felt throughout 401 because of the tax situation. Several organizations have been considering layoffs and program cuts. Some have already been forced into making these difficult budgetary decisions. SAVAC's executive director, Indu Vashist, is worried that smaller non-profits and arts organizations will continue to be pushed further out of the city and away from their publics. Sharing these concerns, Jennifer Bhogal, executive director of Open Studio, worries that moving to a different building might mean that the organization's members could lose an accommodating, centrally located and TTC-accessible studio—a lifeline to emotional support, income generation and mental health for many people. At Gallery 44, our facilities also function as a safe space for underserved communities, who are now at risk of being turned out.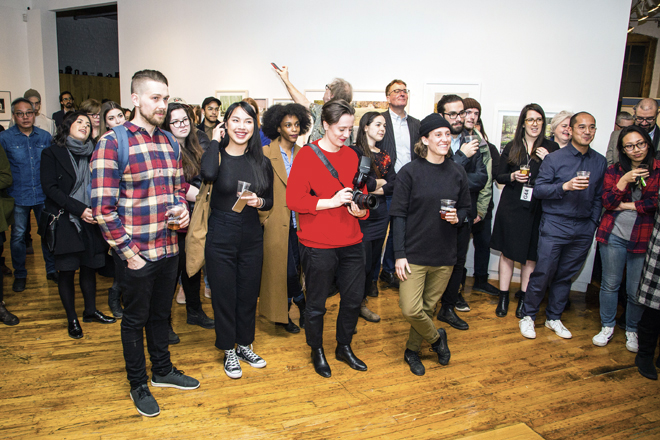 Visitors at Gallery 44 in 401 Richmond Street West.
"Though the immediate urgency is the tax issue, the larger question remains as to how the city relates with its marginalized communities and sectors—be it social housing or affordable artist's studio space and rental spaces for not-for-profit organizations and small businesses," says Zainub Verjee, the executive director of the Ontario Association of Art Galleries. "These not-for-profit organizations are already under immense stress and this [tax] proposition will be the proverbial last nail into many of these organizations' ability to survive." At the same time, tenants in 401 seem ready for a fight. Logue points out that artist-run centres, in particular, are resilient and can quickly mobilize to affect change.
This most recent chapter in the story of 401 is not a new one. We know this scenario all too well through the many incarnations that gentrification takes in Toronto and across the country. Every loss of affordable living and working spaces indicates a shift in civic priorities. If anything, the 401 tax issue takes our current political pulse. Artists and cultural workers tend to serve as society's coalmine canaries. With any luck, cultural advocacy for how we design our cities—and what kinds of places and sectors we protect—won't go unheeded this time, or next.
Noa Bronstein is a curator and writer based in Toronto. She is currently the executive director of Gallery 44 Centre for Contemporary Photography.