"Soft Power" emerged among renewed international dialogues about the global intimacies at the centre of institutional, colonial powers. But the exhibition didn't present the relational aesthetics of art history past, which predominantly comprised the perspectives of white men and formalist aesthetic philosophies that could be considered inaccessible to portions of racialized communities. Instead, "Soft Power" concerned itself with the realities of Black folks, Indigenous peoples and people of colour from around the world: those most imperilled by continued environmental degradation and colonial expansion for the extraction of resources.
In fact, it was Tanya Lukin Linklater's presence in the exhibition that convinced me to visit. It was especially inspiring to see Lukin Linklater's video The treaty is in the body (2017)—which features a gathering of Omaskeko Cree families in North Bay to consider how Indigenous perspectives on treaty manifest through the body—in such a large show and at a prominent public museum. Placing Cree conceptions of treaty in conversation with a collective of peoples internationally contending with systemic oppression related to the rule of capitalism, colonialism and white supremacy provided the exhibition with a subversive framework for undercutting institutional colonial powers.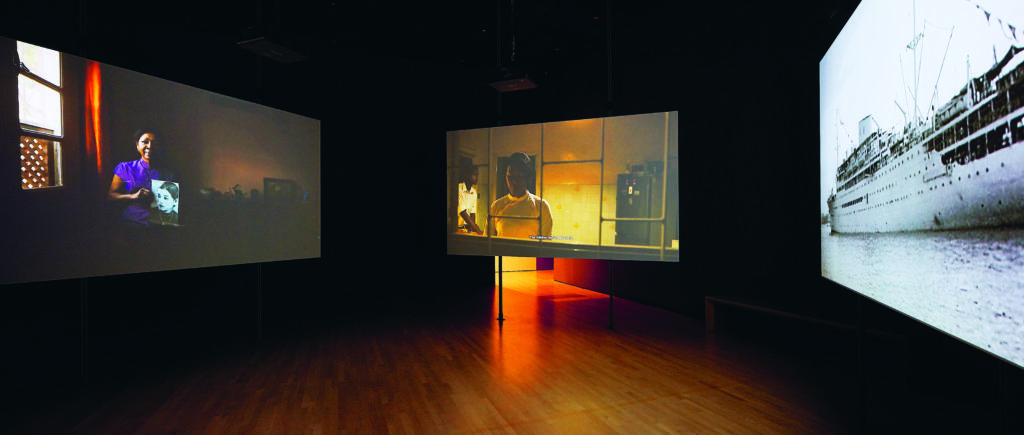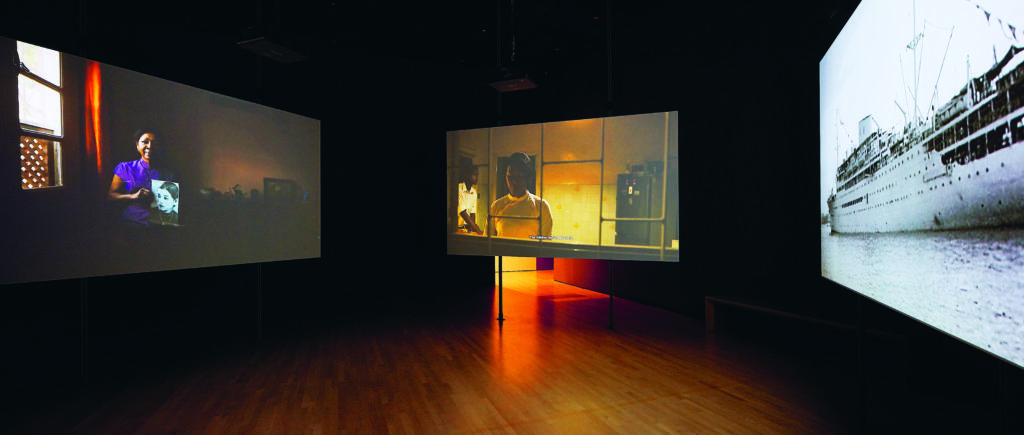 What would it mean for Indigenous understandings of treaty to actually welcome and encompass individuals who have been displaced by global colonialism? I think of communities like those referred to in Pratchaya Phinthong's sculpture Spoon (2019), a mosaic of silver pools of lead and tin shaped into a single circular sculpture. Spoon references the communities of peoples from Laos, one of the most heavily bombed areas in the world, in the village of Ban Napia, in the province of Xieng Khouang. There, locals make spoons by melting down the metal of unexploded bombs dropped by US forces between 1964 and 1973, transforming weapons from the West meant to harm them into objects that nourish Laotian life. Elsewhere in the exhibition, intimate portrayals humanized peoples often made faceless by the racist, fear-mongering rhetoric that circulates in nations such as the United States. One example was Tuan Andrew Nguyen's four-channel video The Specter of Ancestors Becoming (2019), in which Vietnamese Senegalese participants create imagined conversations with and between their parents or grandparents. One part of the video was shot shakily, in dark tones, and closely framed the faces of a couple arguing about whether they should migrate from their home. The techniques used to film and edit the conversation—as well as the film's presentation, in which four screens surrounded viewers, insisting that they observe one another to observe the conversations—added to the anxious feelings evoked while watching the film.
"Soft Power" also delved into complex issues of landlessness and the violent extraction of bodies by global systems of colonialism throughout history, such as the transatlantic slave trade. Hassan Khan's installation The Infinite Hip-Hop Song (2019) used an algorithm to play an endlessly evolving song museum visitors could listen to on headphones. It is Khan's message I want to evoke to summarize "Soft Power": we (those represented in "Soft Power") are not singular, faceless, nameless, othered global peoples. We are distinct cultures and peoples from places all over the world who have borne the brunt of colonialism on our bodies. Despite this, because of this, we are growing new forms of expression, joy, love, beauty and art, ever with our eye on destroying an empire.