The Thunder Bay Art Gallery is getting closer to reaching the fundraising goal for its new building.
On Monday, FedNor announced $3.5 million in funding for the new gallery project. (FedNor is a federal economic development initiative for Northern Ontario.) This boost brings the project to within 90% of its total fundraising goal.
"It will be a two-year construction project," gallery director Sharon Godwin tells Canadian Art. "I would say it should be constructed in 2020/2021 and open in 2022."
The overall project is due to cost $33 million. Funding to date from government at the federal, provincial and municipal levels is $27.5 million, Godwin asserts. ("The federal liberals announced $11.5 million for the project in July 2018," CBC reports, and "the province pitched in $5 million earlier that year.")
The gallery has $5.5 million of fundraising yet to do, it appears, but Godwin says $2.3 million of that is already secured. "We've really been lucky," she says.
The new 37,500-square-foot building is aimed to be on the Lake Superior waterfront at a site called Tugboat Basin. The current Thunder Bay Art Gallery is only 16,000 square feet and is located a few kilometres inland at Confederation College—a location identified in a 2010 feasibility study as "an obstacle to serving the community."
"The waterfront's wonderful," says Godwin of the desired site for the new structure. "We have no pedestrian traffic right now, but there's lots of foot traffic on the waterfront."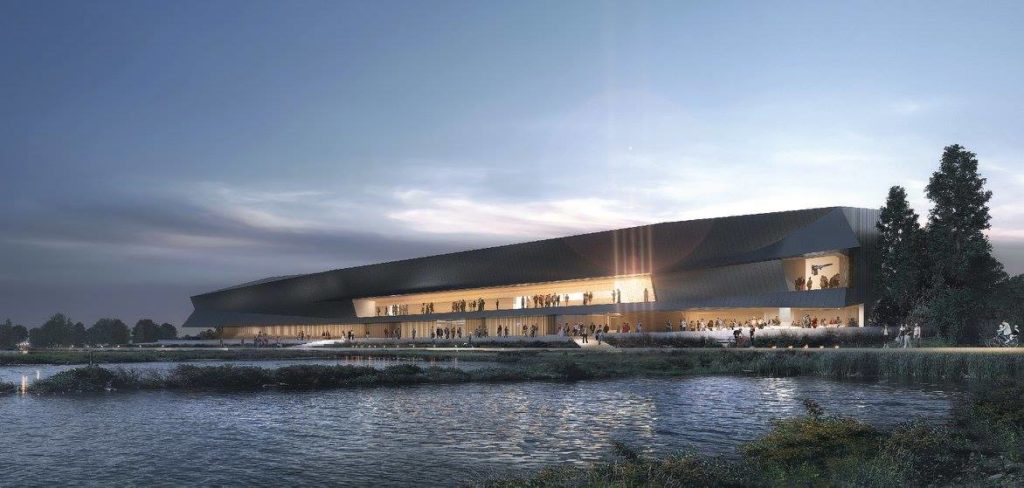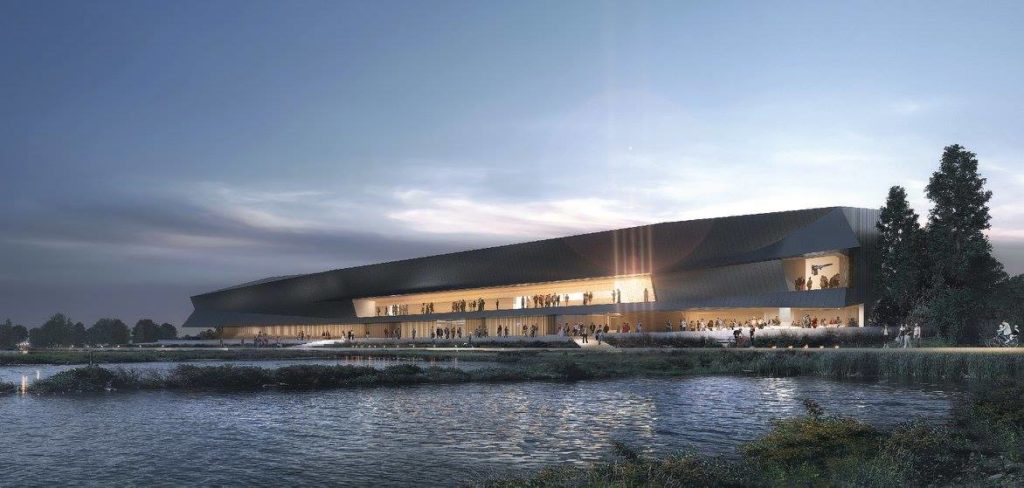 The new building design is by Patkau Architects of Vancouver and Brook McIlroy of Toronto, Thunder Bay and Winnipeg. Patkau is known for having designed the Audain Art Museum in Whistler, the Polygon Gallery in North Vancouver, and the Canadian Clay and Glass Gallery in Waterloo, among other cultural infrastructures.
The new building will have space for six exhibitions and have three times the space it currently does for art education and artist in residence programs.
"It will be a lot more education programming space and gallery space and storage space—all those things," Godwin says. "Visibility, too."
The non-profit public art gallery has "a particular focus on the contemporary artwork of Canadian Aboriginal and Northwestern Ontario artists," says its website. One of its most recent exhibitions, now touring, is a Christi Belcourt retrospective titled "Uprising: The Power of Mother Earth."
The first work the Thunder Bay Art Gallery ever commissioned was Carl Beam's 7-foot-by-20-foot Exorcism. This work was completed at a 1984 exhibition opening when the artist, curator, city planner and arts development officer each placed a hatchet into its plywood surface; an archer then shot nine broad-head arrows into the wood to finish it.
Carl Beam's Exorcism is currently on view at the Thunder Bay Art Gallery until December 2019. "The exhibition of Exorcism is fitting as it likely marks the last time it will be shown publicly in the Gallery's present building," says the gallery's website. "In the Gallery's new facility on the waterfront, it's our goal to exhibit this work and many more from our collection."
Accordingly, the new gallery building plans to launch with an exhibition focusing on the results of a 21st-century commissioning program. "We received a Canada Council New Chapter Grant to commission works from 25 artists from the city, the region and across the country," Godwin says.
Among the artists reportedly doing new commissions are 2016 Sobey Award winner Ursula Johnson, as well as Sonny Assu and Frank Shebageget.
"The artists are working away right now," says Godwin, with their new works to go on view as soon as the new building is open.
This post was corrected on January 17, 2018. The original identified the new gallery as opening in 2020/2021. In fact it is being constructed in 2020 and 2021, to open in 2022.