Michelle Bui's Plastic Altar (2019) disturbs the conventionally antagonistic positions typically ascribed to organic life and inert matter, producing new assemblages that evade dogmatic naming. Deftly taking advantage of the formal conventions of commercial photography, Bui's work proposes the possibility of novel accumulations of biological and artificial material, possibly self-organizing and contingent, which welcome the eye of the camera, at the very least, for long enough to make themselves seen.  —Aryen Hoekstra, founder and director of Franz Kaka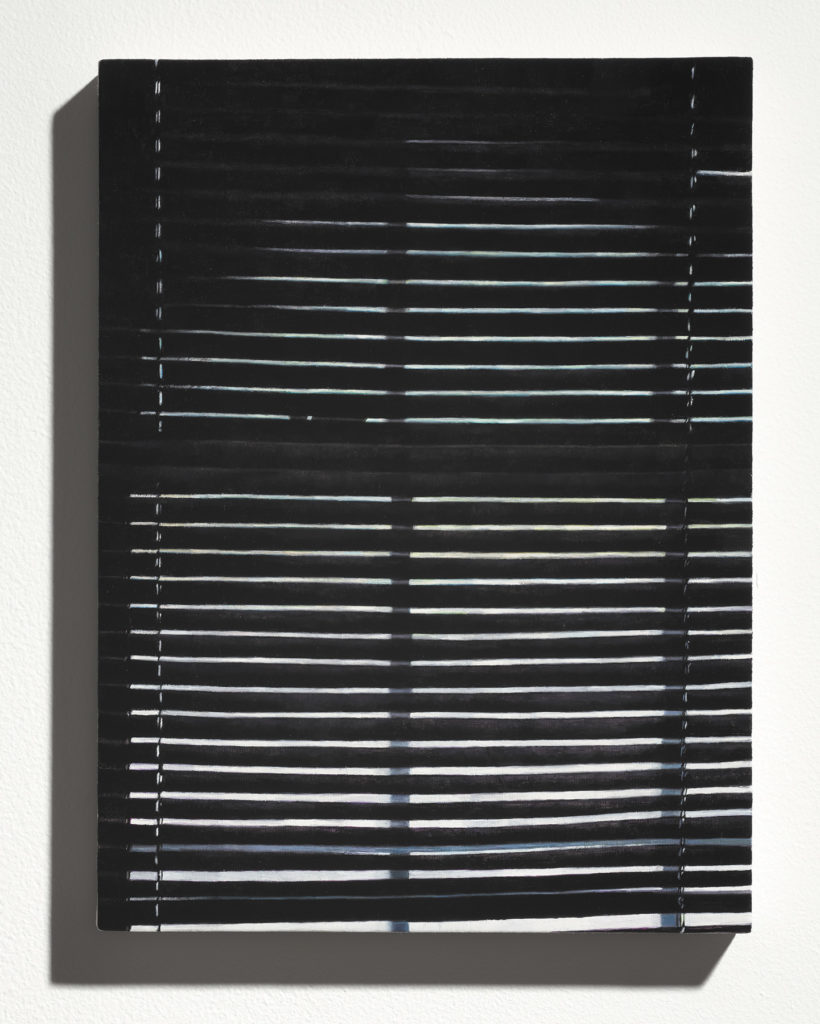 Alex Bierk,
Blinds
, 2019
Oil on linen over panel 14 x 10.5 in.
Courtesy the artist/General Hardware Contemporary
Estimate: $4,200
Alex Bierk's painting, titled Blinds (2019), is delightful. Typically, in order to make a painting you first take a wooden frame—a kind of "window"—and stretch a piece of cloth around it. The open window is closed, in other words, with canvas or linen. Secondly, once the cloth is stretched, the painter is able to apply pigments upon the cloth—and thus "re-open" the window with a painted image. The window gets closed with a real curtain, in order for the curtain to be drawn open as symbol. Bierk's painting makes a travesty of such expectations. His painted curtain remains closed: the "blinds" are drawn, and only partially let in the light. The soft light of this emphatic closure is important. It evokes the effort to play with conventions, and confuse what we might deem to be open or closed, realistic or symbolic, blindness or vision. Artistic intelligence delights in such confusion. —Luis Jacob, exhibiting artist at Toronto Biennial of Art
Lynne Cohen,
Corporate Office
, 1976
Gelatin silver print, 20 x 24 in.
Edition 19 of 20
Courtesy the Estate of Lynne Cohen/Olga Korper Gallery
Estimate: $10,800
Lynne Cohen's always uncanny photographs gather intensity through their very neutrality. Her unpopulated interiors are austere and formal, flatly lit and straightforward in perspective. Early work was exclusively black-and-white (Corporate Office belongs to this vintage). These benchmarks of the factual are authentic—all of Cohen's photographs are of real interiors—and that's where the perceptual slippage comes in: they have an insistently unreal quality to them. Cohen once referred to them as readymades, found installations for her lens, and the required research in "finding" was a major component in her work. Beyond its already set-like bearing, Corporate Office is a study in artifice with almost every surface in masquerade, right down to the lamp posing as the sun in a hastily applied wallpaper sky. A corner office pretender. It's hard to imagine the executive who would have occupied this office, but I'm seeing a sharkskin suit!  —Claire Christie, director, Christie Contemporary and Social 2019 Art Advisory Committee co-chair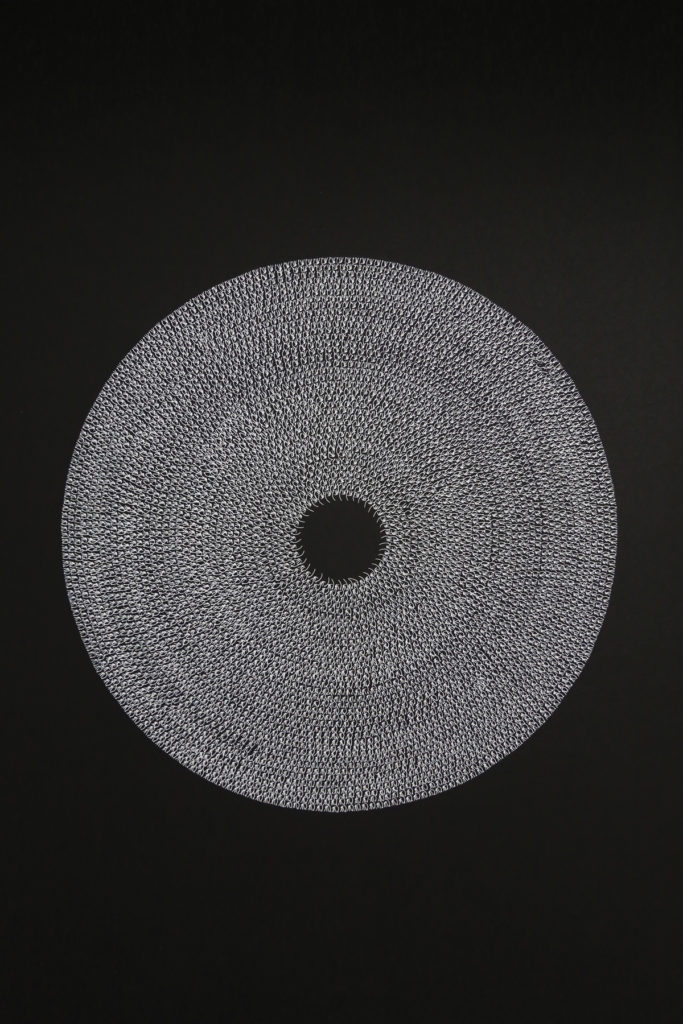 Tazeen Qayyum,
Kalam (word/speech)
, 2019
Archival pigment ink on paper, 27.5 x 19.5 in.
Courtesy the artist
Estimate: $5,000
Drawing from feelings of empathy, Tazeen Qayyum's performative work is a quiet reflection of memories and shared vulnerabilities. Rooted in minimalism, Kalam (word/speech) (2019) is also silently confrontational with its mesmerizing ethos. Urdu, Qayyum's native language, serves as the anchor for the artist's ongoing commitment to drawing and exploring the power of performance and endurance in her practice. Kalam is composed of a single word, repeated until it creates an abstract and rondel form, all the while maintaining the word's legibility and the expressive language of Urdu as a voice of Canadian art.  —Stuart Keeler, senior curator, TD Bank Corporate Art Collection
Social 2019 takes place September 26 at Evergreen Brick Works, and includes a live auction led by Stephen Ranger and an art atmosphere created by Jeremy Laing. To see all of the artworks and experiences up for auction at Social 2019, visit canadianart.ca/social2019.