Over the past couple of years, the profile and influence of the late American artist/architect Gordon Matta-Clark has been on the rise.
Last year, for instance, the exhibition "Gordon Matta-Clark: Anarchitect" won accolades at Jeu de Paume in Paris, and the New York State government approved a Hudson River public-art tribute to Matta-Clark by contemporary artist David Hammons. Artforum noted last year that Matta-Clark, some 40 years after his death, remains "one of the late twentieth century's most radical thinkers."
Now, the Canadian Centre for Architecture in Montreal is revealing even more of Matta-Clark's practice in the exhibition series "Out of the Box."
These new exhibitions draw upon hundreds of rarely seen documents—photographs, films, audio reels, drawings, prints, collages, sketchbooks and more—donated to the CCA by the Gordon Matta-Clark estate in 2011.
"The widow of Gordon Matta-Clark, Jane Crawford, was interested in the fact that in our archive, he was seen not only as an artist, but also as an architect," says Louise Désy, the CCA's photography curator. "What makes it special is it's extremely diverse. Mostly it's the raw material: the correspondence, letters, notebooks, sketchbooks, personal correspondence with family, things that are not necessarily known."
The first exhibition in the "Out of the Box" series, which opened in June, was curated by Brussels- and Geneva-based curator Yann Chateigné, and it focused on Matta-Clark's personal library. (Among those books are well-worn copies of R. Buckminster Fuller's Nine Chains to the Moon, Lama Foundation's Be Here Now and Rudolf Wittkower's Architectural Principles.)
"We're collecting, let's say, different drawings [and materials] that would lead to a final piece," Désy explains. "We are more interested in this kind of process than the final work."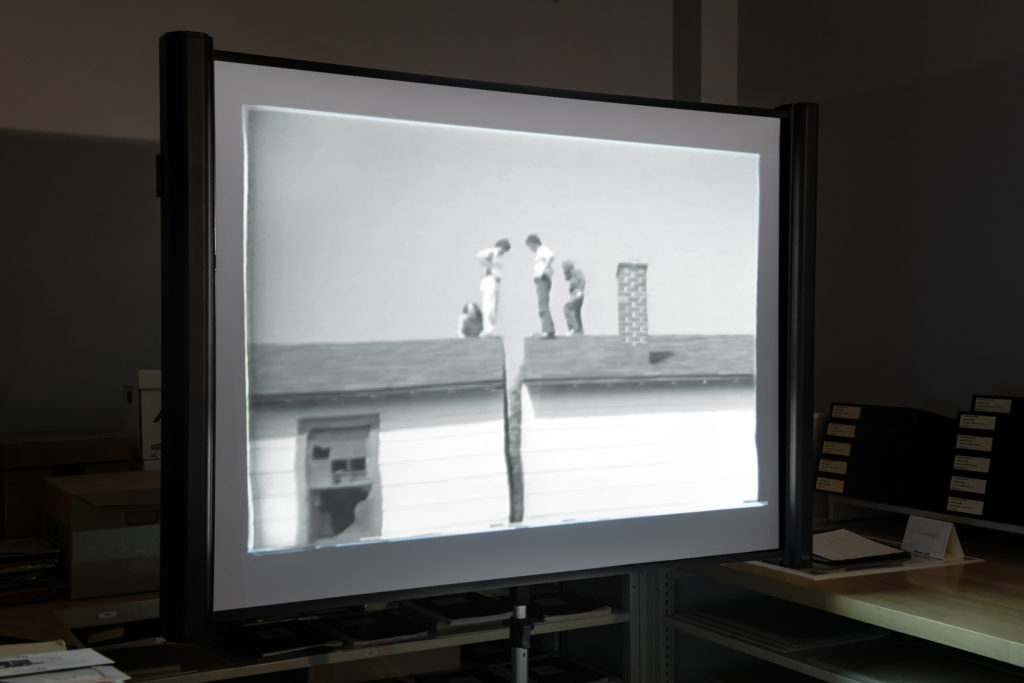 Still from a field trip to
Splitting
, Englewood, New Jersey, 1974. Collection Gordon Matta-Clark, CCA. Donation of the Estate of Gordon Matta-Clark © Estate of Gordon Matta-Clark.
The second exhibition in the series, titled "Rough Cuts and Outtakes," is curated by Berlin filmmaker and curator Hila Peleg and opens on September 27. It focuses on rare outtakes from Matta-Clark's films about his major works Splitting, Day's End and Conical Intersect—all projects that cut into larger existing architectures, and no longer exist except in documentation.
"I found it extremely interesting to look into this material that didn't make it into the final, official films," says Peleg. "It's exciting to see new shots, more people behind the construction process, more shots of the buildings after completion of projects, more of the movement through them—you get a more complex sense of how these spaces were actually inhabited, so that's quite exciting."
The archival films were so fragile that they all had to be digitized before Peleg could properly view them.
To Peleg the "real treasure" of the exhibition and its research was digging into largely unseen archival film footage related to FOOD—the collaborative restaurant project Matta-Clark co-founded in the early 1970s.
"These sequences show more of a social portrait, and give a sense of the atmosphere and people surrounding Gordon Matta-Clark during the time of him developing his most iconic works," says Peleg. "To me, it was inspiring, because Food was a successful community project that provided an alternative economic system and infrastructure for artists living in Soho at the time…. I found this attempt by artists to come up with an alternative kind of community-based infrastructure for their life and work extremely inspiring."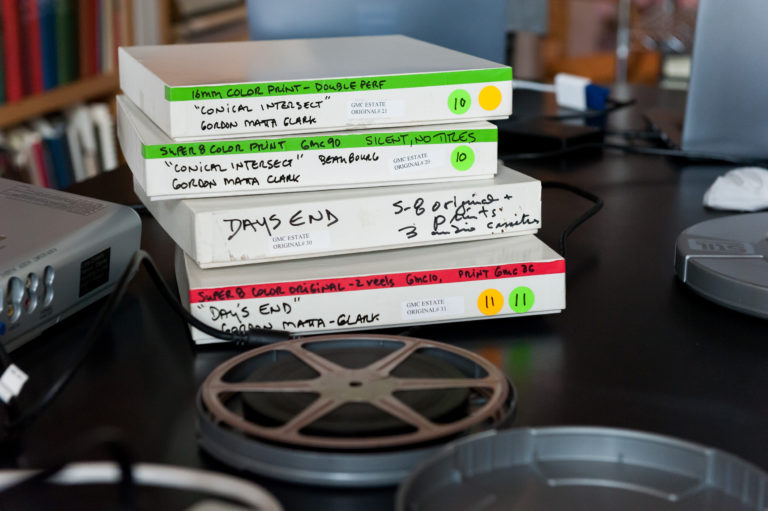 Video cassettes and film reels from the Gordon Matta-Clark Collection, Canadian Centre for Architecture, 2019. © CCA.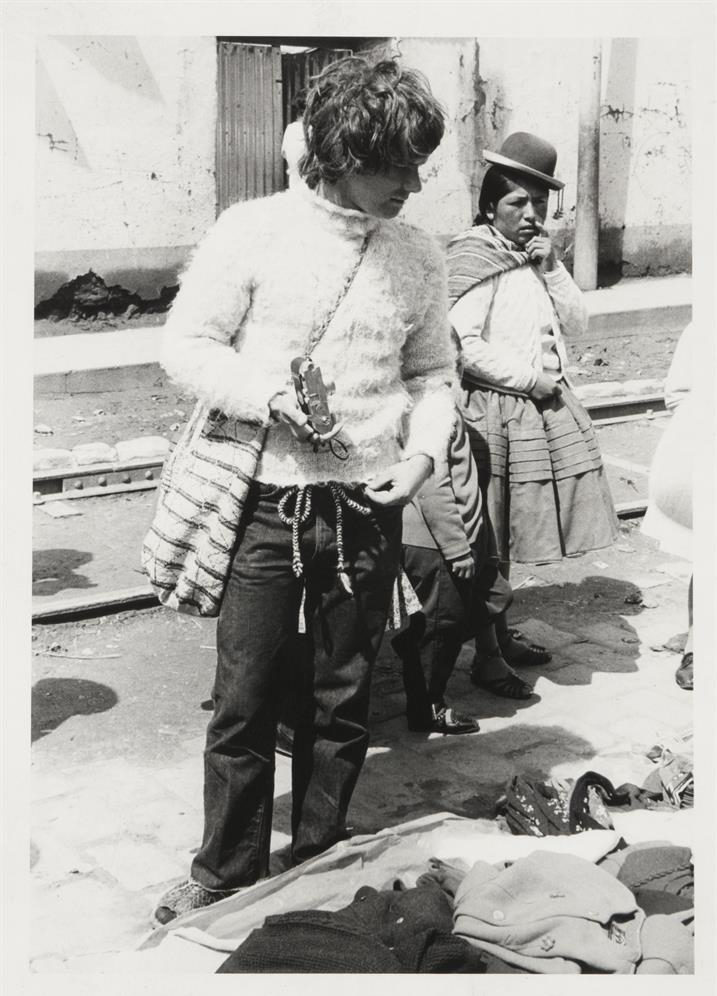 Gordon Matta-Clark, trip to South America, 1972. Canadian Centre for Architecture, Montreal. Gift of Estate of Gordon Matta-Clark.
Kitty Scott, curator of modern and contemporary art at the Art Gallery of Ontario, is curating the third exhibition in the "Out of the Box" series. Due to open in the coming months, Scott's project draws on a range of Matta-Clark's personal and travel photographs in the CCA archive.
"The stuff around any artist's life has always intrigued me—the stuff that's not the work," Scott says, pointing to the way she used archives in curating recent exhibitions on Peter Doig and Brian Jungen.
The photos in the Matta-Clark archive in particular provide the opportunity to "see through his eyes, in a way—to move through cities and places with him," says Scott.
The travel photos also provide key insight into an artist who "wanted to be everywhere at once," says Scott. Those who knew him knew he was a very big traveller, she says—"not quite a tourist, not quite an ethnographer, but a passionate observer."
Matta-Clark's photos of Stonehenge will be on view, as well as buildings in Genoa, forms in Chaco Canyon—all reflecting his architecture vectors. But in addition to photos of ancient sites and vernacular architectures in Mexico, Jamaica, Haiti, Peru, Guatemala and elsewhere, "he also really loved photographing the markets where food was being sold," says Scott, reflecting Matta-Clark's community interests.
"The thing that's incredible about him as an artist is he was interested in art, architecture, performance, dance works," says Scott. "He worked across and between different communities. He was super interested in notions of the communal, he was interested in the city, and…a prototype for a type of artist that works on convivial, relational projects."
The CCA's "Out of the Box" exhibitions on Matta-Clark will be accompanied in 2020 by a roundtable event and a publication that will make reproductions of these archival items more widely available. Roughly 200 selections from the archive are also currently digitized on the CCA website.