More than 120 people, including newcomer artists, creative workers and arts-organization staff, gathered in Toronto last month to discuss a pressing issue: barriers newcomers face in finding work within Canada's culture sector.
The crowd at Pathways for Newcomer Artists & Creative Workers at CSI Toronto on November 22 was made up of immigrants and refugees from all over the world—including some who have been in Toronto for years and some who have recently arrived.
"It was about putting newcomers, arts administrators and policy advisors together in a room in order to give newcomers a direct platform to gatekeepers so that they can voice their concerns and challenges," says Josh Dyer, marketing director of Myseum, which partnered on the event with the City of Toronto, the Intergovernmental Committee for Economic and Labour Force Development and the Laboratory for Artistic Intelligence.
Dyer and his Myseum colleagues were inspired to drive the event forward after reading a 2019 report titled Immigrants and the Creative Economy. The report was authored by consulting firm Nordicity.
Though that report focuses on Toronto, it carries wider weight given that the city, according to census data, is home to the largest number of recent immigrants in Canada. The study may also be of interest to other cities, such as Vancouver, which recently released new funding strategies "to change existing systems that maintained privilege and power for some communities in the cultural ecology and the city at large." It is also in line with new initiatives by national arts funders such as the Canada Council, which earlier this year created a pilot program to remove barriers for young and new artists.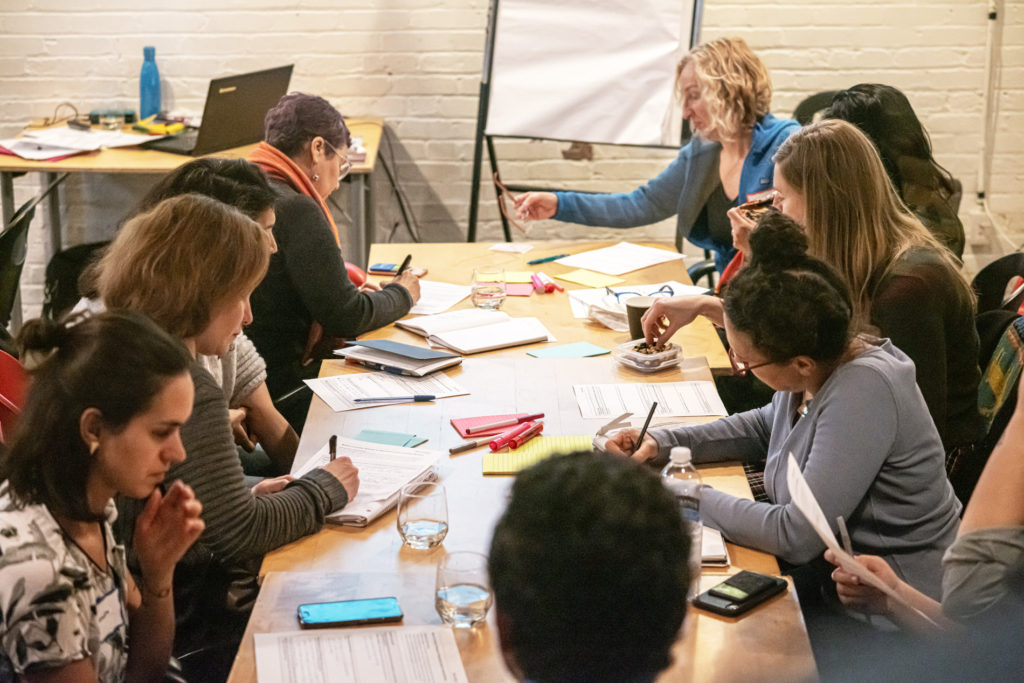 Myseum Connects attendees identifying possible solutions in Getting the Lay of the Landscape breakout session facilitated by Work in Culture. Photo: Priam Thomas.
One thing that is lacking is a one-stop-shop where newcomer artists can access information.
Both the report and the recent event found that barriers to newcomer artists and culture workers remain significant for multiple reasons—with multiple solutions needed.
"Few immigrant workers can jump right into their respective industries in the creative economy," the report found. "They often need to find mentors or organizations that provide them with knowledge."
Yet programs aimed to help creative workers gain experience are usually focused on youth or offered as internships through Canadian education programs, the report also noted. This leaves out those who cannot or do not want to "redo their qualifications" and who are middle-aged or older.
Another barrier for creative newcomers is being expected to have "Canadian experience" when applying for jobs and other opportunities.
"[It is] often unclear to immigrant workers what 'Canadian experience' means and how to gain 'Canadian experience' once they are in Toronto," the report states. (This barrier remains despite the fact that a guide for employers published by the Ontario Human Rights Commission cautions that "a strict requirement for 'Canadian experience' may result in discrimination, and should only be used in limited circumstances.")
"Employers often seemed to not know how to interpret or value international experience," the report noted, adding there seemed to be "little incentive" for them "to hire immigrant creative workers that lack 'Canadian experience.'"
These findings resonated with Tony Vu, an actor and community project manager from Vietnam who came to Toronto less than a month ago to develop his career as a musical theatre performer.
"Toronto's arts landscape is extremely vibrant," Vu says. "But what is lacking is a one-stop-shop where newcomer artists can access information about their specific fields"—a sentiment shared by many at Myseum's event.
"Immigrants found that when they spoke with settlement officers, they were often advised to change their career instead of being given information on the creative economy," the report also revealed.
One person at the event said that "as a settlement worker, I'm one of the only or the only creative or artist in the room that actually knows about these services" for newcomer artists and arts workers. In order to address this issue, the Neighbourhood Arts Network announced they would host an information session for settlement workers and employment agencies in the new year.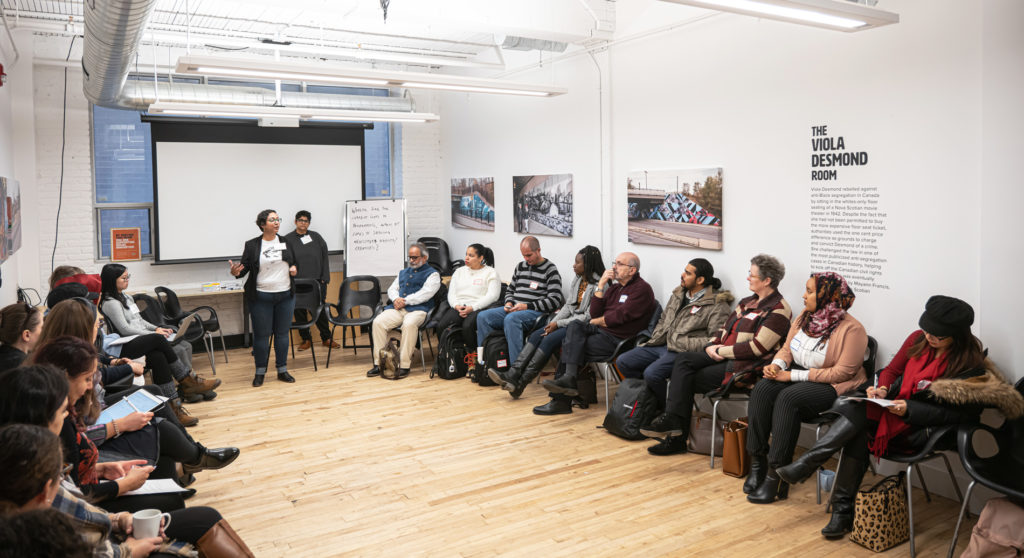 Bridging Experiences workshop lead by facilitators Parul Pandya and Prutha Girme. Photo: Priam Thomas.
Language barriers, combined with racism, affect newcomer creative workers in other ways too.
"Small groups by and for newcomers have a hard time applying for grants and securing funding because they're not 'sophisticated' and have 'grammar and vocabulary issues,'" says Paola Gomez, a community organizer and artist facilitator who came to Toronto a number of years ago as a Colombian refugee, and who co-founded Muse Arts and the Happening Multicultural Festival. "Smaller organizations that actually employ immigrants and refugees have difficulty getting funding, whereas larger institutions that are not run by newcomers get grants to support newcomers—but their administration does not include the experiences of newcomers as part of their staff. The voices of refugee and newcomer artists are borrowed to fuel the narratives that organizations use in order to seek funding."
And once newcomer artists and arts workers do make their way through the door, they are expected to create and contribute only in particular ways.
"Several artists spoke about being expected to create a specific type of art because of their cultural background—instead of the type of work they had built their careers around," says the report.
And they often aren't considered for leadership.
Several artists spoke about being expected to create a specific type of art because of their cultural background—instead of the type of work they had built their careers around.
"Several creative workers mentioned that even though they have heard lots of talk about diversity, it seemed that leadership roles in creative organizations were still not being offered to people of diverse backgrounds," said the study.
Some of the artists gathered on November 22 also expressed concern that their contributions would not result in necessary changes.
"I share the frustration of many newcomer artists here today, where many of us realize that we've been invited too many times to these types of spaces, but [that] there has been little change," Paola Gomez said at the symposium. "These discussions take up a lot of energy, but it also affects trust, knowing that after a day like today, the reality is that they still have to work, they still have to produce money in order to live in Toronto."
One of the breakout groups at Myseum's event collected and presented the assets of a handful of newcomers, listing vast international networks of executives and directors in major international museums, as well as connections to cultural ministers and political decision-makers. This exercise stood out against the discussion of barriers and hardships, reminding those present that newcomers have so much to offer to the arts and culture industry.
Individuals and organizations at the event did make public promises to provide mentorship services and stated an interest in building a one-stop-shop database for all of the professional development services available to newcomers.
What happens next will be tracked, organizers say.
"We have assigned 'champions' for some of the actions that came out of these discussions," says Josh Dyer of Myseum. "We'll be checking with them in three months, six months, and a year, because we hope that within those time periods we can see some real changes being implemented at an institutional level."
With files from Leah Sandals