A $3.6-million Borduas canvas set a new auction record for the artist last night at the Heffel auction in Toronto.
By price, it led the items hammered down so far at Canada's spring auctions.
That winning Borduas, Figures Schématiques, is a large oil on canvas—at 51 inches by 76 inches, the second-largest in its series, with the largest being in the collection of the National Gallery of Canada.
Its market appeal was clear.
"It is rare that a painting of this importance appears on the market, especially one from Borduas' Black and White period in Paris," Concordia University professor Francois-Marc Gagnon wrote in the Heffel catalogue. "This work is perhaps the largest Borduas canvas in private hands."
The Borduas sale fell within estimate, which was $3 to $5 million. But it was still enough to bust records for the artist.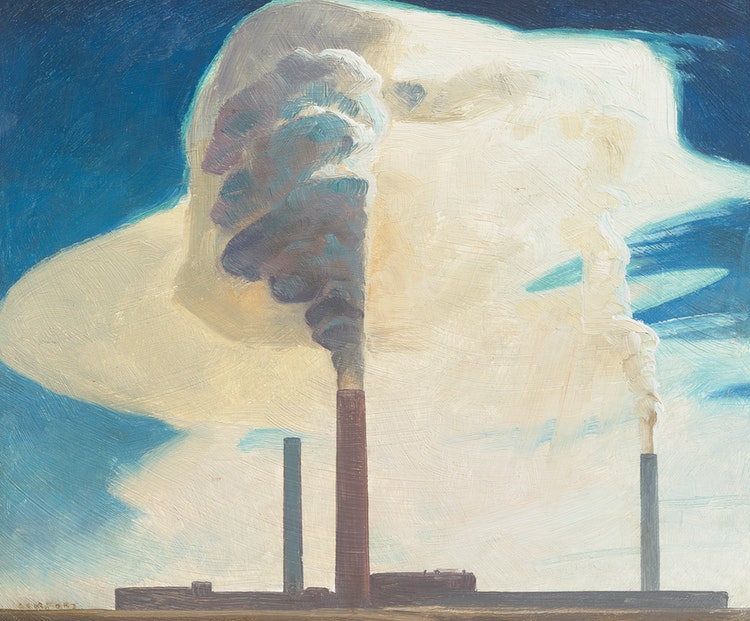 Originally estimated at $3,000 to $5,000, this sketch by Charles Comfort went for a record price at the Consignor auction.
Multiple Records Broken at Three Auctions
Yet the Borduas was not the only artwork breaking auction records this week.
Also at Heffel, Robert Pilot's Quebec City from Lévis was the subject of spirited phone and in-the-room bidding, selling for $337,250 and breaking the record for the artist. (It also went for some six times its auction estimate, which had been $50,000 to 80,000.) It was the first time Pilot's 1920 painting had come to auction, having been acquired from the artist by a Montreal stockbrocker and descended to his family.
And even more artist records were broken in the Heffel auction, including the vibrant abstract AC-64-3-A by late Saskatchewan artist and Emma Lake alum William Perehudoff, which went for $85,250 on an estimate of $25,000 to $35,000.
Patinoire à Québec d'autrefois by John Little—a detailed 1981 Quebec hockey scene in oils, and the last lot in the Heffel auction, went for $58,250 on an estimate of $15,000 to $25,000. It also broke a record for the artist.
Jack Bush's large 1970 abstract canvas Strawberry set another Canadian auction record, going for $691,250, almost double the low estimate of $350,000. (Christie's in New York hammered down a Bush canvas for $603,750 in 2013, sparking increased prices for the artist overall.)
The Waddington's auction on Monday also proved record-breaking—most notably with a new auction record for Cornelius Kreighoff, the painter of classic "Canadian" scenes whose works are often a hallmark of the national auction seasons.
At Waddington's, Kreighoff's 1862 oil Crossing the Ice with the Royal Mail, Quebec, went for $456,000—more than ever before.
"Marius Barbeau, Krieghoff's early biographer, lists six known versions of this subject as well as one print which was produced by Kell brothers, in 1860," the Waddington's catalogue details. But: "At over 17 by 30 inches, this canvas would be the largest known version of the subject."
Also at Waddington's, a new live auction record was set for works by Maud Lewis, with her Winter Scene going for $45,600. It was originally estimated at $9,000 to $12,000. The film Maudie has sparked increasing international and national interest for this prolific artist.
The Waddington's sale also set new records for Adrien Hébert, whose 1945 Montreal Harbour scene went for $45,600. It was originally estimated at $20,000 to $25,000.
At the Consignor auction on Tuesday evening, in a surprising turn, a small oil on board sketch by Charles Comfort went for $33,040—six times the auction estimate of just $3,000 to $5,000—setting a new record for the Canadian war artist.
The Comfort oil on board, Smokestacks, Copper Cliff, was at auction for the first time, having originally been given by Comfort as a wedding gift and descended to family from there.
The Comfort sketch also relates to a significant canvas by the artist—Smelter Stacks, Copper Cliff (1936)—that is in the collection of the National Gallery of Canada. Both the sketch and the finished NGC canvas depict, in modernist style, the Vale (formerly Inco) nickel mine in Sudbury.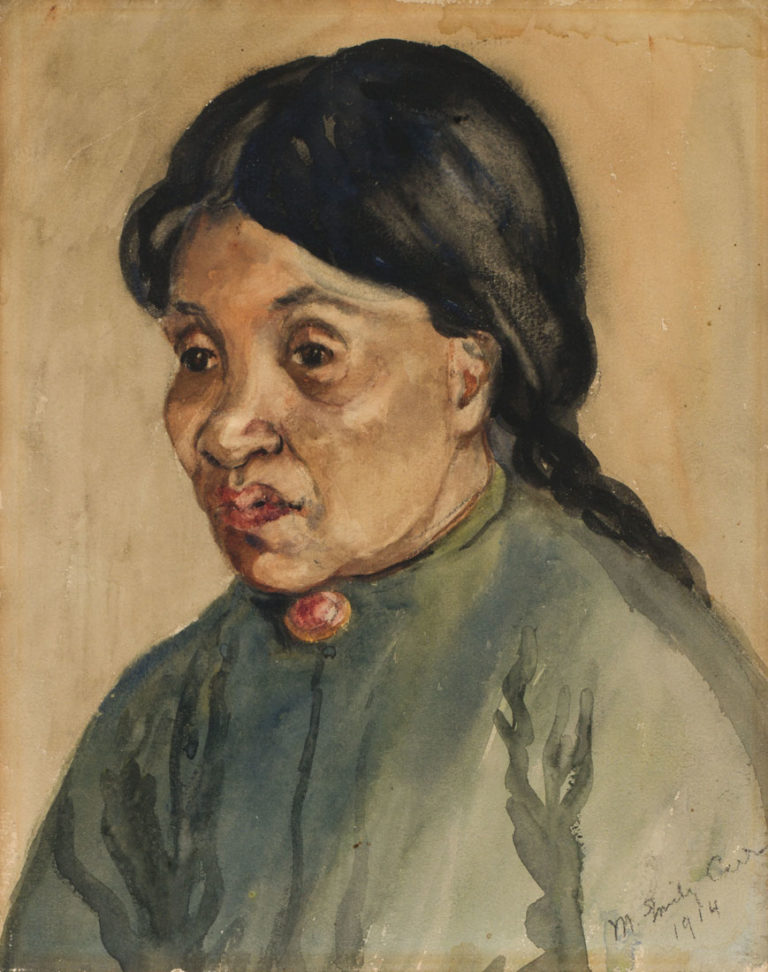 Emily Carr's
Sophie Frank
is a watercolour that appears as the frontispiece in her memoir Klee Wyck. It went well above estimate at the Heffel auction.
Some Surprising Canadian "Classics"
There are always some surprises at Canada's art auctions, and this season is no exception.
In a couple of cases, the artists were well known, but bidding went far above estimates for unique or rare items.
An extended period of phone and in-person bidding ended in applause when a small Lawren Harris sketch—his 12-by-15 inch Morning, Lake Superior (circa 1926–27)—went for $1.1 million, some 10 times its initial estimate of $100,000 to $150,000.
The sketch had been in a family collection, originally being acquired by early Canadian art collector Elise Kingman. The sketch relates to a major painting in collection of the Musée des beaux-arts de Montreal, and was coming to market for the first time after many decades.
"The discovery of this oil sketch for MMFA's Lake Superior canvas provides a glimpse into the small community of collectors of contemporary Canadian art in the late 1920s, and also provides insight into Harris's creative process at this key moment in his career," wrote former NGC curator Charles Hill in the Heffel catalogue.
Busy bidding pushed the very first lot of Heffel's historical art auction—the small 1914 Emily Carr watercolour Sophie Frank—from an estimate of $50,000 to $70,000 all the way to more than three times that amount: $277,250.
Though this was the first time Sophie Frank had come to market, having been in family collections for many years after being deeded to Ira Dilworth by the artist, many have seen the image, as it serves as the frontispiece of Carr's famed memoir Klee Wyck.
In fact, the watercolour Sophie Frank depicts the very person to whom Carr dedicated the book Klee Wyck—a woman who lived at the Eslha7an, Misson Reserve No. 1, in what is now North Vancouver.
The tensions inherent in this image, as well as its fame, are part of what may have driven the auction price.
"Sophie was terribly glad to see me…Her love for me is real and mine for her… Out in the spaces there is a bond between us where color, creed, environment don't count," Carr contended in her journal. "The woman in us meets on common ground and we love each other."
And yet Carr's perception and portrayal of Frank is troubled by the dynamics of colonialism that haunt her depictions.
"The sense of introspection and longing that the portrait conveys signals the dark realities of colonial relations—irredeemable rupture and loss," UBC professor emerita Gerta Moray points out in her auction catalogue essay.
And in the hot topics category, the Tom Tomson Sketch for Lake on Algonquin Park found in an Edmonton basement—the subject of several news items leading up to the Heffel auction—found bidding that drove it to $481,250 on an estimate of $125,000 to $175,000.
(The owner of the painting had recently given it to a friend as a gag gift, not believing her father's tale of its provenance. The friend brought it to Heffel for appraisal, and it was discovered to be a sketch for a major canvas in the National Gallery of Canada collection.)
At the Consignor auction, William Kurelek's Hot Day in Kensington Market of 1972 went for the second-highest price on record for the artist—$472,000, more than twice the high estimate of $200,000.
Unlike Kurelek classic prairie "potboilers," Hot Day in Kensington Market focuses on the big city of Toronto, where Kurelek finally settled. It offers a detailed view of Portuguese fish markets, a Hungarian bakery and a Jewish butcher shop.
Kurelek hated Toronto when he first arrived, but, he once said, "by a strange alchemy there took place something akin to the common plot of Harlequin romances. The hero or heroine ends up falling for the very person they hate or fear."
Someone who was born in the market originally snapped up the painting from Isaacs Gallery soon after it was first completed, and eventually it became part of the TransCanada PipeLines collection in Calgary, which consigned it to the Toronto auction.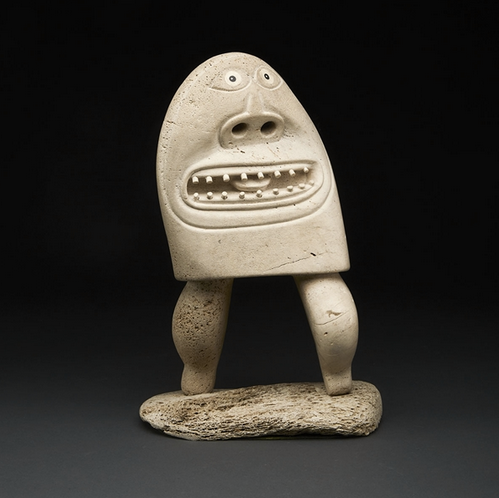 This work by Karoo Ashevak fetched a lead price at the Waddington's Inuit Art auction. Photo: Facebook.
First Nations and Inuit Art on the Block
Though few records were broken for First Nations and Inuit art at auction this season, there were a number of notable sales.
The Waddington's auction of Inuit art on Tuesday, for instance, was led by Karoo Ashevak's Shaman with Opposing Faces, which went for $90,000. The two-sided 1973 figure is made of bone, stone and ivory.
Multiple works by Jessie Oonark were also sold at the Waddington's Inuit Art auction. The highest price , $52,800, went to her textile work Untitled of 1970, which shows several figures and a dog team. Another untitled Oonark textile work of the same year went for $31,200, while her striking 1981 stonecut and stencil print Playing With My Grandchildren went for $7,800.
The Consignor auction also saw the sale of Bill Reid's small 22-carat gold sculpture Chief of the Undersea World for $129,800—around its low estimate. The 1984 sculpture, based on a Haida speaker's staff at the Smithsonian Museum and made around the time of his 18-foot-tall bronze killer whale at the Vancouver Aquarium, was originally collected by Canadian artist Ted Harrison and descended to a private collection, which consigned it.
Consignor Canadian Fine Art also sold Daphne Odjig's 1981 painting Family Ties, from the Trans Canada PipeLines Collection, for $37,760, within estimate.
And at Heffel—though another Reid gold piece estimated at $225,000 to $275,000 went unsold—there was the sale of Rita Letendre's Printemps that went over estimate, selling for $91,250 when the estimate had been only $40,000 to $60,000.
Letendre's Printemps, a large abstract work, was painted in 1960 and directly acquired from the artist thereafter, making it the painting's first time at auction.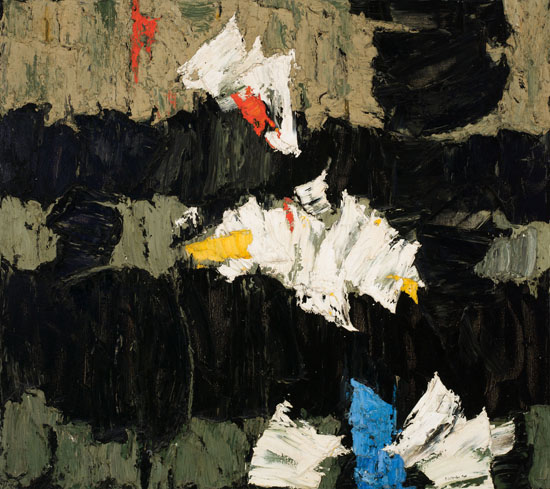 Rita Letendre's
Printemps
was sold at the Heffel auction this week. But lack of an Artist's Resale Right in Canada means she won't see any proceeds from it herself.
Trends and Consequences
A few trends became apparent among the spring auctions so far as well.
For one, more international artworks were on the block and attracting attention, at least at the Heffel auction. There, an untitled 1980s acrylic on paper by American Sam Francis went for $169,250 on an estimate of just $25,000 to $30,000.
Similarly at Heffel, The Friendly Well, a 1957 canvas by Irish artist Jack Butler Yeats (brother of the poet), went for $229,250 on an estimate of $100,000 to $150,000. And a work by German artist Hans Hartung went for $205,000 on an estimate of $70,000 to $90,000. The 1950 work in charcoal, pastel and oil on paper on canvas had previously been auctioned at Christie's London in 2000.
Another trend was more contemporary Canadian works by living artists gaining ground among the lots—though it must be said that while some found much bidding, others were not finding any buyers at all.
For instance, intense bidding put Rodney Graham's 1990 photograph/artist proof for Oxfordshire Oak, Staffordshire, to $175,250. It has been estimated at $60,000 to $80,000. And Gordon Smith's Abstract from 1964 went way over estimate at $109,250. Edward Burtynsky's 2012 photograph Rice Terraces #2 Western Yunan Province, China also was pushed to $43,250, quite beyond its estimate of $8,000 to $12,000.
And yet there were also some significant passes on contemporary works at the auction, like a Jeff Wall lightbox (A Wall in a Former Bakery, 2003) which was estimated at $125,000 to $175,000 and an early Michael Snow oil on canvas on board work from 1955, On the Hero Myth.
And perhaps one of the most impactful trends is a kind of non-trend—that is, Canada still not having an Artist's Resale Right. Though Korea this year became one of the more than 90 countries that has enacted a right which gives artists (and/or their estates) a small percentage of secondary-market sales, Canada has still not legislated any such right.
As a result, thousands of dollars of sales proceeds that could have been directed to artists still have not been funnelled in that direction. The organization CARFAC, among others, continues to advocate for an Artist's Resale Right at the federal level.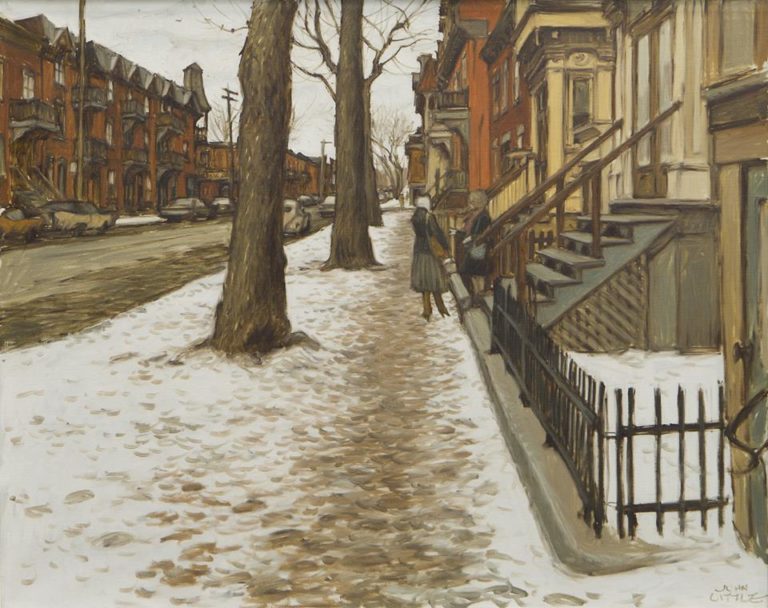 This painting by John Little is up for sale at the ByDealers auction this evening. Given that a record broke for Little at the Heffel auction Wednesday evening, it will be interesting to see the response for this prolific artist. Photo: Facebook.
More Results to Come As Canada's Auction Scene Expands
Canada's spring auction season continues this evening with the ByDealers auction—ByDealers being a relatively new enterprise launched in 2017 to provide a consortium of private dealers with a means of running their own auctions.
The ByDealers catalogue cover (like Heffel's postwar auction catalogue) features a 1950s black-and-white work by Borduas—albeit a smaller 1956 piece estimated at $800,000 to $1.2 million.
ByDealers is also touting a painting by William Ronald, and a "canonical" work from Serge Lemoyne's Bleu, Blanc, Rouge series, depicting the Montreal Canadiens' mythic number 10, Guy "The Flower" Lafleur. (A Lemoyne proved to be the lead item in ByDealers inaugural fall 2017 auction as well.)
ByDealers has grown at least in organizational size since its last iteration. Initially founded with 15 galleries participating, the spring auction now has 26 associate galleries involved.
This article was corrected on May 31, 2018. The original misstated the sale price of William Kurelek's Hot Day in Kensington Market as $427,000. In fact, it is $472,000.