The John H. Daniels Faculty of Architecture, Landscape, and Design at the University of Toronto recently unveiled its 7,500 square-foot subterranean gallery with an inaugural installation that blends zen with zany. "New Circadia (adventures in mental spelunking)" is an interactive cave-like experience encouraging visitors to pull up a pillow and take a break from the tech-driven anomie of modern life. The site-specific experiment, which runs through April 2020, is co-curated by Richard Sommer, dean and professor at the Daniels Faculty, and New York–based design duo Pillow Culture—whose sanguine mission is to "cushion the world."
Inspired by the Mammoth Cave experiment—a 1938 study conducted in a Kentucky cavern to determine whether sleep patterns are biological or cultural—"New Circadia" is a fully felted world of soft gear (for spelunking, of course) and sculptural pillows. One must descend into the space from street level, moving through a 72-foot-long hallway that leads to the mouth of the "cave," where shoes are taken off and brightly coloured cushions can be clipped onto the body. Industrial felt curtains leading into the "cave" evoke the post-minimalist works of Robert Morris, as each visitor enters a pitch-black realm far from the light of day.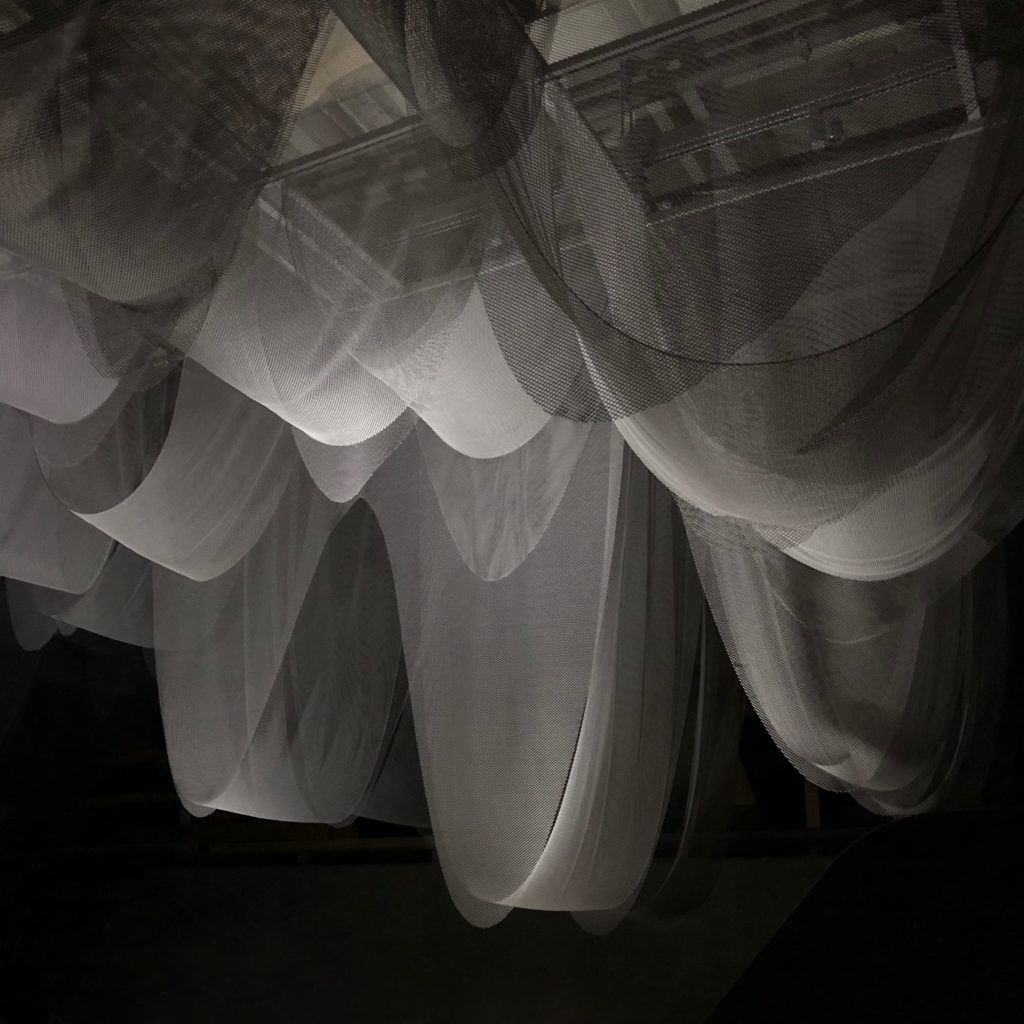 "New Circadia," installation view at Architecture and Design Gallery, Toronto, 2019. Courtesy Pillow Culture.
Bad cellular reception below ground could be a blessing to some: "In a gentle way, we want people to put away their phones and spend some time internalizing," says Natalie Fizer, who cofounded Pillow Culture with Emily Stevenson 10 years ago. Premised on the notion that pillows are extensions of ourselves, Pillow Culture's pan-disciplinary projects have explored unconventional ways to interact with cushions—including upholstering boulders in Brooklyn Bridge Park and creating a soft public bench for the City of Boston.
"New Circadia" is as much about being awake as it is about falling asleep: once the eyes adjust, what will the mind see? Lighting designer Conor Sampson has installed artificial skylights in the hallway where visitors store their stuff before selecting their soft "spelunking" gear. Yet inside the "cave" itself, Sampson has chosen to work with the absence of light, allowing darkness to both compromise and cultivate the senses. "This is a haptic environment," says Fizer. "We want people to experience restorative boredom."
"The ceiling is an aural blanket as well," says Stevenson. Sound artist Mitchell Akiyama has created white noise and subliminal waves to softly envelop visitors, much like the felted floor, walls and cushions themselves. Large boulder-like recliners vibrate and hum at different frequencies to lull whoever is sitting, sleeping or studying in the lounge-scape.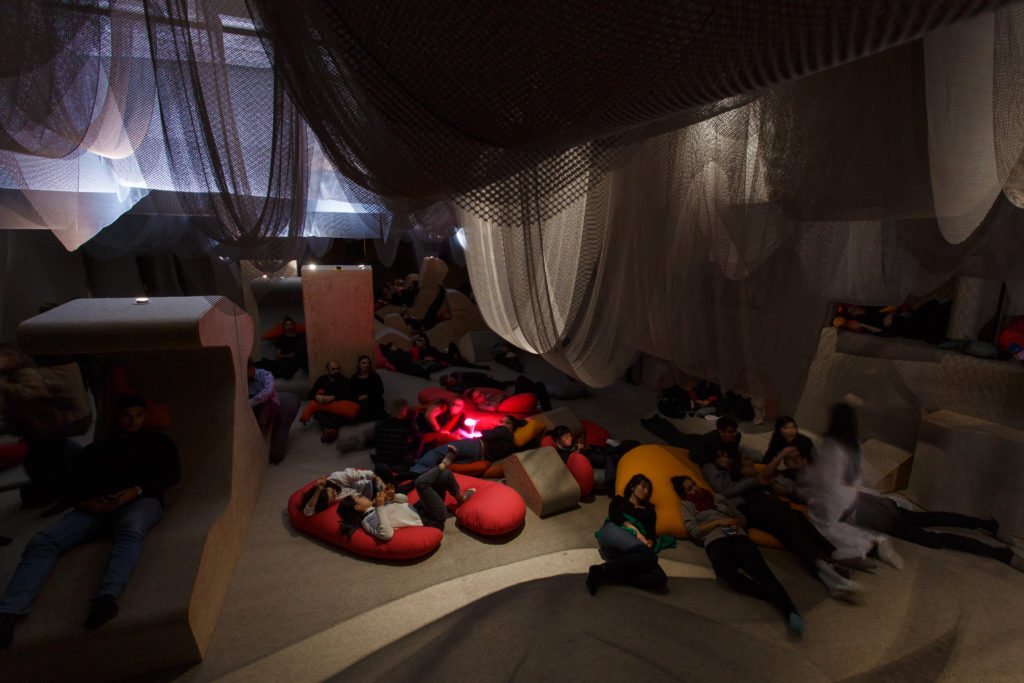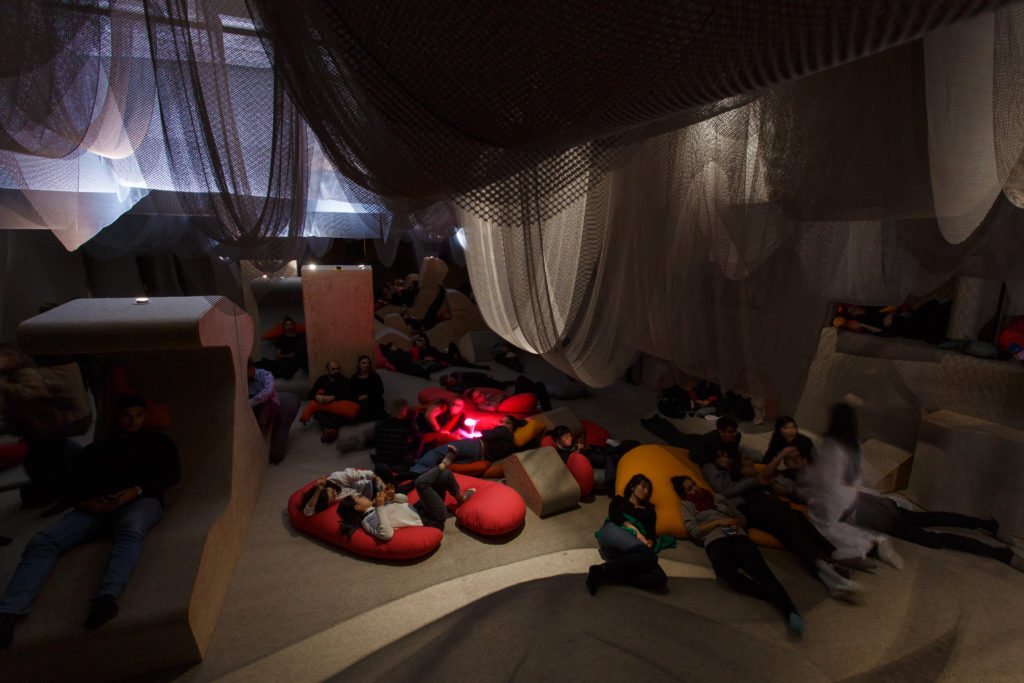 All are welcome, though stressed-out students nearing the end of the semester seem most inclined to recline. The space is open from 9 a.m. to 9 p.m., Tuesday through Sunday, its 12-hour span yet another nod to the equanimity of circadian rhythm. Starting in early 2020, a series of lectures, performances, readings—even yoga classes—will begin taking place. After "New Circadia," the gallery will continue hosting experimental programs that foster dialogue between architecture, urbanism, and the ways in which design influences our daily lives.
In keeping with past projects, Pillow Culture has once again created a therapeutic environment where people can withdraw, yet be together. "This isn't an art exhibition, it's an installation where things will happen and do happen," explains Fizer. "It isn't didactic, it's in the spirit of the cultural happenings of the 1960s."
"Like a sit-in?" I ask, as Timothy Leary comes to mind. "Like a sleep-in," says Stevenson without missing a beat.
"New Circadia (adventures in mental spelunking)" is open until April 30, 2020, in the Architecture and Design Gallery located on the lower level of the Daniels Building at 1 Spadina Crescent, Toronto. The gallery will be closed from December 20 at 4 p.m. and will reopen January 7 at 9 a.m.