Before she died in 1829 in St. John's, Shanawdithit—believed, in dominant colonial narratives, to be the last of the Beothuk people—created 10 drawings. Her delicate graphite traces on paper documented tools, architecture and clothing of the Beothuk, among other elements.
In recent weeks, those 10 small and fragile drawings by Shanawdithit have inspired large-scale sculpture, textiles, video and more by Indigenous artists from coast to coast. These creators include three visual artists from Newfoundland and Labrador: Jordan Bennett and Jerry Evans, both of Mik'maq descent, and Meagan Musseau, who is of Mik'maq and French descent. Contributors also include artists from other parts of Canada: Cree/Saulteaux/Métis visual and performance artist Lori Blondeau; dance artist Aria Evans, who is of Mik'maq/Black/settler heritage; Algonquin playwright Yvette Nolan; and Marion Newman, a mezzo-soprano who is of Kwagiulth and Stó:lo First Nations, English, Irish and Scottish heritage.
Tonight, in Toronto, all these contemporary artists' creations and collaborations—and more—will be featured in the world premiere of the new opera Shanawdithit. Produced by Tapestry Opera and Opera on the Avalon, the production will run May 16 to 25 in Toronto and on June 21 in St. John's.
"As an Indigenous artist, it has been great to see a story about an Indigenous woman being told by an Indigenous woman," says singer Marion Newman about working with playwright Yvette Nolan on this production. "Because up until really recently those kinds of stories have been imagined mostly by men and by people who aren't Indigenous who can't help but be affected by Hollywood caricatures."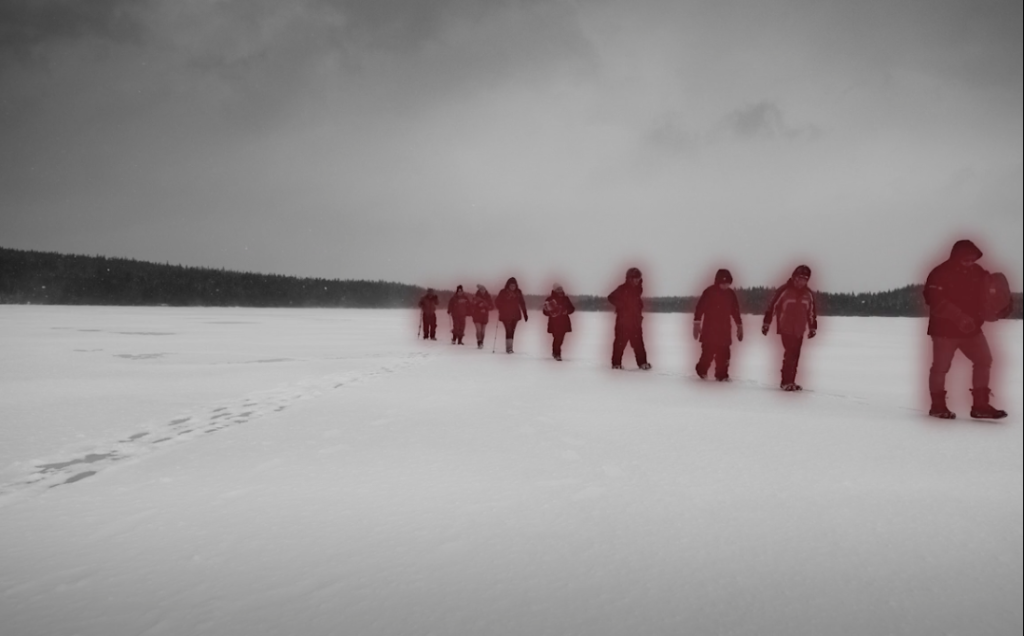 For
Shanawdithit
, artist Jerry Evans made some video works to be projected onstage. Image still: Via Tapestry Opera.
One of the most important things for the artists working on the production is that the telling of Shanawdithit's story emphasizes contemporary scholarship and traditional knowledge that challenge dominant narratives of Beothuk extinction, narratives that are critiqued for being too binary and too romanticized.
"That is taking back control of the narrative of who we are, and how we are who we are," says Newman. "I hope that a lot of different kinds of people come to witness this opera and that they are inspired to reconsider how they've learned history in Canada."
Yvette Nolan says she was drawn to Shanawdithit's story "because it's a kind of founding story in terms of intersections of nations and newcomers."
In terms of collaborating with the visual and dance artists, Nolan made sure to make space for them in the structure of the opera.
"I wrote holes in the libretto where the [Shanawdithit] sketches happened," says Nolan, "and left it to each interpreter to interpret them."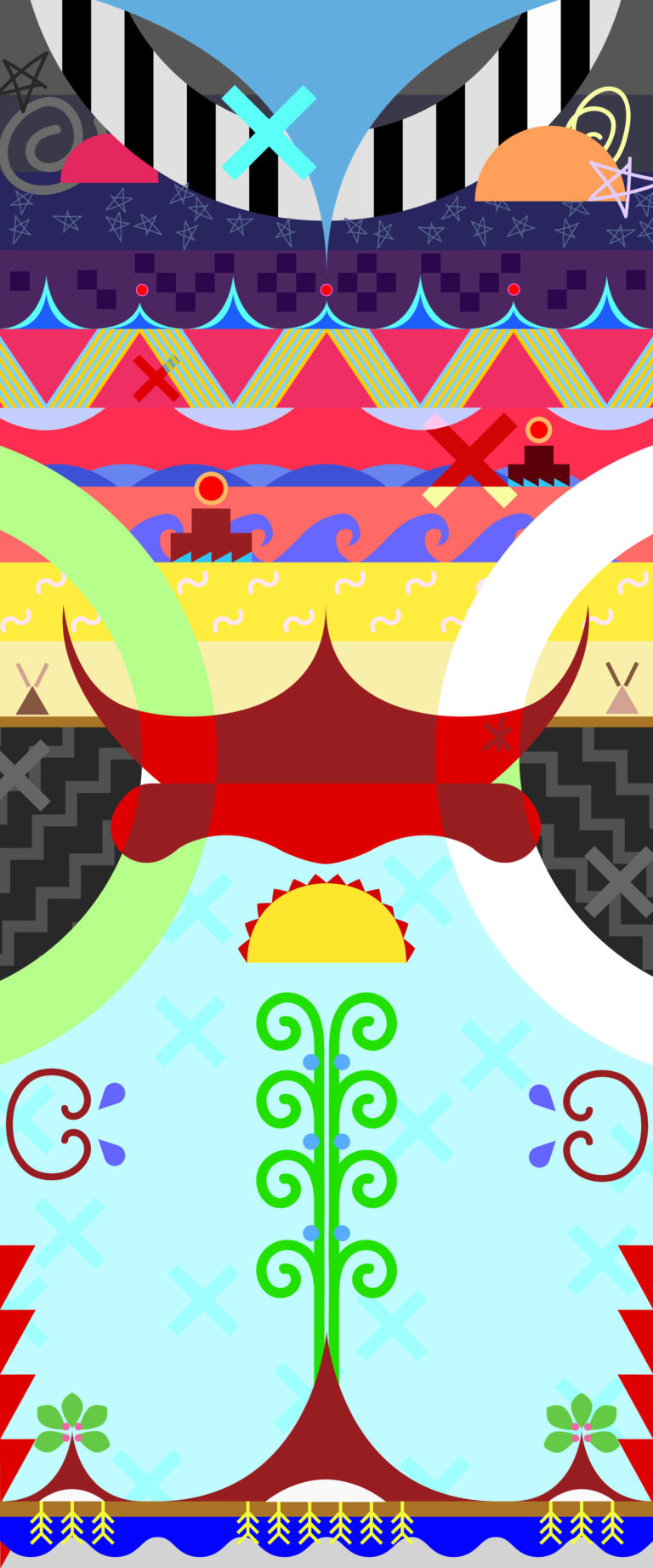 Jordan Bennett designed a large textile piece for the
Shanawdithit
set. Image: Via Tapestry Opera.
Nolan says she also felt a strong sense of collaboration with composer Dean Burry. In their processes together and with other artists, Burry and Nolan in many ways reversed the usual way in which opera is produced. Typically, the music and libretto tend to come first, and visual elements later, but not with Shanawdithit.
"Dean didn't write music for the [artist sketch] parts until we knew what the collaborators were doing," says Nolan. "It was a real dialogue, which I think is quite rare in opera."
Composer Dean Burry played a big role in driving the project forward, as he had been intrigued since childhood about the Shanawdithit story—and in making it more dimensional than mainstream tellings.
"I grew up in central Newfoundland, in Gander," says Burry. "And this is the centre of where the whole Beothuk story happened. My mom was from Buchans and my grandparents from Twillingate. When I was a very young child, our history books always mentioned Shanawdithit as almost a kind of mythical figure, or in a romantic sense."
"I felt that this story needed to get out there and heard in a different way," says Burry.
Burry made his first attempt at a Shanawdithit opera 20 years ago as a one-act for his master's degree at the University of Toronto. About five years ago, he approached Yvette Nolan and Tapestry Opera with the proposal for a bigger venture, and they agreed. The team then reached out to other artists, and a collaborative opera was born.
"This is really unlike any other opera I have written before," says Burry. "The collaborative aspect is really intense, and I think that follows from the idea of reconciliation and of Indigenous and non-Indigenous people working together."
According to singer Marion Newman, though opera often has an exclusive, fusty and very Euro-centric legacy, it might still, in cases such as this, have a role to play in telling Indigenous stories.
"Really it's just storytelling with music, and movement, and costumes, which is something that people from all over the world have been doing for as long as they've lived," says Newman. "It's something that we do in potlatch ceremonies on the West Coast—it's our way of remembering."
"Opera is actually a wonderful way," Newman thinks, "to keep our stories alive and sing them into people's minds and hearts."