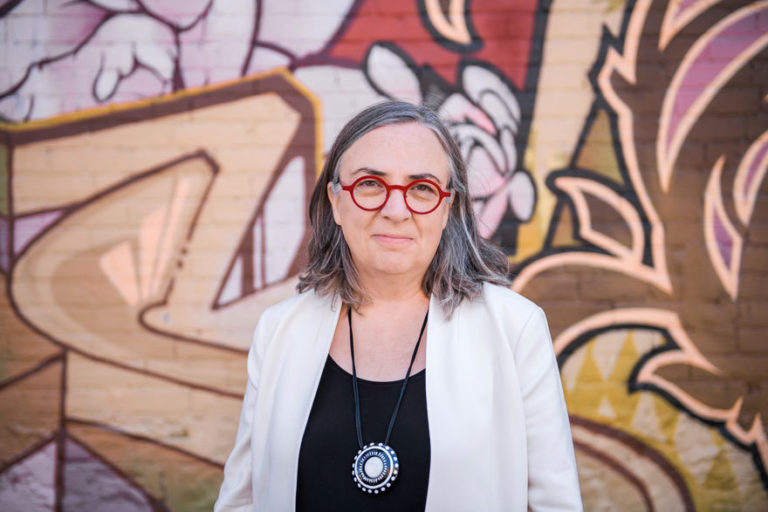 Gillian Siddall is the new president of Emily Carr University. Photo: Alyssa K. Faoro.
Gillian Siddall sings jazz, researches Canadian literature and is an advocate for decolonization in academia. On Monday, it was also announced that she is the new president and vice-chancellor of Emily Carr University of Art and Design, one of Canada's leading art schools.
Starting on September 1, Siddall replaces Ron Burnett, who has been with Emily Carr University since 1996. In the meantime, she will be wrapping up her current work as vice-president academic and provost at OCAD University in Toronto.
"My hopes for the new position are many," Siddall tells Canadian Art in a phone interview. "One of the reasons I'm excited about going to Emily Carr is their strategic plan identifies a number of priorities that are important to me as well."
Of particular interest to Siddall is Emily Carr University's focus on transdisciplinary research, as well as its priority on decolonization and responding to the Truth and Reconciliation Commission's Calls to Action.
Siddall says that working toward decolonization in an art-school environment can take many different forms. "One important way it can take form is through reviewing curricula—looking at existing courses and programs," she says, "looking at the way art history might or might not include a full representation of Indigenous art and Indigenous ways of making."
On related fronts at OCAD U, Siddall co-led, with professor Bonnie Devine, the Provost's Taskforce on Indigenous Learning. She says decolonization in art education can also be seen in OCAD U's recent cluster hire of five Indigenous faculty members.
"I think that [kind of hiring] is a really important way to do the work of decolonization, because you need Indigenous faculty there to do that work, and most universities at this point only have a small amount," Siddall notes. "One of the most important things we can do is to create a critical mass of Indigenous faculty."