A variety of sales and acquisitions were made at Art Toronto—Canada's largest modern and contemporary art fair—this weekend.
On opening night, a group of Art Gallery of Ontario curators acquired works by Duane Linklater, Rajni Perera and Celia Perrin Sidarous.
Duane Linklater's boys don't cry (2017) is a 15-foot-wide textile work made of six hand-dyed panels. It was brought to the fair by Catriona Jeffries of Vancouver. Rajni Perera's mixed-media work Fresh Air (2019) is the first work by this artist in the AGO collection, and it was acquired from Toronto's Patel Gallery. Celia Perrin Sidarous's photograph Assemblage en blue (Sphinx) (2019), acquired at the booth of Parisian Laundry of Montreal, is the third work by Perrin Sidarous to be acquired by the AGO.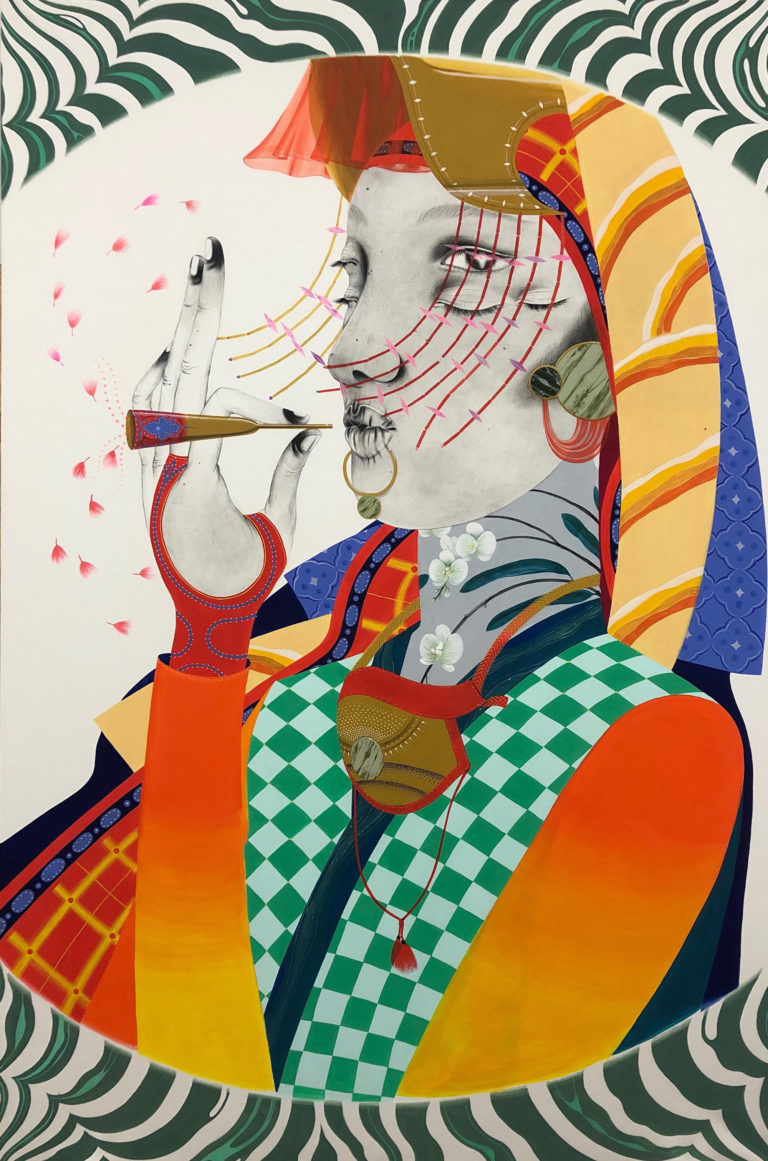 Rajni Perera,
Fresh Air
, 2019. Mixed media on paper. Purchased by the AGO with funds from the Dr. Michael Braudo Canadian Contemporary Art Fund and the Art Toronto Opening night Preview. Courtesy of Patel Gallery. © Rajni Perera.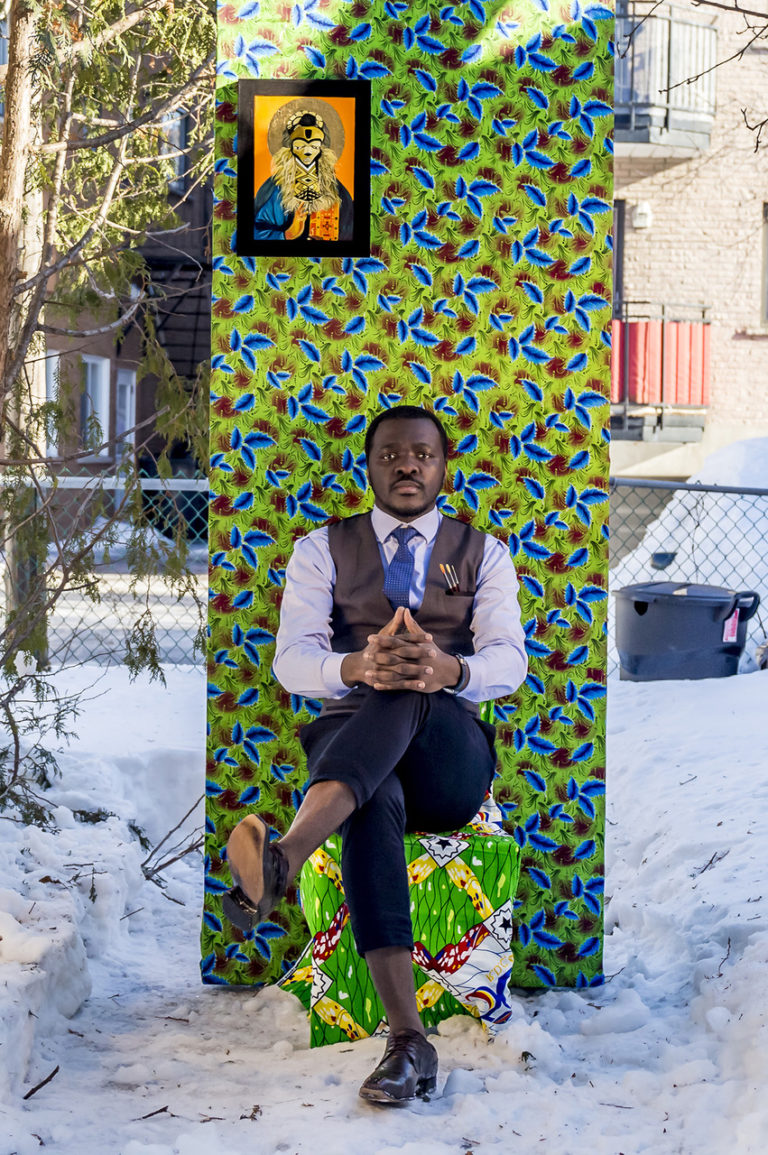 Moridja Kitenge Banza,
Autenthique 2
. Courtesy the artist and Galerie Hugues Charbonneau.
Other significant purchases were made by representatives of national corporate collections.
RBC corporate collection curators acquired Daydreaming about Icefishing by Darcie Bernhardt, an emerging artist from Tuktoyaktuk who is just in the process of completing her BFA at NSCAD University. Bernhardt's work was presented at the fair by the non-profit charity Inuit Art Foundation.
TD Art collected two works by senior Quebec artist Françoise Sullivan—Danse le neige (1948–76) and Rouges No 2 (2010)—both brought to Art Toronto by Montreal's Galerie Simon Blais. Vancouver artist Angela Teng's Cosplay (2018), created with crocheted acrylic paint, was acquired from Vancouver's Equinox Gallery. Mark Igloliorte's video Eskimo Roll came into the TD collection via Marion Scott Gallery/Robert Kardosh Projects of Vancouver, while two Styrofoam-based works by Caroline Monnet—including Super Tough (2019)—were acquired via Montreal's Galerie Division.
Scotiabank Fine Art Collection curators confirm that they acquired several new works at the fair, including work by Shaheer Zazai (via Patel Gallery), Blue Republic (via Georgia Scherman of Toronto), Sonny Assu (via Equinox Gallery), Jeanie Riddle (via Galerie Antoine Ertaskiran of Montreal) and Colleen Heslin (via Monte Clark Gallery of Vancouver).
Canadian Art also reached out to a variety of dealers for sales information.
Galerie Hugues Charbonneau of Montreal reported that art patron Andrew Dunn acquired Three Prototype Bags with Jingle Sach by Maria Hupfield, as well as an installation and video piece that will be on display at Hupfield's upcoming solo show at the Heard Museum in Phoenix. Charbonneau also said that BMO acquired the photograph Authentique #2 by Moridja Kitenge Banza, the Montreal artist and curator who won first prize at the Dakar Bienniale in 2010. Torys LLP also acquired Alain Paiement's large photomontage Masses / Particules, an artwork made of 11,000 image fragments representing crowds taken from all continents at mass demonstrations, festivities and sports events.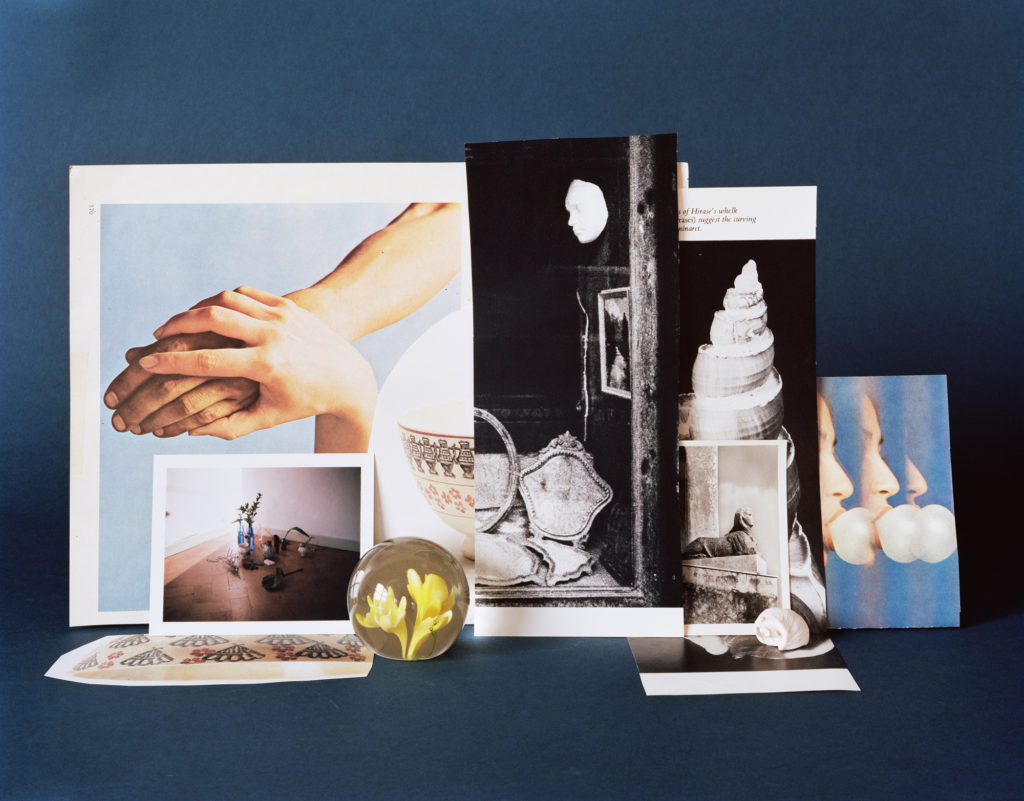 Celia Perrin Sidarous,
Assemblage en bleu (sphinx)
, 2019. Inkjet print on matte paper, 48 x 61.4 inches. Purchased by the AGO with funds from the Dr. Michael Braudo Canadian Contemporary Art Fund and the Art Toronto Opening night Preview. Courtesy of Parisian Laundry. © Celia Perrin Sidarous.
Patel Gallery said that it placed the first Rajni Perera and Shary Boyle collaboration into a private collection. Patel also sold new works by Sarah Letovsky, Alex Sheriffs, a Kent Monkman drawing and a Kim Dorland painting to private collections.
Jarvis Hall Gallery of Calgary sold out of all the works by Montreal painter Corri-Lynn Tetz that it had brought to the fair. It also sold paintings by Mark Dicey, multiple mixed-media works by current Sobey Art Award finalist Kablusiak and porcelain sculptures by Yvonne Mullock. It was Kablusiak's and Mullock's first time showing at Art Toronto.
In addition to selling Mark Igloliorte's video Eskimo Roll to TD, Marion Scott Gallery/Robert Kardosh Projects also sold a significant textile piece by Janet Nungnik, titled Global Warming.
And in addition to selling a Lise Beaudry photo to TD, Pierre-Francois Oullette art contemporain sold four pieces from Adad Hannah's Rodin Reworked series, the triptych Ordivician Tide by Meryl McMaster and several The Scream etchings by Kent Monkman.
Unit 17 of Vancouver also sold significant works by Anne Low, Ursula Mayer and Douglas Watt, among others.
This article was corrected on October 30, 2019. The original copy suggested that TD had purchased a Lise Beaudry photo-sculpture from Pierre-François Ouellette art contemporain. In fact, it was a photograph that was purchased.