The past 12 months have been big ones in Canada for menstrual equity and awareness.
In May, a poll found that one-third of Canadian women under 25 have struggled to afford menstrual products. In June, Calgary publisher Frontenac House released Gush: Menstrual Manifestos for our Times, in which "more than 100 women and nonbinary writers from Canada and around the world take apart the bloody instruction of menstruation: its cultures, its lessons, its equipment, and its lexicon." In November, UBC in Vancouver hosted Period.Huddle—"the first ever national conference in Canada aimed to educate, transform, and break down stigmas associated with menstruation."
And there's more to come: right now, the Museum in Kitchener is gearing up for "Flow: The Menstruation Exhibition."
Due to open on March 6 in tandem with International Women's Week and run until Menstrual Hygiene Day on May 28, "Flow" is a multifaceted project that includes artworks, talks, performances, panels and more. The art component is organized by veteran curator Virginia Eichhorn, while programs overall are sponsored by DivaCup—which just happens to have been invented in and continues to be based in the Kitchener region.
For "Flow" in particular, Eichhorn has chosen works by six artists: Pearl Van Geest, Ann Marie Hadcock, Carolyn Riddell, Tavia Christina, Joel Richardson and Alondra Ruiz Hernandez. Their media range across photography, textiles, performance and more.
"This is a personal experience that affects almost 50 per cent of the population," says the curator, "and I think that there is a real movement towards normalizing what our experiences are."
"I think some peoples' initial reaction might be 'Eww. Ick. Why would we want to go see something like that?'" says curator Eichhorn. "Well, it would be really, really important for those people to do so. I think they'd be quite surprised at the range of work that will be presented and the opportunities for dialogue that are going to be opened because of the exhibition."
Eichhorn has curated a wide range of projects in the past—from exhibitions about Canadian art icon Tom Thomson at his namesake gallery in Owen Sound to an exhibition on motherhood at Women's Art Resource Centre in Toronto. In the past, for the Museum in Kitchener, she also curated a show of artworks with nude figures rarely borrowed from the Canada Council Art Bank.
She believes all these forms of art, and more, are valid.
"A number of artists I've worked with in the past have dealt with different types of body issues and destigmatization issues," says Eichhorn, noting artworks on menstruation often deal with related topics.
"This is a personal experience that affects almost 50 per cent of the population," Eichhorn adds of the subject matter, "and I think that there is a real movement towards normalizing what our experiences are—and this is a great opportunity to be able to do that."
Local representatives from DivaCup—a product now available in 21 countries—says the museum project is a good match for its continued efforts around education and equity. In recent years, the company has partnered with Waterloo's Shore Centre on workshops, and this is a natural extension.
"We ourselves have never participated in an art exhibition before," says Sophie Zivku, communications manager at Diva International in Kitchener. "I have seen some [related] exhibitions at the Society for Menstrual Research biannual conference in the U.S.—that's where I was first introduced to the topic of menstrual art."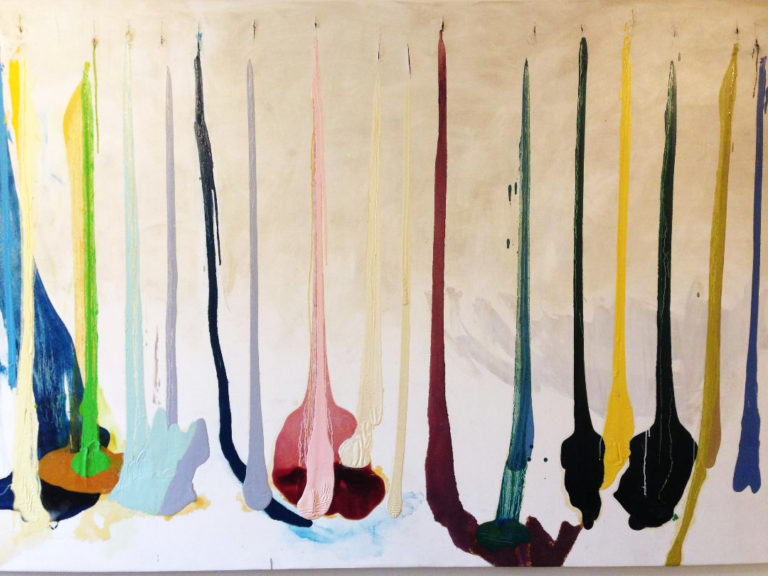 Pearl van Geest,
Spoiled
. Oil paint, thread on canvas, 9 feet by 6 feet.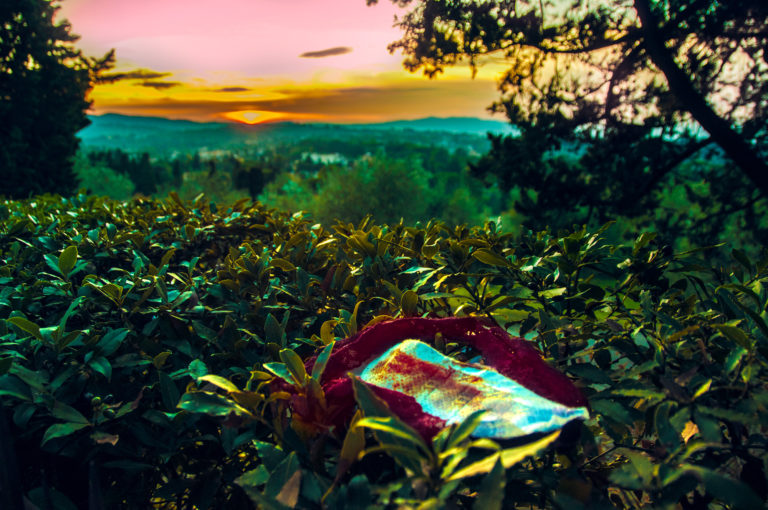 Alondra Ruiz Hernandez,
Period Portrait
. Photograph, 9.3" x 14".
The DivaCup itself, as a design object, has been displayed at the Ralph W. Hale Museum at the American College of Obstetricians and Gynecologists headquarters in downtown Washington, DC. It has also been in a few medically oriented exhibitions before, but that's it.
"Menstruation is a very broad topic, and very personal to a lot of people as well," says Zivku. "We want to champion period enlightenment and discussion."
Certainly the field of menstrual art has been generating more discussion internationally in recent years. John Moores University in Liverpool hosted a show on this theme in November 2018. The Stockholm metro made public art of Liv Strömquist's cartoons on this topic in 2017. In 2016, Melbourne's Enough Space gallery hosted a period-themed show by 33 artists. And internationally bestselling Canadian poet Rupi Kaur made headlines in 2015 when Instagram removed her photo project period from its platform.
To further this conversation, DivaCup will be sponsoring a panel of artists on opening night as well as a panel on menstrual disorders, among other events.
"There are many people who have experienced menstrual shame, as well as really great menstrual experiences," says Zivku. "Our hope is to create those environments where people can come together and acknowledge that these things are occurring."
The opening-night event with artist panel on March 6 is free for all to attend, says Shannon Godelie, digital and communications manager at the Museum. Just registration in advance is needed. Godelie also notes that admission will be discounted to $5 with a menstrual-care-product donation on selected days of the exhibition.
"Flow: The Menstruation Exhibition" opens at the Museum in Kitchener on March 6, and continues until May 28.
February 27, 2019, Update: Since press time, two more artists have been added to the lineup for "Flow." They are Meg Harder and Olivia Carvalho.