For decades, logging and resource workers on Vancouver Island have been transported to and from worksites in vehicles called a "crummy"—a small van, bus, or truck that has been, to date, little investigated or represented in contemporary art.
Earlier this fall, BC artists Cedric, Nathan and Jim Bomford set out to change that with their Crummy Gallery—a temporary public artwork commissioned by the Campbell River Art Gallery for the city's Spirit Square.
"The crummy, or bush bus, is very much tied to the hewers of wood and drawers of water conception of the traditional Canadian economy," says Cedric Bomford, an associate professor of visual arts at the University of Victoria. "Part of Crummy Gallery was to challenge perceptions of what resources could be in this country on a larger scale."
But on September 20th, the day before Crummy Gallery was to open to the public with a community celebration, Campbell River city staff expressed public safety concerns about the artwork.
As a result, Crummy Gallery never did open to the public, and was removed from Spirit Square on October 5th—six full weeks before it was originally slated to be deinstalled.
Cedric Bomford says he is disappointed in the outcome.
He's particularly so in light of the fact that Crummy Gallery, and its related parallel commission Rest Area (still on view inside the Campbell River Art Gallery), were intended to question who really has access to public space on Vancouver Island. The Crummy Gallery was intended to include, for instance, artworks by many of the publics who frequent Spirit Square.
"The idea was to look at these kinds of contested sites—like, who owns that land? Who's allowed to stay there? Who's allowed to use it and who's not?" Bomford says. "The larger aspect of the project was an investigation into land, territory and the economy of Vancouver Island itself."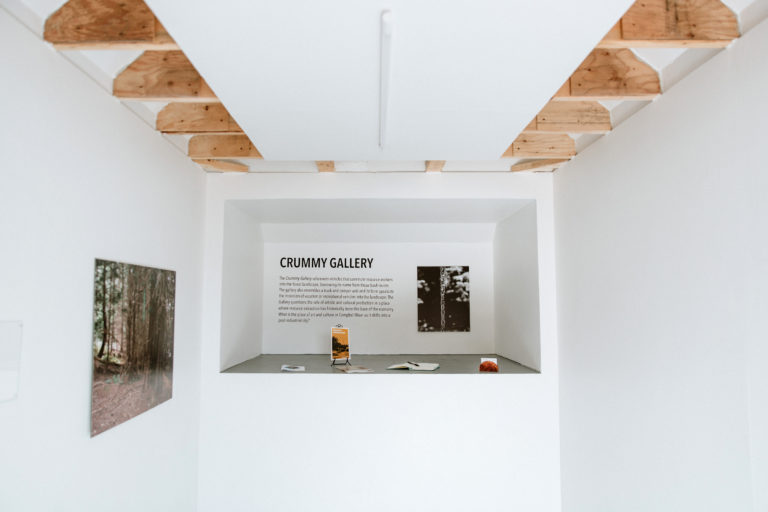 Interior view of
Crummy Gallery
. The public was meant to have access to the space for the duration of 8 weeks. Photo: Campbell River Art Gallery.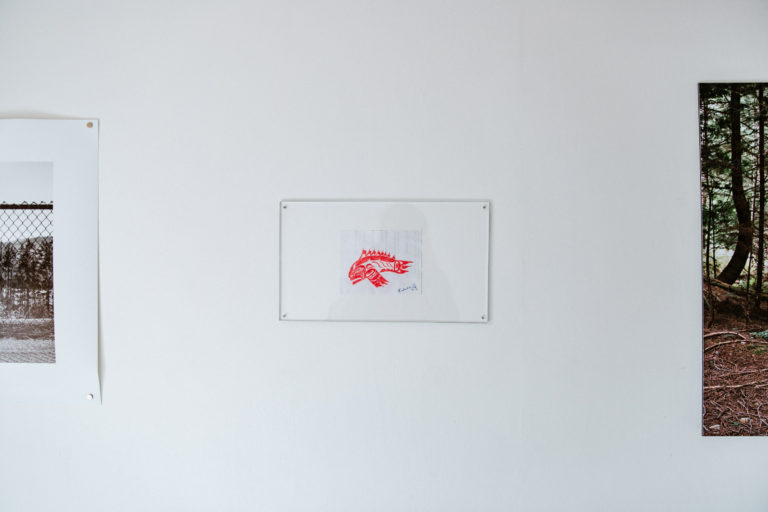 A drawing by a Spirit Square local named Richard hung inside
Crummy Gallery
. Photo: Campbell River Art Gallery.
Cleo Corbett, a senior planner for the City of Campbell River, says she is concerned about the outcome too.
"I think everybody was pretty disappointed with everything that happened and that we couldn't find a solution," says Corbett. "We're a strong advocate and funder of the arts and the Campbell River Art Gallery. But I think, first of all, the complexity of the installation wasn't fully understood by the city."
City staff were aware prior to installation that the artists would be converting a crummy into an artwork, says Corbett. But she says city staff didn't fully understand the rest of the components beforehand.
"From the Bomfords' perspective, what I understand is that the scaffolding was part of the sculpture or artwork, which we totally respect," Corbett says. "However, it was elevated much more than we anticipated, and the public was being invited inside, and it was on public land—so those three things drew concern from municipal staff and our building inspectors."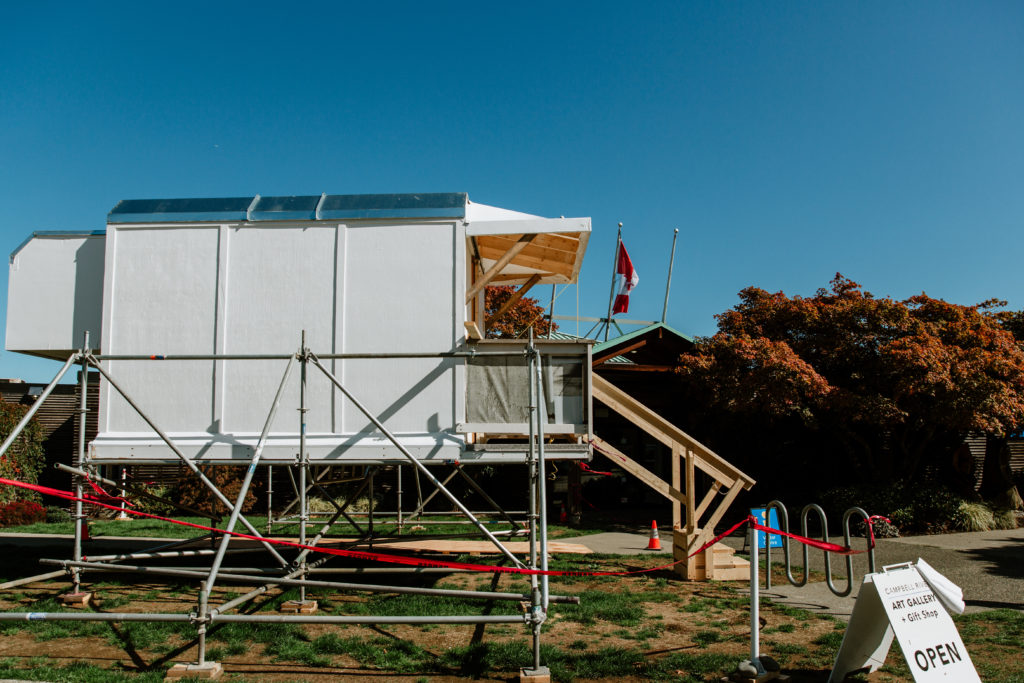 The crummy is a type of structure used to convey logging and resource workers to sites in BC. In
Crummy Gallery
, it was hoisted on scaffolding, a material that the Bomfords have often used in the past. Photo: Campbell River Art Gallery.
In the past, the Bomfords, whether solo or collaboratively, have done projects in other cities where publics were actually permitted to enter structures made of scaffolding or found materials. For the 2017 California Pacific Triennial, participants had to sign a waiver before entering, and go in with a guide. For Nuit Blanche Toronto 2017, engineers had to sign off on the structure before publics were allowed to use it. And Deadhead, a sculpture on the back of a barge that navigated Vancouver waterways in 2014 and 2015, actively welcomed publics on board. There is also a different work by Cedric Bomford, Mountain Embassy, still up this fall in public space at Simon Fraser University in Burnaby.
"Most places we've done projects in public space, there are some people who have been critical or dismissive," Bomford admits. "But in every case up until now we've been able to have a dialogue … Campbell River did offer some workarounds, but it always seemed to be at our expense or something that would compromise the integrity of the art. They said we could put Crummy Gallery on the back of a truck, but I can't believe a truck would be safer than the scaffolding. And I'm tired of always being asked to compromise when it comes to the work."
Interestingly, one thing Campbell River Art Gallery director Vicky Chainey Gagnon says she has been reflecting on after all that's happened is the way that local contexts really do affect how art is programmed and manifested.
"When [Crummy Gallery] got taken down, it really made me think about progressive arts policies across Canada, and who are we serving?" says Chainey Gagnon. "There's many equity and accessibility policies tied to a lot of our major funders across Canada, so when you are out on the front line enacting these policies, and the work that you present is ultimately rejected, it opens up a big can of worms about context and responsibility and negotiation."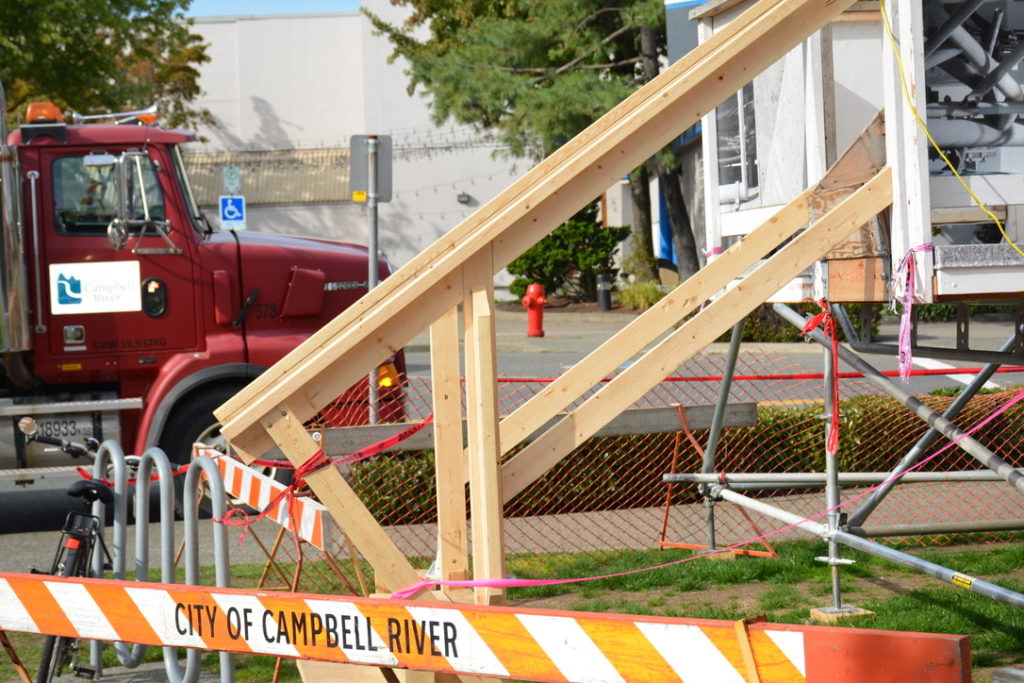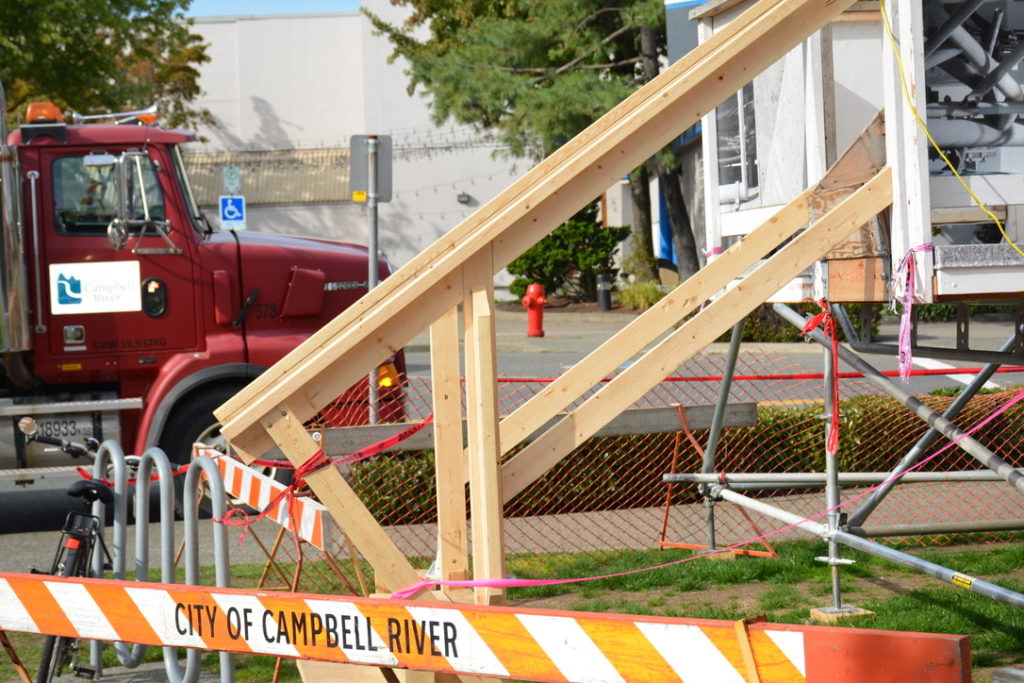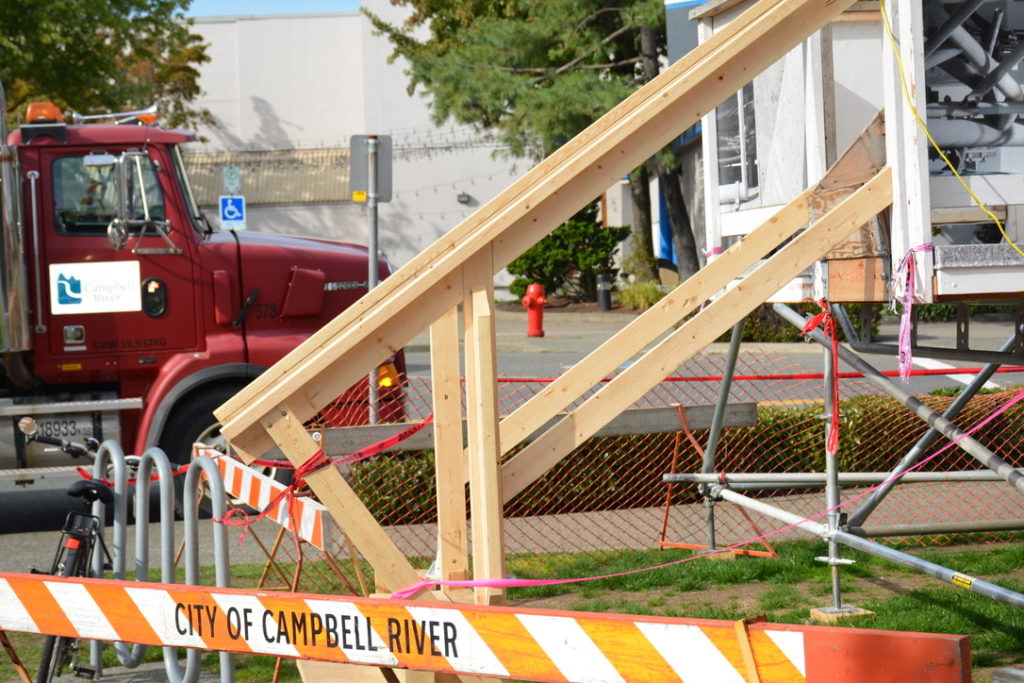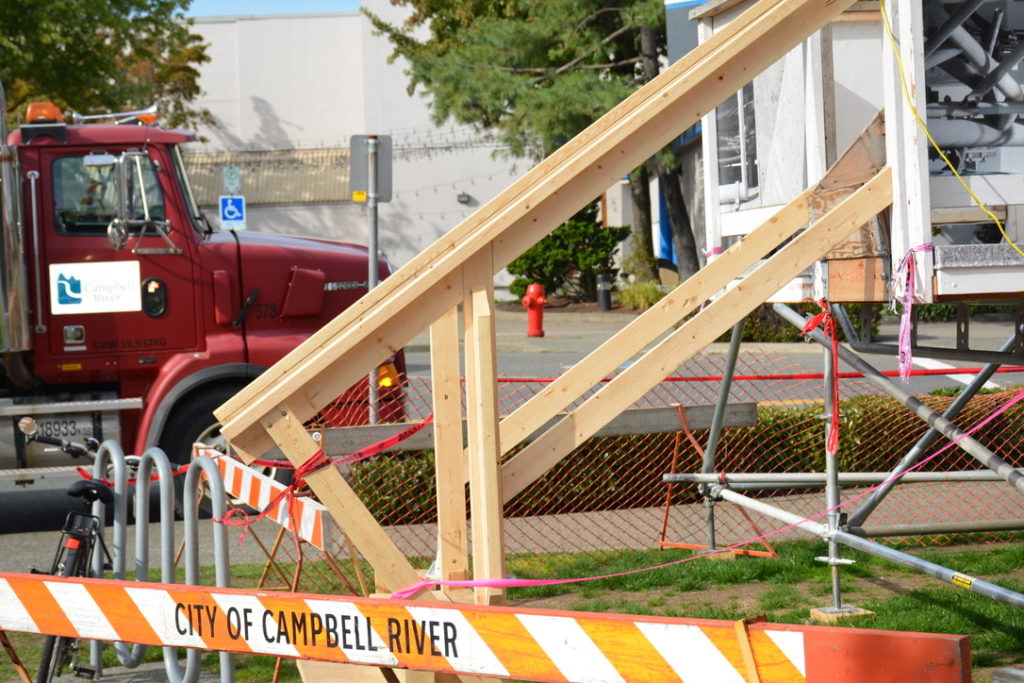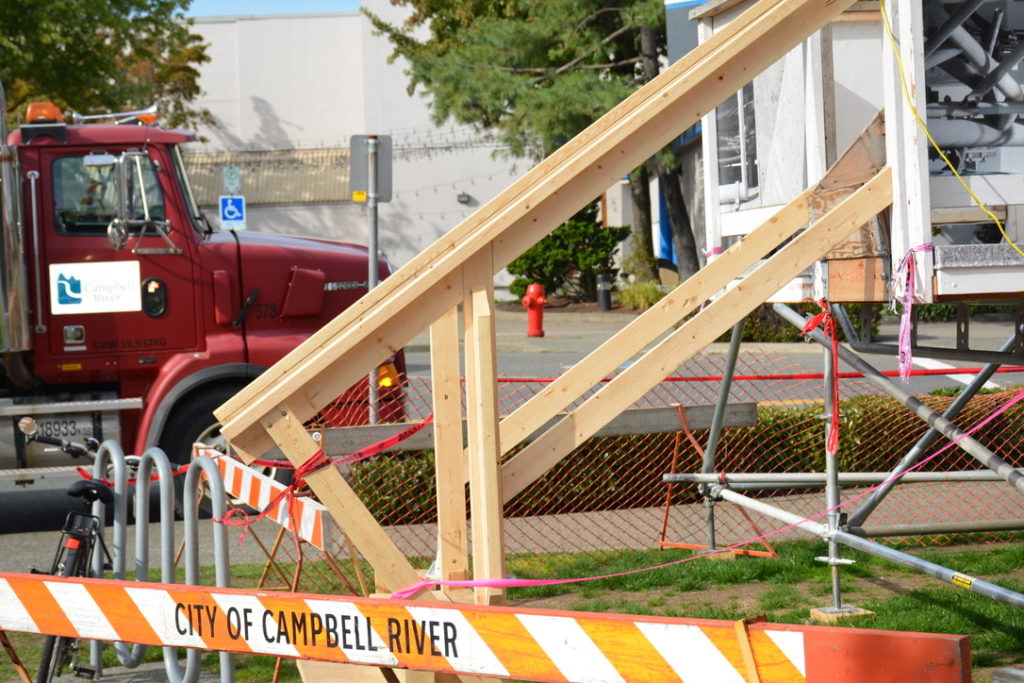 Chainey Gagnon says her increasing awareness of variance in local context is also driven by her past work at The Rooms cultural space in St John's, the Manif d'Art biennial in Quebec City, and the Foreman Art Gallery in Sherbrooke, as well as working with other boundary-pushing artists like France's Claire Fontaine.
"It's important to realize that it's very different producing culture in downtown Toronto than it is in Newfoundland and Labrador or on Vancouver Island," she states. "It's quite unfortunate the work got taken down, but I think it makes us rejig our modus operandi. We want to bring innovative, relevant programming to Campbell River and when we do and it doesn't work, I think we need to look at why. So for us, I think, it's a really dense experience of learning."
As a trained art historian, Chainey Gagnon says, she's intrigued by what happened as "an ongoing conversation."
"I don't think this is situation of 'city is bad, artist is good,'" says Chainey Gagnon. "I think this is breaking out some of the more nuanced ways we actually want to engage the periphery and how will we do that."
For now, Crummy Gallery has been moved to the sculpture yard at the University of Victoria. But since it was removed from Campbell River's city square, Bomford says he's received inquiries about exhibiting it as far east as Winnipeg and as far south as California, as well as alternate venues on Vancouver Island.
"Maybe we'll have a Western Canadian Crummy Gallery tour," says Bomford.
Campbell River Art Gallery curator Jenelle Pasiechnik, who organized the Bomfords' commissions Rest Area and Crummy Gallery, says the legacy of the work will continue to persist no matter where it is.
"The reason I wanted to bring the Bomfords to this city in the first place is because I thought it would be a great way to talk with communities here about conceptual art," Pasiechnik says.
"I think even though the outcome is not what we expected, the installation's effectiveness isn't going away—or we wouldn't even be having this conversation."
This post was corrected on November 13, 2019. The original copy incorrectly called Cleo Corbett by the name of Cleo Campbell. It also, in some citations, identified the Bomfords' commission within the Campbell River Art Gallery as Rest Stop rather than Rest Area. We regret the error.