When artist Chukwudubem Ukaigwe organized a performance by Black friends and colleagues at the Winnipeg Art Gallery this winter, he realized it was the first time some of them had ever visited the gallery.
"That surprised me," he says. "This is one of the biggest arts centres in the city."
But since Ukaigwe initiated the performance specifically to highlight the lack of Black artists and Black representation in the collections of Canadian art galleries, that reality also made sense to him.
"I feel like when people don't see themselves in a space, it shows them there's a lack of interest that goes deeper than the surface," says Ukaigwe.
It's a concern the Winnipeg Art Gallery says it is now trying to address.
But at least one expert who has been working on BIPOC issues at Canadian museums for more than a decade says there is still much progress to be made across the sector.
How the Performance Unfolded
After buying their tickets at the front desk, the performers headed to one of the WAG's permanent collection galleries, which contained several historical European paintings. The collective then used vocal and musical improvisation to create a sound component. Collective members removed their shirts and engaged in movement to create a visual component.
"We occupied liminal space between what has been Canadian art history and what is the future of Canadian art history," says artist Chukudubem Ukaigwe.
"It was a salon-hang gallery with a lot of white figures in it," Ukaigwe says of the setting, "and looking at the performance video, you have white flesh in paintings and black flesh taking up space not just physically, but also sonically."
Ukaigwe says that while the performance took place at the WAG, it was intended to call attention to a lack of Black Indigenous and people of colour (BIPOC) artists not just in Winnipeg museums, but those throughout Canada.
"I think of the performance as occupying liminal space between what has been in the WAG and what will be there in the future," Ukaigwe says. "We also occupied liminal space between what has been Canadian art history and what is the future of Canadian art history."
Progress, to Ukaigwe, means not just more Black artists and artworks. It also means more BIPOC staff at the WAG and other Canadian art galleries.
"I feel if you don't have people of colour on your staff, you can't make good decisions when it comes to artworks by people of colour," says Ukaigwe. "And I feel that if [galleries] try to address it too quickly, and not from the roots, they are going to make a lot of mistakes."
Artist Makes a Strong Statement: Professor
Ukaigwe submitted video documentation of the performance art piece as part of his coursework at the University of Manitoba, where he is a student.
University of Manitoba art professor Sharon Alward says she was impressed with Ukaigwe's work both in and out of her class Advanced Performance Art: Body as Medium.
"When he first told me about it, I was a bit nervous," Alward says of Ukaigwe's plan for the WAG. "But I really admired his courage for going ahead and doing it, because I thought it was a very strong piece."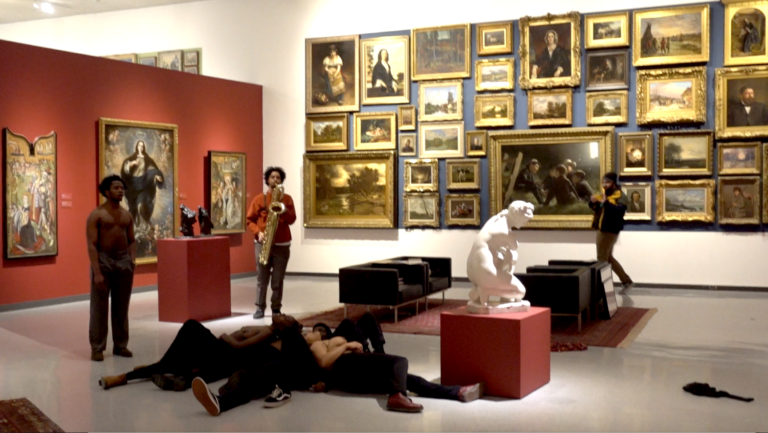 Still from a performance by Chukwudubem Ukaigwe (at left) and colleagues at the Winnipeg Art Gallery on February 22, 2019.
Alward notes that confronting institutions and lack of representation is part of the history and practice of performance art in general.
"Performance art has always had a sense of challenging and pushing the boundaries—calling up what is invisible and trying to make it visible," says Alward.
Guillermo Gomez-Pena and Coco Fusco's Year of the White Bear & Two Undiscovered Americans visit the West (1992–94) and James Luna's Take a Picture with a Real Indian (2010) are precedents for these types of performances, says Alward. So is the work of the Guerrilla Girls, who have demanded more representation of women artists in museums, like in Do Women Have to Be Naked to Get Into the Met Museum? (1989).
"We really need to address these things," Alward says of Canadian museums' many gaps in representation. "I remember when I started studying art, my textbook had just one image of an artwork by a woman of a woman. It was a Mary Cassatt. Now, [Ukaigwe] is going into galleries and seeing the same thing in terms of representation of Black bodies."
Gallery Director Admits "We Need to Do More"
The Winnipeg Art Gallery's CEO, Stephen Borys, says he welcomes more conversation on BIPOC representation and staffing.
"Art is one of the most powerful tools we have to communicate with," says Borys. "The fact that [the performers] came to the WAG rather than the Manitoba Museum or the Canadian Museum of Human Rights shows they wanted to be heard here, and now it's our responsibility to engage with them."
Stephen Borys says the Winnipeg Art Gallery has been trying to do more shows by BIPOC artists and hire more BIPOC curators—with an emphasis on hiring more Indigenous curators and opening an Inuit Art Centre as its first priority. (Winnipeg has the highest percentage of Indigenous people in Canada compared to other cities, he states.)
Borys suggests, though, that he finds it hard to make progress on all fronts at once.
Gallery director Stephen Borys says city census data sets the priorities for programming rollouts right now.
"In an ideal world you would have shows going on concurrently from every culture," says Borys. "It literally comes down to time and resources. So instead we have a five-year plan. Right now we have up "Vision Exchange," the largest exhibition of Indo Canadian art ever shown in Manitoba. And we are working on something with the Filipino population for the near future."
Borys says that in his experience on boards of the Association of Art Museum Directors, the Canadian Art Museum Directors Organization and the Canadian Museums Association, most of his colleagues are trying to respond to population data on their home cities first. So timing priorities for the WAG's five-year plan are, he states, drawn from census data related to Winnipeg's population.
"The fastest way we can have an impact is to have an exhibitions and programming—the longer process is through collecting, because we have limited acquisition funds and rely largely on gifts and supporters," says Borys.
Borys says the WAG has also tried to secure touring shows on Black artists in the past, such as "Basquiat," from the Brooklyn Museum and the currently touring "Here We Are Here: Black Canadian Contemporary Art," from the Royal Ontario Museum, but has not yet been successful.
"I believe those young artists [in the performance] had every reason to do what they did," admits Borys. "We need to do more in those areas."
Solid Data and Deeper Change Needed: Expert
Wendy Ng of Twin Muses Consulting says that progress on equity will not be made anywhere in Canadian museums if administrations' treatments of diversity are superficial. Ng is an expert on these issues, having consulted in the Canadian museum sector for 18 years on these topics, while working as a museum worker herself.
Across the country, Ng says, deeper systemic change is needed—one that demands shifts to museum power structures.
"A lot of the diversity conversation in museums has been outward, when it also needs to be inward," says equity expert Wendy Ng.
"When BIPOC staff come in, you have to ask, What are you actually doing to change the structures within museums so that their voices are heard?" says Ng. "What are you doing to make sure that they are in positions of power and authority?"
In a recent panel at the Canadian Museums Association Conference titled "Back to the Museum Future: Tomorrow's Diverse Leadership Today," Ng and three of her colleagues discussed some of the many systemic barriers to increasing BIPOC staff at the nation's museums and art galleries.
"It's one thing to have different faces on staff," says Ng, "But if the system stays the same those people will not stay for very long. They may be experiencing micro or macro aggressions" that force them out.
Ng says she recommends anti-oppression training across all museums for both staff and volunteers: "Whether you work in accounting or administration or curatorial, you need to know: What are the biases I am holding that impact my work?"
A lot of museums are trying to reach out to diverse audiences, says Ng, without doing the internal work of diversity.
"A lot of the diversity conversation in museums has been outward, when it also needs to be inward," says Ng. There is also, even externally, the danger of a superficial approach: "When you are working with different communities, how are you working with them? In an authentic way, or a tokenistic way? Are you connecting with them for the sake of one exhibition, or are you developing a long-term relationship? Are you perceiving the community as asset-based or deficit-based?"
Four years ago, Ng and some of her colleagues called for a national diversity survey of Canadian museums—but there isn't one yet. Museum organizations in the US and the UK variously have task forces, surveys and programs supporting equity, but there is nothing parallel in scale for Canadian museum or gallery associations.
"We lack that data in Canada in our field—that would be a good place to start," says Ng, with hard numbers on BIPOC staffing at the nation's galleries and museums.
But it has to go beyond that.
"In this age of responding to TRC recommendations, we need to ask, Are we willing to understand and reconcile the truth of our institutions?" says Ng. "Museums come out of the cabinets of curiosities in Europe in the 16th century. And what were these cabinets filled with? Colonial exploits."
"We have to be willing to reckon with that history as a field," says Ng. "And be willing to engage with difficult dialogues."
Ultimately, "making progress is what matters," says Ukaigwe.
What's Next?
In terms of dialogues, Ukaigwe, who is travelling back soon to Winnipeg from creative projects in Chile, says he is looking forward to continuing his practice of art and advocacy.
In particular, he is looking to one day see more solo shows of contemporary Canadian BIPOC artists at the WAG—not only presence in group shows.
Ukaigwe says he has had one meeting with Winnipeg Art Gallery staff so far to discuss Black representation in the collection—though it didn't go as well as he'd hoped.
"I was disappointed in the meeting," says Ukaigwe, explaining he felt the administrators he met with were ill-prepared to deal with his concerns.
A new meeting with a curator is slated in future, which Ukaigwe hopes goes better.
"We've had some emails back and forth," he says. "Making progress is what matters."