Dealers reported steadier foot traffic this year at Art Toronto, Canada's largest modern and contemporary art fair. There was also a boost, some say, in international buyers, which the fair has made an effort to attract. And the Opening Night Gala provided better and more knowledgeable crowds than last year, too.
But whether this increased or steadier traffic actually translated into sales tended to vary for different dealers, according to anecdotal reports. With interest rates rising in Canada and increasing global instability—in particular political instability south of the 49th—it's possible some were holding a bit more firmly onto their purse strings this year. Indeed, Canadian fair audiences are known to not be as quick in decision making as those in New York or London. Many gallerists tend to look to follow-ups after the fair for returns on investment.
And yet, there were notable sales at the same time. The following is a roundup of some of the publicly available sales information, provided with the caveat that it is non-comprehensive (representing only a small portion of sales at the fair) and that, as with sales information from all art fairs, sales are often provided at dealers' own discretion, not always reflecting pre-sales, discounts or other related market details.
Overall, though, it's clear that institutional, corporate and notable individual collectors were out making purchases.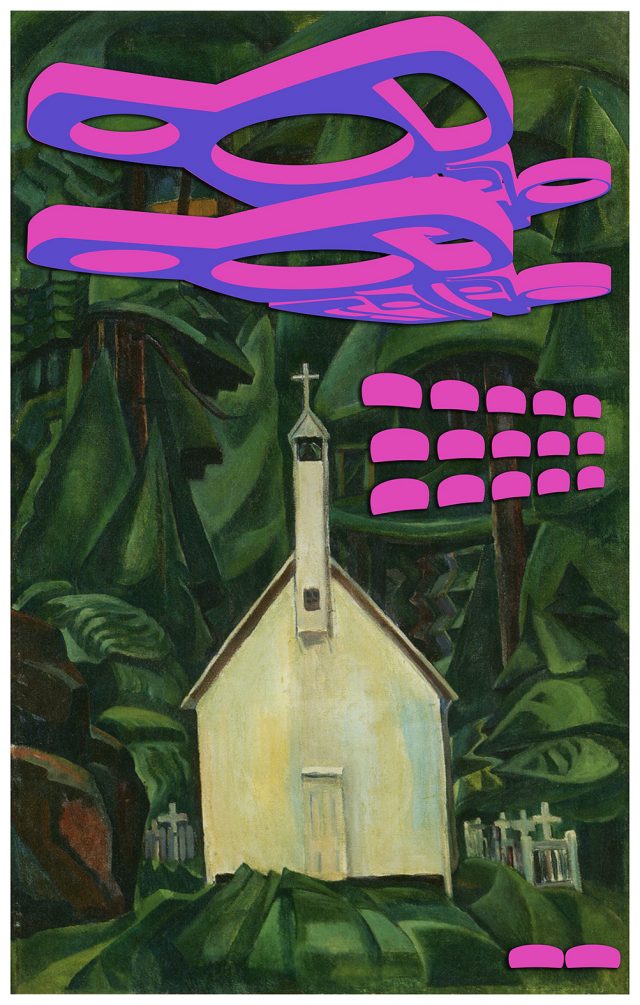 Sonny Assu,
Re-Invaders: Digital Intervention on an Emily Carr Painting (Indian Church, 1929)
, 2014. 40 x 30 in., Edition of 5 + 2 AP, AP 1 of 2. Courtesy of Equinox Gallery. Purchased by the Art Gallery of Ontario with funds donated by James Lahey and Pym Buitenhuis, 2018.
Ken Nicol,
field II
, June 27–Sept. 7, 2017. Ink on paper, 50 x 100 in. Purchased by the Art Gallery of Ontario with support from the Art Toronto Opening Night and with assistance from the Peggy Lownsbrough Fund.
On opening night, the Art Gallery of Ontario continued its tradition of collecting new works at the fair. This year, it acquired works by two artists who had never been in its collection before. The acquisitions were: the large-scale drawing field II (2017) by Toronto artist Ken Nicol,and the digital print Interventions on the Imaginary: Re-Invaders: Digital Intervention on an Emily Carr Painting (Indian Church, 1929) (2014) by Vancouver Island artist Sonny Assu. The Nicol was brought to the fair by Toronto's Olga Korper Gallery, while the latter was brought by Vancouver's Equinox Gallery.
Though the AGO has generally acquired more works on opening night in past years, it made a strong case for these two. The Assu print appropriates and reworks a painting in the AGO's own permanent collection: Emily Carr's Indian Church (1929), recently renamed Church at Yuquot Village. "With humour and acuity, his composite images contest the dominance of the traditional Canadian art narrative," said AGO curator of Canadian art Georgiana Uhlyarik in a release. "More importantly, they reclaim the sites depicted as Indigenous spaces." The Nicol drawing, meanwhile, consists of 72 days of careful mark-making tracing time past/passed, reflecting the artist's longtime blend of the conceptual and the handmade.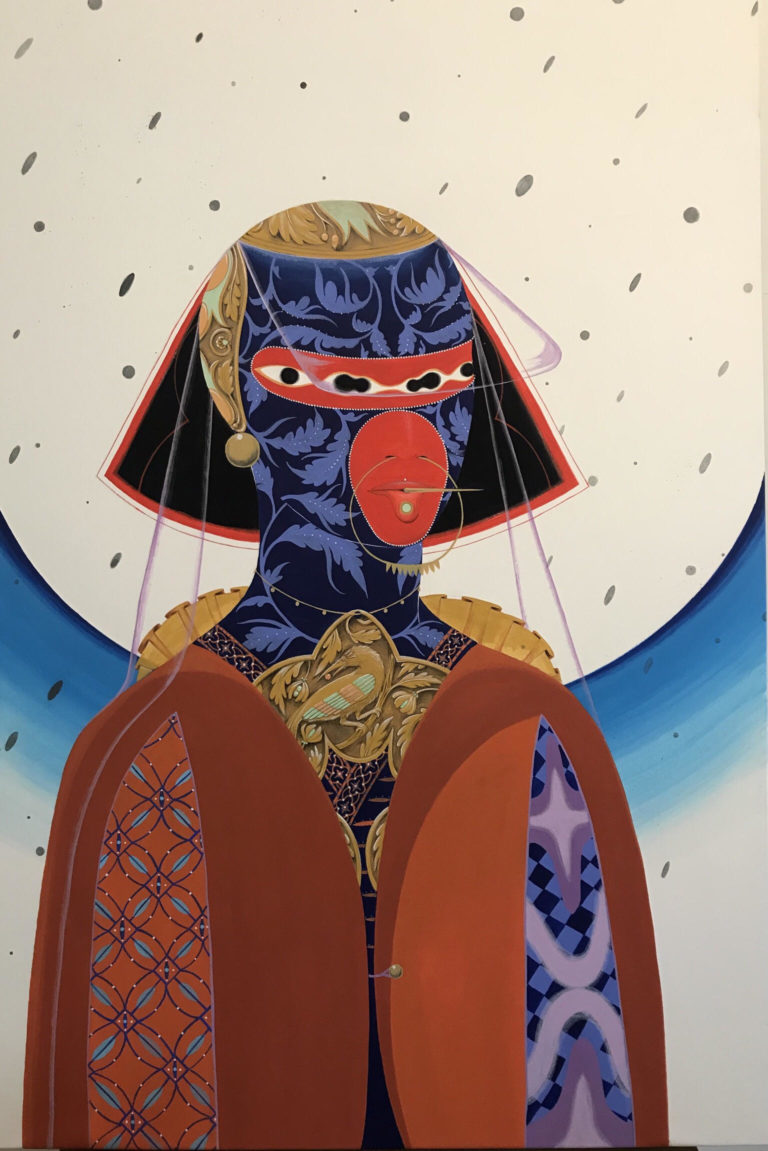 Rajni Perera,
Traveller 2
, 2018. Mixed media on canvas, 23 x 35.5 in. Courtesy the artist and Project Gallery.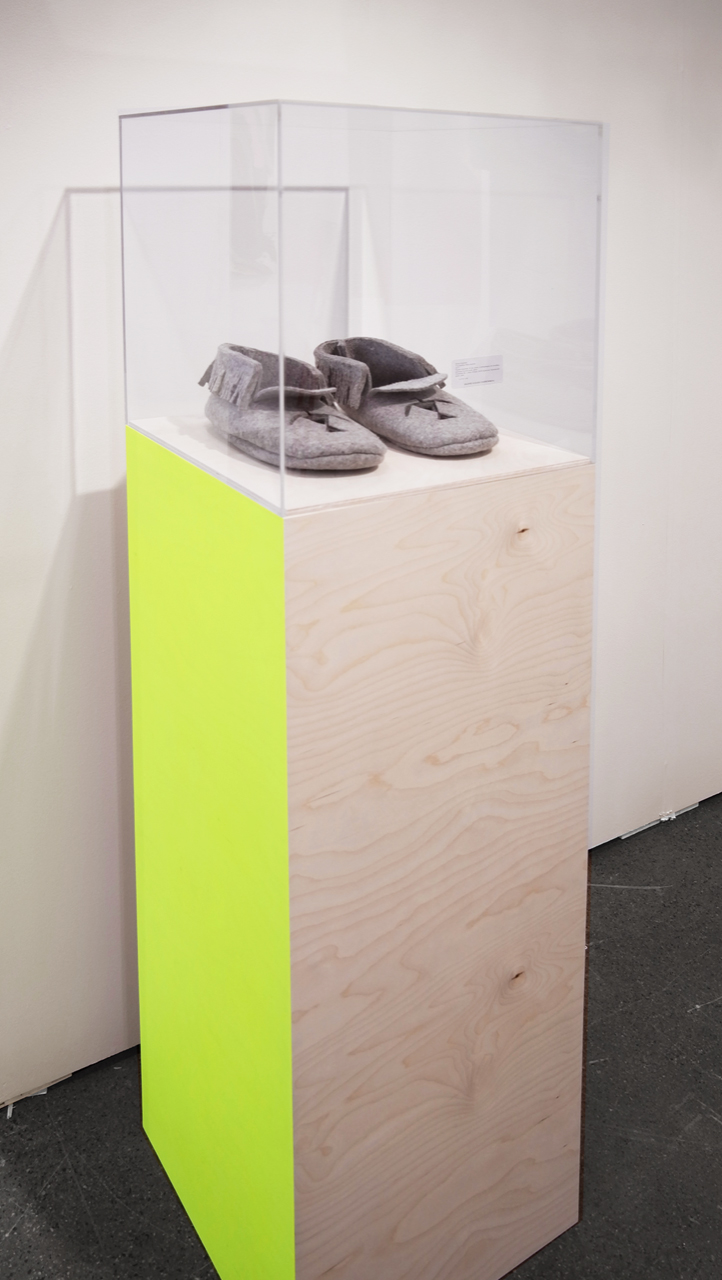 Maria Hupfield,
Thunderbird Moccasins
. Courtesy the artist and Galerie Hugues Charbonneau.
TD Bank was also very public about its acquisitions at Art Toronto, placing a label next to several of its purchases on opening night. In all, this corporate collection acquired 13 new artworks at the fair: the wooden sculpture Flip the Bird by Shawn Hunt from Macaulay & Co. Fine Art; the ceramic sculptures On Grasses, Lacuna Blob, and Flux 2 by Gailan Ngan from Monte Clark Gallery; three sculptures from the Glorious Bones series by Esmaa Mohamoud from Georgia Scherman Projects, as well as a large photo there from Mohamoud's Draft series; a Ken Lum piece from Royale Projects; a Rajni Perera mixed-media piece titled Traveller 2 from Project Gallery; Maria Hupfield's felt sculpture Thunderbird Moccasins from Galerie Hugues Charbonneau; and two papier-mâché sculptures by Karen Tam, also from Galerie Hugues Charbonneau.
"These are all outstanding artists," affirms TD senior art curator Stuart Keeler in conversation with Canadian Art. He also explains that as of the past year or two, "We are strategically investing in works that represent Canada in the broadest possible way." The labelling of acquired works is very intentional, too. "TD is interested in creating conversation, and arts and culture can definitely do that," says Keeler. "We have lots of clients and colleagues who go to the fair and I think it's important to share our success and our story." The acquired artworks may be loaned to institutions, or installed in TD offices. "As of 2018, we are a North American collection," not just Canadian, says Keeler. "The TD footprint is in the US, all the way down the Eastern Seaboard to Miami." He indicates that after 50 years of focusing solely on Canadian artists, collecting of American art "will be activated moving forward" with the collection to reflect that footprint expansion and artwork needs for offices in the US.
Scotiabank also acquired several artworks at Art Toronto, confirms curator Robyn McCallum, including two mixed media works by Simone Rochon from Galerie Nicolas Robert. RBC, in addition to having a large booth featuring RBC Canadian Painting Competition finalists and winners on hand at Art Toronto, also acquired some art at the fair, including works by Joani Tremblay and Laura Moore from Zalucky Contemporary.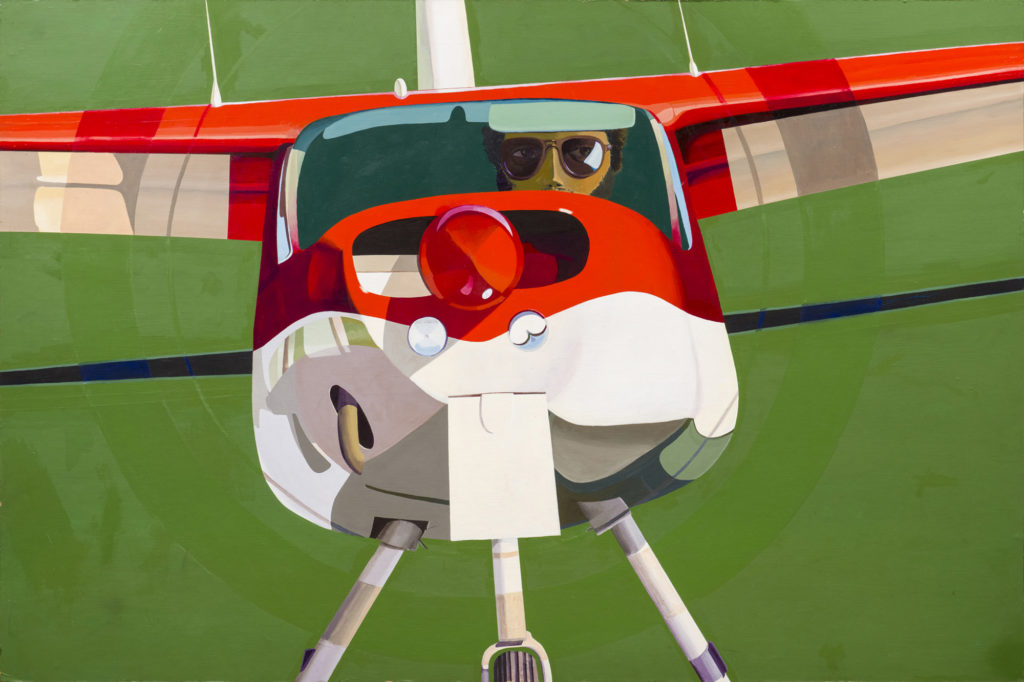 Jim Adams,
Centurion, Self-Portrait
, 1977. Acrylic on canvas, 50 x 74.25 in.
Among purchases by notable individual collections was Kenneth Montague's acquisition of Jim Adams's Centurion (Self Portrait) (1977) from Luis de Jesus for the Wedge Collection. The large acrylic on canvas work was purchased on opening night.
"Adams grew up directly under a major flight path in Philly, and dreamt of one day flying his own plane," Montague explained on Instagram. "Upon arrival to Canada's West Coast while still in his 20s, he immediately got his pilot's license… and started painting. With his cool and confident gaze, and by positioning himself as the master of his own destiny, he also creates a powerful statement about freedom—as an artist and as a black man in an overwhelmingly white environment." The painting, and Adams's overall career, gained wider public profile when the Surrey Art Gallery mounted a retrospective of the 75-year-old artist's work last year.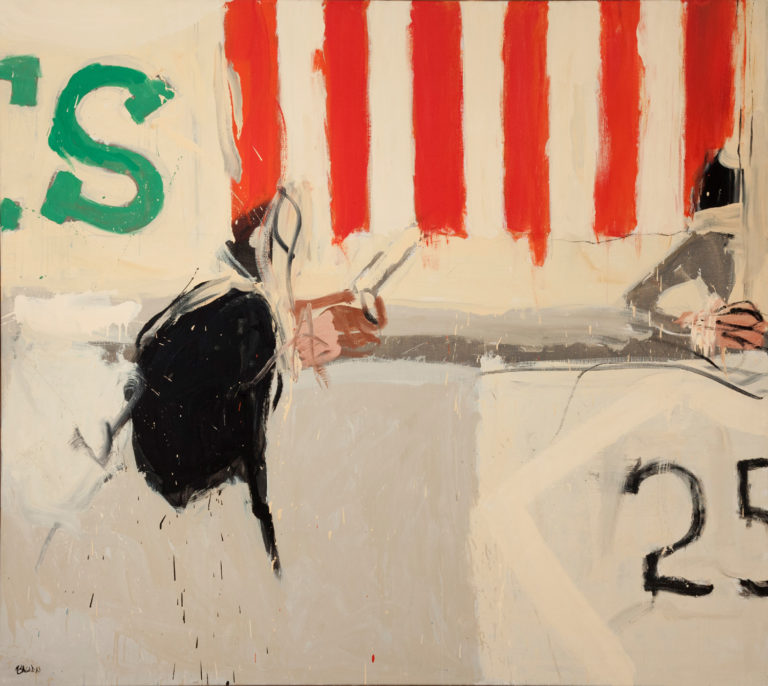 Charles Gagnon,
Shooting Gallery
, 1961. 66 x 74 in. Courtesy of Miriam Shiell Fine Art.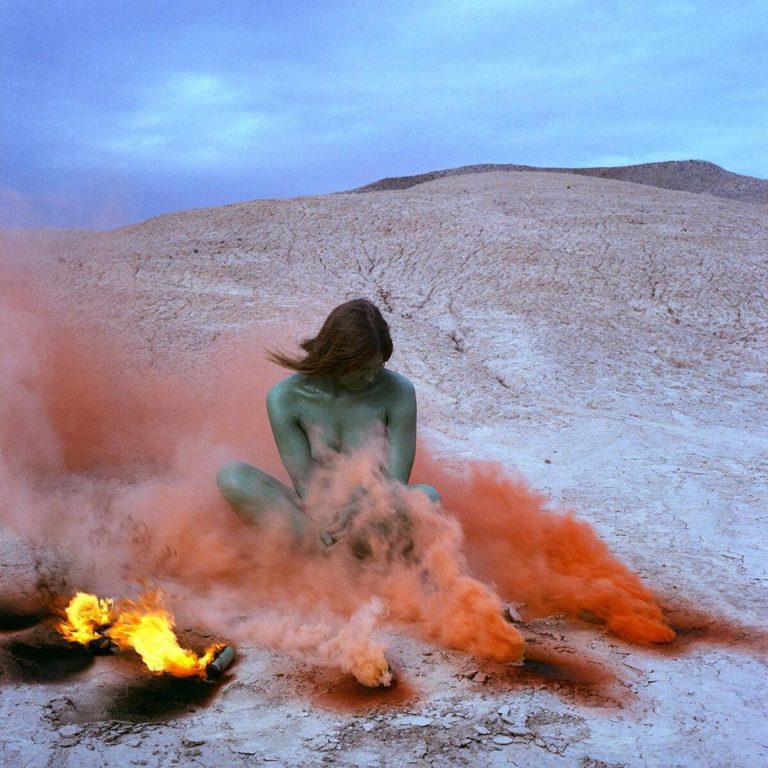 Not all the masterworks at the fair were Canadian. Jessica Silverman Gallery found buyers for Judy Chicago photographs from the late 1960s and early 1970s. This is Chicago's
Immolation; Women and Smoke
(1972, printed 2018). Photo: Instagram / @jessicasilvermangallery
Though the main offerings at Art Toronto have tended to contemporary art, the fair made an effort to highlight more modern and historical works this year with "Canadian Masterworks" labels affixed to selected booths. Among the works that sold in this vein were Emily Carr's Mountain (1933), an oil on paper work mounted to canvas, which sold for approximately $400,000 at Equinox Gallery. Jean-Paul Lemieux's Paysage avec Personnage (1963) from Roberts Gallery, marked as sold on opening night. Likewise, an untitled 1961 canvas by Rita Letendre, priced on label at $160,000, was marked with a red dot on opening night at the Han Art booth. B.C. Binning's Untitled (Study for Ships at a Quiet Anchor) (1948), a small oil-on-board painting, was also marked with a red dot at Equinox Gallery's booth on opening night. Michael Snow's oil-on-plywood work Circuit (1961), from the Walking Woman series and direct from the collection of the artist, was sold by Miriam Shiell Gallery prior to opening night, as was Charles Gagnon's Shooting Gallery (1961).
Also on opening night, in the Canadian Masterworks category, a rare Greg Curnoe painting was placed in a Toronto-area collection by Michael Gibson Gallery. "View from the Most Southerly Window on the East Wall (1969–1970) was one of eight paintings with audio components that Curnoe painted of his studio windows," states MGG associate director Jennie Kraehling in an email. "Originally exhibited at the Venice Biennale in 1976, this painting is the last one in private hands." The gallery also sold two early 1958–59 collage-and-ink abstract drawings by Michael Snow.
In international art, San Francisco's Jessica Silverman Gallery brought some vintage Judy Chicago images to the fair, with three photographs from 1969 and 1972 (reprinted 2018) selling to a private collection during the course of the fair.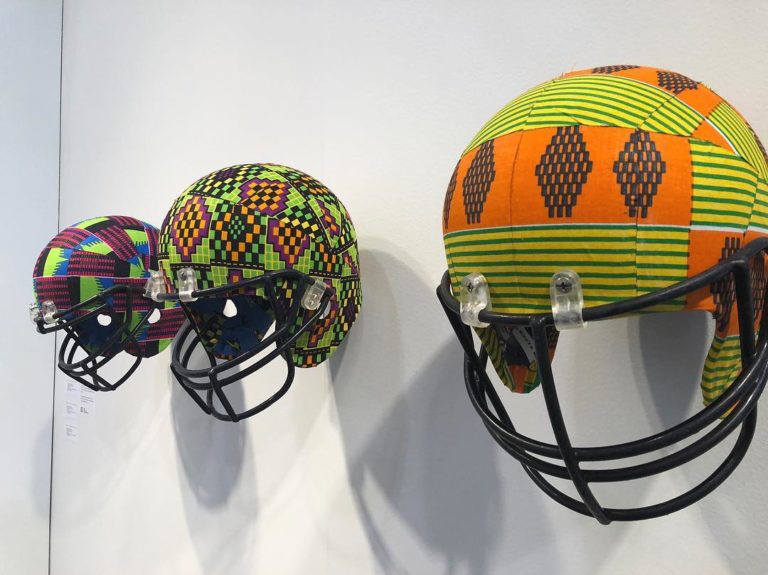 Three sculptures from Esmaa Mohamoud's
Glorious Bones
series at the Georgia Scherman Projects booth at Art Toronto 2018. Photo: Instagram / @i.witness.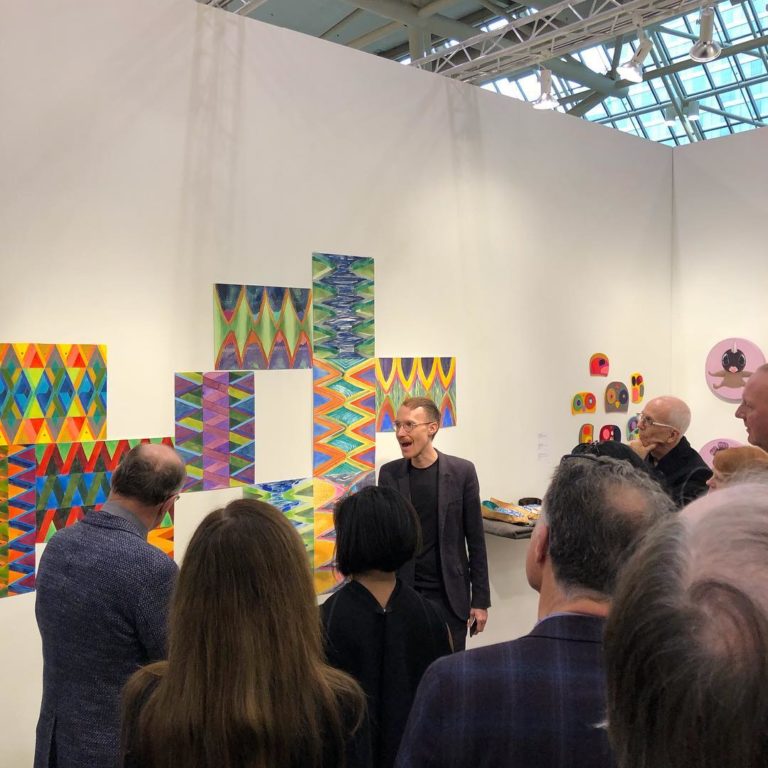 An Oakville Galleries curator leads an Art Toronto tour to the watercolours and felt work of Charlene Vickers at the Fazakas Gallery booth. Photo: Instagram / @fazakasgallery.
Contemporary painting and craft was another notable sales trend. Galerie Simon Blais had a red dot on Francoise Sullivan's painting Porportio 15 (2015) by fair's end; the painting was priced at $26,500. Equinox Gallery sold Gordon Smith's Winter Painting #3 (2016) in the $100,000 to $150,000 range. General Hardware Contemporary sold the small Alex Bierk oil on linen paintings Rainbow (2018) and Relapse, Relationships, Remorse, Resentment (2018) on opening night. A new ceramic-and-glass anvil sculpture by Clint Neufeld was also sold by the General Hardware on opening night, as were large paintings by Celia Neubauer and Joe Fleming. Also on the painting front, Daniel Faria Gallery sold all of the new Kristine Moran landscapes based on Georgian Bay that it brought to the fair. Galerie Hugues Charbonneau sold three paintings and three works on paper by young painter Cindy Phenix. And Project Gallery sold a 7-by-15-foot mixed-media canvas by Tessar Lo to a private collector in Toronto; titled person, big, sky, the work was priced at $16,000. Painting continued to be popular at the Bau-Xi booth, where among other works, a 72-by-80-inch canvas by Alex Cameron went for $29,500.
Parisian Laundry placed multiple Erin Shirreff works with private collectors. At MKG127's booth, works by Kristiina Lahde, Roula Partheniou, Liza Eurich, Bill Burns, Michael Dumontier and Monica Tap were sold as of early Monday afternoon. By fair's end, Georgia Scherman Projects had sold works by every artist represented at her booth: Esmaa Mohamoud, Divya Mehra, Sandra Brewster, Suzy Lake, Melanie Authier, Spring Hurlbut and Jen Aitken. (The GSP display included some of Lake's earlier black-and-white works, and works by gallery artists went to both national and international collections.) At the Christina Parker Gallery booth, paintings by Kym Greeley and David Kaarsemaker were popular, as were photos by Ned Pratt, multimedia works by Mike Gough and some new Will Gill works on paper and Mylar that related to his popular Green Chair public sculpture of last year.
As usual, sales were brisk for drawings by Inuit artists at the Feheley Fine Arts booth. On opening night, multiple new drawings by Shuvinai Ashoona, Saimaiyu Akesuk and Padloo Samayualie had red dots. (One of these, Samayualie's, was titled ARTIST LAMP and depicted a single hand with middle finger raised.) Some colourful felt works and watercolours by Anishnaabe artist Charlene Vickers sold at the Fazakas Gallery booth, as did Vickers's sculpture The Customer is Always Right Moccasin (2001), crafted out of beer-box paper, faux fur, thread, fabric and letter beads.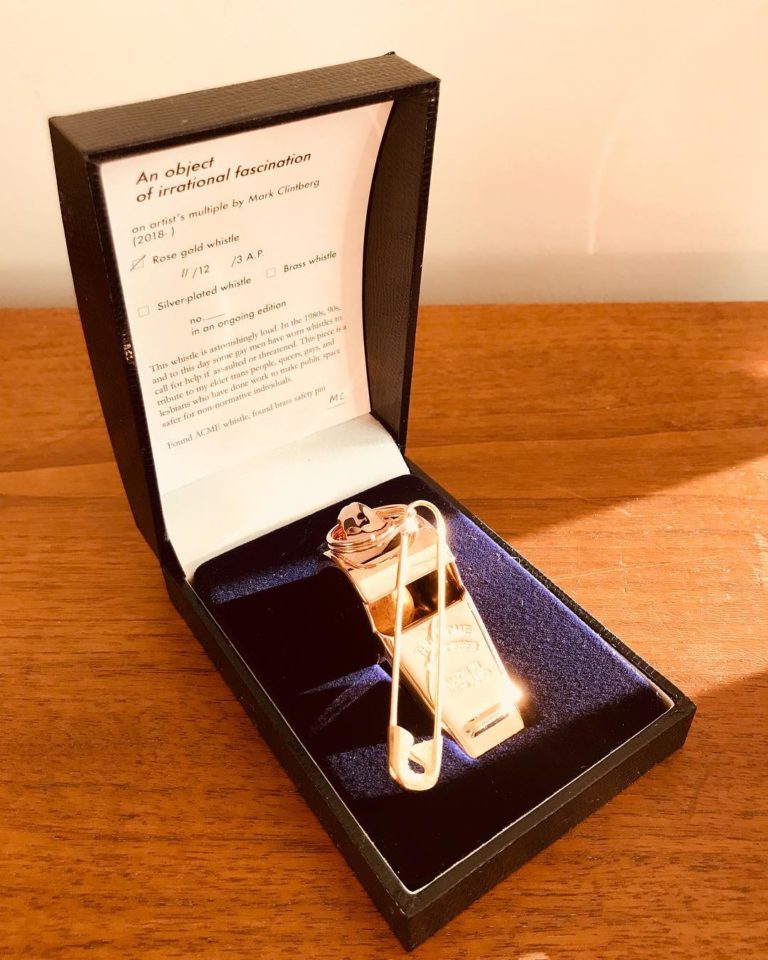 Mark Clintberg,
An object of irrational fascination
, 2018. Rose-gold plated edition of 12, 3 AP. The work was being sold at Art Toronto by Pierre François Ouellette art contemporain, with a portion of proceeds going to Calgary Outlink. Photo: Instagram / @mark.clintberg.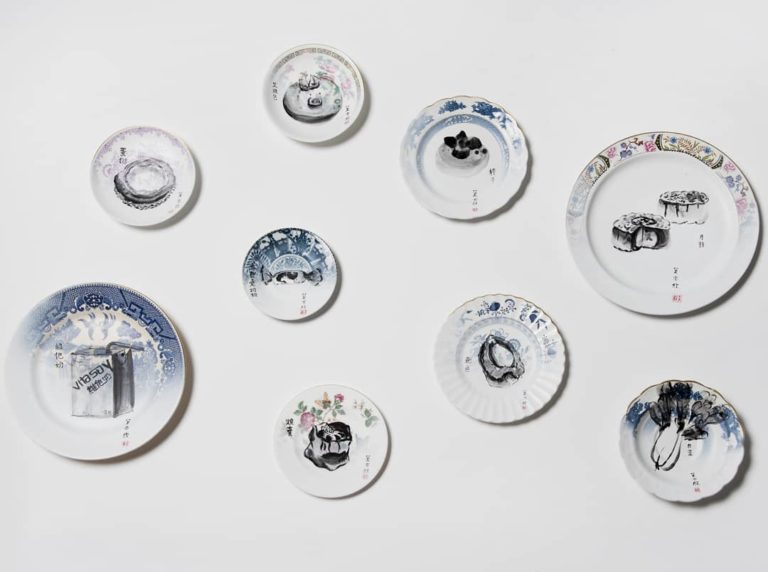 Reclaimed china works by Noelle Mok were brought to the Edition fair by Double Happiness Projects. Photo: Instagram / @doublehappinessprojects.
Multiples were also a popular item at the fair and at the event Edition 3, held downstairs from Art Toronto. At Art Toronto proper, Pierre-François Ouellette art contemporain sold multiples of Mark Clintberg's An Object of Irrational Fascination (2018). The piece, created in partnership with Calgary Outlink, consists of a limited-edition rose-gold-plated Acme Thunderer whistle attached to a brass safety pin. The piece is also available in silver plated or brass as an ongoing edition. Clintberg's text reads, "This whistle is astonishingly loud. In the 1980s, '90s, and to this day some gay men have worn whistles to call for help if assaulted or threatened. This piece is a tribute to my elder trans people, queers, gays and lesbians who have done work to make public space safer for non-normative individuals." The limited edition was priced at $300 per whistle, with a portion of proceeds from every sale going to Outlink.
At Edition, Wil Aballe Art Projects focused on multiples by Helen Reed and Hannah Jickling, specifically from their multi-year Big Rock Candy Mountain collaboration with students at Queen Alexandra School in East Vancouver, which receives two-thirds of the proceeds from the editions. Examples include a Sour vs. Sour chocolate bar: "a dark chocolate bar embedded with dried sour cherries and two competing sour candies—lemon zest gummies and lemonade nerds," says Aballe via email. Aballe nearly sold out his stock at Edition, with the bars going at $15 a pop. Jickling and Reed won a VIVA Award this year, and were longlisted for the Sobey, which has brought more attention to their art and projects. At Edition, Double Happiness Projects also had success selling reclaimed porcelain works by Noelle Mok, with only 4 of 16 left in stock on Sunday, the last day of that event.
This article was corrected on November 1 and 2, 2018. The original incorrectly identified Queen Alexandra School as "Queen Alexander School," missed the "c" in one insstand of "Scherman," and reproduced an inaccurate date of work from Artsy's Art Toronto database.