The population of Kenora, in Northwestern Ontario, is around 15,000 people. But that number is said to more than double each summer as vacationers from Winnipeg, Toronto and elsewhere make their way to cottage retreats.
Kenora is located in traditional territory of the Anishinaabeg and Métis, governed by Treaty 3. Norval Morrisseau used to work in the area, and Red Lake, to the north, is where Triple K Cooperative, known as the first Native-run silk-screening production company in Canada, set up shop in 1973.
All these conditions make this small city a unique venue for a public art gallery building project. And accordingly, its new 5,100-square-foot, $4.5-million gallery, designed by Nelson Architecture and due to open this fall, was kicked off in a unique way. The art centre is to be the first of its kind in Kenora and one of only two between Sault Ste. Marie and Winnipeg.
"It's a long-overdue dream for many people to have an art centre in Kenora," says Sophie Lavoie of the Lake of the Woods Museum, which has been active since 1964 leading the project. "And we hope to do exciting programming so even more people come and see us."
The new gallery initiative launched when Nicki and Bryce Douglas, a Toronto couple who have long summered in the area, decided to donate 65 works by British-born Canadian artist Walter J. Phillips (1884–1963) to the City of Kenora.
Many of these works by Phillips actually picture Kenora, Lake of the Woods and the surrounding area. And while Phillips's work is held internationally at the Smithsonian in Washington, the Victoria and Albert Museum in London, and the National Gallery of Canada in Ottawa, among other venues, this donation presented a unique opportunity to hold some of his works right in the area that they depict.
"I like the artistic interpretation of what I see outside my window," donor Nicki Douglas has said of her and her husband's passion for collecting those Phillips works.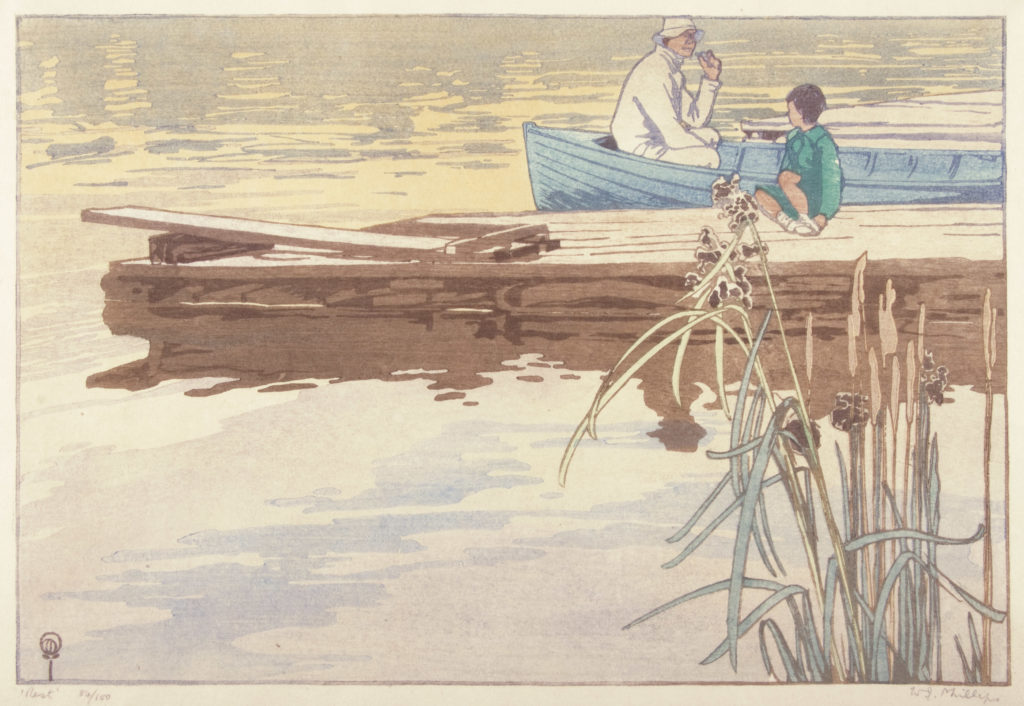 Rest
is one of the W.J. Phillips artworks that will be part of the new art centre's collection. Courtesy Lake of the Woods Museum.
A feature exhibition of those art pieces by Phillips will be one of the big shows launching the new gallery this fall.
Another big opening show will be "Gaa-nigaanii Onidaawiziwad / Leading Artists." It will focus, in tandem, on Professional Native Indian Artists Inc. and the Triple K Cooperative—two organizations founded in the 1970s that did much to advance Indigenous art and artists, and that have connections to Northern Ontario and Southwestern Manitoba.
"We have spoken with an elder to help us with a proper exhibition title," says Sophie Lavoie via email. "Being that this exhibition celebrates the Indigenous artists from this region that were the grandfathers and grandmothers of contemporary Indigenous art, we wanted to make sure that the title properly honours these artists and uses an Anishinaabe name."
The new art centre, currently under construction, will be 30 seconds' walk from the existing Lake of the Woods Museum. Landscaping will include plants traditionally used by Indigenous peoples for medicines and food. Administrators hope the grouping of buildings, set on Kenora's Memorial Park, will offer a cultural-campus feel.
Part of the coming centre will offer 1,700 square feet of Class A exhibition space. The other part of the centre—the part adapted from a heritage brick building that decades ago did house the museum—will be renovated into 1,400 square feet of studio and community space, including a kiln in the basement.
"The studio will have a focus on emerging and regional artists," says Lavoie.
A third exhibition for the gallery's opening also focuses on emerging and regional artists. Artworks in "The Artist's Muse" are currently being selected from an open call to 14 First Nations and 5 communities within 500 kilometres of Lake of the Woods.
"There is an opportunity for people to learn about each others' cultures here," hopes Lavoie. This summer, the Lake of the Woods Museum will also be working on a jingle-dress exhibition. In 2011, the museum won an Ontario Historical Society award for the exhibition "Bakaan nake'ii ngii-izhi-gakinoo'amaagoomin (We Were Taught Differently): The Indian Residential School Experience."
Budget for the new gallery project includes at least $1 million in federal government funds and $2.5 million in private capital funding. Another $1 million from the provincial government was also promised last year.