ASINNAJAQ ᐊᓯᓐᓇᐃᔭᖅ: Nuvvija, you were just in your second film, Tia and Piujuq. How is it to become an actress?
NUVVIJA MIKILI TULUGARJUK: It was fun. I got the job of being an actress because of my anaana's job as a director for Tia and Piujuq. I got the role of Piujuq. When I was acting, it was very fun. I mostly speak quietly, but I tried to speak as loud as I could.
LUCY TULUGARJUK ᓘᓯ ᑐᓗᒐᕐᔪᒃ, ᐊᓈᓇᐅᔪᖓ, ᐱᖑᐊᕐᑎᐅᓪᓗᖓ, ᐊᔾᔨᓕᐅᕆᔨᐅᓪᓗᖓᓗ: My first role was in 1998, when we first attempted to film Atanarjuat: The Fast Runner. That didn't go through due to lack of funding, so we waited another year.
A: What was it like directing for your first time, and
supporting your daughter in acting?
LT: There were times [when I was younger] that I would sit back and wish there were films or documentaries in Inuktitut. In 1982 we moved to Hall Beach, and that was my first time seeing television—it was only in English and French. I wished there were Inuktitut programs. When Isuma started I was in junior high, and I was often curious. My uncle Paul Apak Angilirq was one of the founders, (along with Pauloosie Qulittalik, Zacharias Kunuk and Norman Cohn) and I visited my cousin frequently, so I saw the background of what they were producing. I worked on several productions over the years. Then came the offer to write a script for a children's feature film with Arnait Video Productions and Sivumu Northern Productions. I was asked if I wanted to direct it and I chose to accept that opportunity. Seeing my daughter being involved in the film [gave me] new hope that these programs can continue for many more years. She says she's interested in continuing to do more films, and maybe producing films in the future…What did you say? Remember when you said, "When I grow up I want to make…"
NT: Yeah, I want to be a part of more films because I like the whole experience of making a film. My favourite part is actually filming the scenes, but I also like writing stories.
A: How did it feel when you were on set?
NT: When I was on set it was a bit challenging because I didn't know too many words in Inuktitut, but most of my lines were in Inuktitut, so my mother helped me with the words.
[laughter]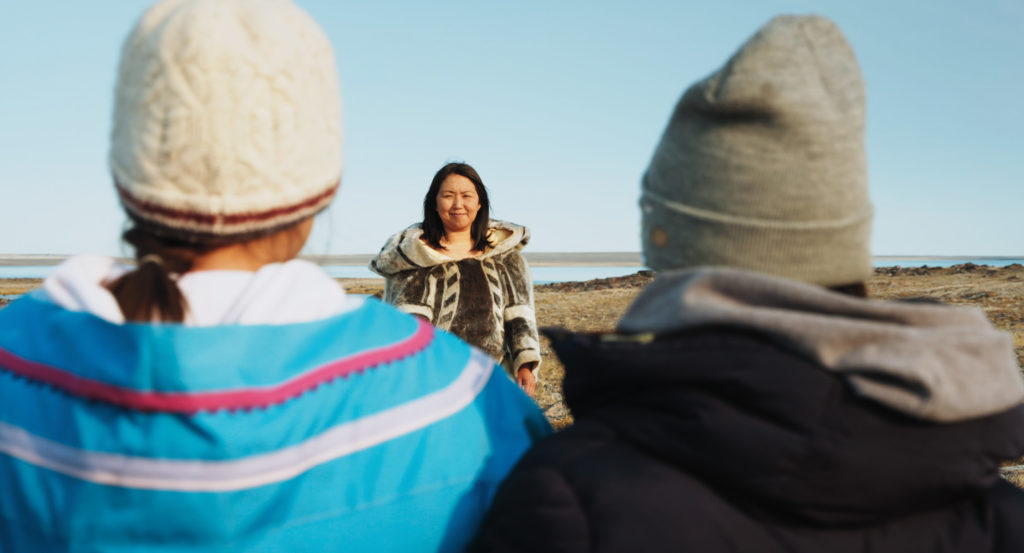 Still from
Tia and Piujuq
, 2018. Directed by Lucy Tulugarjuk. Film, 80 min. Courtesy Sivumu Northern Productions.
LT: Do you think you learned more words in Inuktitut because of this character you played?
NT: Yes. Before we started filming I knew only a few words, not too many. My lines were full sentences and not just tiny words here and there, so I would try to pronounce them and my anaana would tell me the meaning of them. I do remember a few words, but not really because it was more than one year ago.
A: I directed a movie and I am also just learning Inuktitut now, but my dad can speak Inuktitut so he helped me to do my voice-over—I can still remember it.
LT: Nuvvija watched me and was taking part right from the beginning, from scriptwriting—and me telling her, "Wait, I have to finish this" and asking her older siblings, "Can you cook so I can do this?"—to directing it, acting in it and editing it. She came to Montreal with me when we went to the studio, which again I was thrilled to see. When I was a kid that was my dream, and now my kid is coming to the studio and seeing the special effects and voice-overs…
NT: The biggest screen was almost the size of the humongous wall and the room was bigger than our old house.
[laughter]
A: After seeing what it takes to make a movie, is that what you were expecting?
NT: Kind of. Lots of times when I saw movies there was a "behind the scenes" part. But I didn't know what it would feel like to actually be behind the scenes. I also didn't know it would take so long to do every scene.
If we are going to do Inuit films, they should be by Inuit who know and breathe the culture. I'm Inuk, therefore I should play my own Inuk character.
A: Do you think it's important to take the time to make movies?
LT: You answer first, my love.
NT: For movies, I would mostly choose like—it's enjoyable to watch movies. You see all of the emotions and the story, it's entertaining.
A: And when you acted in Tia and Piujuq it was exciting. Did you have other feelings?
NT: I think that I could have acted with a little bit more emotion. Once I saw this scene where we were supposed to act surprised, and when I saw myself I was like, I could have acted more surprised.
LT: What scene? I thought you acted perfectly in the scenes.
NT: It was the scene with the boots—
LT: Ohhh!
[laughter]
A: Lucy, do you think it's important to make movies?
LT: I love it. It's my passion. I wake up feeling excited to go to work, I'm happy at work and I go to sleep feeling good about what we did that day. We're trying to preserve and protect our language. I am. Using the camera is the best way to show what our messages are. For me, I find that very, very important. When I was a kid, there were no films in Inuktitut. If there was a film about Inuit, and it was a non-Inuk playing the character, I would totally get annoyed by it. If we are going to do Inuit films, they should be by Inuit who know the culture and breathe the culture. I'm Inuk, therefore I should play my own Inuk character.
NT: Another reason to make movies is because it's super fun when you are making a film, so I suggest it for anyone who has a chance.
LT: Through Atanarjuat I've met many people; I've had people come up and say, "What you do is very important," not just to me but to our team. Producing, directing and having Inuit actors is very important. Anywhere I've been it's always the same message from different people: it's important for Indigenous people to make Indigenous films, it's important for people to learn their own language and culture. Within the past 50 to 60 years so much has changed. A lot of us have lost words in our mother tongue and using television or film or documentaries in our languages is important. It gives future generations a chance to at least go to the website and see and learn what they might have missed if there were no Inuktitut films.
A: We're not limited to only listening and watching in English. We can listen to anything.
LT: I've heard from some viewers that it's not a large population that speaks our Inuktitut language, but despite that, people get the message, the emotions, because they are watching us with our facial expressions and body language. They may not understand what is being said; oftentimes we make English, French or even Japanese subtitles. But back to speaking our own language: if the French speak French, if the Spanish speak Spanish, if they speak their languages, then why can't we?
A: Lucy, what was one moment on set that made you proudest of your daughter?
LT: There were many.
A: Maybe you can share one with us?
[laughter]
LT: There were lots. Everything. All of it.