I heard a rumour that on sweltering summer days, if you visit the old oil refinery site that is now Inglewood Wildlands in Calgary, you can spot black liquid bubbling on the land, among long-grown grass and hawks circling overhead. The Wildlands went through remediation in 1992 following negotiations between Petro-Canada, the City of Calgary and the local community—a now-heroicized narrative of saving the corrupted land. The contaminated topsoil was replaced with 58,000 cubic metres of clean dirt, on which native species were planted; artificial "lookout hills" were formed with the tainted soil. I live steps away from the Wildlands, and I'll have to go on a 30-degree day to look for signs of bubbling grounds.
Another harrowing story: the cucumbers in the gardens of Calgary's Lynnview Ridge neighbourhood started dying. Significant lead and hydrocarbon contamination was found in the soil, a legacy of the former oil refinery site. More than a hundred residents were bought out, their homes demolished. The land was turned into a park. The remediation process entailed soil capping, which encloses the contaminated soil by covering it. The city also built a barrier to prevent the contaminated groundwater from entering the nearby Bow River. According to the city, the area is now designated to be used for "community benefit," yet remains unsuitable for human habitation.
Such are the narratives around remediation in Calgary: the "restoration" of wildlife is enabled by noble civic efforts, when in fact toxicity does not simply go away. It is diluted, relocated, contained. Truth lies beneath this seemingly innocent landscape, hidden under a reorganization of facts.
Calgary artist Alana Bartol's new video work, reading wild lands (2018), opens with a view of a former oil refinery site. A large steel pendulum hangs from a dead birch tree, swaying in gentle winds. It's in a park with long sweeps of grass, birds chirping and traces of a nearby urban setting—silhouettes of industrial structures and the low din of traffic—seeping into the frames. A woman clad in navy coveralls collects soil samples in glass test tubes and inserts them inside the gleaming pendulum. The top is screwed on. The pendulum swings slowly.
The contemporary imagination may be inextricably tied to oil, but when do we start re-imaging our lives without it?
Dowsing is a divination tool, often used to locate water, oil, mineral ores, lost objects and information. Surprisingly, this is a process tied to the history of the extraction industry. Bartol's research uncovered the life of 17th-century mining engineer and waterwitch Martine de Bertereau, who, under the auspices of the French crown, located several mines in Europe by purportedly using the dowsing method, until she was persecuted and imprisoned as a witch. De Bertereau's use of dowsing in mining was ingeniously multidisciplinary, feminine and well-recorded—and ran counter to the Christian dogma of the age. At the same time, de Bertereau's practice was implicit in the European worldview of extraction as an entitlement.
While this occult quirk exists as a footnote in the history of extraction, Bartol's reading wild lands reinvents the methodology to revisit the matter of remediation. The pendulum in this film is positioned in a tension between its implication in extraction and its reimagined use for remediation. Not only is dowsing linked to histories of extraction, but this particular pendulum also has a suspicious connection to signifiers of industry: test tubes and gleaming steel, fieldwork and data collection. Land remediation narratives often prioritize "putting it back where it was." From extraction to restoration there is no consent, only human-centric impositions and covering of tracks. For Bartol, dowsing is "a technology that may expand ways of understanding how we relate to and empathize with the world." It is an art of questioning for those of us caught between consumption and conviction: implicated in petroleum production, and at the same time trying to fight it.
After the soil samples have been collected and inserted into the pendulum, the scene switches over to a close-up shot of a pile of iron filings. The mound came in contact with drill-cutting samples that Bartol requested from the Alberta Energy Regulator Core Research Centre (she posed as a researcher, although the centre's library is open to the public). The mound pulses and contracts, with parts falling away and out of the frame. It becomes animate; perhaps empathy is easier to access when the object of our gaze looks like us—when the land is a body that moves.
The primary difference between the drill-cutting samples of industry and the soil samples collected for the pendulum is in the questions each prompts. Drill-cutting samples ask, What's down there, contamination or resource? A potential media scuffle or something we can gloss over? Abundance or barrenness? Bartol's pendulum asks, How are you? Imagination is set loose in this moment of the film. Why are the iron filings moving? What does the land want? Do you have nightmares? Are you stuck? Does your wound extend to the Bow River? Questions asked by the drill-cutting samples answer with data; the pendulum's questions answer with more questions—an invitation for empathic listening.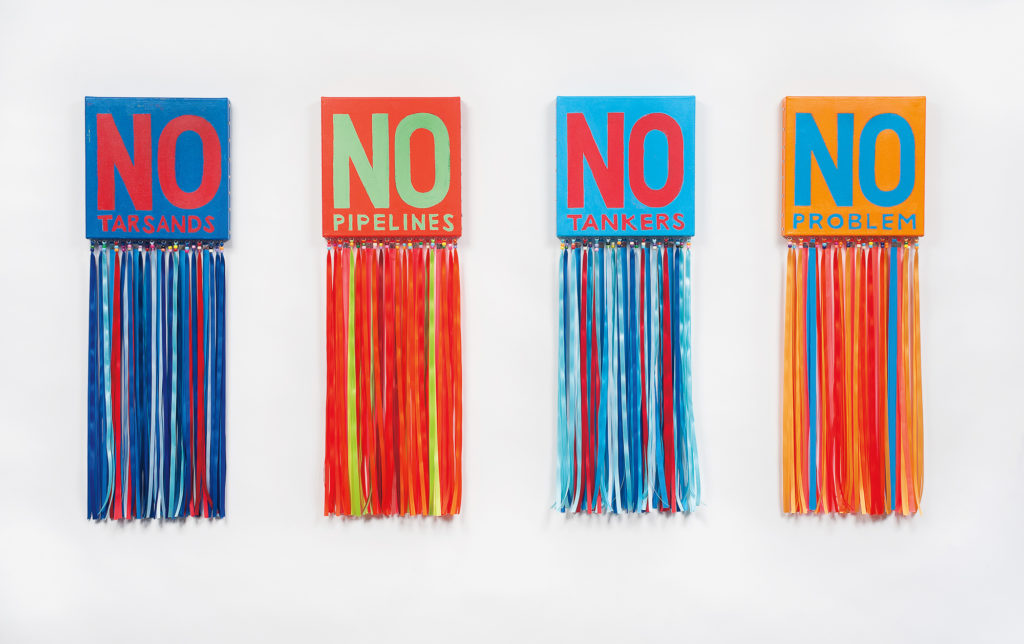 Bruno Canadien,
No Problem
(from the
Freedom Fighter Series
), 2012. Acrylic, hardware, satin ribbon on canvas, four panels 91.4 x 30.4 x 5 cm each. Courtesy of the artist. Photo: John Dean.
Empathy underpins the projects of activism around the land, especially concerning Indigenous land sovereignty, the fight for basic human rights like access to clean water and the importance of a counter-extractionist worldview. Artworks that act as agents of memory are integral for honouring and remembering the activism around oil and gas industries. Bruno Canadien, a member of the Deh Gah Got'íé Kóé First Nation (a Deh Cho Region member of the Dene), who is currently based in Black Diamond, Alberta, began the work of documenting the breadth of Indigenous-led activism through the medium of painting. The Freedom Fighter Series (1993–2014) is a series of 12-inch-square paintings adorned with long, streaming satin ribbons that flow down from the bottom edge. Canadien refers to this work as "ways to evidence various Indigenous resistance against governmental and industrial excursions." Each is a powerful distillment of stories that bear witness to acts of resistance.
In the work No Problem (2012), four panels, hung together, read, "NO TAR SANDS/NO PIPELINES/NO TANKERS/NO PROBLEM." These witty titles archive the texture of language and the high spirits of those who protest across the continent, in such places like Burnaby Mountain, Calgary, Cannon Ball (North Dakota), Victoria, Seattle and Vancouver, to name a few. In K'ah (2014), a striking image of a red hand on a white surface, red ribbonwork below, refers to the Dene protest against the Mackenzie Valley Pipeline in the 1970s. Hustle & Bustle/ ~ Flow ~ Keepers of the Athabasca (2012) honours the Keepers of the Athabasca, whose mandate is to protect the Athabasca River watershed. The group filed a petition to the federal government in 2008, in light of the sharp rise in cancer rates in Fort Chipewyan, a community downriver from the Athabasca oil sands in Fort McMurray. In the downstream depository basin, high levels of metal and toxins, including arsenic, mercury and lead, were sedimented in the area. The petition demanded an environmental monitoring program independent of "vested interests" and the placement of further oil activity regulations. The federal response: "no evidence found."
The Keepers of the Water Council released a declaration in 2012: "Water is a sacred gift, an essential element that sustains and connects all life. It is not a commodity to be bought or sold. All people share an obligation to cooperate to ensure that water in all of its forms is protected and conserved with regard to the needs of all living things today and for future generations tomorrow." Hustle & Bustle/ ~ Flow ~ Keepers of the Athabasca honours this ongoing commitment. The red, green, blue and white monochromes offer homage and respect, rather than lamenting the pollution. The ribbons and flagging tapes extend beyond the panel surface, refusing to be contained or neatly framed. As a distinct Indigenous visual lexicon, the waterfall of ribbons is a celebration—of the incredible persistence in the Indigenous communities' efforts to fight the immutable bureaucracy and the tyranny of industry, and of the Keepers' integrity in the declaration of respect for non-human worlds.
Canadien's more recent work draws from less specific events to portray a complex narrative of the Northern landscape and Indigenous realities, including the tension between sovereignty and industry. Hustle & Bustle/ Downriver House (2016), composed of Dene floral designs, caribou, neon-coloured flagging tapes and bright ribbonwork, is a portrait of the North as an Indigenous/Dene territory. Amid the notes of celebration of Dene artistic language and sovereignty are collaged images of the oil and gas industry. Canadien recounts that many people in the North are employed in the oil and gas sector, but that their participation does not bar them from taking critical stances. The painting narrates these oppositions in the artist's imaging of the home. It sprints back and forth between Dene past, continuity and futures, clearly addressing the tensions that need to be confronted in order to move forward.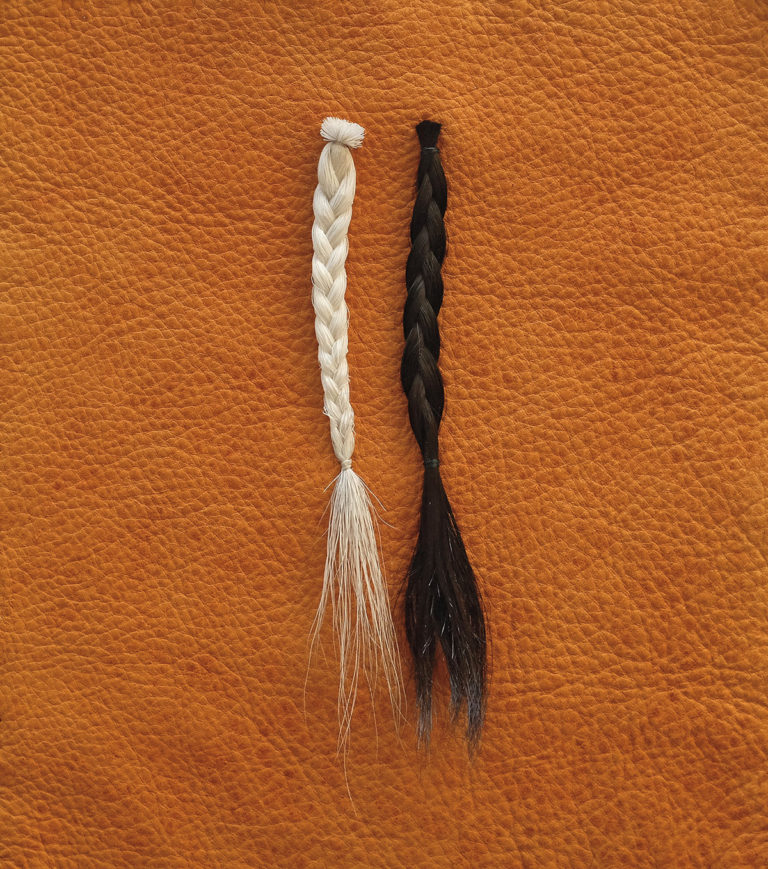 Amy Malbeuf,
iamthecaribou/thecaribouisme
, 2014. Caribou hair and the artist's hair on elk hide, 20.3 x 22.8 cm. Courtesy of the artist.
The aggressive activities and ominous footprint of the oil industry run as a subtle thread through Amy Malbeuf's practice. Her recent exhibition "Tensions" at the Illingworth Kerr Gallery featured various works made from industrial tarp. Cut from the centre of Heart (2018), which hung in the gallery from the ceiling to the floor, was a large circular hole through which viewers could see the series of works Arctic Grayling, Woodland Caribou and Whooping Crane (2018). Each of these featured the titular animal sculpted from white caribou hair, set against a background of aerial views of pipelines in northern Alberta mapped by tarp strips sewn onto black velvet. Malbeuf's animals are depicted in a familiar tufting style of white forms against a dark landscape—except that these three works picture the new ominous reality, the landscape littered with all kinds of industry. The arctic grayling's home is the Hay River and Peace River region, also downstream from the oil sands in Fort McMurray. The woodland caribou population is in rapid decline, to which Environment and Parks Alberta faults only "human activity, which enables increased predation by wolves," not articulating the direct link to resource extraction and oil production.
For Malbeuf, the caribou's significance goes back to iamthecaribou/thecaribouisme (2014). A tender connection forms in the work, where braids of caribou hair and the artist's hair are woven onto an elk hide to ponder each other's likeness. Such an intimate declaration of solidarity with the caribou and with the animal world reminds me of Leanne Betasamosake Simpson's comment in her 2017 book As We Have Always Done: "the alternative to extractivism is deep reciprocity. It's respect, it's relationship, it's responsibility, and it's local." It's to overturn extractivism, to implement a societal model where "consent, empathy, caring, sharing, and individual self-determination are centered." Malbeuf's two braids resonate like a soft manifesto for such a world.
Unlike her other series that involve polyurethane tarps, Malbeuf's Heart is made from a cotton canvas material lined with bear grease and ochre. The tarp is a significant material for Malbeuf, as it oscillates between a utilitarian, familiar object used to live on the land and a ubiquitous industrial material. Through her intricate beadwork, quillwork and tufting, Malbeuf treats the tarp as a kind of proxy animal hide. Hide is traditionally used as shelter, clothing and ceremonial object. It is made with labour and care, whereas tarp is disposable and cheap. After passing through Malbeuf's hands, the tarps become something that denote familiar care and comfort, something closer to a shelter—after all, tarps are supposed to offer coverage, to shield from elements, to provide safety.
In our conversation, Malbeuf revealed that Heart was inspired by an encounter with Alex Janvier's Oil Patch Heartbeat (2013). The circular painting is filled with abstract marks that curl and entwine in a radiating life force. Malbeuf recalls, "I was met with a physical experience, that arose the feeling of when you are in the land, witnessing the constant extraction creating constant fracture. Devastation of humans, plants, animals." Heart was made as a response to this embodied experience. The hole in the work could be considered its "heart," with the three animal forms seen through it framed in a plea to establish a feeling for and with them, to hold them close.
I asked Malbeuf about the cotton canvas tarp in Heart. She explained that the work encapsulates a particular physical experience she had, one that couldn't be embodied in polyurethane. In fact, there is something more irksome about implicating ourselves in these petroleum products. "The pipeline is who we are now. It is our need," writes environmental activist Samuel Avery in The Pipeline and the Paradigm. This statement perhaps offers common ground for the often irreconcilable experiences of life and industry. The contemporary imagination may be inextricably tied to oil, but when do we start re-imaging our lives without it?