Tiziana La Melia and geetha thurairajah
Projet Pangée, Montreal
January 9 to February 15, 2020
What I like about a lot of Projet Pangée's shows are the pairings: interesting things happen when two artists' works are forced to interact. In this case, Brooklyn-based geetha thurairajah's digital-esque aesthetics and Vancouver-based Tiziana La Melia's stylized works are sure to resonate with weird, bright, energetic vibrations—something not to be missed in the Montreal winter gloom. —Emma Sharpe, editorial resident
Lorenza Böttner
Art Museum at the University of Toronto
January 25 to March 21, 2020
A small presentation of Lorenza Böttner's drawings, paintings and photographs appeared at Documenta 14, surfacing an exceptional body of work not widely circulated since the artist's death in 1994. It consisted largely of renderings of her own body: permutations in gender and style that probe the relationship between self-imaging and political subjecthood. An ambitious retrospective, curated by Paul B. Preciado, followed in Barcelona and Stuttgart, and comes to Toronto in late January. —Tess Edmonson, managing editor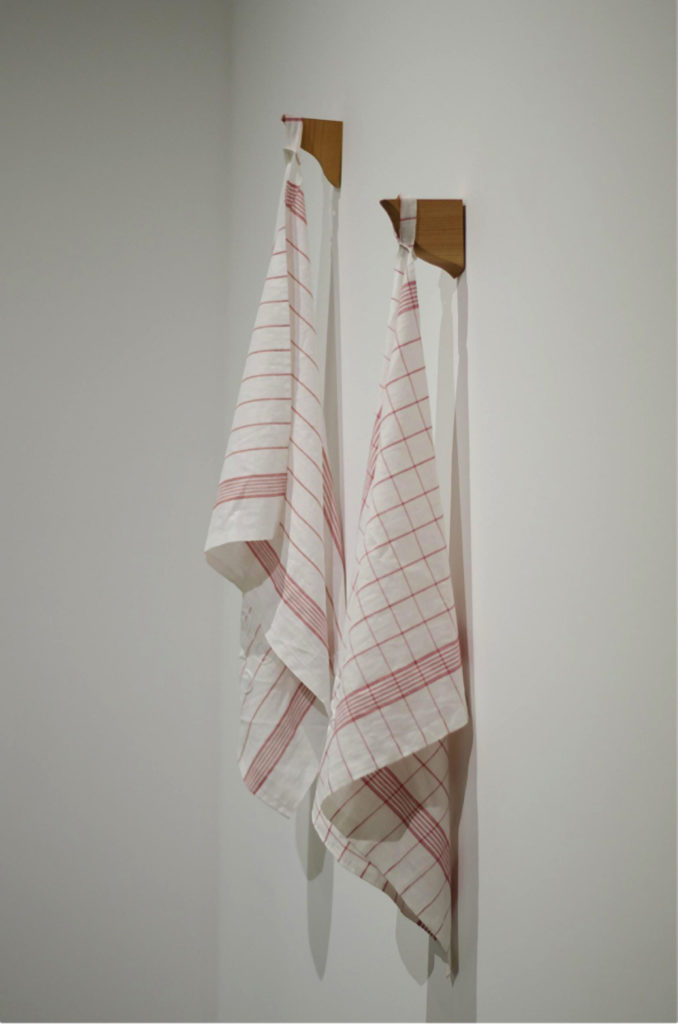 Katherine Boyer,
Meeting Grans over Tea and Bangs: Nowananikkwee, Marguerite, Rosalie, Emilie, Mary
, 2018. Tea towels, seed beads, fir wall hooks.
May the Land Remember You as You Walk Upon its Surface
C2 Centre for Craft, Winnipeg
Early February 2020
This exhibition, curated by Franchesca Hebert-Spence, is part of the 2020 Beading Symposium that explores contemporary beading by focusing on how beadwork builds community. The first edition, "Beadwork Symposium: Manidoominensagemin (We are beading)," was held at the Textile Museum of Canada in 2019 in conjunction with "Beads, they're sewn so tight," curated by Lisa Myers. This year, Hebert-Spence (who soon joins the National Gallery of Canada as curatorial assistant in Indigenous art) will progressively highlight emerging practices, techniques and themes that blur lines between craft and art. After all, Indigenous beaders had a material culture practice long before new materialist movements became so popular. —Lindsay Nixon, editor-at-large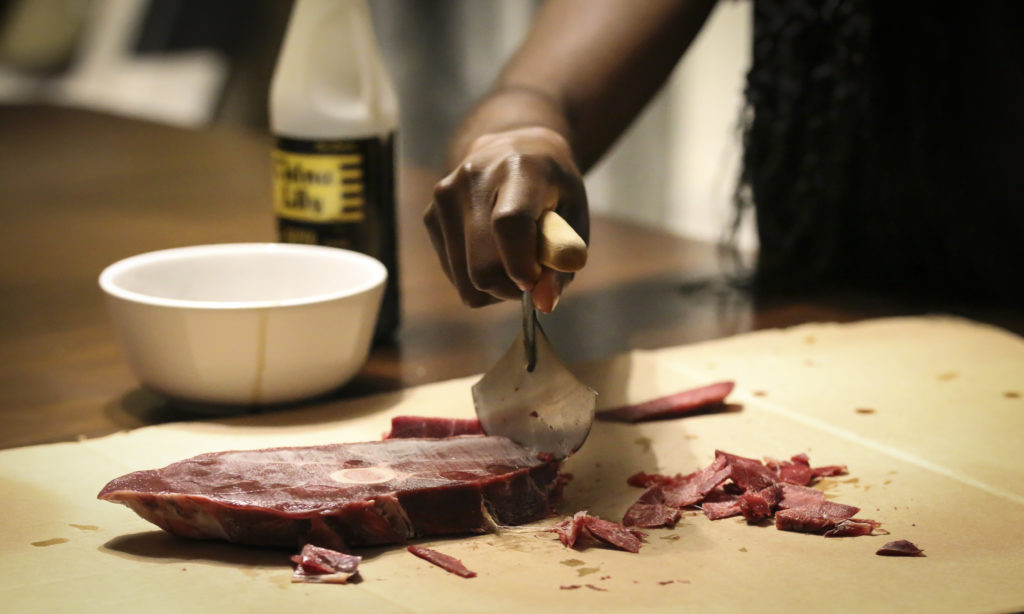 Katherine Takpannie,
Niriqatigiit
, 2019. Digital photograph. Courtesy the artist.
They Forgot That We Were Seeds
Carleton University Art Gallery, Ottawa
February 9 to April 19, 2020
The act of seeding opposes enforced scarcity narratives. Curated by artist, economist and policy analyst Kosisochukwu Nnebe, this show centres Black and Indigenous women in constructing a counter-archive to Canada's settler colonial state. With a group of artists that makes my heart beat—KC Adams, Deanna Bowen, Roxana Farrell, Bushra Junaid, Amy Malbeuf, Meryl McMaster, Cheyenne Sundance and Katherine Takpannie—this exhibition seeks out the layered meanings of harvest, nourishment, displacement and labour. —Joy Xiang, assistant editor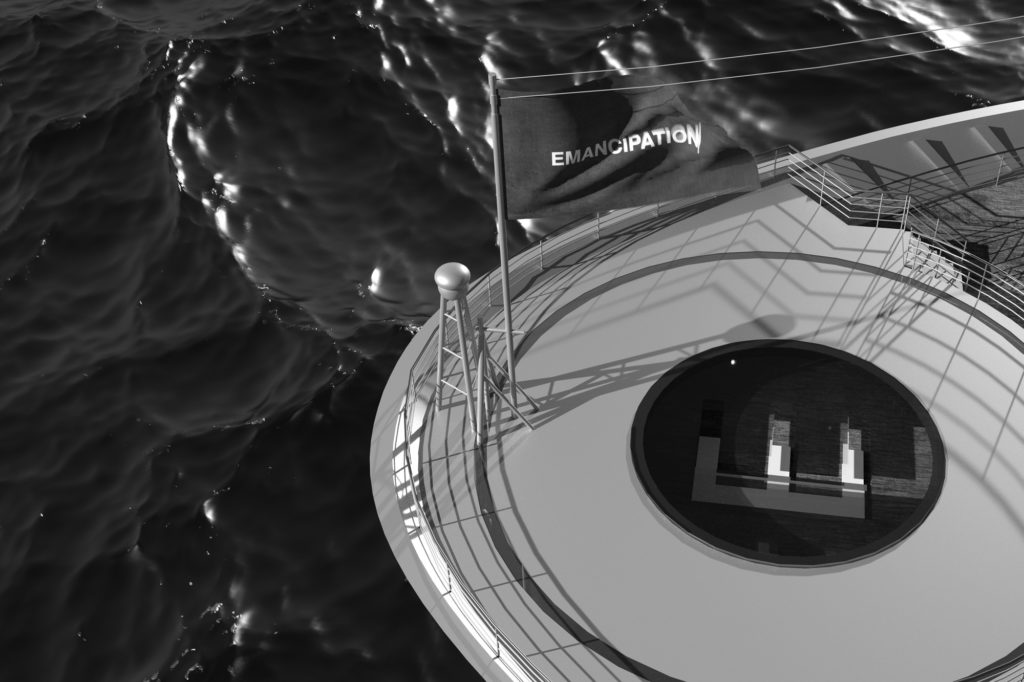 Xuan Ye,
The Spectacles Before Us Were Indeed Sublime
(animation still), 2018. Two-channel 4K video (black-and-white, stereo) and galvanized plano-concave structure.
filling the Klein bottle (A Three-Part Exhibition)
Varley Art Gallery of Markham; InterAccess, Toronto; Bunker 2, Toronto
February 15 to April 26, 2020; March 4 to May 9, 2020; March 15 to May 30, 2020
What links memes, memory-making, tourism and neoliberal capitalist spectacle? I'm fascinated by the way curator Belinda Kwan makes complex connections that emerge as meaningful interpretations of the global, digital flows of our present. This multi-site exhibition, presented through a satirical travel agency, features Wenxin Zhang and Xuan Ye and explores how infinite scrolling ("image tourism") and cyber dreaming affect an emotional and desirous understanding of space-time. The idea of a "Klein bottle" provides an appropriate container for the trap of the world and its image; as a 3-D version of a Möbius strip, travel along the surface of its "outside" long enough and you will find yourself inside. —Joy Xiang, assistant editor
Diane Arbus,
Two girls on the beach, Coney Island, N.Y., 1958
, 1958. Gelatin silver print; printed later. Sheet: 27.9 × 35.6 cm. Gift of Robin and David Young, 2016. Courtesy Art Gallery of Ontario. Copyright © Estate of Diane Arbus 2016/956.
Diane Arbus
Art Gallery of Ontario, Toronto
February 22 to May 17, 2020
Some photographs challenge us by their mere existence, and that's part of what makes the oeuvre of Diane Arbus so perplexing. Even in the voyeurism of our Instagram era, there is something unsettling about the intimacy of her portraiture—the proximity to subjects captured in the light of earlier decades is a disquieting pleasure. The AGO now holds one of the largest Diane Arbus collections in the world (second only to New York's Metropolitan Museum of Art) and this comprehensive survey, curated by Sophie Hackett, spans the breadth of Arbus's life as an artist, including many rarely seen early works. An important exhibition not to be missed. —Jayne Wilkinson, editor-in-chief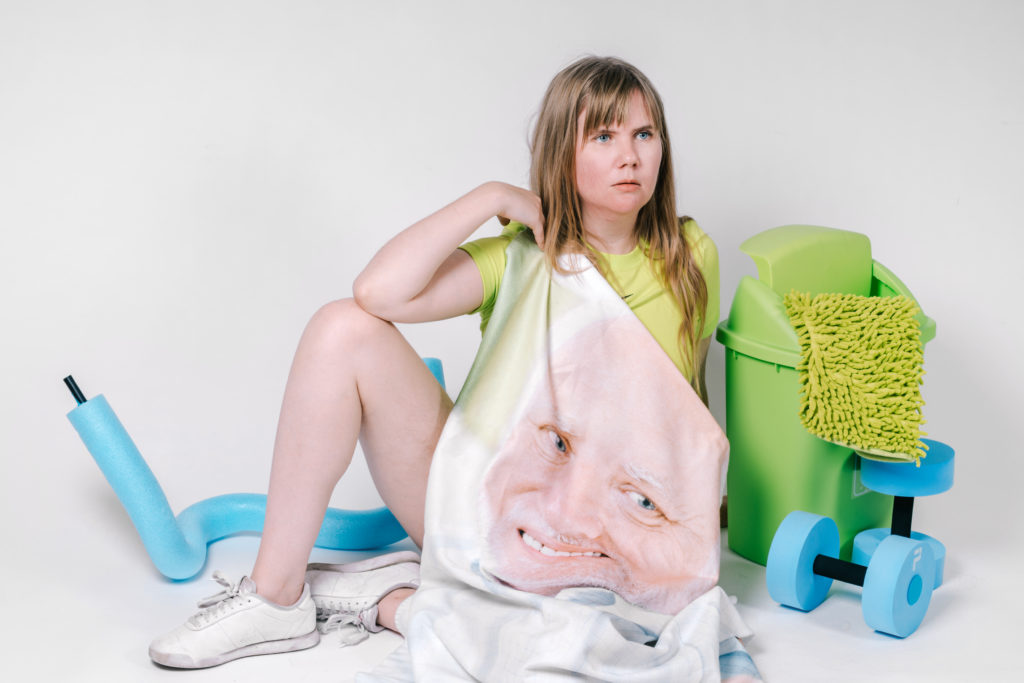 Bridget Moser,
Scream if You Want to Go Faster
(performance production still), 2019. Photo: Yuula Benivolski.
Bridget Moser
Remai Modern, Saskatoon
March 17 to June 7, 2020
Bridget Moser's "My Crops Are Dying But My Body Persists" marks the artist's first solo exhibition at a major museum in Canada, and for it Moser will employ her combination of performance art/prop comedy to create a new performance video work. Where else will you be able to experience a full-body laugh while feeling punched in the gut by awkward truths? You're guaranteed to leave feeling euphoric, and maybe a little self-conscious. —Emma Sharpe, editorial resident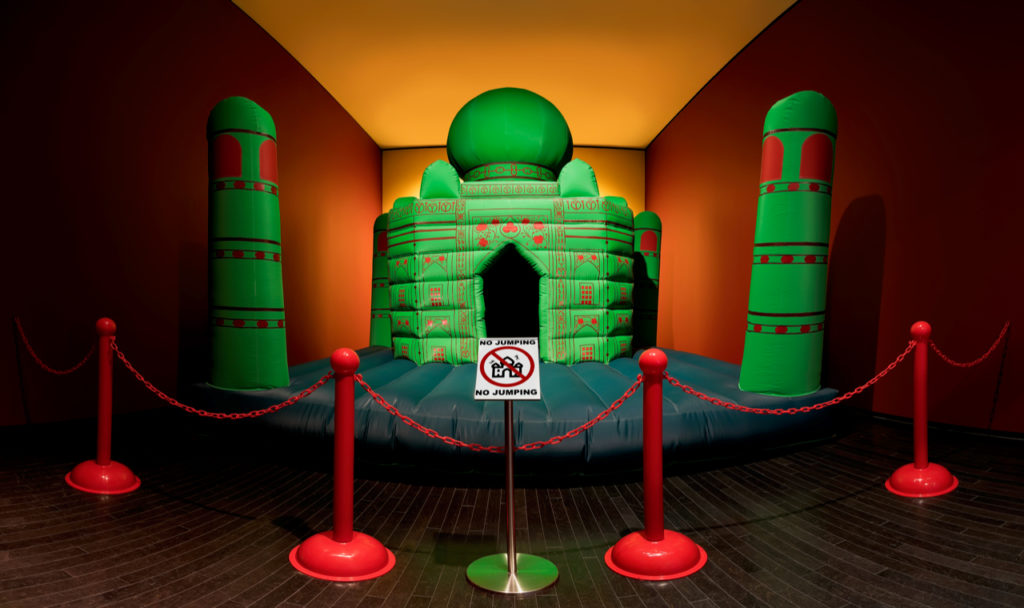 Divya Mehra,
Afterlife of Colonialism, a reimagining of Power: It's possible that the Sun has set on your Empire OR Why your voice does not matter: Portrait of an Imbalanced, and yet contemporary diasporic India vis-à-vis Colonial Red, Curry Sauce Yellow, and Paradise Green
, 2018. Inflatable attempt at the Taj Mahal, acrylic deep base paint, 15 x 15 x 15 ft.
Divya Mehra
MacKenzie Art Gallery, Regina
March 19 to May 18, 2020
In conjunction with the touring group survey "Vision Exchange: Perspectives from India to Canada," this special exhibition of Mehra's work—called "From India to Canada and back to India (There is nothing I can possess which you can not take away)" and curated by John G. Hampton—could very well see the artist exacting her incisive practice of institutional critique on the MacKenzie's own permanent collection. The project promises to address a critical issue for many museums today: namely, the fraught colonial underpinnings of ownership and display in institutional collections. But "From India" will no doubt also bear Mehra's signature acerbic wit. —Emma Sharpe, editorial resident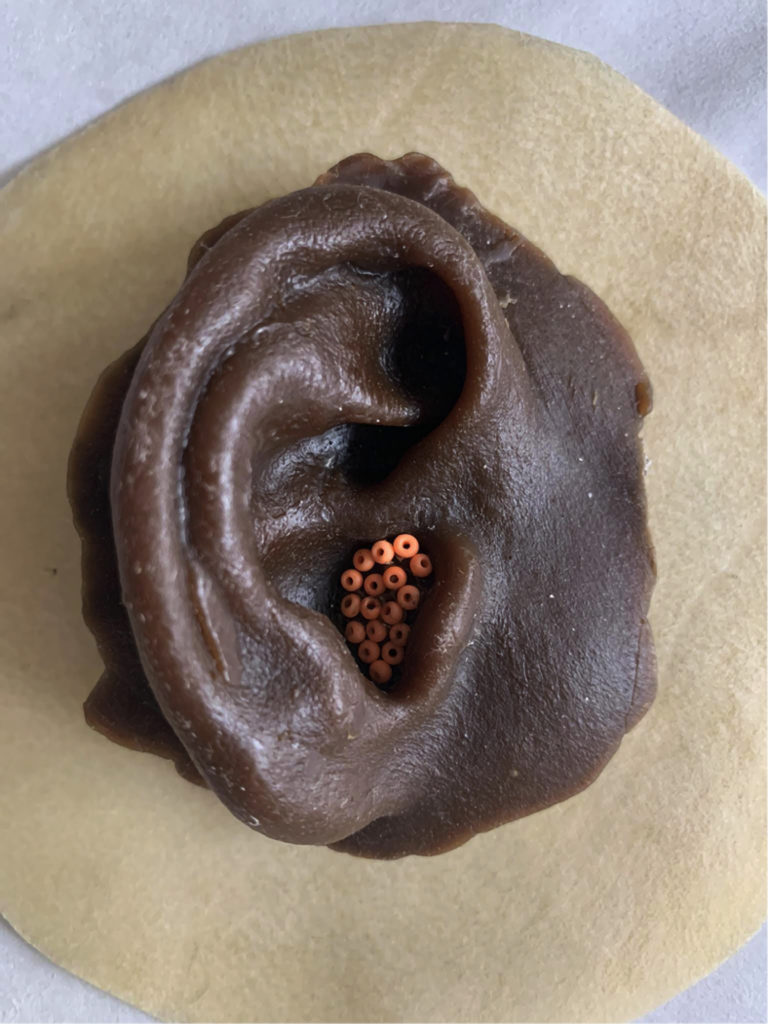 Logan MacDonald,
eenódsha / to hear
, 2019. Wax, deerskin, beads.
Logan MacDonald
Dunlop Art Gallery, Regina
May 1 to July 3, 2020
Sobey Art Award–longlisted artist Logan MacDonald is a mixed-media installation artist known for his manipulated landscapes, earthworks, structures and Indigenous signage. For his upcoming solo show at the Dunlop, MacDonald collaborated with students from Winston Knoll Collegiate's Deaf and Hard of Hearing Program to co-create interdisciplinary artworks. Along the way, he and his collaborators considered how disability can change the ways we gain access to knowledge, particularly in relation to Indigenous knowledge and legacies of cultural production. —Lindsay Nixon, editor-at-large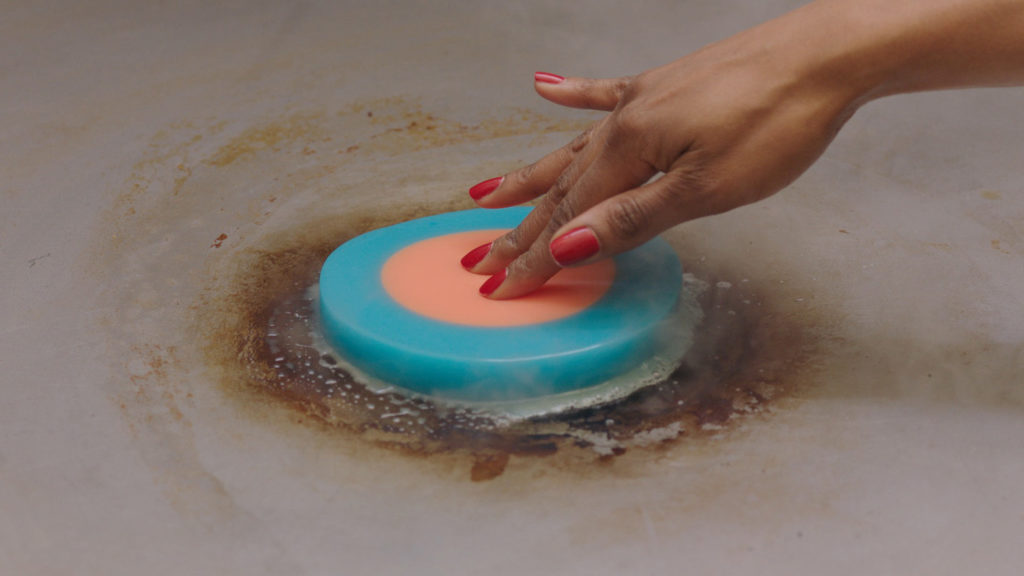 Mika Rottenberg,
Spaghetti Blockchain
(still), 2019. Single-channel video, 18 min, 14 sec. Courtesy the artist/Hauser & Wirth, Zurich.
Mika Rottenberg
MOCA Toronto
June 10 to September 20, 2020
Musée d'art contemporain de Montréal
Fall 2020
Argentine Israeli artist Mika Rottenberg recently said that "reality is so much weirder than any kind of video that I'm going to make," a statement at once true and troubling if you know just how weird her videos are. This solo exhibition features the 2019 video work Spaghetti Blockchain, a mesmerizing extension of Rottenberg's "social surrealism." It includes ASMR-like visuals with slightly incongruous squish, sizzle and scrape sounds (issued at a pace familiar to, or perhaps satirizing of, our voracious yet distracted internet-era attention spans) while also pulling in beyond-human-scale references like machine farming and nuclear research. —Erin Saunders, copy chief
Erdem Taşdelen,
A Minaret for the General's Wife
(video still), 2019–2020. Courtesy the artist.
Erdem Taşdelen
Mercer Union and SAVAC (South Asian Visual Arts Centre), Toronto
June 20 to August 15, 2020
The research for Turkish Canadian artist Erdem Taşdelen's "A Minaret for the General's Wife" began with his discovery of a free-standing Ottoman-style minaret located 140 kilometres outside Vilnius, Lithuania. This minaret is unusual in location and purpose: there is no mosque attached to it and its uncertain origins are based on either a 19th-century war between Russia and Turkey, or a love story. Given the conditions of contemporary Turkey, it will be interesting to see how Taşdelen, whose work often considers the symbolic possibilities of historical mistranslation, brings the mysteries of a little-known monument into the politics of present day. —Jayne Wilkinson, editor-in-chief

Mixed Company
RBC Convention Centre, Winnipeg
June 25 to June 27, 2020
The triple force of writer/organizer Amy Fung, artist Divya Mehra and curator Kim Nguyen (working together as Asian Brain Trust) is organizing the three-day symposium MIXED COMPANY. "In response to the continued expectation for non-white individuals to elucidate oppression and trauma for the benefit of whiteness," they write, "MIXED COMPANY is a proposal to decentre whiteness by focusing on the nuances of racial dynamics within the 'visible minority.'" Lisa Lowe and Katherine McKittrick are the keynote speakers and, throughout the event, speakers and participants will undo the silos of "diversity" through "critiques, strategies, and honest reflections" in non-traditional formats. —Yaniya Lee, features editor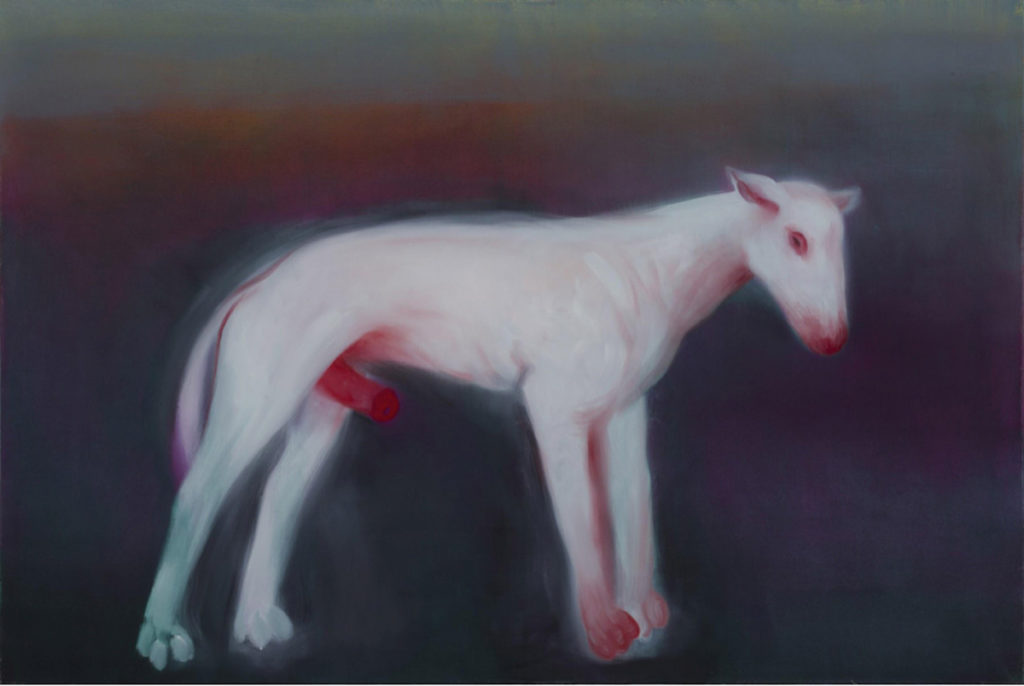 Miriam Cahn,
scharferhund
, 2012. Oil on canvas, 120 x 180 cm.
Miriam Cahn
The Power Plant Contemporary Art Gallery, Toronto
June 27 to September 7, 2020
The visual field of Swiss painter Miriam Cahn envelops bodies, genitals, the geologic, the atomic bomb, flowers, affect, faces, animals—war and sex leak into one another in soapy, oneiric figuration. Her dreamscape renderings of intimacy and violence made up the artist's long-overdue first major travelling retrospective last year. This summer, the Power Plant hosts "ME AS HAPPENING," a major solo exhibition surveying the artist's work, the first in Canada. —Tess Edmonson, managing editor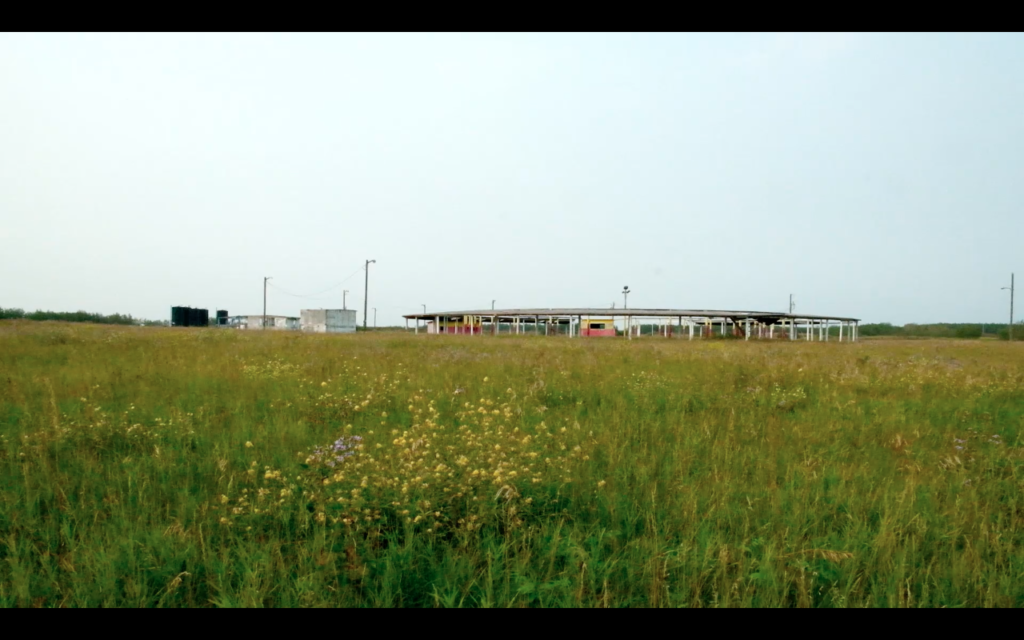 Tsēmā Igharas,
Untitled
(still) from Frog Lake First Nation, 2018. Digital video.
Lands to Travel Through
Various venues, Calgary
August 5 to 8, 2020
This gathering of artist-run centres—part conference, part festival, part experiment in collaboration—follows models set by Flotilla (Charlottetown, 2017), Artists at the Centre (Toronto, 2015), Institutions by Artists (Vancouver, 2012) and Res Artis (Montreal and Quebec City, 2010), all events focused on the legacies and futures of artist-run culture. The Prairies iteration's key concepts, "relating practices of care, reciprocity, respect and resource sharing to concepts of groundwater, bedrock, recoverable resources, and remediation," promise to reflect the changing dynamics of art scenes across the country. —Jayne Wilkinson, editor-in-chief
Biennial of Contemporary Art
Art Gallery of Alberta, Edmonton, and Remai Modern, Saskatoon
Fall 2020
Since 1996, the Art Gallery of Alberta has coordinated a biennial exhibition of contemporary artists in the region. Now, the scope of this biennial is expanding. The AGA is partnering with the Remai Modern to look at artists working in proximity to the borders of Treaty 4, Treaty 6, Treaty 7, Treaty 8 and Treaty 10—and the theme of borders will be addressed by a four-person team, say early announcements: namely, AGA curator Lindsey V. Sharman, AGA adjunct curator of Indigenous arts Franchesca Hebert-Spence, Remai collections curator Sandra Fraser and Remai guest curator Felicia Gay. —Leah Sandals, content editor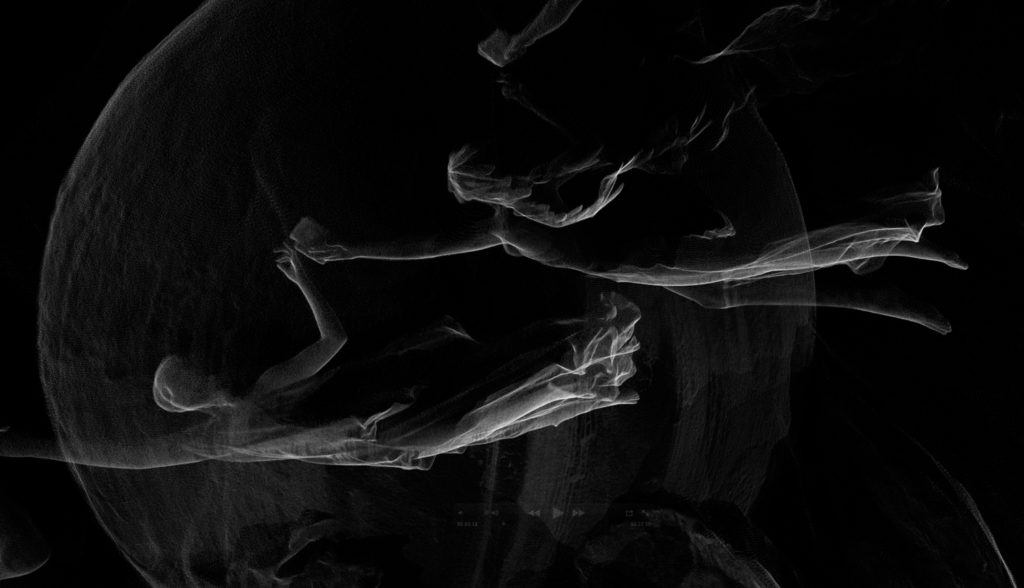 The Otolith Group,
Sovereign Sisters
(still), 2014. Computer animation transferred to HD video (film still), 2014. © The Otolith Group.
The Otolith Group
Southern Alberta Art Gallery
September 26 to November 15, 2020
This travelling exhibition, "Xenogenesis," which borrows its name from Octavia Butler's science fiction trilogy, will present a cross-section of work by the London, UK, artists Anjalika Sagar and Kodwo Eshun. Among the 10 works spanning 2011 to 2018 is Sovereign Sisters (2014), a rendering of an early 20th-century public monument to global communication, here 3D-scanned and animated into a ghostly gossamer. It both deeply documents and "derealises" (to use the group's own term) material, idea and technology inside the virtual space of film. To say that the Otolith Group blends fiction and documentary is too reductive—they wedge open history, probe its depths, expose its fissures and write powerfully into the spaces they make. —Erin Saunders, copy chief
Vancouver Triennial
Vancouver Art Gallery
Fall 2020
Confession: I love a good regional survey show. The inaugural Vancouver Triennial, in 2016, centred emerging talents from Vancouver and, curated by Daina Augaitis and Jesse McKee, featured some 40 artists including Derya Akay, Jeneen Frei Njootli, Tamara Henderson, Khan Lee, Arvo Leo, Walter Scott, Brent Wadden and Alison Yip, among others. Though it's not yet public who is curating the next edition, it's already on my must-see list. —Leah Sandals, content editor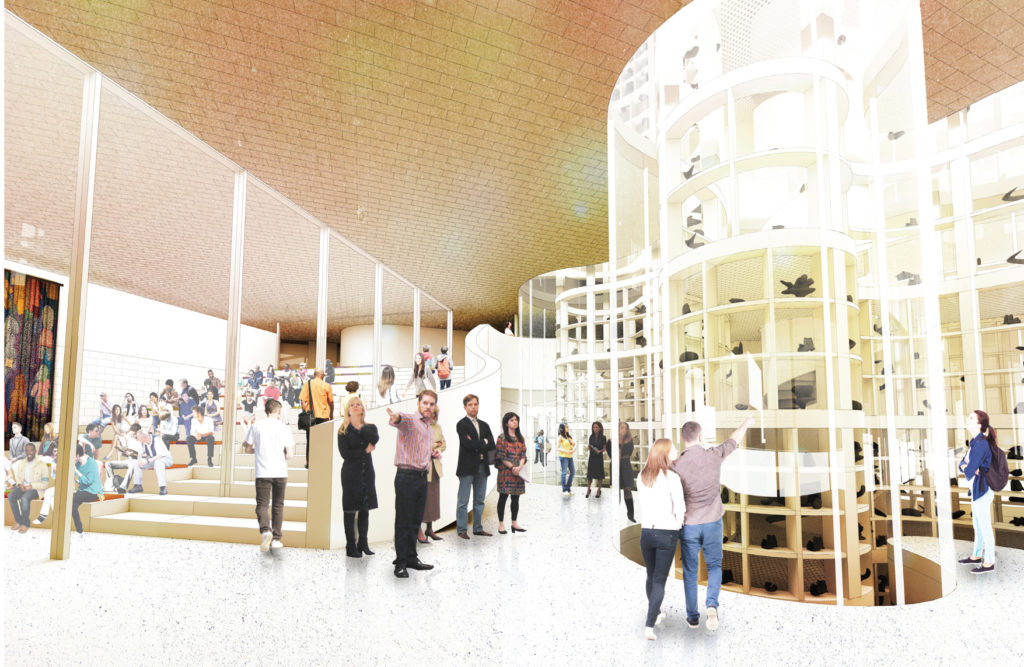 Winnipeg Art Gallery Inuit Art Centre lobby rendering. Image: Michael Maltzan Architecture. Courtesy the WAG.
INUA
Winnipeg Art Gallery
Late fall 2020
The inaugural exhibition of the new Inuit Art Centre at the Winnipeg Art Gallery will feature some 50 artists selected by a powerhouse team: lead curator Heather Igloliorte with curators and artists asinnajaq, Kablusiak and Krista Ulujuk Zawadski. About half of the works are expected to be special commissions and the show will include works from all four regions of Inuit Nunangat—as well as the wider circumpolar zone. The new building promises to impress too: at 40,000 square feet and designed by Michael Maltzan of Los Angeles, the centre will have a three-storey-high glass vault just inside its entrance, filled with Inuit carvings. —Leah Sandals, content editor
Have an upcoming show you'd like to share with Canadian Art readers? Submit to Agenda, our free online art-event listings page. All submissions are reviewed and posted, and eligible for selection as Agenda Editors' Picks.