I am trying to figure out how to tell you about Lisa Smolkin's work if you're not familiar with it yet. One problem is that I have about 4,000 things to say and I don't know how to not say them all at the same time. She makes the kind of work where, when I watch it, I feel like a human being. I'm not sure how to describe that aside from saying it's quietly exhilarating, often funny and occasionally painful. The other problem is that a lot of her work is best experienced live, in a room with other people who are also laughing and reacting and, at times, participating, and I'm reluctant to wonder too much about when that might be possible again.
Since the COVID-19 lockdowns started, I haven't been able to do a lot. I stopped working on any artistic projects, I work only partial hours at my day job and I bought two really good books that I can't handle reading at all. At some point in March I googled "nice TV shows where nothing bad ever happens," only to discover disappointing results. Some of my favourite artists and playwrights have made their work available online for the first time, but I can't focus on any of it for more than three minutes at a time.
I received a few inquiries asking if I would write about how I'm coping as an artist right now, but I had to explain that my contribution would be worthless. I'm coping by doing nothing. I don't want to do anything. I drink coffee, I read the news, I cry, I drink wine, I go to bed—and then I do it again.
Eventually it occurred to me that one thing I still really wanted to do was spend time with Lisa's work. I watched and rewatched videos I've seen before. I realized the reason I already had Zoom installed on my computer was because she had done a webinar performance last November at a time when the app was a novel and exciting medium for liveness instead of the inadequate substitute for social interaction it has now become. I thought about her most recent performance, Say "Hi" (commissioned by C Magazine and performed in February at the Banff Centre for the camera and a live audience). It included a sequence where she performed a "2020 well-check," an imitation of an annual checkup with a physician, by spilling a dark blue liquid on the floor—DNA, as she explained—declaring that the results looked good.
I wondered what our collective DNA would reveal if we had an updated 2020 well-check now.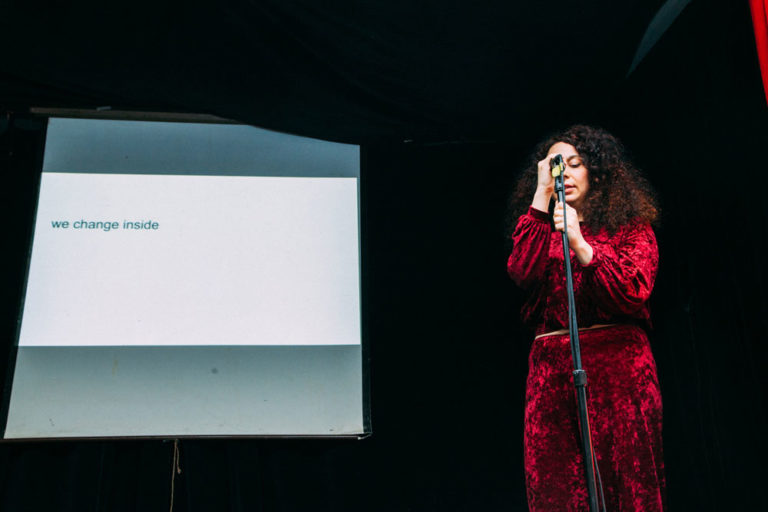 Lisa Smolkin,
Cutting Edge Wardrobe
, 2014. An interactive performance at Doored 18, Double Double Land, Toronto. Photo: Yuula Benivolski.
Lisa Smolkin has made occasional performances since around 1997, initially in places like a record store, her bedroom and other areas of her home. She used to make a lot of drawings and watercolour paintings. She spent one year doing professional modern dance training, but it didn't quite work out; then she went to art therapy school. She continued making work in her spare time, including a prize-winning science-fair-poster-board project called What Kind of Person Am I? (2010), which combined medical charts, a selection of snacks she likes, photos and TV-watching time for her and others, and which she presented at an art-and-science fair in Toronto. I first saw her perform in 2013, when we were both participating in the third edition of Doored, a Toronto-based performance-art show created, organized and hosted by the artist duo Life of a Craphead. Lisa became a regular performer there, appearing in at least 17 shows, which were most often held at Double Double Land, a DIY performance venue in Kensington Market that no longer exists.
Doored was a hub for a particular branch of performance art that encompassed comedy, movement, feelings, video, monologues, experimentation, poetry, pop culture, music and more. The performances were not "durational": each was less than 10 minutes long. Artists would cram together in a tight space backstage, help each other move props and operate slideshow and video cues for one another. Tech rehearsals usually had to be coordinated around at least 12 different people's day jobs. Life of a Craphead spent countless volunteer hours and didn't quite break even after organizing 30 editions over five years, but they created essential support for a community of artists whose work was otherwise unlikely to have found an audience—or a performance fee.
Their model of showing up for each other to collectively make work happen carries through to Lisa's videos, where Doored artists including Jon McCurley, Amy Lam, Nikki Woolsey, Victoria Cheong, Charlie Murray, Paul Tjepkema and me appear as supporting performers. And in these videos, Lisa combines the text and performance sensibilities that make her live work so engaging with the endlessly adaptable virtual aesthetics that the medium allows.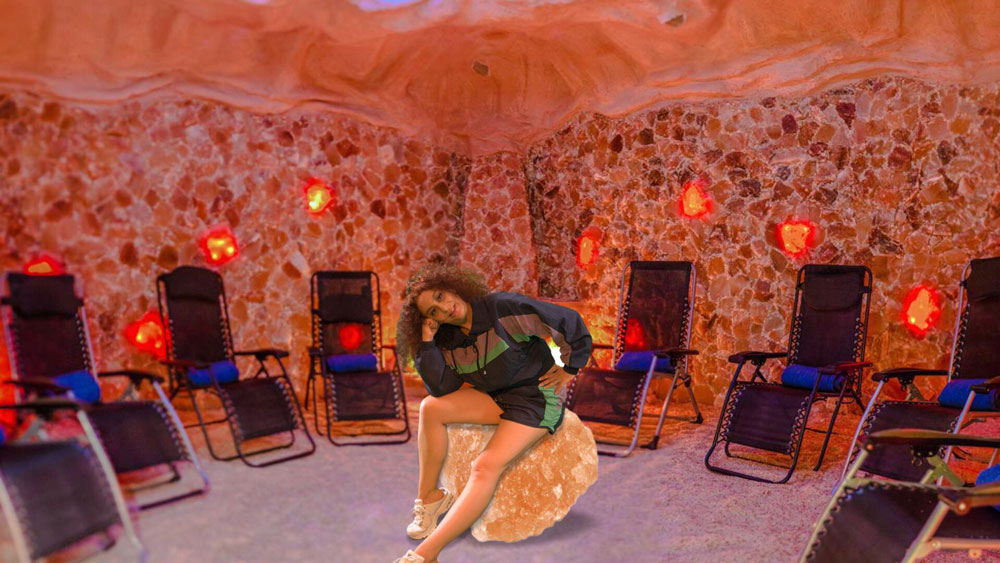 Lisa Smolkin,
Is There Room for the Meek?
, 2018. Video screenshot of Smolkin in a salt cave, a place of relaxation.
In one memorable moment in the video Life's lil Bitch (2019), Lisa's digital avatar walks out in front of a large image of the word HELL, which is engulfed in computer-animated flames. In a matter-of-fact tone, she says, "So this is the actual worst place, and this is Hell, and this is where we find ourselves sometimes, and it feels very difficult to get out of this space. This is a place where it's not possible to connect with anyone. It's not possible to have fun. There is no possibility for pleasure."
Are we in HELL now? In watching this and other work she has made over the past few months, it might be tempting to describe Lisa's recent articulations of anguish as "eerily prescient" given what we're currently experiencing. But the fact is, she has always been carefully attuned to the underlying inequities foundational to suffering that, as a result of the pandemic, have only lately become more perceptible to those who don't face them daily. She has always offered her audience different accounts of psychic pain resulting from both the small scale, like personal social discomfort, and the large scale, like the pressures applied more broadly by capitalist structures. Much of the pleasure that comes from watching her work derives from how funny and poignant it can be when someone tries to express, manage or transcend this pain.
In some ways, what she does recalls Shana Moulton's videos and performances, which similarly reflect on psychic experiences of affliction and wellness with odd humour and sincerity. But where Moulton employs the persona of Cynthia, a kitschy alter ego who navigates aestheticized personal struggles, Lisa's work draws more overtly from autobiography, not only in content but in form. Her work is in conversation with that of artists like Moulton or Miranda July, who have similarly made performances about people trying to connect with one another. Still, there is something so distinctly and satisfyingly funny about the choices Lisa makes.
"I don't want anyone dying of embarrassment for me. There needs to be an aspect of control."
When I ask Lisa about how she developed her performance practice, she explains that part of it came from her time in art therapy school: "I learned about attachment theory and explored art modalities to assist with suffering. We had to present work in a performance style sometimes, and I really loved doing it. I forget what the assignment was, but I created these stations of my clothing, my personal correspondence, foods I liked, and I had my class walk around to witness all of them." This same style continues to frame many of her performances.
The art and expression components of the experience ultimately won out over the holding of others' pain ("although I hope my art has an aspect of that in it as well," Lisa says), and the lessons she learned helped guide her to maintain control in what she makes. Although her delivery comes across as unassuming or casual, her performances are carefully rehearsed and designed to flow easily to avoid technical hiccups or interruptions of what feels like a gentle, easy pace. From personal experience, this is something that takes a lot more collaboration and work than meets the eye.
Lisa knows exactly what she's doing. "The saving grace for vulnerable content is slick production," she told me. "When the form breaks down, the pain seeps out. I think it helps keep everyone safe, including the audience. I don't want anyone dying of embarrassment for me. There needs to be an aspect of control."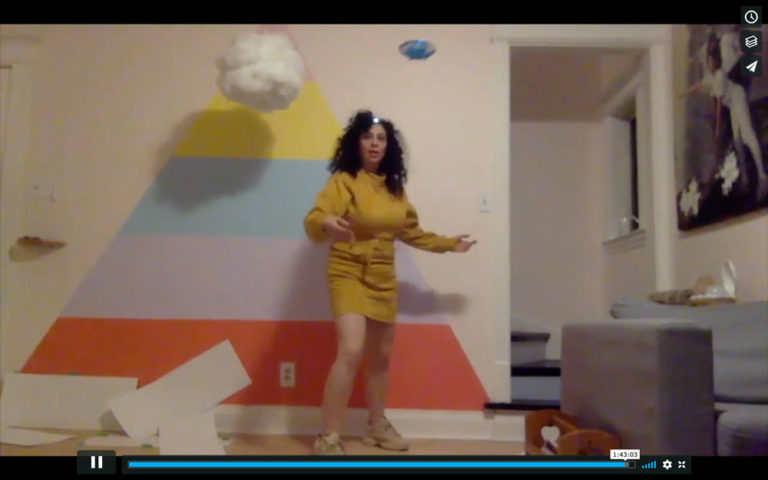 Lisa Smolkin,
Webinar Ooooof
(video still), 2019. Webinar.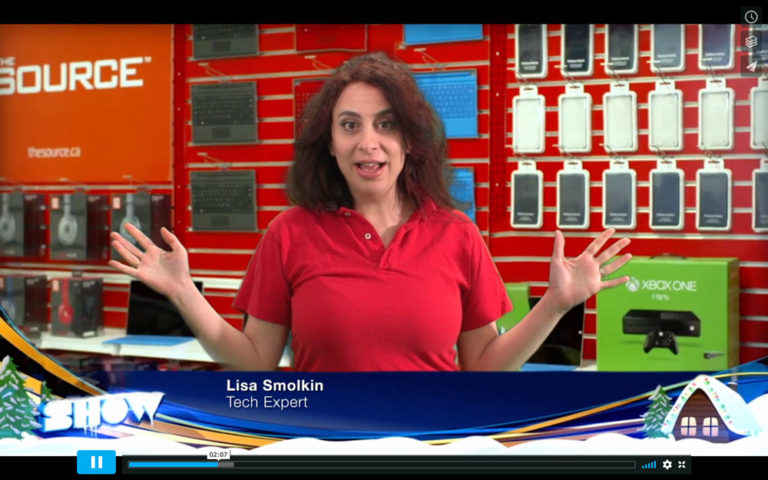 Lisa Smolkin,
Beyond Reproach
(video still), 2018.
In performances and videos, Lisa makes use of a wide range of materials. They include found objects, things she has specifically sourced, handmade items, handwritten posters and products from her retail job, as well as filmed, found and computer-animated videos. Some of these items have cameo roles that last only 30 seconds, or however long it takes for the joke to land. That might make it sound like she's just tossing out throwaway prop comedy lines, but her most effective bits transcend the superficial effects of one-liners.
In Say "Hi" at the Banff Centre, there was a plinth on one side of the performance space with a set of portable, eco-friendly dishware in Millennial pink on top of it. On the front of the plinth was a computer printout of the logo from Gwyneth Paltrow's aspirational and hyper-capitalist wellness documentary series, The Goop Lab, with the word "EXTREME" superimposed, as if stamped on in red ink. Lisa only addressed it in the final two or three minutes of the performance, telling us in one sentence that she could not personally afford the price of this eco-friendly dishware but that she bought it anyway. And that's it—that is the sum total of "The Goop Lab: Extreme." And—how do I explain this—it really, succinctly is.
This moment arrives after Lisa has already taken us through a series of actions with other materials. Drawing from her history with therapeutic modalities, she tours us through a sculptural installation that includes a lifelike baby doll she ordered online and a sad-looking, handmade soft sculpture of a child, describing different stages of childhood development and the ramifications of distress on personal growth. She points to how class disparities have underlined interpersonal conflicts in her life, but uses the experience as an effective tool with which to structure a joke, as she reads out handwritten text describing a real-life incident: "Just because my sister and I are into punk rock and our mom is socially phobic and we live on an island and we don't have as much money as you, you still need to clap for us when the out-of-town guests are introduced at this wedding."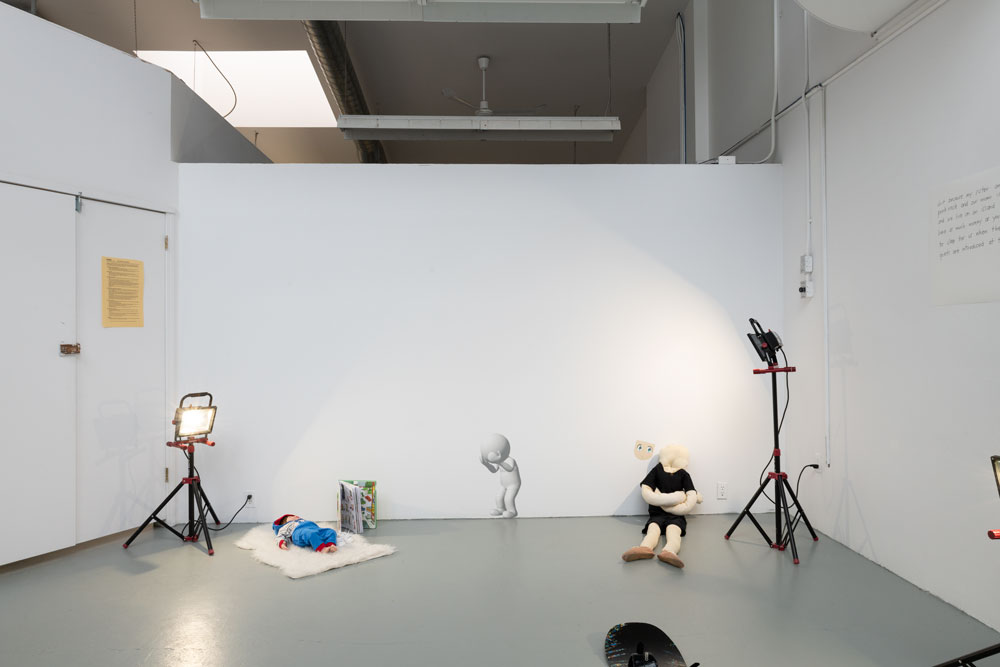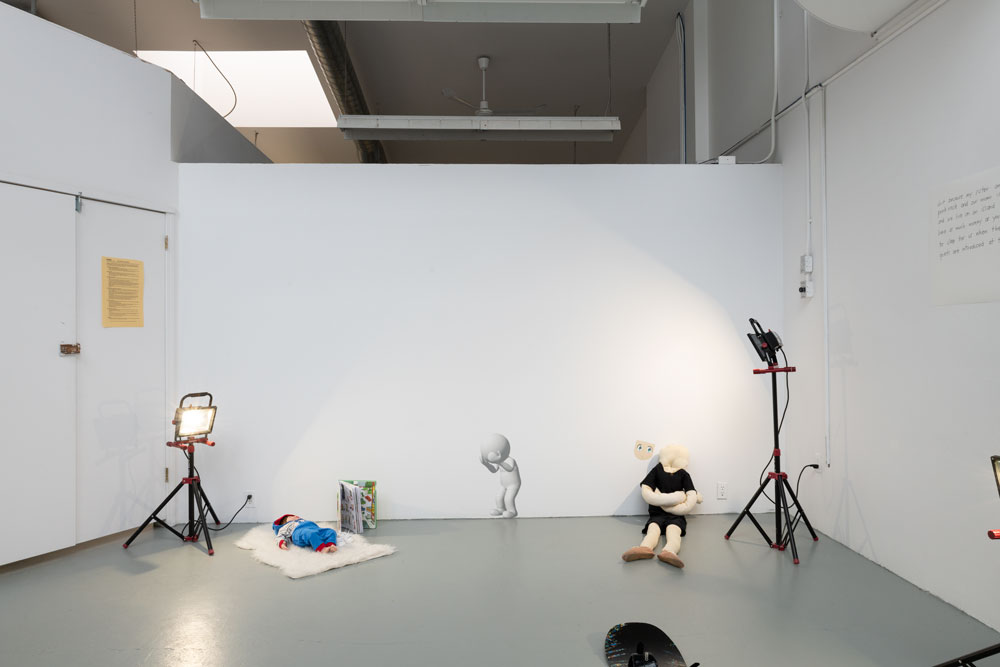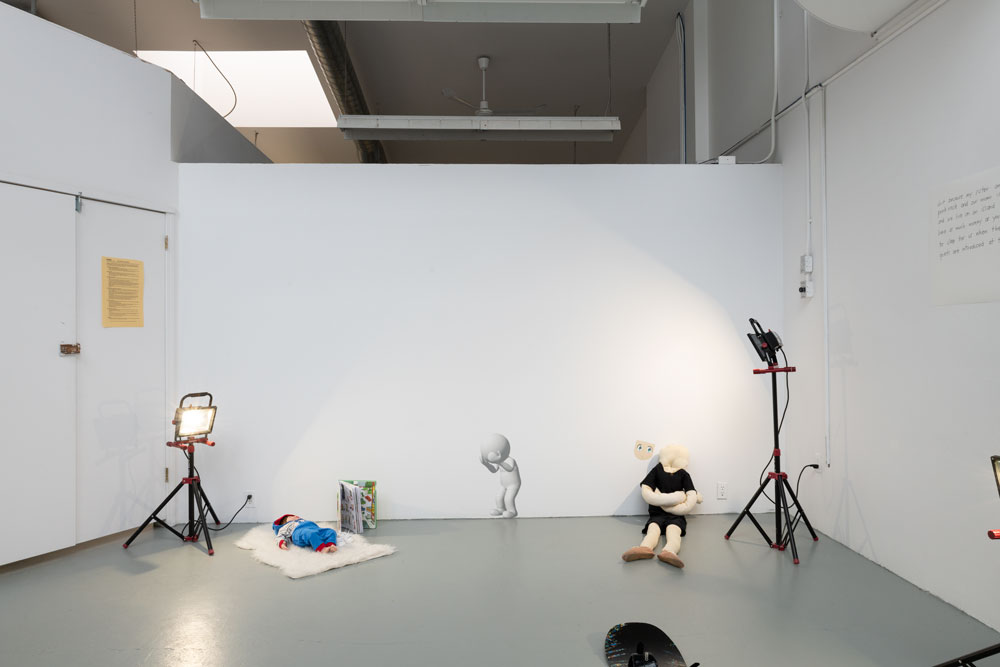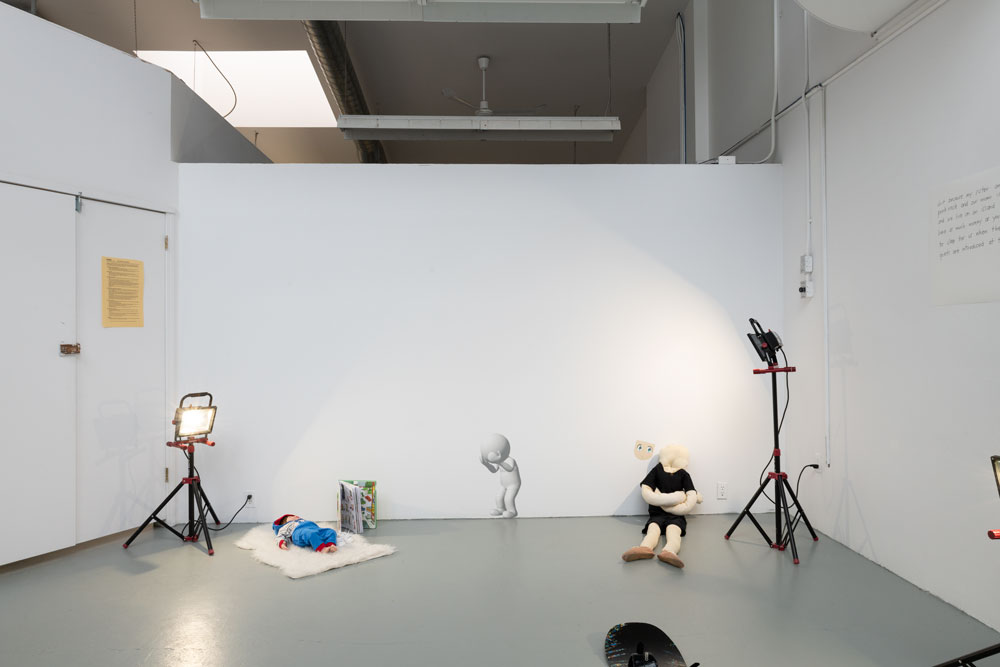 The reason it was so funny when she did this was a result of the tension she created between something loaded, like the inequities perpetuated by economic position and mental health, and the comparatively unassuming demand for justice (just clap for us like everyone else). The same kind of tension existed in her a handwritten poster on the wall, Lisa's "Alpha/Beta" list, which outlined qualities that define leading an "alpha" life ("remembers song lyrics") versus a "beta" one ("unsavoury shifts at work"). She brought these mundane, relatable points into relation with pointed, broad critiques: as the poster tells us, there is perhaps nothing more "alpha" than someone who "doesn't lose power or status even after being revealed to be racist, classist, sexist, ableist, [or] heterosexist."
Lisa's artistic persona doesn't occupy the macho alpha life. But neither does she embody the beta life, marked by not being able to stand up for oneself and suffering in silence. In her articulation of these states and experiences of hardship, she instead shows us the resilience of a person engaging with the world without the benefits of power or capital and, with a flex of genius, manages to find comedy in that struggle.
Near the end of Life's lil Bitch, we see Lisa sitting in a digital composite of the first-class cabin on an empty Virgin Atlantic flight. A computer-generated voice with a British accent comes over the loudspeaker, claiming to be Richard Branson, the billionaire airline owner.
"There is a lack of mercy within capitalism, but hold yourself in your inner world," he says. "Put aside the feelings about your interpersonal rejections, poverty, evil, and perceived failures, and allow your body to relax."
The real Branson made the news in April when he requested a £500-million loan to bail out his airline after having avoided paying taxes for the past 14 years, a request that has so far been refused. Maybe the results of his 2020 well-check are not looking so good. Or maybe the mercilessness of capitalism has finally ushered in his turn as life's lil bitch.