"When do I stop emerging? I've lost track," wrote artist Kuh del Rosario on her Facebook page in 2013. I had just curated del Rosario's work into a group exhibition of Vancouver artists who all somehow slipped into the "emerging" category, but I didn't have an answer for her. I might have turned to written guides, such as CARFAC BC's artist manual; or looked to the stipulations for grants from the likes of the Canada Council for the Arts; or turned to the criteria for prizes like the RBC Canadian Painting Competition. But none of these resources would have offered a consensus. Each branch of the art world—the market, public galleries and funding institutions—have varying benchmarks to qualify as "emerging" and, finally, to emerge.
It hasn't always been like this. "The term 'emerging artist' is an artifact of the relatively recent professionalization of visual arts production, the boom in the market for contemporary art, and the Malthusian output of graduates from the expansion of tertiary education in many countries since the 1960s," writes art historian Terry Smith. "It highlights the first step in the career of an individual artist, rather than the participant in a collective or a movement, or a member of a generation." Theoretically, the language of "emerging" or "mid-career" allows institutions, arts professionals and peers to review and quantify an artist's practice. In reality, these delineations are disputable.
Judy Chartrand, a Manitoba Cree artist raised in Vancouver's Downtown Eastside, has been a practicing artist for 30 years, holds an MFA from the University of Regina and recently saw commercial success with solo exhibitions at Macaulay & Co. Fine Art and inclusion in group exhibitions at the Rennie Museum. Despite these decades of work, though, Chartrand might not be classified as "mid-career"—proof that not all artists experience "emerging" equally. "I've always been making work," Chartrand says, "but a lot of the works that I do end up going straight to Bob Rennie. It's good in a way, but it also doesn't really get exhibited since it goes from my place to him." Even after being confirmed as a professional, collectible artist by one of Canada's most high-profile collectors, Chartrand continues to struggle with the barriers of visibility, making it difficult to definitively move beyond the emerging stage with an accomplishment such as an institutional solo exhibition.
The commercial art market has rapidly increased in overall value of late, and the emerging-artist market in particular has taken on even more desirability. The market is a risky one. A piece by the young American artist Adam Pendleton sold in 2013 at Art Basel Miami Beach for $45,000 USD, while another similarly sized work of Pendleton's sold at a Christie's auction in 2017 for $225,000 USD. These spikes are volatile. After years of speculative investment driving up prices, a 2016 Bloomberg report announced sweeping losses for emerging artists with the alarmist headline: "That $100,000 Painting Bought to Flip Is Now Worth About $20,000." Market changes spur on behavioural ones too. Writing for ARTnews that same year, curator Daniel S. Palmer describes how the commodification of art and the influence of wealthy investors have given rise to a new type of emerging artist: one who is pressured to seek short-term commercial success, at the expense of career longevity, by cashing in on the latest artistic trends.
"I think an artist can spend their entire career emerging if they're not making work that is fitting within the trend of what people are recognizing as important art right now," says Derek Dunlop, who holds an MFA from the University of British Columbia and is currently a PhD student in art history at the University of Toronto. His work could be, shallowly, categorized as "Zombie Formalism" (a trend associated with the fashionable resurgence of midcentury abstraction), but this would be a misreading of Dunlop's work, which is deeply conceptual, rooted in art-historical reference points, queer theory and consistent symbology. "I think in a lot of ways I'm still emerging in comparison to a lot of my peers, but at the same time I have an extremely developed practice," Dunlop explains. "I definitely feel like my work isn't emerging; I feel really confident about it and I've worked really hard to get my work to the level that it's at."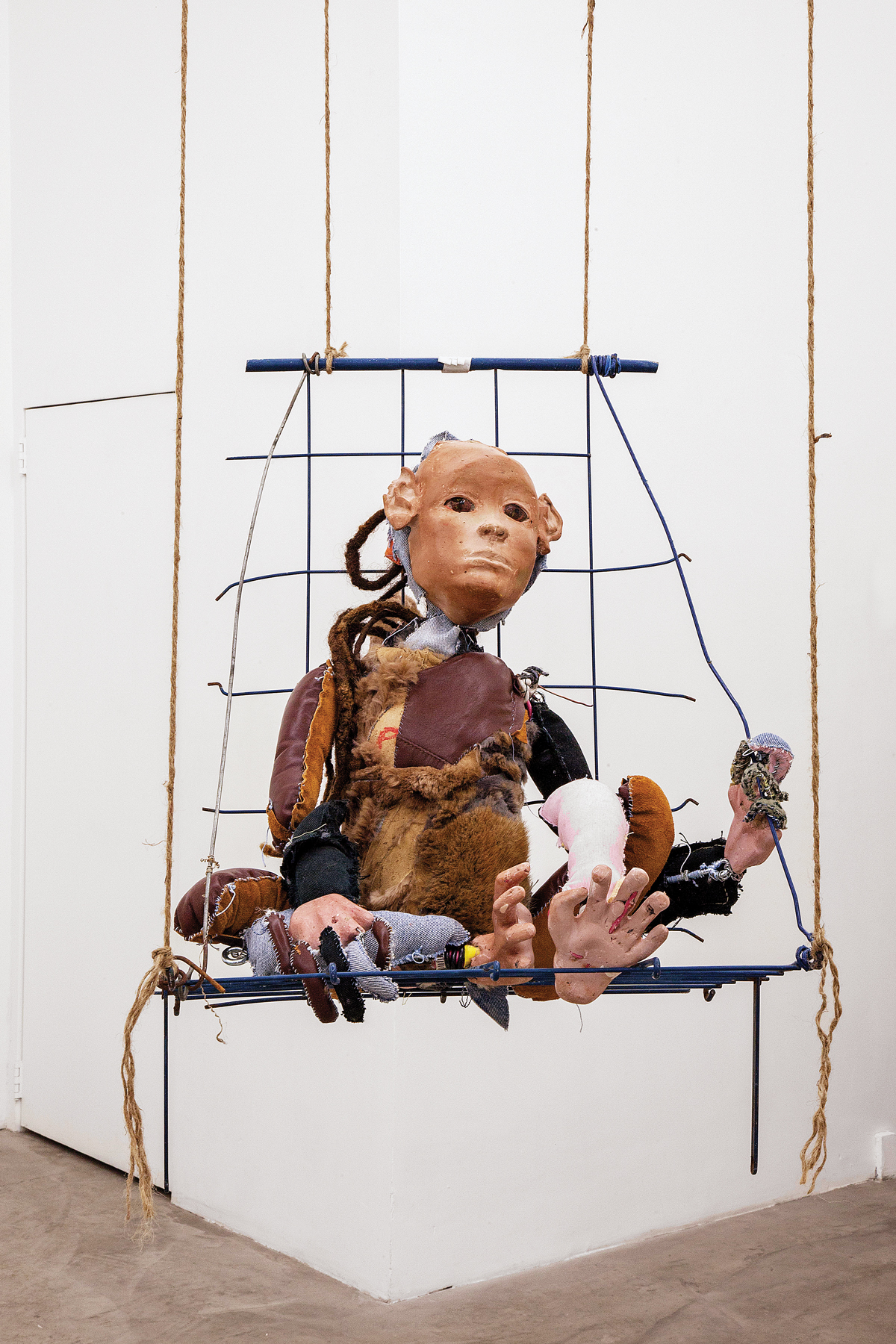 Tau Lewis, something joyful, 2017. Plaster, wire, fur, leather, fabric, pillow stuffing, stones, human hair, acrylic paint, shopping basket and jute, 1.7 m x 81.2 cm x 50.8 cm. Courtesy the artist/Cooper Cole.
Ballooning markets and the need for visibility are intertwined in the newest frontier for the emerging artist: social media. "More and more… collectors don't care about validation, or a proven track record," writes artist Brad Phillips in a 2016 article for VICE. "They care about names that they hear repeated at cocktail parties and art fairs. In this way, having a prominent presence online contributes to your name being circulated, cutting out the need (a false one anyway) to be vouched for by a gallery. Most collectors buy what other people buy, and what other people buy is what is happening right now." A number of artists—including Canadians Chloe Wise and Petra Collins—have achieved international art market success by putting their art, and their lives, on Instagram.
Tau Lewis, a Jamaican-Canadian sculptor, is one of the young emerging artists utilizing the social platform. Lewis creates deeply personal pieces of work where intimacy and connection play pivotal roles that extend to her online persona displayed on her Instagram account. "I don't think of myself as someone who curates very heavily," Lewis says of her account. "My artwork and my life are very much entangled…a friend brought it up to me the other day, that maybe [Instagram] has helped people understand the relationship between me and my work," she reflects. The DIY aspects of the virtual space, for Lewis, extend to the physical realm: "I have always tried to think about where we place value in terms of where we want to show our art and what kinds of places and spaces we show in," says Lewis. Though Lewis is now represented by Toronto gallery Cooper Cole, she acknowledges the important role that homes and nontraditional settings played in her career. "I've had the privilege of experiencing my work in many different physical contexts, which has been really important for me; it's helped me understand my work better. I'm still deciding where my work fits in a commercial context."
After Toronto performance artist Bridget Moser was shortlisted for the Sobey Art Award in 2017, she wasn't quite sure where she fit. "Now I feel that I can't use the word 'emerging' anymore, but I don't know what that means," Moser says. "If the Sobey Art Award hadn't happened, I probably would categorize myself that way." The artist, whose CV also sports a long list of institutional exhibitions and gallery performances at venues such as the Art Gallery of Ontario, Mercer Union and the National Arts Centre, proves that the barriers for entry into mid-career or professional stages are not solely defined by credits, but also by peer and personal definitions.
In performances such as Asking for a Friend (2013), Moser confronts build-it-yourself furniture and asks questions like, "If I eventually achieve some sort of balance should I expect to feel better or more successful? Is 'successful' the same thing as 'better'?" "I have one performance where I kind of poke my head out of a toilet seat and talk about this idea of being called an emerging artist while emerging through the toilet," Moser laughs. "That joke lands really well in art audiences."
In the post-industrial cultural economy, passion and dedication are not guarantors of success, but rather basic, introductory qualifiers. "Economic precarity constantly reminds employees of their expendability and, therefore, the importance of their investing affect in their workplace," write Moira Weigel and Mal Ahern in the New Inquiry. "To gain even an unpaid internship, or barely paid entry-level position in journalism, publishing, museums, or higher education, dedication is a must. Many jobs that used to be meal tickets for starving artists are now considered covetable and require 'love.'" The affective aspects of being an emerging artist are plain to see: the term is not so much a clearly defined career level as it is an all-consuming, potentially never-ending, individual identity. Artists, at all stages, have never stood so visibly—as brands, both online and offline—at the centre of their practices as they do today. The "emerging" label, at its crux, places a paternalistic eye over young artists, shepherding them towards institutional recognition, but with the caveat that their output must extend beyond simply producing artwork into most facets of their lives—and, even then, the outcome is a gamble.
Alison Sinkewicz is a writer based in Vancouver. Her work can be found in publications such as Dwell, VICE and NUVO.
This post is adapted from the feature article "Emerging" in the Spring 2018 issue of Canadian Art, which is themed on "Dirty Words."