When cleaning her room as a child, Mary was struck by the beauty of a red sweater draped over a chair. She left it there to admire later, only to find it put away upon her return. She carried that moment—both its wonder and disappointment—with her for the rest of her life.
It is difficult to find Mary's likeness in her art. Her face can be glimpsed in various windows and vases, but otherwise few, if any, direct self-portraits exist. Her art depicts charged moments, mapping points of reference that are fiercely her own. She has revealed herself through her daily life—in paintings of dinner, in cracked eggs, boxed oranges, a woman bathing, in jam jars glowing on a window ledge. In doing so, she shows us ourselves.
Mary found her imagery when she felt an "erotic charge"—a gut feeling that would tell her to save the moment. She would photograph it quickly, and resume what was at hand. Her slides would return months later and, with that, the distance of a critical eye and the clinical dissection of colour and form as she painted.
"I remember focusing on a painting so intently that I told the family at dinner, 'I have found the most beautiful colour; it exists between blue and red.'"
"'Mary, I believe that's what we call purple,' Christopher told me." She laughed, "He was absolutely right."
Mary's palette was distinct and joyous: "Titanium White, Cadmium Pale Yellow or Lemon Yellow, Cadmium Red Light, Cadmium Orange, Permanent Rose, Alizarin Crimson, Ultramarine Blue, and Permanent Deep Green. I sometimes use Mauve, but only lately. I never use black except in watercolour; it takes the dance out of the painting, the dance that colour gives you. Instead, I mix up three dark colours."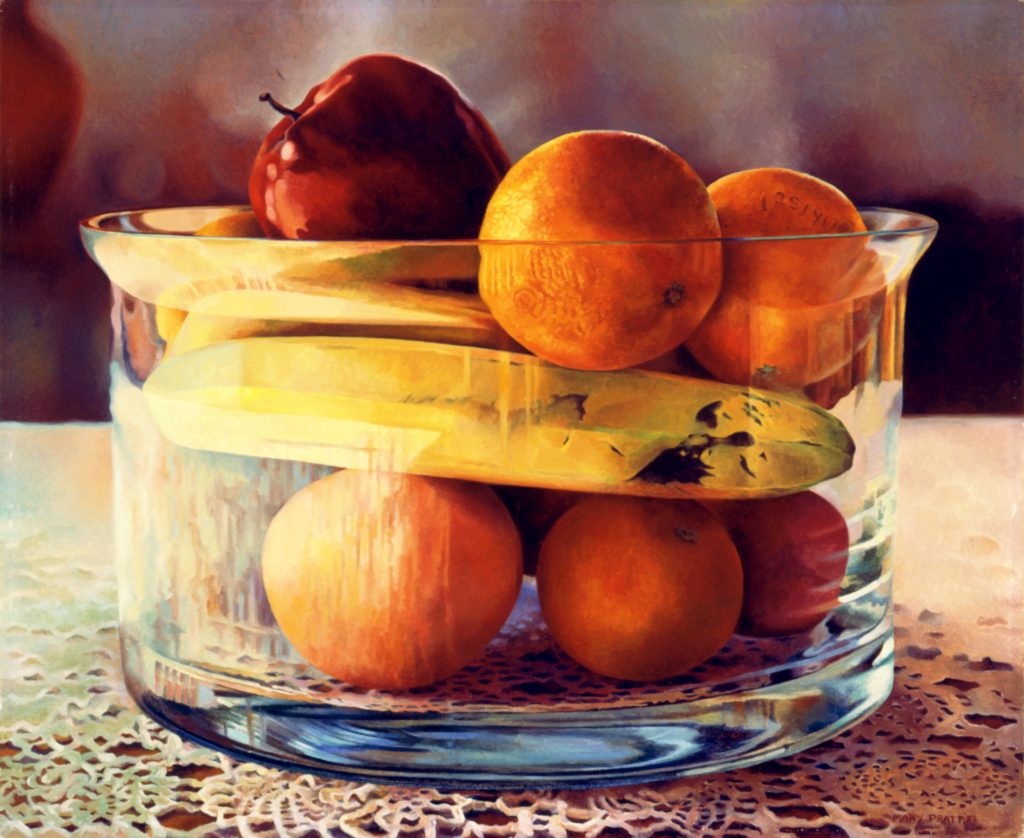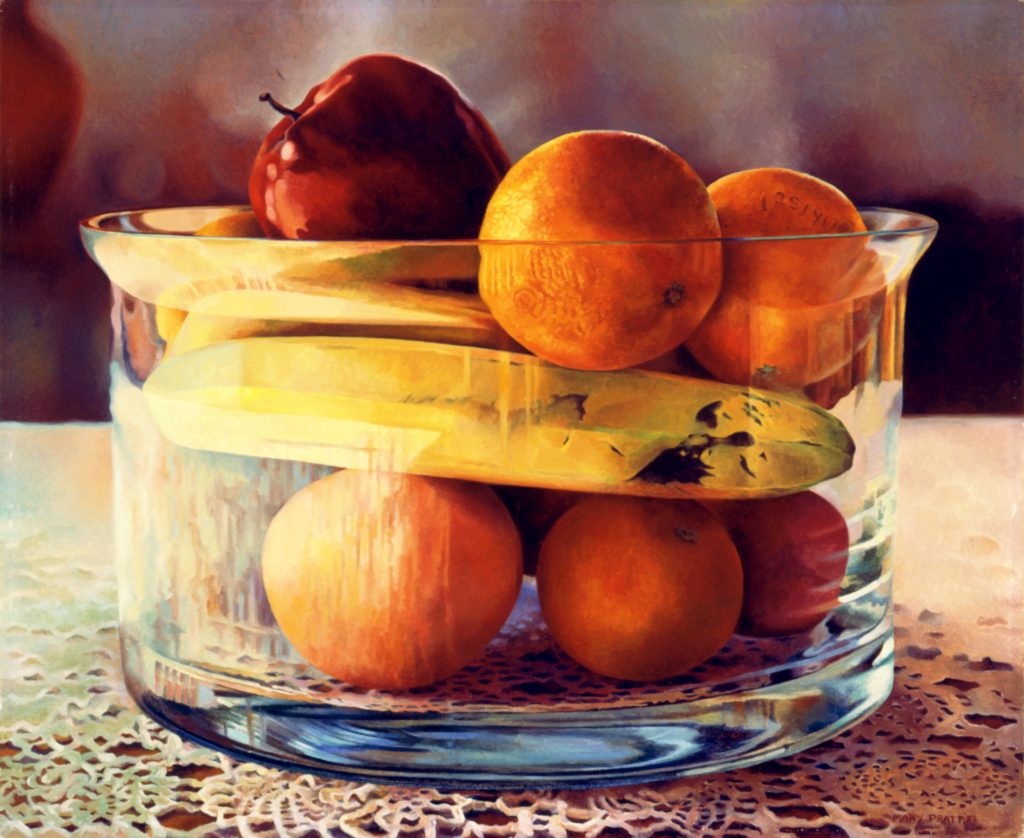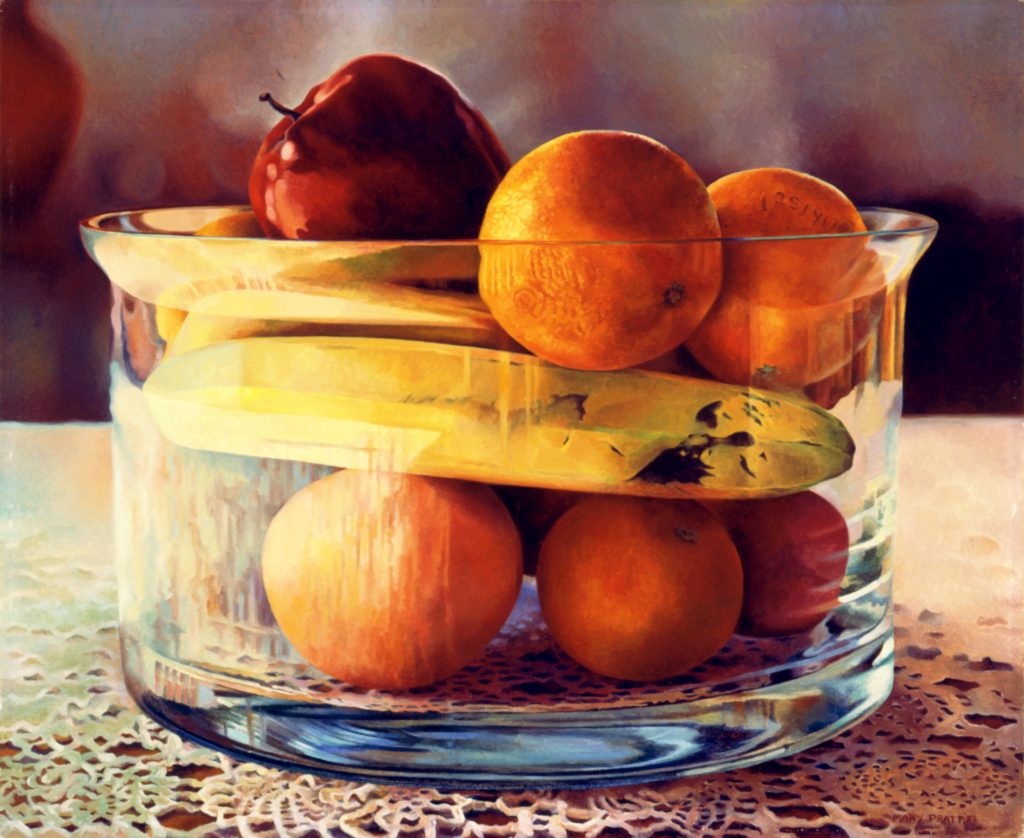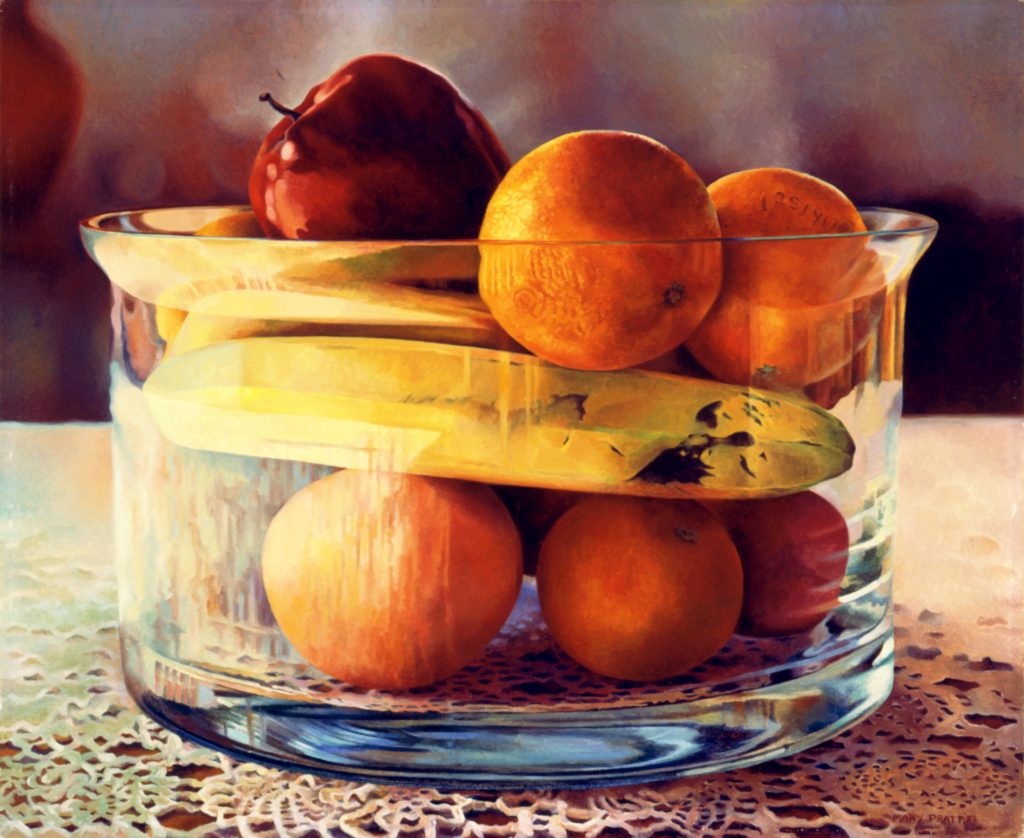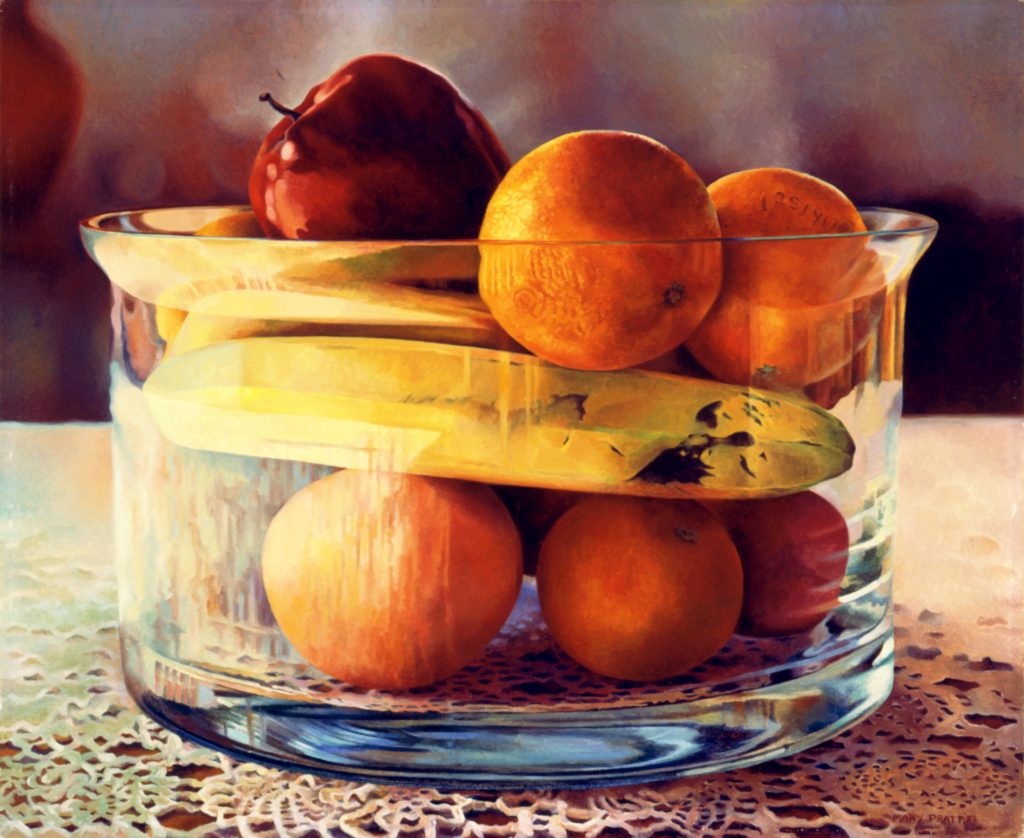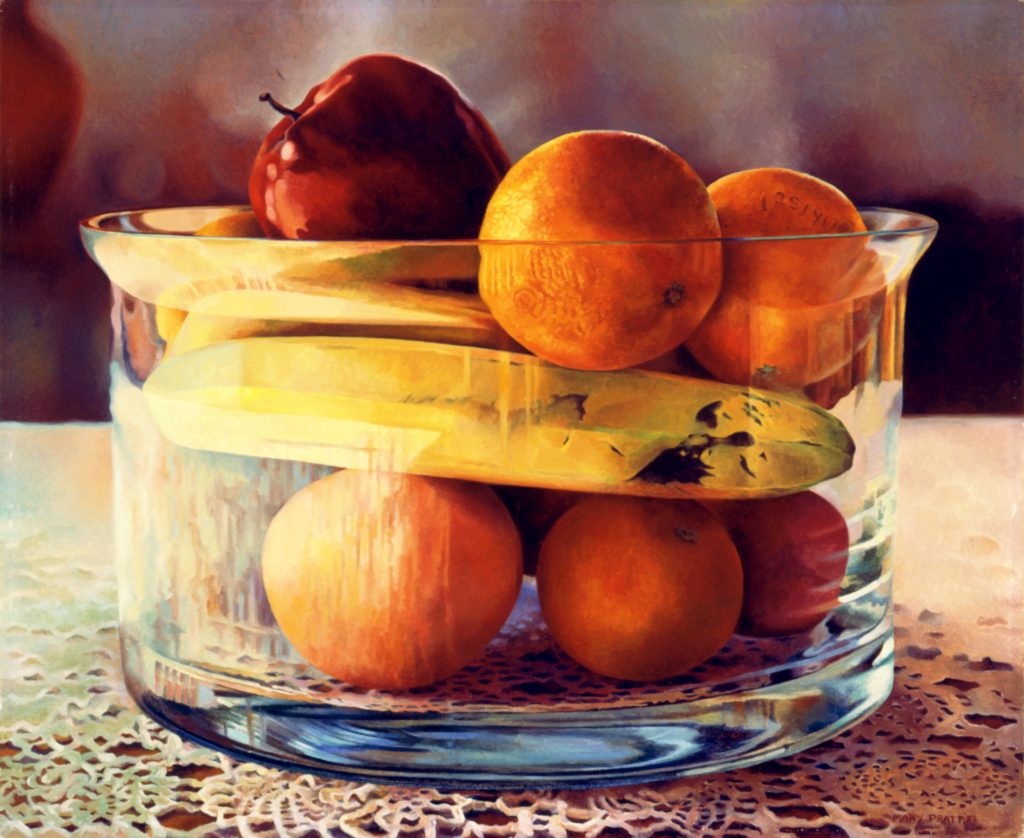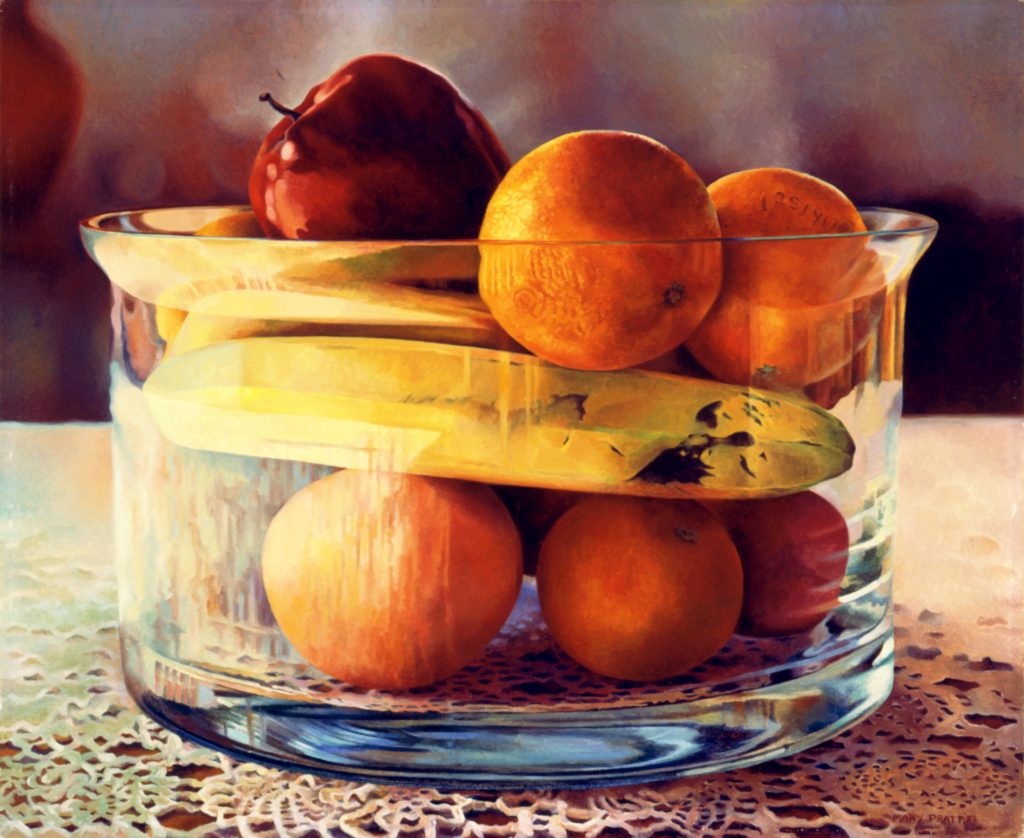 She had a way of gently yet precisely piercing the artery of any matter. She had a soft-spoken politic to her, a strategic stance that powerful, intelligent women must often adopt.
Purple and red were the constants outside the studio. I remember her purple dress swaying as she walked toward me in pain, greeting me during one of our many visits. I remember her shifting a red scarf while she spoke, her voice gravelly from the dust of pastels inhaled over the years.
Her body had failed her. She was born with what she described as "two unfortunate eyes"—near-sightedness that is reflected in the focal depth of her paintings. Rheumatoid arthritis distorted her hands, and she had difficulty walking from middle age onward. Her spine became twisted over the years, the result of constantly turning from slide projector to canvas as she created hundreds of works. "I am unable to paint now, unable to breathe," she told me once.
"But, I am enjoying living alone." She laughed. She had recently divorced her second husband when she told me this, and had discovered the pleasure of a house in which she could do as she liked: "I can put my favourite teapot on display—isn't that lovely? It was a gift. I can sit and watch the garden outside with its shifting colours. Kicking out a man is a fun thing to do."
Women are often positioned in relation to, and Mary was acutely aware of this. The identity that she felt laid upon her was often one of daughter, mother, wife. At Mount Allison University, her teacher Lawren Harris Jr. informed her that there could only be one artist in a marriage, and she was not it. When she travelled to Glasgow School of Art with her husband, Christopher Pratt, she was denied enrolment due to her pregnancy, whereas he was admitted. Later on, when she was told that Mount Allison University was emptying some of its vault and no longer wanted her graduate self-portrait, she accepted its return, and destroyed it. Her paintings of women over the years were poignant studies of the differences between when men look at women, and when women regard each other. In the latter, her women are comfortable, self-possessed.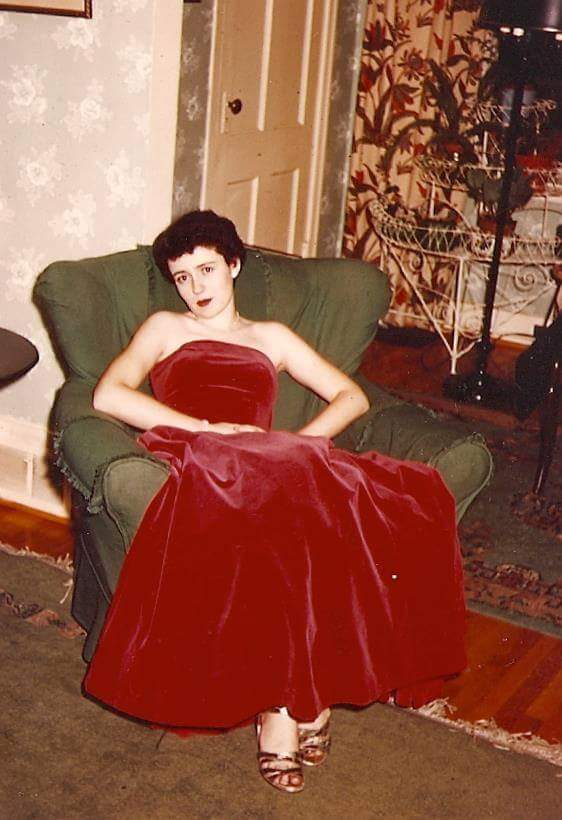 Unknown, Mary Pratt as a young woman, n.d. Courtesy Barbara Pratt.
There exists a photograph of Mary as a young woman, resting in a chair wearing a red velvet dress. She is somehow both at ease and tightly electric. This was Mary West, the daughter of Katherine Eleanor (McMurray) West and Bill West. She lived on the most well-regarded street in Fredericton, New Brunswick—Waterloo Row—in a house whose design was plucked by her mother from a magazine. She remembered being advised to put away glass jars she had filled with watercolour, so that guests would not think she was "peculiar." She remembered walking as a girl with her father, a prominent lawyer, into the lower levels of a downtown building, into what she described as "the world of men." "It was dark," she told me. "It was foreign. I could tell it was where power happened."
This is the Mary West who would fall in love with a man whose intelligence she admired. She and Christopher moved to Glasgow and then Newfoundland together. They raised four children together—John, Anne, Barbara and Ned. They suffered the loss of twins. After they divorced, she kept Christopher's last name attached to her artwork, worried the market would not recognize her otherwise. She married James Rosen, a prominent art historian, and travelled Europe with him. She loved looking at art. She loved good conversation. She loved good books. She loved sex—a confession that I remember shocked me, before I quickly eased into the reality that a woman's body can welcome pleasure long into its later years.
This is the Mary West who would garner nine honorary doctorates. She became a powerful advocate for the arts in Canada. In Newfoundland and Labrador, she was a significant figure and mentor who championed the creation of The Rooms, our provincial cultural institution. Her art was seen by hundreds of thousands of people in multiple national tours, solo shows and group exhibitions. She was written about in numerous publications, and became a published author in her own right. She was the first Atlantic woman to have a solo exhibition at the National Gallery of Canada. She was a Companion of the Order of Canada.
Any underestimation of Mary was quickly remedied. She had a way of gently yet precisely piercing the artery of any matter. She had a soft-spoken politic to her, a strategic stance that powerful, intelligent women must often adopt.
Neither Mary, nor her art, was simple—and yet, both were easy to love. Strangely, she would be genuinely mystified and delighted whenever affection was expressed. "Do people like me?" she asked me once, "Do people like my paintings?" I was surprised, as I could tell that she was sincerely worried. "Mary," I responded, "You need to get out more often!"
What I should have said was: "Mary, you are loved. You are loved by people you've never even met."
"What will happen to me?" she once responded when I asked her about her projected role in history (what an awful question). "Well, I suppose I'll just be shuffled off with people who painted."
It may be that future texts will position Mary as a footnote, placed alongside artists whose works are perceived to have more gravity. This would underestimate her impact. Good art transforms the walk home from the gallery; it fundamentally changes how one sees the world. Mary's art did just that. She drew our attention to the margins, to the enveloping space that exists between and around official texts. She showed us the sadness and beauty in the meals we make, the light through glass at a certain time of day, the blood of a fish on tinfoil, the washing of a baby. She showed us how to hold, to cherish, a moment before we must inevitably turn to resume the day.