We were gathered, packed tightly together, at La Centrale Galerie Powerhouse, a Montreal artist-run centre that is, and I believed it, "dedicated to the dissemination and development of multidisciplinary feminist artistic practices." I had never seen so many racialized women and people in one space, especially not at a Montreal art centre. I thought this centre was potentially a safe space for us. The performance I was about to experience would drastically change my perspective.
Most of us came for the opening of the exhibition "The Ethical Etherealness of Fuck and Love," but that night, in September, 2018, a large number of art-world outsiders were also present to support and witness an associated performance, Truth & Punishment, by Kama La Mackerel. There was growing interest surrounding this event. That morning on Instagram I had seen an open letter written by a group of Black artists, addressed to white feminists, in which they denounced the oppressive internal dynamics of La Centrale at the time. The letter closes with this: "We think especially of the only black worker at La Centrale Galerie Powerhouse, who must face this abusive environment each day, and we hope to help her access better working conditions as soon as possible." I brought my colleagues, my friends and my husband to the gallery for these specific reasons, and in solidarity.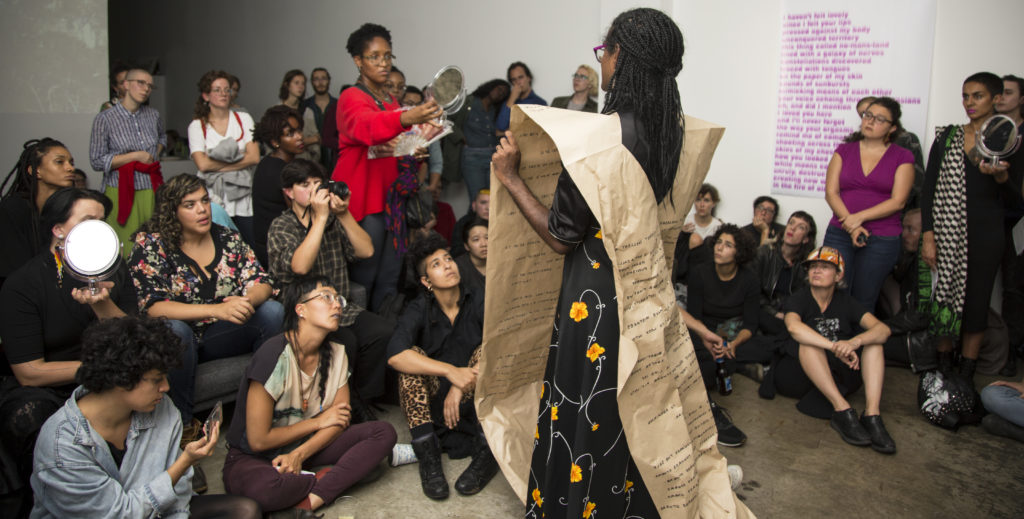 Kama La Mackerel,
Truth and Punishment
(Performance), 2018. Courtesy the artist. Photo: Val Bah.
"…the RCAAQ forum reinforced a broader issue at stake for contemporary art centres: the amount of labour that is continually asked of QTBIPOC cultural workers and artists in order to educate white people."
Kama's initial idea for the performance, first developed in the spring of 2018, was to produce a work that would examine relationships between trans women. With her partner Kai Cheng Thom, Kama wanted to address the next generation, since little is said about trans people in love, and few trans role models exist. Then, a few months later, in June of that year, Kama was invited by the RCAAQ (Regroupement des centres d'artistes autogérés du Québec) to give a short workshop on anti-oppression at the group's annual members' forum. We sensed significant tension throughout the day, as well as hostility toward the subject matter of the workshop. (I was included in the group of Black cultural workers invited to the workshop, which was held in Trois-Rivières, so I felt this hostility and tension first-hand.) Having collaborated with me during my time at the artist-run centre articule for four years, Kama candidly confided to me on the drive back to Montreal that she felt exhausted, and completely drained.
When I got back to my office the next day, I checked in on her and some of the other participants. Kama told me she had difficulty leaving her house; she did not anticipate the workshop would have made so much of an impact on her. It was to the point of preventing her from accomplishing simple tasks: getting orange juice, doing her usual professional activities or even resting properly. The RCAAQ forum had brought back memories of transphobic moments and events she had lived through during her time as a member at La Centrale, memories she had suppressed for her own survival, because the person responsible for transphobic actions against her was present. During the months that followed, Kama began questioning her place in the La Centrale exhibition, and in the physical space where it would take place.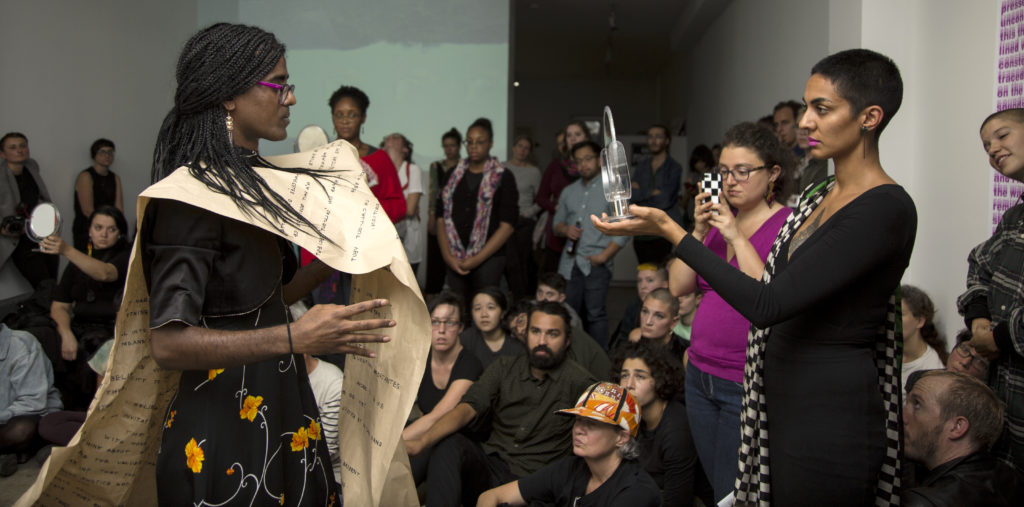 Kama La Mackerel,
Truth and Punishment
(Performance), 2018. Courtesy the artist. Photo: Val Bah.
For me, the RCAAQ forum reinforced a broader issue at stake for contemporary art centres: the amount of labour that is continually asked of cultural workers and artists who are queer, trans, Black, Indigenous, and people of colour (QTBIPOC) in order to educate white people. While white arts administrators and artists benefit from QTBIPOC grassroots knowledge at these types of forums, for Kama and other marginalized artists and cultural workers, the impact of participation is felt in their quality of life and mental health.
While writing this article, I met Kama at her sunny apartment in Montreal's Parc-Extension neighbourhood. Tea was served, both literally and figuratively: Kama told me that during the summer of 2018, she was subjected to a lot of violence and transphobia in the streets of Montreal, which is what brought her to explore the maddening state one can find themself in as a result of such experiences. A conversation with the administrative coordinator of La Centrale is what compelled Kama to use her upcoming performance to explore the notion of being silenced. Incorporating the poem "A Litany for Survival," by Audre Lorde, which addresses questions of belonging and silencing, Kama created, in the month leading up to the performance, a manifesto of life. It is a presentation of who she is and an ode to her values. Dressed in kraft paper, upon which the manifesto was written, Kama brought to light everything that had happened to her.
and when we speak we are afraid
our words will not be heard
nor welcomed
but when we are silent
we are still afraid
           So it is better to speak
remembering
we were never meant to survive.
Over time, I have observed that in feminist or queer activist groups or arts collectives, it is often the trans person who is thrown under the bus. Even in groups where the idea is to support and raise each other up, the trans individual is almost always left out or overlooked. Why is it that racialized people must work so much harder to obtain half the recognition that white people are afforded right away? Why do we lead trans people to believe they are "imbalanced"? And why, after everything they've been through and after all the work they've done, are they perpetually made to feel as though their truth is inadequate? In the performance, Kama repeats: "There is no P, it is a constant state of TSD," alluding to PTSD, or post-traumatic stress disorder. There is no "post," only trauma and stress. Kama provides us, her audience, with two options: that we allow her to live her truth as a trans woman, or that she be perpetually punished for said truth. This is the truth and punishment of her performance title.
According to the Canadian Mental Health Association, PTSD can be linked to continual emotional trauma. Over tea, Kama told me it "stemmed from physical violence in the street, psychological harassment in the workplace and the sexual harassment I experienced at La Centrale." Kama's PTSD did not occur only after these events, but was and is ongoing. It is still there, especially while she chooses to continue living her truth.
I was shocked to hear what Kama had gone through inside a centre that considers itself feminist. During her performance, Kama recounted the story: "In the middle of this gallery, I get sexually harassed…The boundaries of my body are violated. Nobody saw us? In a room filled with woke people, nobody saw this? Did you see it, but then ignored it? How many times before have you not seen it? How many times after have you not seen it? And all I have been asking for was to be protected. Because I deserve to be protected."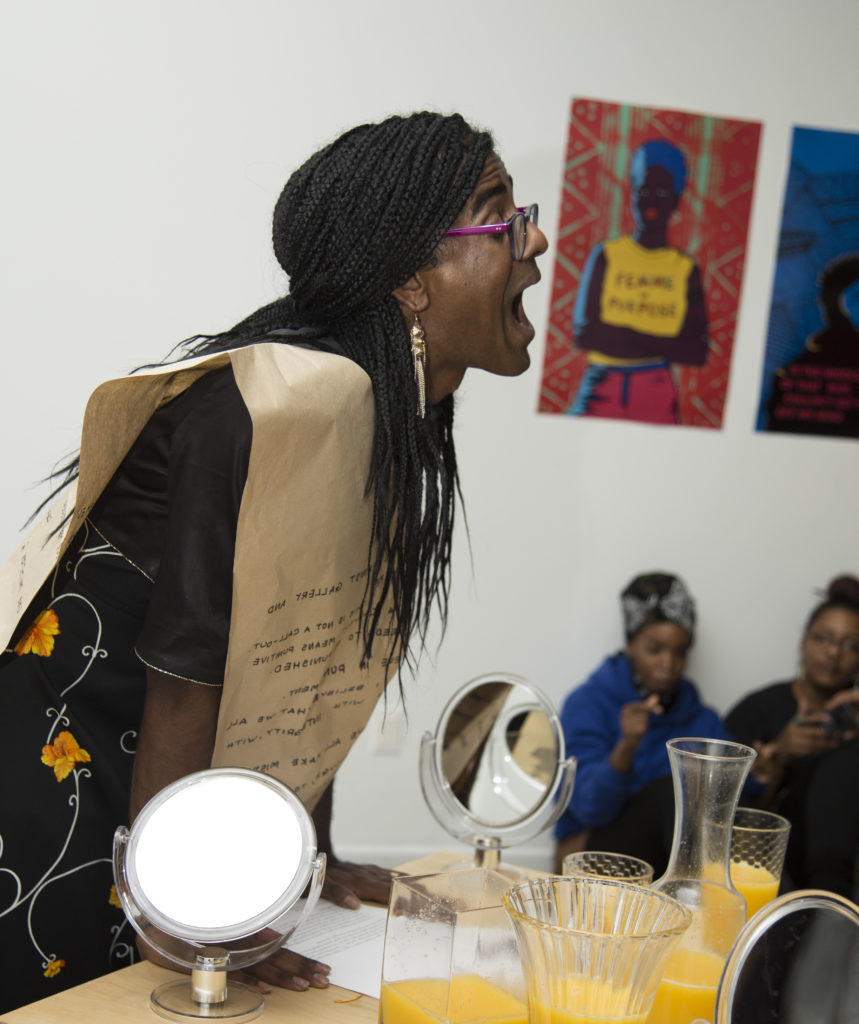 Kama La Mackerel,
Truth and Punishment
(Performance), 2018. Courtesy the artist. Photo: Val Bah.
I could not believe how casually it seemed to have happened. I believe a centre that considers itself feminist, that claims it is dedicated to multidisciplinary feminist artistic practices, should be a safe space for women and femmes, especially ones who are the most marginalized and vulnerable. This is not a political stance. The protection of the constituents of an organization, its members, artists, workers, should be a priority—it is also the law. We cannot consider ourselves feminist if our feminism does not include the equal rights, here to be protected, of marginalized people.
Truth & Punishment is a generous work of performance art where the artist gave of herself entirely. Kama discussed how she discovered her feminism during her time living in India, where, until very recently, Law 377 of the Indian Penal Code gave the maximum sentence to anyone who practiced what was defined as sexual acts "against the order of nature." She recounted being reduced to silence as a child, how she knew freedom only when she wore a dress for the first time. During its 50-minute duration, Kama placed herself in a vulnerable position by being physically present in a space where she had experienced real trauma—and not behind an anonymous letter but with her voice, her body, her words and her actions. This was not a call-out, it was a meeting, a rendezvous with the public to tell her story, her truth.
I believe we must act with intention
And not react with urgency.
At its core, Truth & Punishment compels us to question ourselves and asks us to examine the daily habits that might appear trivial to some but for Kama, are not so trivial. Its most touching moments were not always the saddest. The part that struck me the most was when, at various points throughout the performance, Kama poured out glasses of orange juice while speaking about how in the days and weeks following the RCAAQ forum, even leaving her house to get orange juice was an insurmountable challenge. For me, orange juice is not something I think about, except when I am planning brunch. For Kama, it became a question of survival. These perspectives, on the difficulties and pleasures of daily life, made me feel very close to her. Each reality is different but none is less valid than the other. Each one of us has our own truth upon which we act with intention, to which we are true and to which we are sincere. At the conclusion of her performance, Kama reaffirmed that Truth & Punishment did not set out to punish anyone's truth; it was more so an invitation to engage. When the public hears someone open up with such vulnerability, as Kama did, it becomes easier to engage in life, as our own values and truth would dictate.
Following the open letter and performance, La Centrale made a public response with an immediate plan of action, involving an equity audit and other short-term actions and long-term strategies. You can read more about their response here.