Pamila Matharu's work with Sister Co-Resister, a feminist art collective whose membership rotates with various projects, brings visibility to women and non-binary artists through collaborative work. Theirs is a project that explores resistance to dominant cultures—cultures that an art market often reinforces—through photography, collage, collected objects and texts that nearly always recognize intergenerational legacies. For "the heart is the origin of your worldview," presented by Cooper Cole (Booth S6), Matharu's collages respond to photography by senior artist Sarindar Dhaliwal and painting by emerging artist Russna Kaur, creating connections between the three Panjabi-Sikh Canadian artists. Projects grounded in social justice seldom make it to a commercial art fair, but given how well-received Matharu's earlier iteration of this project was, its presence suggests a shift away from the traditions of the market and toward a more inclusive art fair.  —Jayne Wilkinson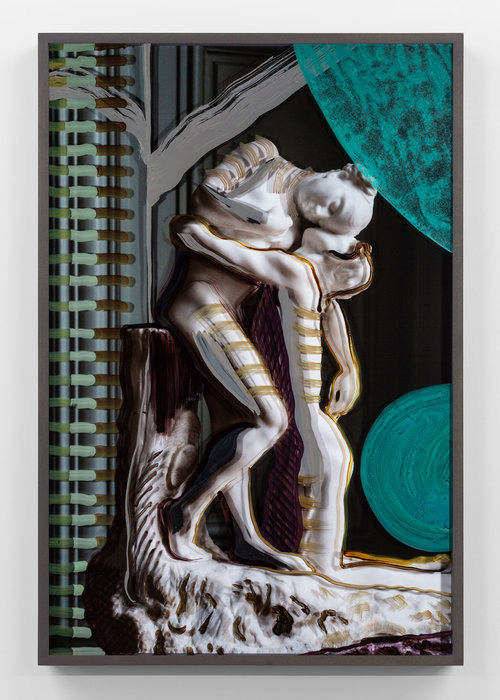 Adad Hannah,
Untitled (Virtumnus and Pomona striped)
, 2019. Hand-painted museum acrylic over archival pigment print, 91.5 x 61 cm.
Pierre-François Ouellette art contemporain's booth is always a must-see at the fair for me. He often features witty and unexpected, yet deeply felt, works. Mark Clintberg's work at the fair in recent years—from his huge, lit-up sign reading "Not Over You" in 2017 to his 2018 edition of small, gold-plated whistles—always manages to ping sexuality and emotionality in wry fashion. He's showing new textiles this year. Ed Pien, another artist I've long admired for his facility with material and narrative, will have a new large drawing. Add to this fresh works by Adad Hannah and Glenda Leon and it all equals another booth (Booth C3) to make a beeline for in 2019. —Leah Sandals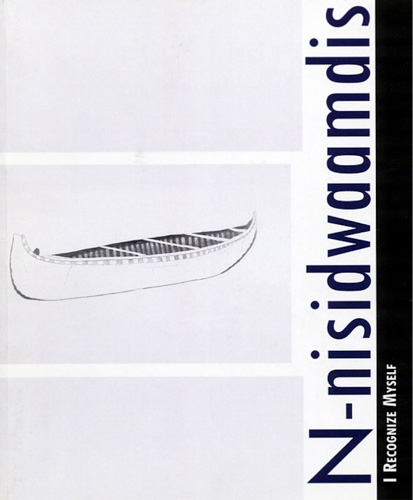 "N'nisidwaamdis: 'I Recognize Myself'" catalogue cover, 2010. Ojibwe Cultural Foundation, M'Chigeeng, Manitoulin Island, Ontario. Curated by Crystal Migwans.
Art Toronto's PLATFORM Speaker Series brings influential art world figures together to animate progressive discussion. In a post-reconciliation era wherein repatriation is still a contentious issue within museum collections—and one focused largely on "grave goods, sacred objects, and ancestor-beings," to quote Crystal Migwans—Migwans's PLATFORM talk, "Care, Containment, and the Possibility of Life in Collections of Contemporary Indigenous Art," offers Anishinaabe ontologies of care as an alternative approach to relating with contemporary Indigenous collections. Topics of discussion are topical to the fields of museology, collections and curating, including collective ownership, animacy and kinship with objects. Migwans is well respected in the field of Indigenous art, having been a cultural assistant at the Ojibwe Cultural Foundation in M'Chigeeng and already published alongside well-respected community members, such as Sherry Farrell Racette (she also has a Columbia PhD underway, though Migwans is careful to position herself in service of Indigenous community first and foremost), so her talk will surely be generative.  —Lindsay Nixon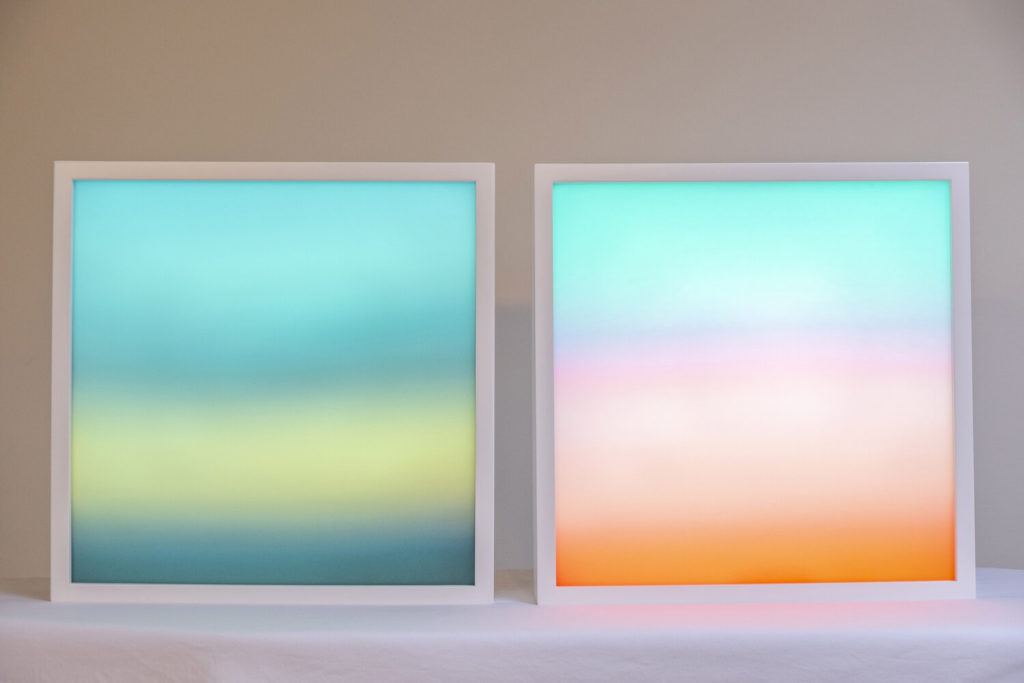 Annie Briard,
Horizon RGB
, 2019. Fujitrans film, full spectrum colour-changing lightbox.
The Mónica Reyes Gallery (Booth C52) is presenting a strong roster of work by artists Jason McLean, Amber Frid-Jimenez, Kathy Slade, Annie Briard, Javiera da Fonseca and Jayce Salloum, among others. Salloum's work is made of torn photographic images that form tall installations of stacked pieces that call to mind the physicality of images and which obscure the origin or context of the original material. Briard's Horizon RGB is a Rothko-esque ink-jet landscape set in a colour-changing light box that presents ways in which our experience of light affects our perception of the environment. Landscape paintings by da Fonseca are glimpses into a specific time and place influenced by her time in Mexico. They show lush spaces that have a contemplative nature: a view of the landscape not as a resource but as a setting for reverence.  —Maya Wilson-Sanchez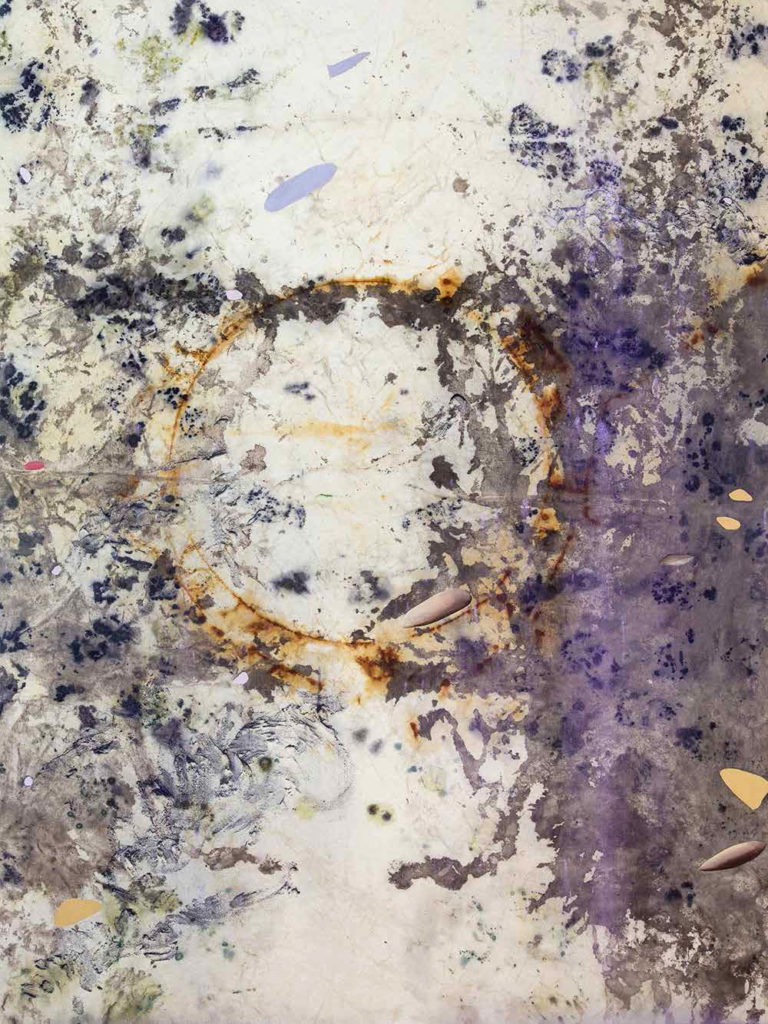 Gillian King,
Moon Marrow
, 2019. Cold wax medium, oil, raw pigments, rust sediment and various plant material on canvas, 122 x 91 cm. Courtesy Galerie Nicolas Robert.
Montreal's Galerie Nicolas Robert (Booth C20) will focus their booth selections this year on themes of form and process. Among them are the "psycho-spatial" worlds of Tristam Landsdowne, ink-on-paper-on-aluminum works by Caroline Cloutier and some of Lorna Bauer's glassy, foliage-filled images taken during her time at late landscape architect Robert Burle Marx's Brazilian home. But I'm eager to see new work by Winnipeg-born, Ottawa-based artist Gillian King, whose media include wax, oil, rust sediment and "various plant material," among other things. Her canvases look like they might have been dragged over earth, stained by rain and then unfurled and dried out in the sun. They are also very intentional, almost kaleidoscopic, in their earthly symmetry, and a bit of an escape from the shiny, fluorescent intensity of typical art fair offerings. In this way they feel ancient, like long-lost tapestries, and also sort of gothic, combining currents of death and romance inside an alchemic process that seems to verge on the supernatural. —Erin Saunders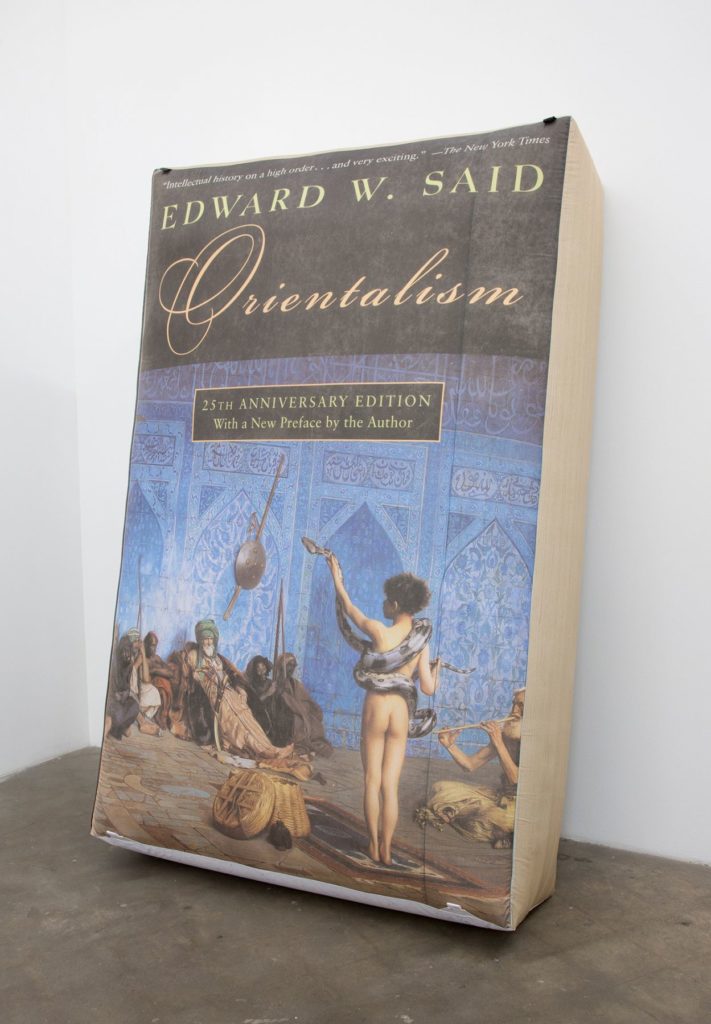 Divya Mehra's
The World Isn't a Fair Place: Just Barely Adrift on your Perceived Cultural Landscape (The Browning of America and the Color of Crime)
, 2018.
A market can be many things, or rather there are many ways to think about what a market might be. At the stock market, tickers carefully tabulate the ebbs and flows of abstract financial capital; in other markets one mills about among fresh vegetables, vintage treasures or mass manufactured doodads. Art fairs are a really a strange mix of all types of markets. I love being thrust into their aesthetic surfeit, though just a single walkthrough of the rows and rows and rows of booths often leaves me needing some sort of respite.
This year, I look forward to the public artworks that will be presented on the ground floor lobby area of the Metro Toronto Convention Centre, free to the public and available to view without entry to the fair. Each of the works, by Mathieu Valade, HaeAhn Paul Kwon Kajander, Adam David Brown and Kristiina Lahde, is a large scale sculpture or installation. Following the playful splendour of Divya Mehra's inflatable Taj Mahal project in 2018, I'm particularly excited to see her more recent experiment with oversized inflatables.  —Yaniya Lee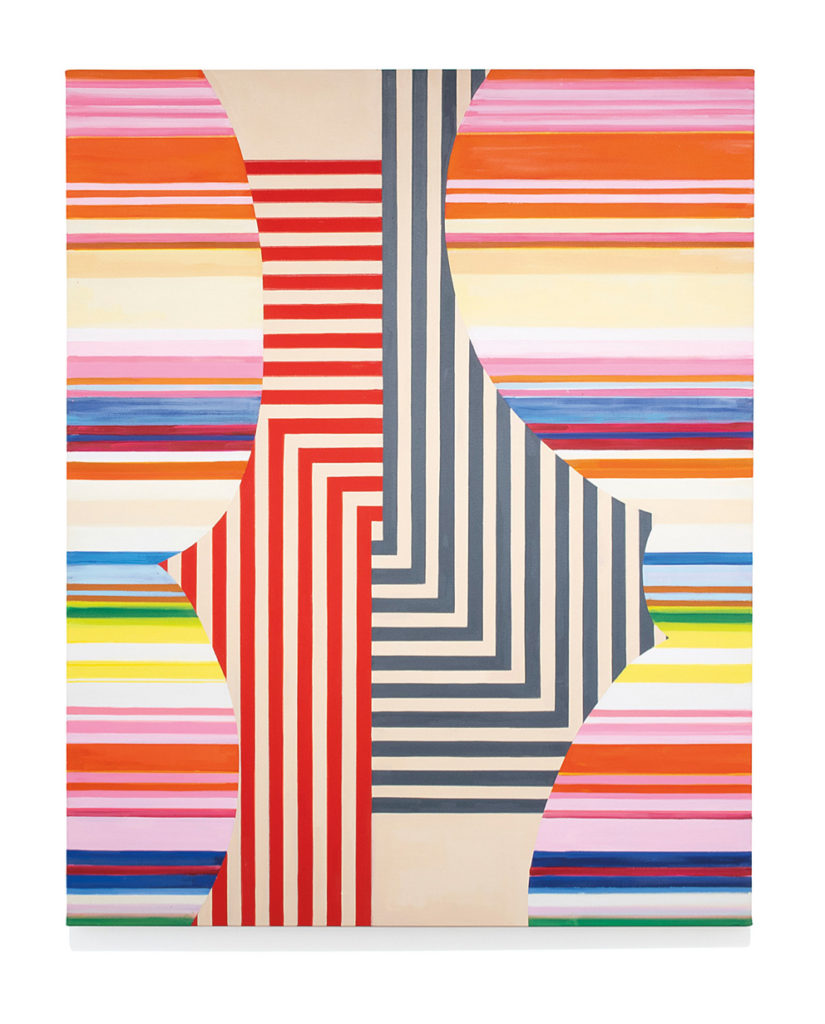 Renée Van Halm,
Untitled
, 2019. Acrylic on canvas, 40 x 36 inches.
The likes of Sonny Assu, Kim Dorland and Renée Van Halm appear in Equinox Gallery's (Booth B7) incredible roster of artists. The Vancouver-based gallery can be counted on to bring Canadian artists in conversation with a range of international and historical artworks. You might see the materiality of Angela Teng's crocheted-paint pieces alongside Sol Lewitt's minimalist abstractions, each reforming ideas of colour and space; or the works of Assu and Warhol probing at very different stakes in Western culture. The gallery has also presented dynamic solo artist booths, like Gathie Falk at Frieze Masters London 2018. Equinox pitches Canadians into global art histories and contemporary currents, appealing to fair-goers from the art student to the collector. —Joy Xiang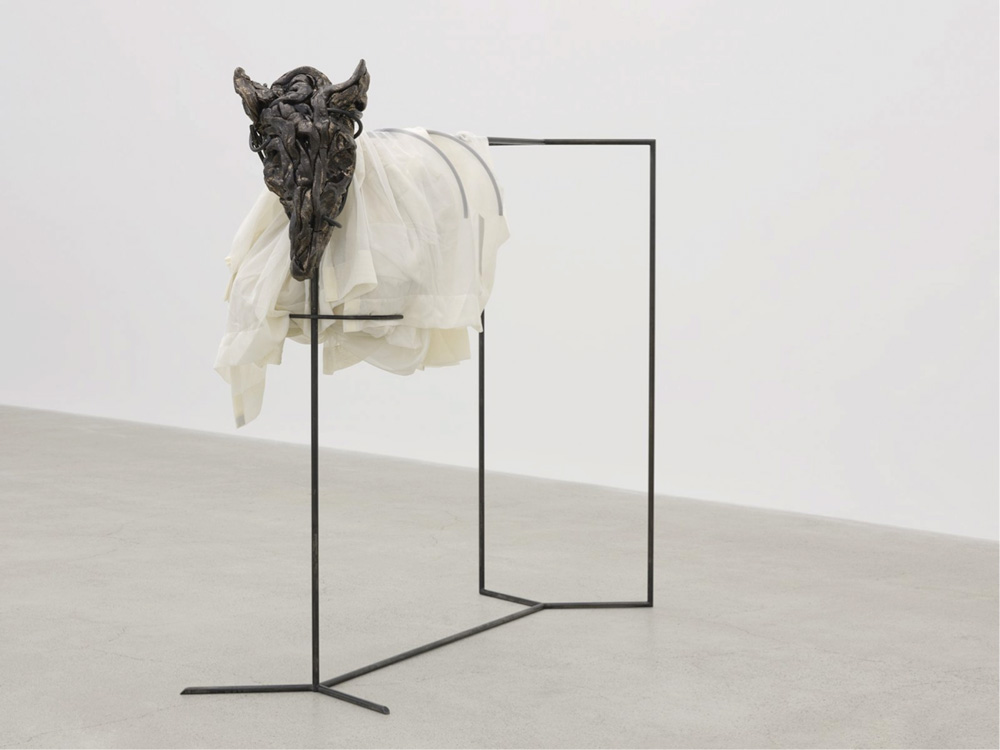 Rochelle Goldberg,
Gatekeeper: It's growing at every cost
, 2019. Glazed ceramic, steel, curtain, polyester fabric, pillow, 140 x 52 x 163 cm. Courtesy Catriona Jeffries, Vancouver. Photo: Rachel Topham Photography.
Catriona Jeffries's (Booth B4) presentation this year includes a suite of works by Vancouver-born, New York–based artist Rochelle Goldberg, excerpted from "gatekeepers," the artist's solo show at the gallery earlier this year. Of these works, Gatekeeper: It's growing at every cost (2019) is an example of the style of figural ceramics—bodies of people and animals rendered with a glossy, gasoline glaze—that Goldberg has shown in solo exhibitions at New York's Sculpture Center in 2016, Miguel Abreu, New York, in 2017, and recently at the Power Station, Dallas, this spring. New to me in this presentation is a pair of wall works: constructions of cardboard, lilies, gold and dirt that bear the artist's signature consideration of energy, the psychic, organic life and organic death. —Tess Edmonson