Curtis Talwst Santiago: When my exhibition at the Drawing Center was closed in March, I started hosting live drawing sessions with artists on the gallery's Instagram. The first one was with Ambera Wellmann, and since then we've had Shary Boyle, Tschabalala Self and Christian Newell. It's been a way to hang out with artists, draw loosely, relax and talk about whatever we wanted to talk about. It was about being together and sharing and creating a safe space just to explore. The response from people internationally has been amazing, people saying that it helped them to not constantly be in the pandemic space.
Since then, I was in the studio working on an exhibition that just opened at the Art Gallery of Alberta in October, which is about memory and the diaspora and my parents coming to Alberta and not having their social network or dedicated spaces that understood the way they socialize. The basements of a lot of Caribbean parents in the '70s and '80s became community centres. In my basement, and in those of many of my friends, we had a bar, a DJ booth, a dance floor, a disco ball and shag carpeting. On the weekends that the men would come from up north, from working on the oil refineries, the party would happen in the basement.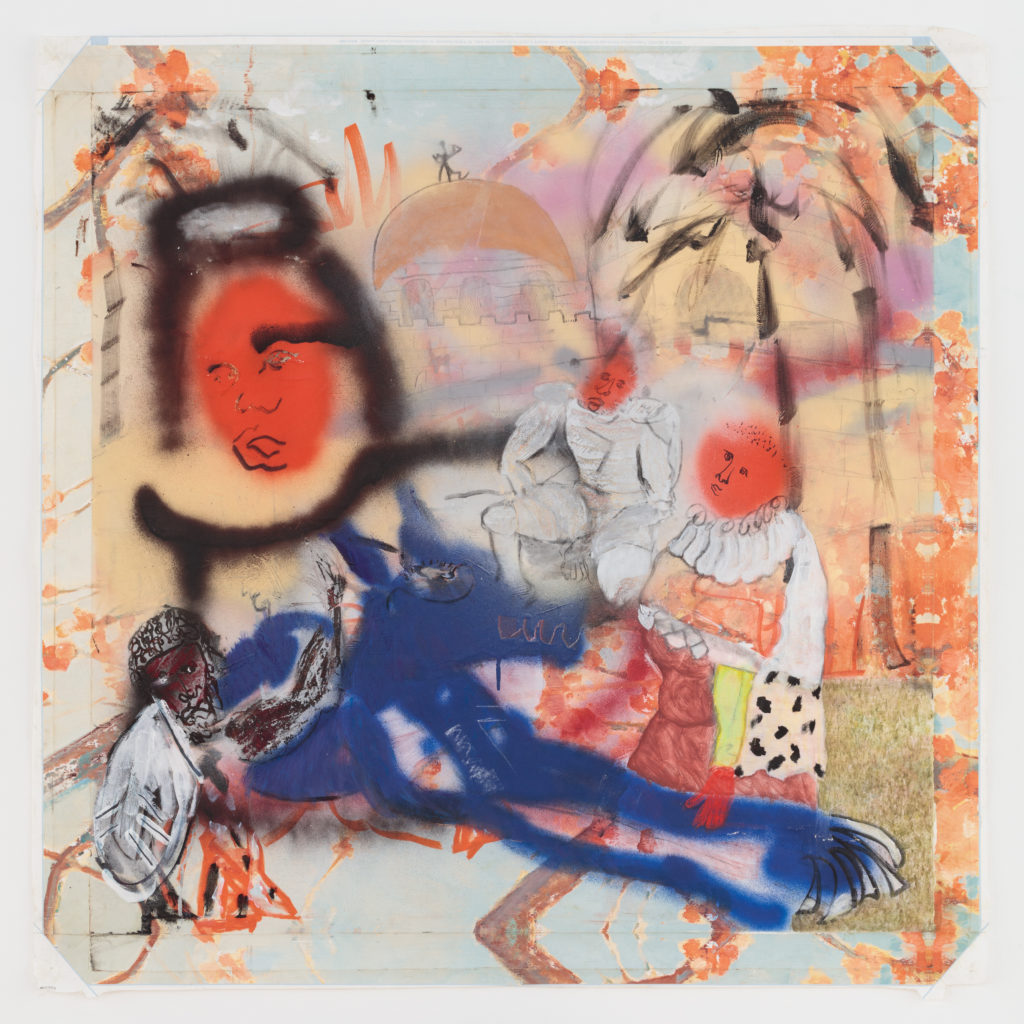 Curtis Talwst Santiago,
Red Face Ancestral Vision 1
, 2018. Courtesy Rachel Uffner Gallery, New York.
I made re-creations from memory of these moments as a child when I would sneak downstairs to witness the adults being close, the red light, the smell of alcohol and the sound of laughter. I've created four dioramas of this, and they are placed around the room. In the centre of the room, there is a small square of linoleum from the '70s that looks like the linoleum my parents had. When you stand on the linoleum, you can hear a soundtrack of Caribbean music from that time. But the minute you step off and out of the dance floor area, it's silent again. When Trinidadians get together, they call it "liming." And so this show documents liming, especially at a time when I'm thinking of how we can all be together and be close. The liming is the exhibition.
I have also been working on a show at The Rooms, which is a combination of older diorama works: some of the political ones, and some of the ones dealing with intimacy and sexuality, the mundane moments. It's a true representation of the Infinity Series. The dioramas were what started my practice, and while it has since expanded to include drawing and performance and other things, by God, the dioramas are my go-to; they're just so intuitive for me. —As told to Canadian Art