Right now, it's a pit. At the centre of Toronto's so-called Condoland—the band of residential towers that over the past 15 years have transformed a decommissioned rail yard at the city centre into a master-planned community for 18,000 residents—there's an excavation the size of a city block.
The site is scabbed over with goldenrod, something that looks like thistle and various reedy grasses. Trees there have grown woody, with some reaching almost a storey high in the time the site has sat waiting. Bordered to the west by an artificial-turf playing field and to the east by the patio of a Fox and Fiddle pub, it is an unlikely meadow among CityPlace's glass-skinned peaks. The City calls it Block 31.
In time for the 2019 school year, if construction goes as scheduled, Block 31 will become the site of two 550-student K–8 schools (one Catholic, one public), a 52-spot daycare and a community centre with a gymnasium, dance studios and a whole suite of programming functions. There'll be rooftop gardens, basketball courts and a year-round marketplace. These facilities represent crucial elements of social infrastructure, two decades in the works, that will, the ward's councillor says, make the neighbourhood more livable for families. Meanwhile, the zoning-bylaw amendment notices posted on the fence, defending the perimeter of what's still now a weedy hole, ask you to imagine what someday will be.
As is municipal practice with major city-led building projects, the community centre–school-daycare complex will include a piece of public art. Local sculptor Georgia Dickie, who won the open contest, has planned a grouping of sculptures formed in CorTen steel (think Richard Serra), a counterpoint to the "lush" flora she found had reclaimed the site.
Emerging from the playground and descending to the south, the sculptures will draw the eye toward the waterfront. She wants to give neighbours a gathering place, a hub. The work suggests notions of community and communication with forms inspired by ears, antennas, residential satellite dishes and acoustic mirrors. Dickie wants the sculptures to appear as relics, she says, as if the prehistoric Lake Iroquois revealed them as it receded. She also wants them to represent Toronto on the edge of the future. Because, in some ways, that's what this place—one of the largest residential developments in the city's history—is.
From early on, public art programs have reflected, benefited from and participated in the development of their cities. In 1959, Philadelphia enacted the first Percent for Public Art ordinance, dedicating a portion of construction costs from municipal projects to fine art. Detailed in the book Going Public—a popular field guide produced in 1988, or "Public Art 101," as it was introduced to me—similar programs proliferated through the activist eras of the 1960s and '70s. Governments on every level sought to build out the public realm alongside an assortment of urban-revitalization projects begun across North America to bring populations, then fleeing to the suburbs, back into city centres. Early in that history, the National Capital Commission started its work on the "natural and cultural character" of Ottawa. And shortly after, in 1961, Quebec enacted an ambitious, province-wide Percent for Public Art program. During this period of utopian growth, the notion of artworks installed, often on public land, expressly for public enjoyment, became entrenched in the formalized practices of city-building.
"But what does it do?" you can easily imagine someone consternating, maybe from the shadow of a street-corner-sized steel abstraction. "And why should we spend public money on it?" Across this reporting, I've encountered a long litany of arguments about how public art enhances the urban experience: it creates gathering points and place markers, it provides civic identity, it helps circulation, it's a tourist attraction, it serves a function unfulfilled elsewhere in nearby urban design (i.e., a place to sit or play) or—and this was the most common response—it generally adds interest to a neighbourhood, park, plaza or building. At a town hall meeting, when the city of Calgary was recently reviewing its program, one resident poetically called public art: "moments of small delight in my daily commute." It is described often as a benefit to the quality of life. Now, as urban populations continue to increase across Canada, many even mid-sized cities find themselves in some stage of transformation, growing taller and more dense. The boom in private development has city planners and politicians exploring ways to leverage developers wanting to add density with the community benefits necessary to serve fast-growing and changing neighbourhoods; that means affordable housing, green spaces and, in some cases, public art. Private developers across the country, it turns out, love public art and have become benefactors of a great many works.
Ask the average citizen, though, how the monument they eat lunch by everyday came to be and they're likely to stare back as dimly as the statue. The making of this particular public benefit is, for most, esoterica: an unsexy and bureaucratic procedure, doubly mired in planningspeak and the tedium of municipal politics. Launching myself down that rabbit hole was at times a frustrating assignment, chock-full of unspecificity, exceptions to the rule, extra-large and extra-dry PDFs, unresponsive subjects, subjects "too busy" to respond and the phrase: "that's not my department, you'll have to ask so-and-so." All of this was weathered in search of some fundamental understanding of how Canada's largest cities commission public art, fund public art and envision the role of public art in the betterment of urban living.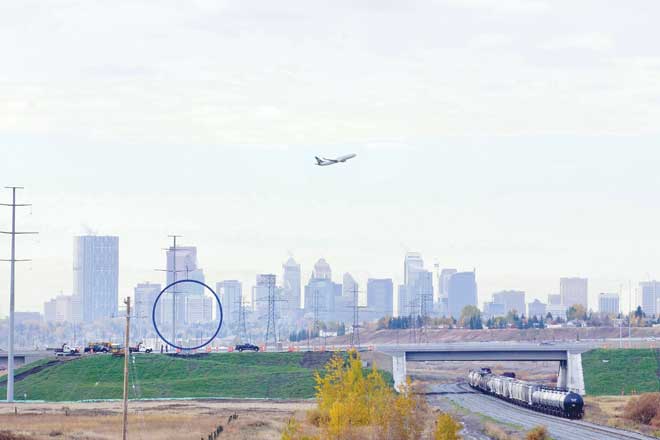 Inges Idee, Travelling Light, 2013. Steel, paint and light-device, 20 x 19.5 x 7.5 m. Collection City of Calgary. Courtesy Design Cause.
In 1986, Toronto became the first Canadian municipality to enact policies to encourage public art in major developments, both public and private. In chapter three of the City's official plan, appearing between "Built Form – Tall Buildings" and "Heritage Conservation," there's a sub-section dedicated to public art.
Here, you'll find clues about how Toronto promotes and funds its program. Item 3.1.4d, for example, outlines how the creation of public art ought to be included in the City's own construction projects. According to the official plan, the City will dedicate "one per cent of the capital budget of all major municipal buildings and structures to public art." The word "major" here separates Toronto's capital contribution policy from cities like Calgary, where every municipal project over a certain size pays a percentage toward public art. In Toronto, it's about identifying high-impact opportunities, says Jane Perdue, Toronto's public art coordinator for city planning. "How accessible is the site? What's the public use?" A marquee sports complex built in Scarborough for the 2015 Pan Am and Parapan Am Games, for instance, received significant funding for a piece by Quebec art trio BGL; water-main replacements along downtown's River Street won't.
Bringing up the rear in the plan's dictate on public art, the final bullet point states, maybe a bit limply: "[encourage] the inclusion of public art in all significant private sector developments across the City." Belying the loose, non-mandatory and minor-sounding language of this particular directive, in the past decade or so, such private-sector contributions have become the primary source of public art in Toronto, adding to the city-wide collection as plentifully as they've added to the skyline.
Section 37 of the Ontario Planning Act—the main source of that private contribution—is a buzzy, often misunderstood tool. The mechanism enables every city in the province to negotiate boosted infrastructures and the provision of community benefits, such as affordable housing, improved streetscapes and public art, from developers that want to build in excess of the site's zoned height and density.
While some smaller Ontarian cities act tentatively, worried that Section 37 negotiations might discourage developers, Perdue says it's regular in the competitive Toronto market. As per Toronto's particular bylaws, Section 37 comes into play when a developer requires a zoning-bylaw amendment for a development of more than 10,000 square metres in gross floor area and has applied to increase the permitted density by at least 1,500 square metres. For some sense of scale, First Canadian Place, the 72-storey monster at Bay and King Streets in Toronto that, for now, carries the title of Canada's Tallest Skyscraper, is 250,849 square metres. The St. Lawrence Market South building—to lend some concrete sense to that bottom end—is 10,355 square metres.
"Section 37 benefits are negotiated on a case-by-case basis with developers," says Gregg Lintern, the director of community planning for Toronto and East York. Unlike some cities where the dollars-and-cents side of density bonusing is formalized with a per-square-metre rate, in Toronto, he tells me, "there are no set negotiations or percentages." It's difficult for the City to speak in specifics, Lintern says, tendering only: "the City seeks to capture a portion of the appraised value of the additional density requested by the development applicant." That's the same line reprinted elsewhere in City literature. A 2014 report reviewing Section 37 in Toronto lets in a little more light, explaining that "the City's been able to secure between 10 and 20 per cent of the increase in land value for most developments."
How that money gets used is determined by a process that identifies community needs and priorities in consultation with the city councillor, local residents and various other municipal departments. The package of negotiated benefits might include things like park improvements and affordable housing. Toronto councillor Joe Cressy tells me that 20 per cent of every Section 37 deal in his ward—which includes Block 31—goes toward affordable housing. The benefit package might also include public art, as was the case with the building wrapped in a Vito Acconci fence across from my apartment near Fort York. Perdue estimates that in the last five years, Section 37 has triggered roughly $45 million in public art in Toronto.
If art is chosen as a fitting amenity, the developer may commission a public artwork on-site for the agreed-upon value, provide cash-in-lieu for an off-site project, or some combination of the two. With the off-site option, the City has the ability to pool money for a larger project on City land anywhere within the same ward. Trump Tower in Toronto, for example, includes a Michael Snow lightwork stretching vertically up its exterior and a more than 500,000-piece mosaic by Stephen Andrews in its porte-cochère; the development also helped pay for an aquatic centre in Regent Park, one of Toronto's Neighbourhood Improvement Areas "requiring special attention." If the developer decides instead to commission work on-site, the Toronto Public Art Commission, a volunteer panel from the art and urban design communities, reviews the developer's public art plan and ensures that the selection process, be it open competition or by invitation, is suitable.
Dickie took her duty to the burgeoning CityPlace community to heart. When she was designing her proposal—one of more than 100 submissions the City received for the project—she visited the site almost daily. She'd hang out in the grocery store to get a sense of who lived there. She found a lot of people travelling through by themselves: earphones in, talking on the phone, grabbing lunch to go. She wanted to give them a destination. She wanted to anchor a sense of place.
Standing at the perimeter fence, approximating for me where her sculpture will one day sit, us both transposing the scene imaginarily over a giant pit carpeted by 2016's first good winter snowfall, Dickie says she's not exactly sure what happens next, procedurally speaking. We do know, though, that by summer 2019 (again, construction permitting), the character of this neighbourhood will be thoroughly transformed—thanks in part to her work here.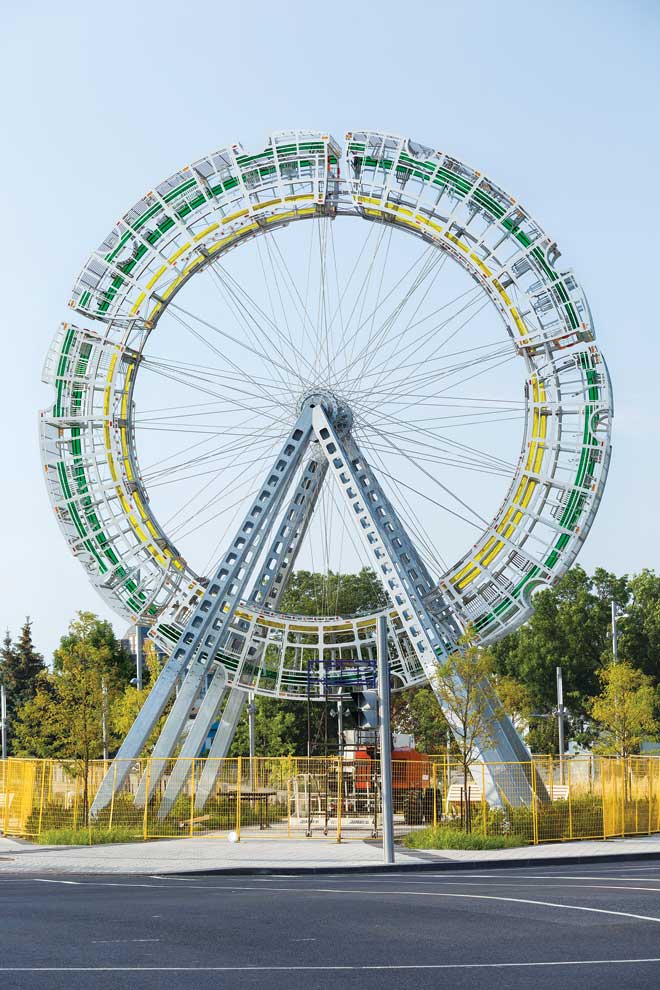 BGL, La vélocité des lieux, 2015. Galvanized iron, aluminum, stainless steel and Plexiglas, 17.3 x 13.7 x 2.4 m (wheel); 12.8 x 12.8 m (base). Courtesy Parisian Laundry. Collection City of Montreal. Photo: Guy L'Heureux.
Comparing municipal programs across Canada, I started to see the field as a sort of grand urban experiment, with sometimes-radical permutations on the same basic structure regarding the roles of the public and private sectors in the making of public art. Each city formed a unique set of answers to the questions: ought the City set aside a portion from its own construction projects for public art? From which projects? How much? What should be required of private developers? One culture manager admiringly called Toronto's Perdue "encyclopedic" when it comes to public art policy in Canada, and even Perdue, over one of our many conversations, told me something to the effect of: I'm really not sure which model works best.
In Montreal, thanks to Quebec's long-standing "Politique d'intégration des arts à l'architecture," every building project that receives provincial money and will be open to the public dedicates a percentage of the total construction cost to public art. Projects costing between $150,000 and $400,000, for instance, must set aside 1.75 per cent. The scale slides up from there, so that, at the high end, projects costing more than $5 million must contribute $67,500 for the first $5 million and 0.5 per cent on any additional costs. Alternately, as Michèle Picard, head of Montreal's public art bureau, explains, if the project generates only a small amount of money, there's a committee that acquires smaller works—a painting or sculpture, for example—for the space.
The City of Montreal itself doesn't have an official per cent for public art policy on municipal projects; Picard describes it as "a habit." "Not every project needs to have public art," she says. "We prefer to work differently." Over the past 10 years, her team has cooperated with other municipal departments to involve themselves at the start of large building projects to identify suitable opportunities for public art. A major road reconstruction project at Pie-IX and Henri Bourassa Boulevards, a bridge entering the city, was treated to something major: a $1.1 million, full-scale Ferris wheel sculpture titled La vélocité des lieux by BGL (some practices have become darlings of the arena).
Since permitting in Montreal is scattered across the 19 individual boroughs, there is currently no overarching policy about contributions from private developers in exchange for bonus height or density. Montreal may be experiencing its own condo boom, but to-date, borough councillors haven't negotiated for public art in what agreements have been made, Picard says. "Mainly, they go for low-income housing."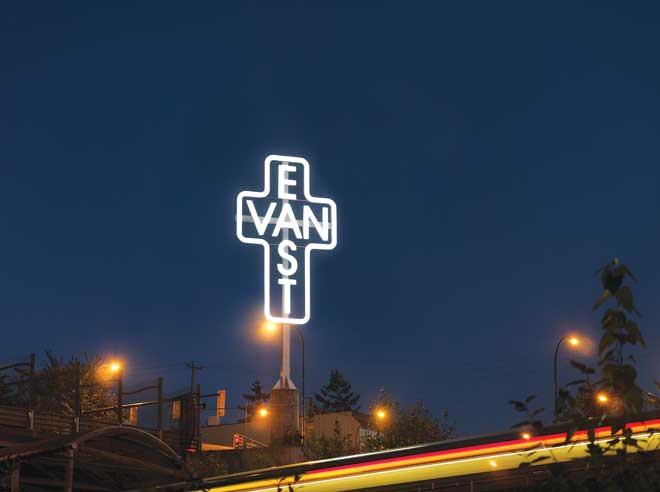 Ken Lum, Monument for East Vancouver, 2010. Light-emitting diodes, aluminum and concrete, 20 m high. Collection City of Vancouver. Photo: Rachel Topham.
Since 1991, Vancouver has had a public art program set up to include both civic- and private-sector contributions. The discussion may have been driven in large part by the development around False Creek just after Expo 86, says Karen Henry, interim manager of the City's public art program.
There, as of September 2016, almost every private-sector rezoning of more than 100,000 square feet must contribute $1.98 per buildable square foot to public art (other community benefits are negotiated in addition to and separate from the art). Developers can either commission the work on-site or, as of just recently, pay 80 per cent cash-in-lieu, which the City may pool toward a "signature" artwork to be installed elsewhere. Instead of a civic Percent for Art policy, public art is allocated a lump sum within the City of Vancouver's four-year (formerly three-year) capital plan. For the 2015–18 period, $4 million has been earmarked for new public art as well as maintenance and restoration for existing works. The years before the 2010 Vancouver Winter Olympics saw a large influx of new works in preparation for the events, including the instantly iconic 17.5-metre LED cross installed at Clark Drive and East 6th Avenue by Ken Lum, titled Monument for East Vancouver.
But between 2012 and 2014, the planning block directly following the games, public art was cut back to $250,000—what Henry describes as an "extremely dry" period for a lot of City departments. Private-sector contributions fluctuate with development activity, she explains, and after the Olympics, which brought work to a standstill, it took builders a few years to get up and running again. There was a lag, she says, which they patched with a series of temporary works like the award-winning Year of Reconciliation public art project, which brought the work of 10 Indigenous and non-Indigenous artists reflecting on the theme "reconciliation" to video screens, a library and transit shelters throughout the city.
Calgary, as already mentioned, has a robust Percent for Public Art policy. As of 2004, when it was adopted, every city build costing $1 million or more that's considered an upgrade, a growth or a service—be it a transit station, a new park, even a sewer—must budget one per cent of the project for public art, according to manager of arts and culture Sarah Iley (this recently dropped to 0.5 per cent after the first $50 million of eligible capital project costs, up to a maximum of $4 million). Brian Tolle's Outflow (2015), an inverted concrete mountain installed in Parkdale Plaza, daylights the processes of water management. It was paid for by money pooled from infrastructure projects by the City's Utilities and Environmental Protection department.
Since the 1980s, Calgary has had a formalized policy for developers wanting bonus density. They could either purchase it outright (in the Beltline district, for instance, at about $270 per square metre according to the latest Area Redevelopment Plan), or they could choose from what Ben Barrington, Centre City implementation program manager, calls a "menu" of community benefits, one option of which is public art. When planning the Bow, the second-tallest tower in Calgary's skyline, developers wanted to significantly increase the zoned floor area, adding 17,526 square metres. In exchange, two works by Catalan artist Jaume Plensa were commissioned on-site at a cost of just over $3.5 million, including, most prominently, Wonderland (2008–12)—a 12-metre-tall wire-frame sculpture of a girl's head. The work has become an Instagram hotspot and a destination for wedding photos, which imparts, I'd think, some measure of community uptake.
Not every project has been so favourably received. Calgary's public art program, and its Percent for Public Art policy in particular, drew national attention when the artwork Travelling Light (2013) by German collective Inges Idee was unveiled and widely panned. Even Naheed Nenshi, popularly known as the civic-boosting "Best Mayor in the World," called the piece—colloquially titled "The Giant Blue Ring"—"awful." But he also made mention that, "80 per cent of the work and the budget was spent in Calgary with Calgary businesses." There is an economic argument for funding public art.
Right now, when Alberta's experiencing a recession, spending on infrastructure is seen as a kick-start. By the City's policy, that means those initiatives are also spinning off investments in public art. Inevitably, someone says, "Wait a minute, that's taxpayer money. Is that the right thing to do now?" Iley is familiar with the concern. If taxpayer dollars are being used to generate a better economy, she says, shouldn't some small part of that be used to generate a better economy for artists and creative labourers, too? And what if we can create a better, more livable environment at the same time? That's money that also trickles down to all sorts of local fabricators, installers and technicians. The Calgary fabrication company that worked on Travelling Light, Iley tells me, has since got contracts in Singapore.
When asked what a successful piece of public art in Calgary looks like and what it does, Iley brings up Pechet Studio's roger that (2015). At Tuscany Station, the end of the LRT line in the city's northwest, where the communities of Tuscany and Rocky Ridge are divided by a multi-lane roadway, the artists built a series of solar-powered light towers. Viewed from precise points on either side of the road, the clustered lights form a perfect circle, as if the two communities are connecting. "It's magical," Iley says. "It's become a meet-me-there destination, and it reflects exactly what those two neighbourhoods said they wanted: to get to know each other better."
Ultimately—I'm told more than once and by numerous sources—the success of public art is measured by how it serves its community. Sometimes, that value is realized immediately. More often, it takes time.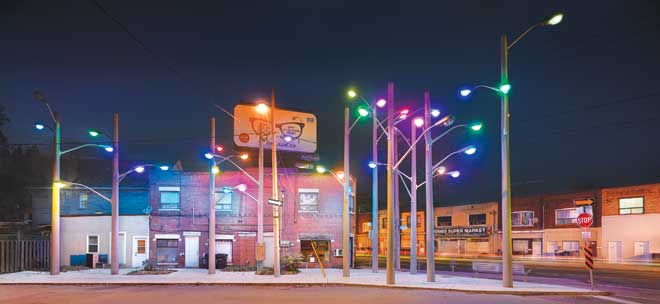 Daniel Young and Christian Giroux, Nyctophilia, 2014. Concrete hydro poles, aluminum cobra head lights, LEDs, computer controller, concrete sidewalk, strawberry and sumac plants, 19.8 x 4.3 x 10.7 m. Collection City of Toronto.
Mount Dennis is a neighbourhood in west Toronto hemmed in by the Humber River and the Kitchener rail corridor. It was once a significant manufacturing zone, home to brickworks, foundries and factories. In the years since major industry there moved off-shore or closed, it's been underserved and struggling to redevelop. Today, the riding is among the poorest in the province. It's been designated a "priority neighbourhood." When Toronto Life first ranked the city's 140 neighbourhoods in 2013, Mount Dennis finished last.
Despite the gloomy indicators, on street-level, there are signs of new growth. Around Weston Road, the neighbourhood's main corridor, you'll find fresh-looking storefronts—an indie coffee spot, a sandwich shop, a high-end appliance distributor. The library's undergone a dramatic renovation, and nearby, a brand new recreation centre just opened. At the top of the hill, installed on a traffic-calming peninsula where the Mount Dennis retail strip begins, there's another recent development: public art.
Nyctophilia (2014), by artists Daniel Young and Christian Giroux, is a grouping of 10 utility poles sprouting off 36 streetlights, most of them multicoloured and programmable. It uses the language of urban infrastructure to create a surrealist forest. "It's like some Situationist proposal for a city," Young says. Locals call it "the pole farm." Fashion designer Rei Kawakubo of Comme des Garçons liked the sculpture so much, she commissioned a sister work as the centrepiece for her Dover Street Market flagship in London.
Public art has become a significant part of Young and Giroux's practice. When the collectorship of sculpture in Canada is thin, projects like these are vital to their sustenance. The pair found Nyctophilia especially rewarding because they got to work in a neighbourhood where public art might not usually exist. It's a challenge to uneven urban development, Young says. It suggests there ought to be cultural investment in all parts of the city, not just downtown.
When work on Nyctophilia got underway, the initiative represented the first major investment in Mount Dennis in some time, public art officer Clara Hargittay says. Its $250,000 price tag was covered mainly by Section 37 funds sitting around from a series of developments elsewhere in the ward. The local councillor thought the neighbourhood could use an intervention like public art to lift its spirits.
Over two consultation meetings at the local Legion hall, the community discussed what public art could contribute to the neighbourhood. There were a limited number of things the money could be used for, Mount Dennis Community Association president Mike Mattos remembers. The area has lots of parklands. It wasn't enough money for a splash pad. "We all agreed that having something was better than nothing," says Mattos.
Since Nyctophilia went in the ground, reactions have been mixed. A Toronto Star article called the work "wasteful and hideous." Another source said they would've preferred that the money was used on street improvements. Mattos himself says he's disappointed, not in Young and Giroux's design, more in the implementation. Sewer and road surfacing work nearby meant the area around Nyctophilia has been ripped up and blocked off repeatedly. A construction bin was parked almost permanently beside the artwork. It hasn't yet become the meeting place they hoped.
Even the community association is split. MDCA secretary Simon Chamberlain quite likes it. He shows it off to visitors. Whenever he drives by, he watches for its polychromatic display. Perhaps, like Henry Moore's The Archer, parked out front of City Hall, he says, it will become better appreciated over time.
In December, the BIA, which uses Nyctophilia front-and-centre in its branding, held a solstice party under the artwork's soft glow—that night, programmed a wintry blue. There was a pop-up store, entertainers, a face-painting station, hot chocolate and a Santa Claus to visit. When I stopped by, 60 or 70 people had shown up, mostly young families. Lots of kids. A thrilling turnout, I'm sure, for organizers in a community short on community spaces. Mattos called it one of the first times Nyctophilia had been allowed to be the meeting place Mount Dennis wanted. I overheard one woman say, between sips of hot chocolate, "There should be more things like this." She was talking about the party, of course. But maybe she was talking about the art, too.
This article originally appeared in the Spring 2017 issue of Canadian Art. To get every issue of our magazine delivered to your mailbox before it hits newsstands, visit canadianart.ca/subscribe.