NSCAD University professor and internationally exhibiting American artist Ericka Walker spent the month of May painting a Nova Scotia barn over with contemporary art. Her vivid mural—itself about farming—is one of 17 outdoor public artworks installed on woodsy hiking trails, rocky beaches and other sites for the 11th edition of Uncommon Common Art, an annual cultural event that takes place in rural Kings County and surrounding areas.
The region where Uncommon Common Art happens has a history of farming, fishing and the displacement of two peoples—the Mi'kmaq and the Acadians. Some of these themes are reflected in the work on view. Walker, for her part, connects to the history of agriculture in her mural, a giant "paint-by-numbers" created at a Kingsport farm with three NSCAD University graduates.
"The ground we are on would have been much higher had we been here in 1920," Walker tells me. That's because when John Deere invented the steel plough in 1837, he revolutionized agriculture—but also created a machine destructive to topsoil. So Walker's mural, inspired by late 19th- to mid-20th century ads on farm and industrial buildings, features the sensually painted innards of a no-till planting machine and soil-enriching plants. It's accompanied by the text "Be Industrious That You May Live," a slogan adopted in 1906 by the Kings County Agricultural Society.
The daughter of a Wisconsin high-school agriculture teacher, Walker got the idea for the mural from talking to Longspell Point Farm's co-owners Jeff and Paula McMahon, who served the painters lunch every day. "There's a prediction out there that if we don't change the way we farm, there are only 60 years of harvests left," Walker says. "Soil conservation doesn't get a lot of press. It's not sexy." She is talking about environmental problems and the survival of the human race. But the angle is a hopeful one for Walker: "It's industriousness that can and will change the way we treat the land and grow our food," she believes.
In 2016, Walker painted her first barn for Uncommon Common Art at Taproot Farm, and enjoyed the conversations with strangers who stopped to ask, "What does it mean?" It led to interesting dialogues: "I said, 'A lot of us contemporary artists are trying to create a scenario where you can create your own meaning,'" Walker says. "A lot of people gave it a shot, and there were very wonderful and very varied answers."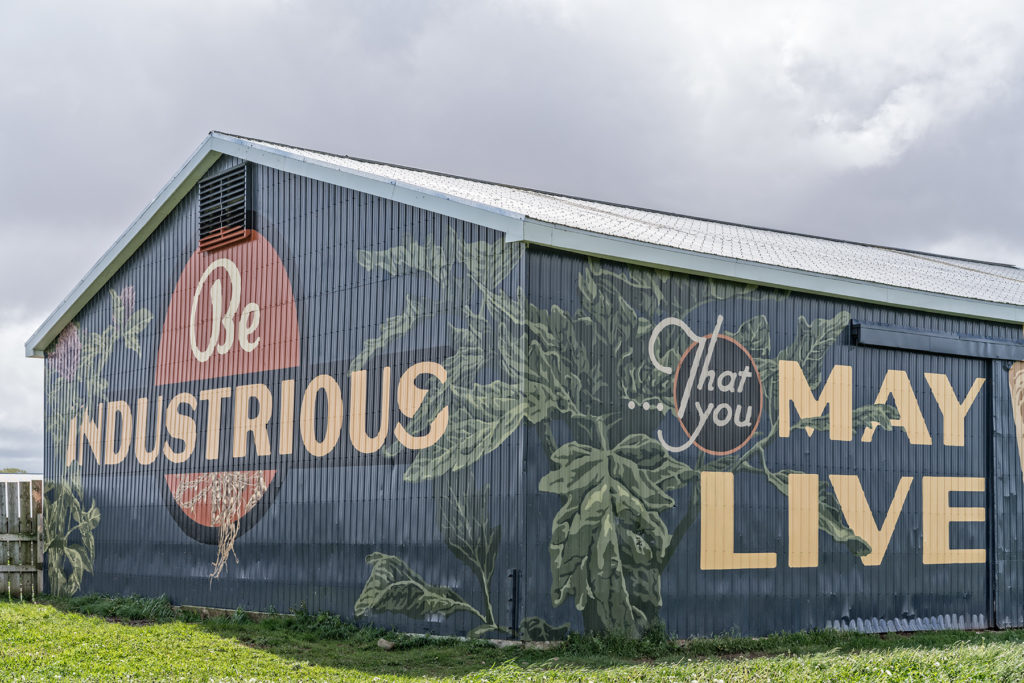 A closer view of Ericka Walker's mural at Longspell Point Farm in Nova Scotia. Photo: Ernest Cadegan.
Bringing all types of art to the land—from conceptual to craft-based—by artists international and local, emerging and established, is the long-term aim of Uncommon Common Art founder Terry Drahos. Drahos is an Atlanta artist who came to Wolfville in 2001 after falling in love with the area on a family vacation. Drahos wants art to be for everyone. "One of the disconnects I notice, particularly in Nova Scotia, is the public school system does not teach visual art to elementary school students," she says. "Then you have NSCAD, which is a highly conceptual art school. There is this huge disconnect between the major art institution in Nova Scotia and the general population…. UCA is trying to draw a line between them by including this broad section of art-makers and placing it where everyone can see it."
Playful and political, this year's wider art adventure has curator Kate Ward's theme of "Lines of Site—The Sublime of the Minas Basin." Bonnie Baker's torrent of blue fabric with cut-off tree trunks is installed on a dense, inland hiking trail. Genny Killin's large pop-art abstraction of a fishing weir is at Scots Bay beach on the Bay of Fundy, famous for the highest tides in the world.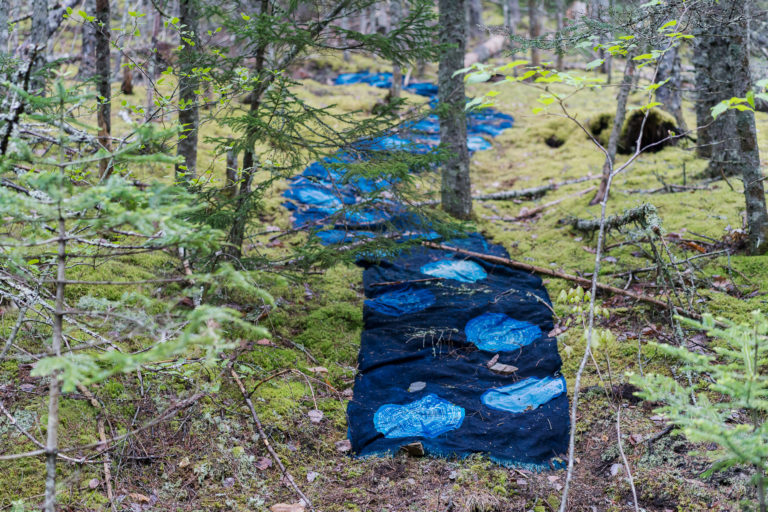 Bonnie Baker's cloth installation is inspired by the idea of ghosted trees and landscape paths. Photo: Ernest Cadegan.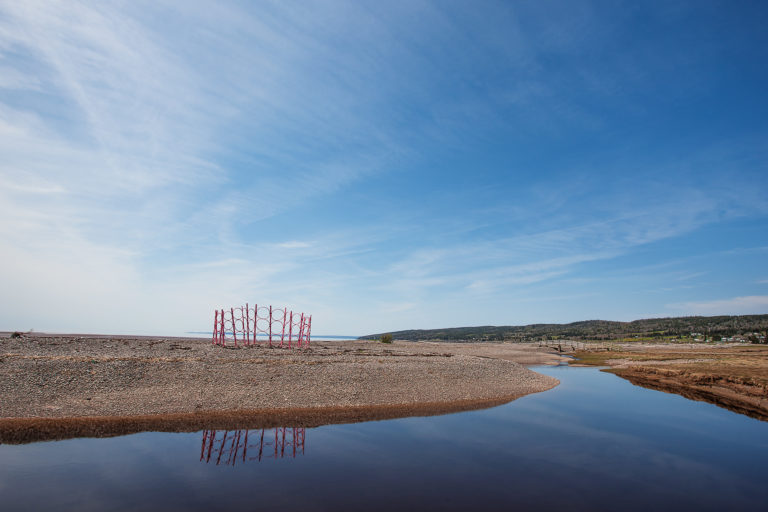 Genny Killin's
What Was Left Behind (Weir)
is in Scots Bay. Photo: Ernest Cadegan.
But connecting site and art this year has also meant some controversy—namely, around a collaboration between artist and NSCAD University professor Kim Morgan and artist, writer and Saint Mary's University professor Bruce Anderson. The duo placed mock interpretive signs at three monuments, hoping to shine light on a harsh history of the 1755 Acadian Expulsion that Nova Scotians—particularly those descended from the British and the New England Planters, who took over Acadian farmland in the area—prefer to romanticize.
Today, people forget "the brutality, violence and systematic planning of the Expulsion," says Morgan. "There seems to be, for lack of a better word, a whitewashing around this event." This whitewashing is what her counter-monuments were trying to address.
Descendants of the Planters tending one of the monuments where the artwork was placed, however, did not like Morgan and Anderson's sign and its suggestion of tainted legacies. The artwork upset people for two reasons, says Drahos: "One, people questioned it as an artwork because it's a series of signs and not necessarily 'beautifully made.' Secondly, the artists are questioning monuments that have been here for hundreds of years and are deeply rooted in this community."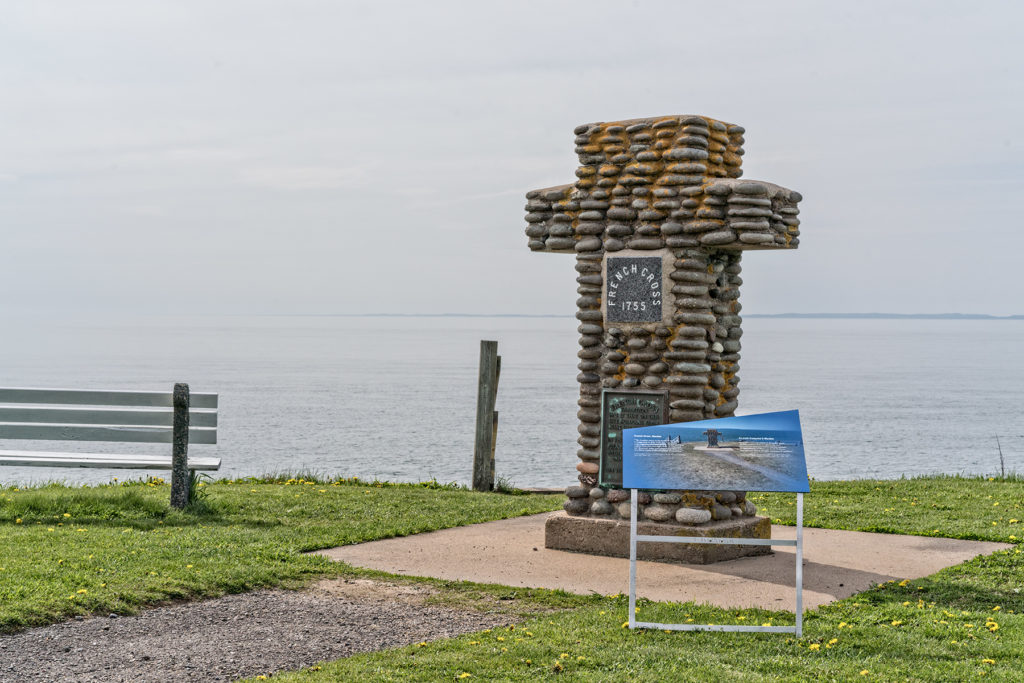 Kim Morgan and Bruce Anderson's artwork for Uncommon Common Art 2018 involved placing counter-monuments—in the form of ersatz interpretive signs—at three area monuments. Photo: Ernest Cadegan.
Some area residents also did not like Morgan and Anderson's photo of American poet Henry Wadsworth Longfellow, whose romantic poem Evangeline provides a dominant narrative of Acadian Expulsion. For their installation, Morgan and Anderson photographed a Longfellow bust at the Grand-Pré National Historic Site during winter, when it was covered up to protect it from ice and snow. Then they installed the photo in public. "We thought it appropriate and funny that his mouth was taped over" in winter, says Morgan. "So much of this one romantic view of the Expulsion has eclipsed the brutal injustice of the event."
As a result of the outcry, Drahos removed the Morgan and Anderson artworks just 24 hours after they were installed. She has since reinstalled them with greater explanation and contextual information.
"We weren't trying to anger people," says Morgan, "but we are trying to provoke thought and dialogue. Part of my work dealing with intervention and monuments is to open up a space for conversation and to activate the facts around historical events not represented in the public sphere."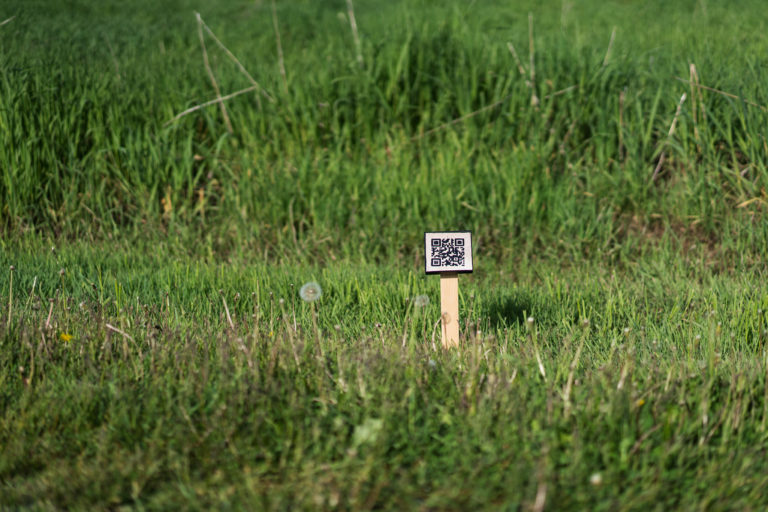 Carrie Allison's
Site
surfaces Indigenous histories along the Cornwallis River with QR codes rendered in embroidered birchbark. Photo: Ernest Cadegan.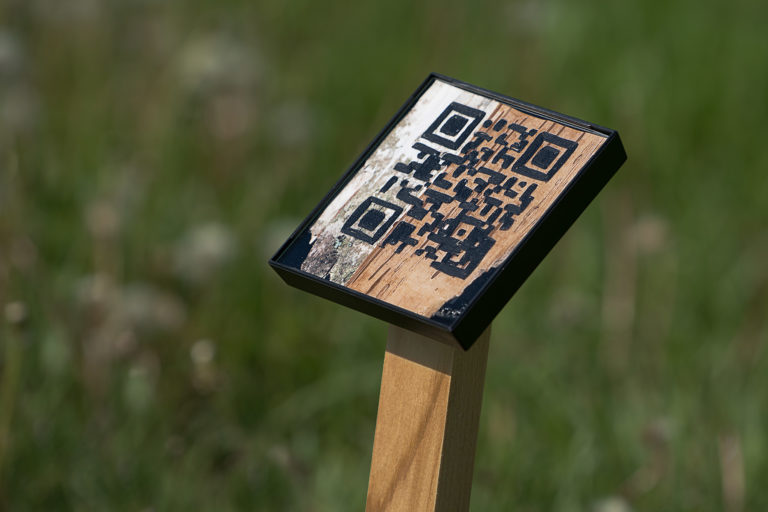 A closer view of one of Carrie Allison's QR codes in birchbark. Photo: Ernest Cadegan.
For her Uncommon Common Art contribution, NSCAD University MFA graduate Carrie Allison makes Mi'kmaq presence more visible in Site. The work combines 21st-century technology with traditional Métis and Mi'kmaq art forms, manifesting QR codes in embroidered birchbark. Allison's codes are placed on a popular walking path at Miner's Marsh, a Kentville park on the Cornwallis River. The river is named for Edward Cornwallis, whose monument was removed in Halifax this year due to his anti-Indigenous legacy; in centuries past, this river had a Mi'kmaq name.
"The Mi'kmaq have lived here for the last 13,500 years and they lived, the majority, along the rivers…. My intent is to get people to think about where they are," Carrie Allison says. "I want to bring attention to the fact we are on Indigenous lands that are unceded and unsurrendered. It's not very visible. We live in a colonial state. We can see that everywhere. I don't think there is enough Indigenous representation within these colonial spaces."
Allison is inspired by her Cree grandmother, who went to an Alberta residential school—an experience she never talked about with Allison. "That cut off a lot of ties for us," says the artist. "My mom doesn't speak Cree and I don't. My grandmother never passed that language on to us. We didn't learn about family history or story. I look at my art practice as a way to reclaim that."
By scanning her birchbark QR codes, visitors to Site can learn more about the river and its history, as well as current stresses on it. "These natural lifelines in the world," as Allison refers to rivers, "are coming under a lot of pressure. A lot of Indigenous people and environmentalists are on the front lines to protect them." Working with Uncommon Common Art has been a good experience in terms of making that phenomenon more widely known, Allison says: "A lot of art is in a gallery or an institution of power. To have it in a landscape and accessible to everyone in a rural community is appealing."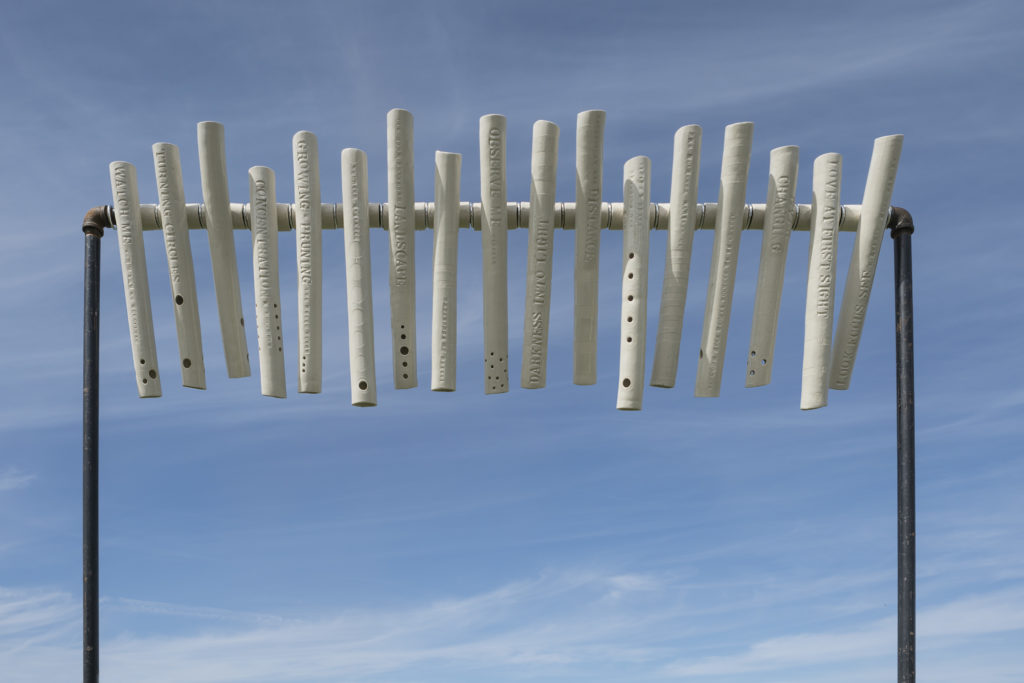 Installed in a Nova Scotia vineyard, Marla Benton's
Tunnel Vision
invites viewers to swivel and peer through text-embellished clay tubes. The tubes also produce sound when the wind is blowing hard enough. Photo: Ernest Cadegan.