As Jacques embarks on a new position as Remai Modern's New Head of Exhibitions and Collections/Chief Curator, she looks back at her achievements at the Art Gallery of Greater Victoria
As Jacques embarks on a new position as Remai Modern's New Head of Exhibitions and Collections/Chief Curator, she looks back at her achievements at the Art Gallery of Greater Victoria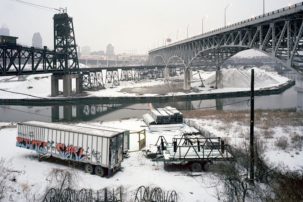 Toronto photographer Scott Conarroe journeyed far—both professionally and personally—to create "By Rail," an exhibition of North American road-trip landscapes. Now, in an interview with Justin Mah, Conarroe discusses his influences and itineraries.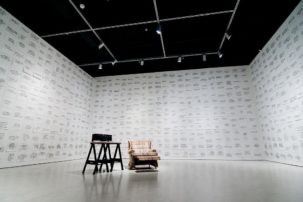 With General Motors declaring bankruptcy this week, there's a lot of focus on the Windsor-Detroit region. Now Windsor Biennial co-curator Lee Rodney shares some thoughts with Bryne McLaughlin on cultural prospects in the area.
From CalArts crits to the Venice art blitz, there's many subcultures in the art world. Who better to investigate them than sociologist and art lover Sarah Thornton, author of the recent bestseller Seven Days in the Art World? With lectures upcoming on April 15 in Toronto and April 18 in Vancouver, an interview reveals some of Thornton's research savvy and secrets.
If there's anyone who can inject vibrancy into the mundane, grey everyday of Canadian winters, it's witty sculptor Jennifer Stillwell. Now, with a solo exhibition on in Winnipeg, Stillwell chats about Canadian Tire, brain freezes, her new public art project and more.
With sales chilling at the Frieze Art Fair last week, there's no better time to chat about the art market's future. In this interview, economist Don Thompson, author of The $12 Million Stuffed Shark: The Curious Economics of Contemporary Art, shares his predictions.
As the Banff Centre celebrates its 75th anniversary, Kitty Scott, its director of Visual Arts, is reaching a different kind of milestone—completion of her first year there. Now, Scott talks about bolstering Banff, protecting the National Gallery, learning in London and more.
Curator Joan Stebbins received the Order of Canada for her 25-year cultivation of Canada's contemporary art. Now, after stepping down from the Southern Alberta Art Gallery's top curating job, Stebbins talks about the gallery's current Marie-Josée Laframboise show, a recent Shary Boyle survey and advice for young curators.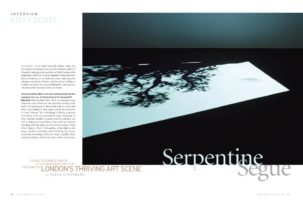 In August, 2006, Kitty Scott left Ottawa, where she was curator of contemporary art at the National Gallery of Canada, to take up a new position as Chief Curator at the Serpentine Gallery in London, England. In this interview, Reesa Greenberg asks her about working in London and about her years building the contemporary collection at the National Gallery of Canada.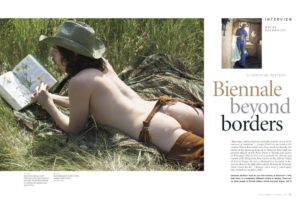 Reportage, shifting identities, hybridity and the return of the museum of curiosities— images flood into my head as the curator Wayne Baerwaldt uses these words to describe the themes of the upcoming Biennale de Montréal.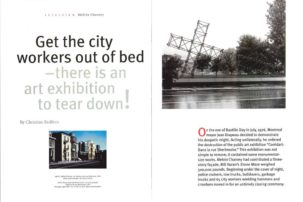 Thoughts from the artist, architect and organizer of Montreal's infamous "Corridart" street-art project Winter 2001