As Jacques embarks on a new position as Remai Modern's New Head of Exhibitions and Collections/Chief Curator, she looks back at her achievements at the Art Gallery of Greater Victoria
As Jacques embarks on a new position as Remai Modern's New Head of Exhibitions and Collections/Chief Curator, she looks back at her achievements at the Art Gallery of Greater Victoria
What happens when you set a group of artists loose for an anything-goes summer camp in an historic rural village? That's exactly what Quebec City's L'Oeil de poisson aimed to find out with its 25th anniversary exhibition "La Colonie." Here, curator Jean-Michel Ross and Canadian Art's Bryne McLaughlin discuss the merits of taking art on vacation.
Ron Terada's latest solo show, currently in Banff, references painting, the image of the artist and Jack Goldstein's memoirs, among other themes. Talking on-site with critic Amy Fung, Terada expands on art-world anxieties, genre mashups and the difficult ways Canadians view artists.
Catastrophes have dominated news this year, from Haiti's earthquakes to BC's avalanches. Now, Bryne McLaughlin talks to curator Sylvie Fortin about "Catastrophe? Quelle catastrophe!" the 5th Manif d'art biennial opening in Quebec City this weekend.
Spring Hurlbut has examined themes of life and death using motifs that some viewers find frightening. But as writer Bill Clarke discovers in an in-depth interview, Hurlbut's main desire is for us to contemplate the human condition.
The late Gerald Ferguson was an influential leader in contemporary Canadian painting. Now, with a final landscape series showing in Halifax, Gabrielle Moser asks Ferguson's Atlantic gallerists how the exhibition came together.
Dan Perjovschi's large-scale installations of critically edged drawings on gallery walls have been featured at the Venice Biennale, Tate Modern and other notable venues. With his latest project now on in Toronto, Bryne McLaughlin talks with the artist about his life and work.
Shows based on today's art collectors are increasingly frequent. But it's rarer to get a glimpse of historical patrons. Now Gabrielle Moser explores the possibilities in an interview with René Villeneuve, curator of "Lord Dalhousie: Patron and Collector."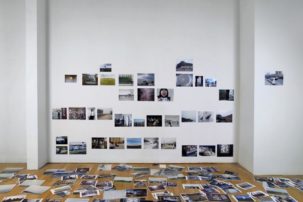 Since the 1970s, Raymonde April has studied key contemporary issues in photography. Now, with her art spawning three Montreal exhibitions, Bryne McLaughlin talks with curator Eduardo Ralickas about what makes April's art so compelling.
For some Canadians, winter is all about staying indoors. This week, a different kind of hibernation begins when performer/artist Lex Vaughn's "geriatric dandy" alter ego takes up residence in a Saskatoon gallery. Here, Vaughn chats with Gabrielle Moser about the work's origins.
British art critic Adrian Searle was in Ontario last week—fresh from Frieze—to lecture at Art Toronto. Between appearances, he sat down for a frank, in-depth chat with Canadian Art managing editor Bryne McLaughlin about art scenes near and far.