Impeachment hearings have gathered steam in the United States—but they haven't slowed down President Donald Trump's three-year effort to build a wall at the Mexico border.
Recent reports indicate that the US government has continued to acquire land in the border area for wall-building, and that Trump's son-in-law, Jared Kushner, has been assigned to oversee the wall's success.
But wall or no wall, plenty of connections continue to exist between the US and Mexico—connections that Montreal- and Madrid-based artist Rafael Lozano-Hemmer highlighted this month in his large-scale interactive artwork Border Tuner.
Each night from November 13 to 24, Border Tuner used searchlights, digital encoders, speakers and custom software to illuminate connections between El Paso, Texas, and Ciudad Juárez, in Chihuahua, Mexico. Through this technology, people on both sides of the border could experience each other's voices, and even heartbeats.
"As a Mexican immigrant in Canada, I've had many friends who have made incredibly interesting art at the border," Lozano-Hemmer tells Canadian Art. "Guillermo Gómez-Peña, Teresa Margolles; there's a long tradition of artists coming to the border and making artwork.
But the process of this work in 2019 required that the artist himself tune in better to border communities.
"Twelve years ago, I thought I knew exactly what I wanted to say" in a border artwork, says Lozano-Hemmer. "But when I showed up at the border two years ago for the first of eight trips, I realized I knew nothing—that there was a lot of platitudes about the border and that a lot of the artists like me who show up and make artworks have no relationship to the communities there."
As a result, Lozano-Hemmer and his team, who finished up the interactive component of Border Tuner on Sunday, have left behind a fund in El Paso and Ciudad Juárez to help local artists there develop their own works.
"What I really learned is that what I needed to do, rather than say something, was to shut up and listen," says Lozano-Hemmer. "So I made an entire artwork about listening."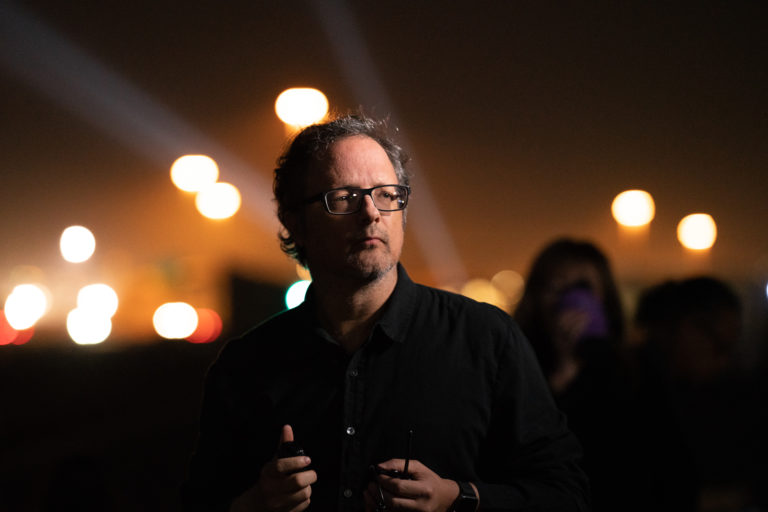 Rafael Lozano-Hemmer at
Border Tuner
, 2019. Photo: Monica Lozano.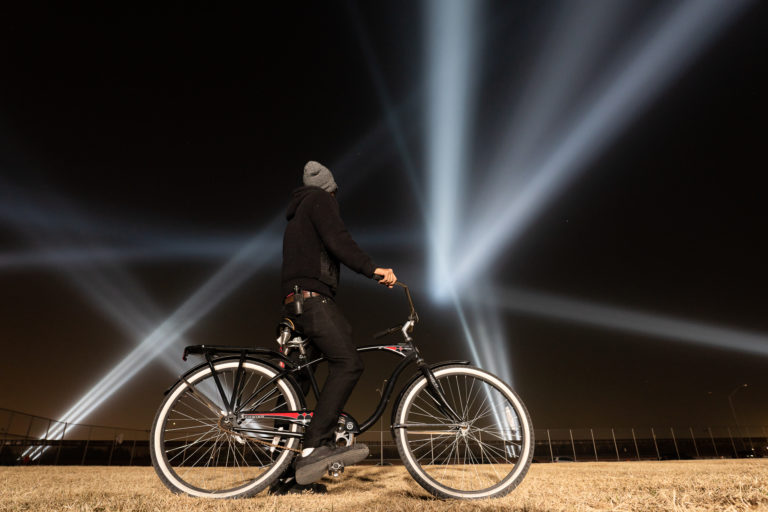 Rafael Lozano-Hemmer,
Border Tuner
, 2019. Photo: Monica Lozano.
When two of the six searchlights in Border Tuner intersected, the users of those searchlights were connected sonically. In a related work, Remote Pulse, users could feel each other's heartbeats.
"People on both sides of the border are extremely eager to tell their own narratives of the border—which are in stark contrast to the ones that we typically hear in the mainstream media, and definitely to the ones from the US administration," says Lozano-Hemmer.
Though Lozano-Hemmer has done other large-scale interactive public artworks in the past, this one had an added degree of "negotiation and civility involved" and more "negotiation between speaking and listening," says the artist.
The project team included curators Kerry Doyle and León de la Rosa, as well as programming direction by Edgar Picazo, who organized readings and performances by poets, beatboxers, seniors, historians and more for each night of the project. Border Tuner was organized by the Rubin Center at the University of Texas at El Paso, the El Paso Community Foundation and Fundación Comunitaria de la Frontera Norte.
"It was all very unpredictable and diverse, just like the border region," says Lozano-Hemmer. "At one point you would have something super joyful, with people serenading each other, or people flirting. And then the next moment you'd find extremely gruelling accounts of separation, violence and injustice. I think it was very symbolic of the connection that already exists between these sister cities."
Moving ahead, Canadians will have a chance to experience part of this project in archival form. In the coming weeks, hundreds of hours of audio recorded during Border Tuner will be uploaded to bordertuner.net.
"There are so many things I've learned from this project," Lozano-Hemmer says. "The biggest one is that in this region, you need to go and listen."
Rafael Lozano-Hemmer,
Border Tuner
, 2019. Photo: Mariana Yañez.