How do you capture planetary destruction in art? According to renowned Canadian landscape photographer Edward Burtynsky and filmmakers Jennifer Baichwal and Nicholas de Pencier, the rationale for their large-scale photographic exhibitions, documentary film and multidisciplinary project is to popularize the term "Anthropocene," the name proposed for our current geologic epoch, as defined by the scale of human impact on the earth. Together they produced a vast body of work over four years working across six continents: concurrent exhibitions at the Art Gallery of Ontario and the National Gallery of Canada; a feature-length film—Anthropocene: The Human Epoch—that had its world premiere at TIFF in September; a fully illustrated, hardcover catalogue; an eight-episode podcast; and a slew of accompanying talks, lectures and events. Throughout this multimedia project, the stunning and sublime images are unrelenting, consistently provocative and engaging.
I'm left unconvinced, however, about such an omnibus approach to art-making. After parsing all the examples of planetary re-engineering that the Art Gallery of Ontario's "Anthropocene" exhibition depicts, I'm left with some straightforward questions: do we need (more) images of the Anthropocene, and why? Do images change our thinking or capacity to act, and whom would such changes benefit?
Since at least 2000, geologists have argued about when and how we can prove that humans have irreversibly altered the geologic record. Almost at pace, researchers in the humanities questioned the cultural implications of such a shift, highlighting the inequalities bound up in the term itself: not all humans have contributed equally to geologic changes and not all humans are, or will be, equally affected by the negative impact of the scale of destruction. But the project rarely touches on these debates, relying instead on the (non-visual) podcast hosted by Sarain Fox to do the work of addressing environmental racism, decolonization and Indigenous perspectives. What the exhibitions do reveal are the extremely photogenic sites of industry and extinction that have become indicators of anthropogenic pollution and ecological change. Often inaccessible and under the heavy security that profit-driven industries demand, these are sites that most people will never see otherwise, a point made by the artists and organizers throughout.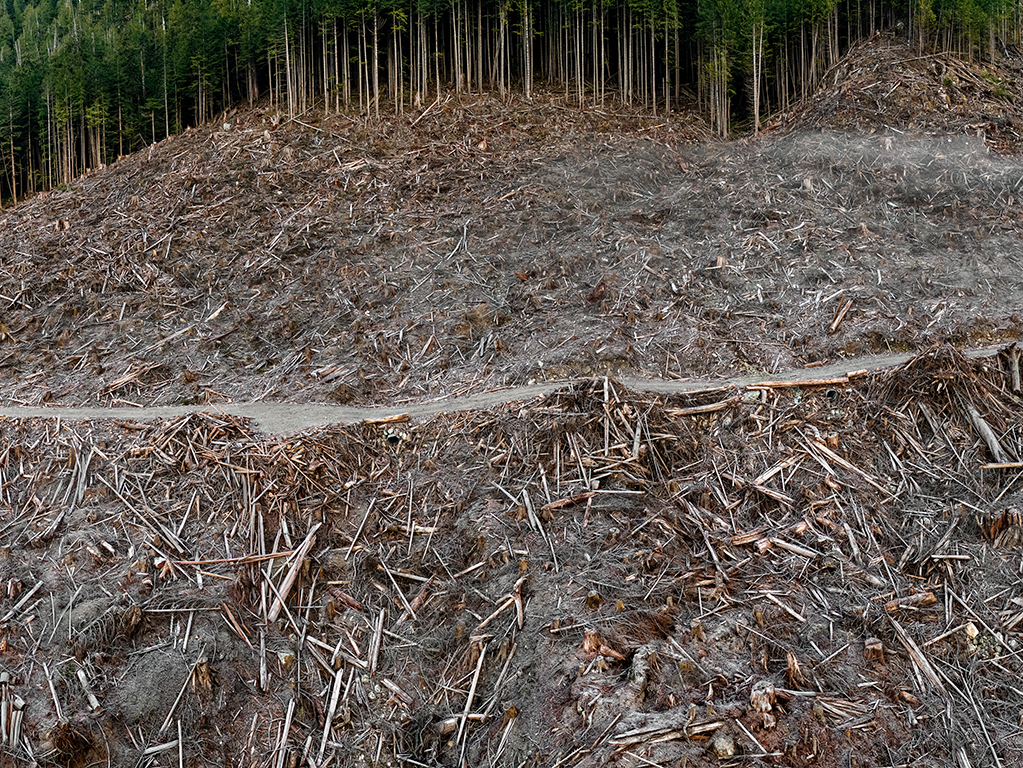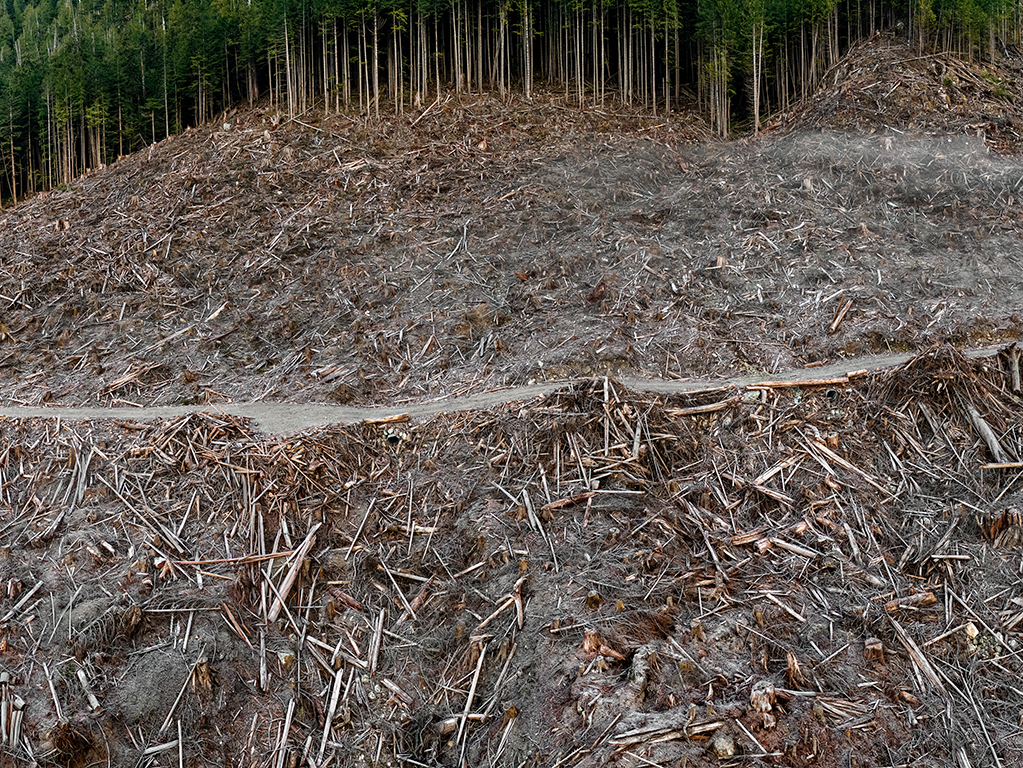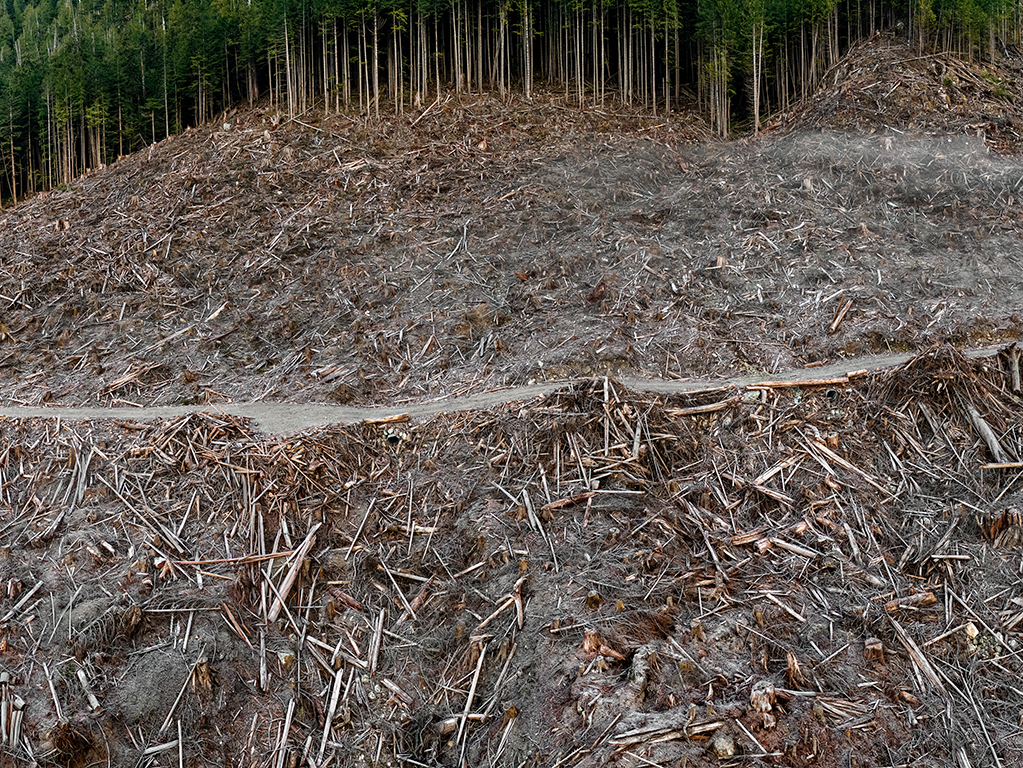 Aerial images of clear-cut forests, surface mining, tailings ponds and transportation networks demonstrate the hubris of the built world. We see the quarries, tunnels, landfills, highways and waterways that have transformed the earth at unprecedented scale and speed into toxic and uninhabitable spaces. No expense was spared, in technology, travel or production, to create images that live up to the scale of the project's name—indeed, it's an overwhelming attempt at a comprehensive view of global environmental destruction. The topic is no doubt urgent, but the exhibitions' overreliance on technology—visitors download a specially designed app to experience images of the "wider spectacle" (as Burtynsky describes it) on tablets and iphones continually connected to WiFi or data—means becoming further complicit in excessive energy consumption. Even regular internet connectivity requires a significant amount of energy to power data servers, run fibre-optic cable and charge up always-on computers and devices as they slowly drain. It requires a certain level of ignorance to overlook how much energy is being used here, which suggests to me a deeply misplaced trust in the value of photographic images. It assumes that the value of having produced these images outweighs the (albeit carbon-offset) emissions generated in researching and shooting them, and the excessive amount of energy required to view them. The photographs, composites and augmented-reality murals function as abstractions by distancing the viewer from the realities depicted. We read them as sublime, terrifying, disturbing—but the repetition of long, wide-angle views and frames full of overwhelming detail actually conceals information rather than revealing it. In aestheticizing consumption, the works neutralize it, significantly diminishing their power as documents of our time.
The assumed veracity of photography—which contributed much to the discourse of 20th-century photojournalism but has been widely challenged in art theory—is alive and well here. New versions of "the real" (augmented reality, seamlessly integrated HD video and photo installations, wall-size stitched-together photo murals, satellite imagery) force viewers to confront the realities of disappearance. Like the BBC television series Planet Earth 2 or Blue Planet 2, the "Anthropocene" documents, in high definition, what appear to be the late stages of planetary collapse. More-real-than-real scenes of lush British Columbian forests and Indonesian coral reefs are sobering, less so the bizarre three-dimensional reconstructions of the extinct northern white rhino and a dramatic pile of burning elephant tusks. There is little room for nuance or pause, and the exhibition tends to narrow interpretation rather than opening and encouraging it. Given the dire and repetitive nature of existing climate change narratives, that's a missed opportunity. Using the most advanced camera technology, the artists implore us to think as humans always have, with the belief that new technologies will reveal something previously unknown. But we've seen images of this sort before. The pile of burning tusks was a dramatic attempt by the Kenyan government to destroy the ivory market and stop poaching; it was well documented when it occurred and the film reveals the extent to which the burn was produced as a media event. The psychedelic images of coral reefs, both healthy and bleached, will be familiar to anyone with a passion for nature documentaries, likewise the enormity of recycling and garbage dumps. This is what human-driven climate change looks like and it has been reported with increasing intensity for decades.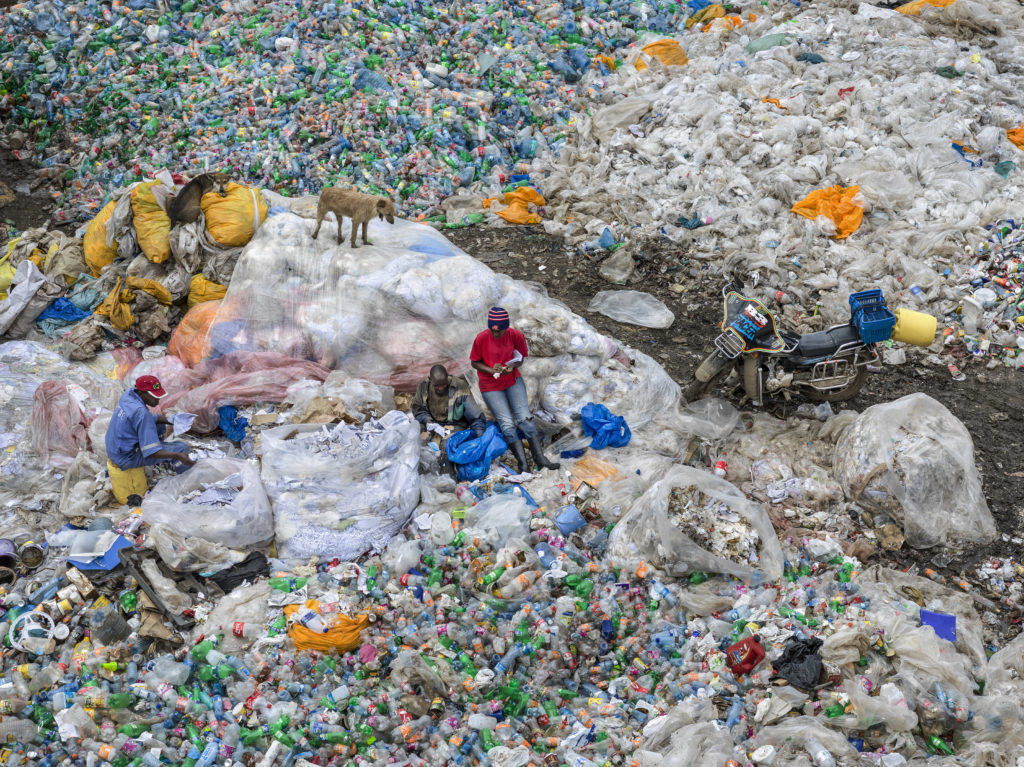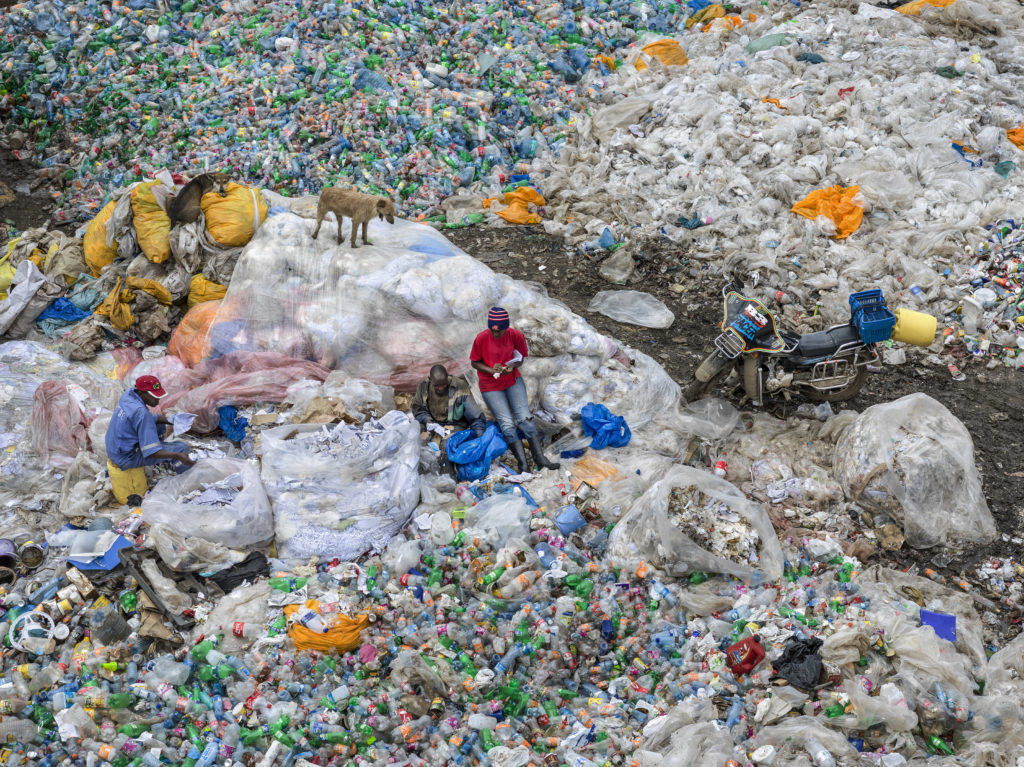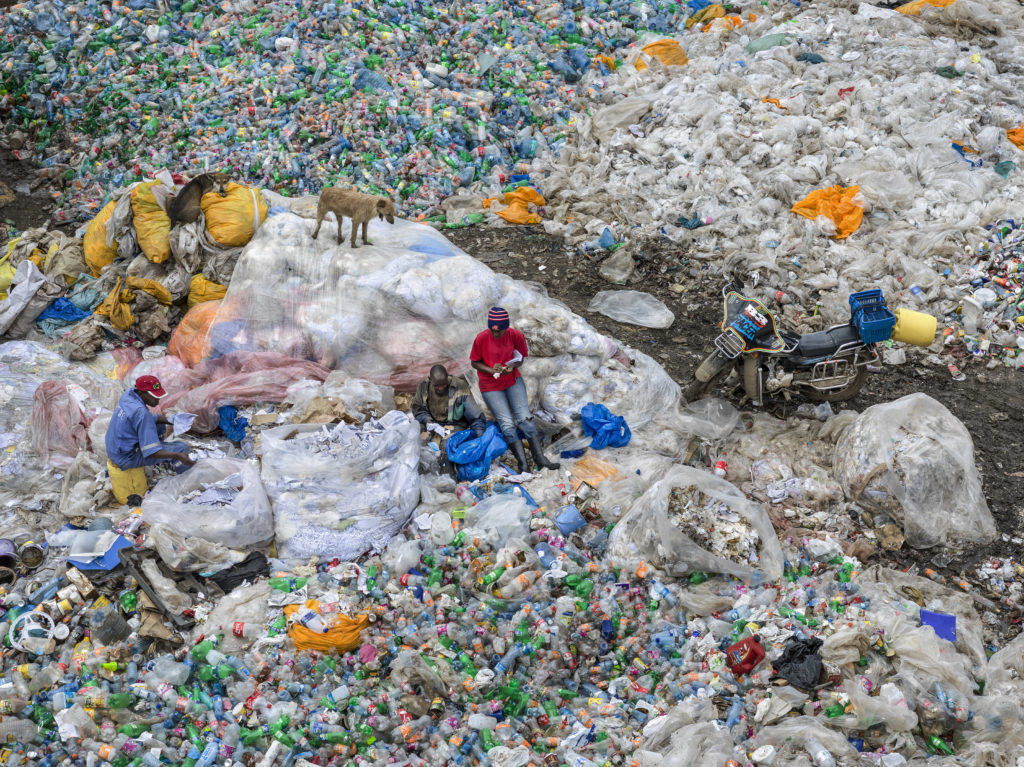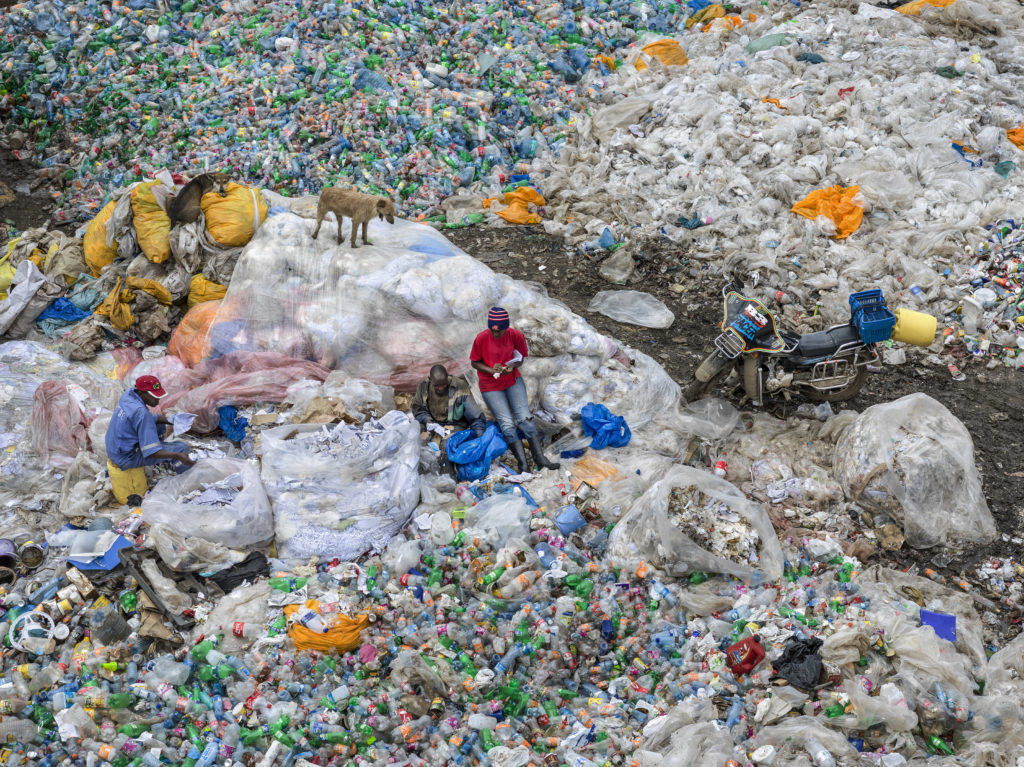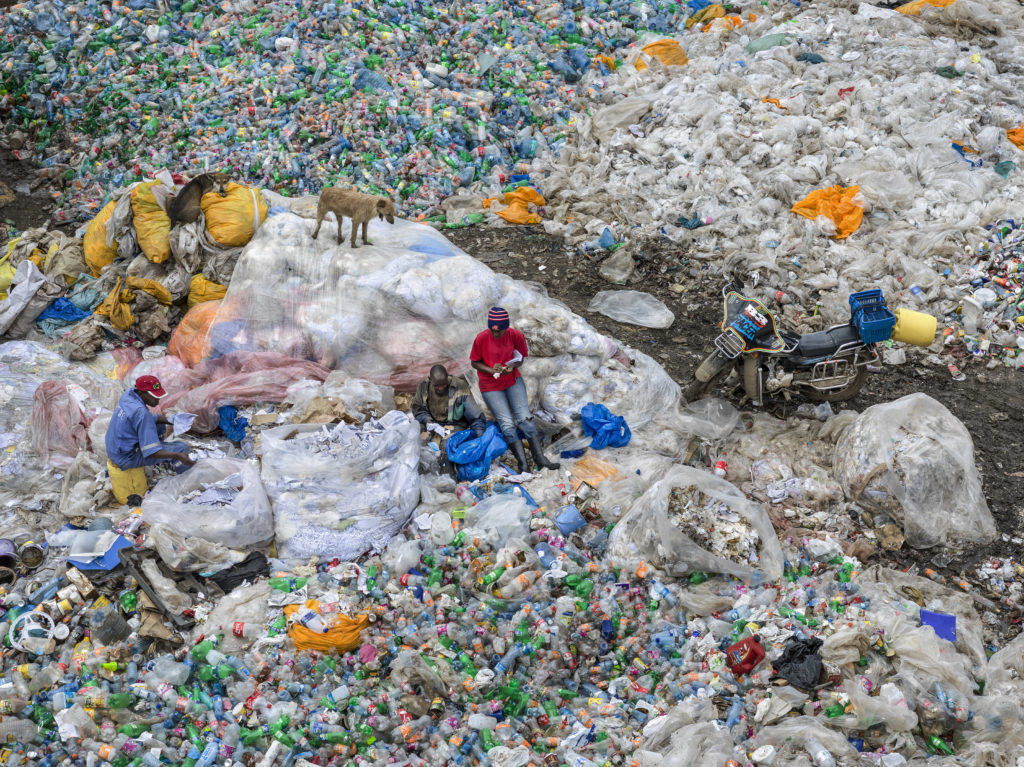 The aerial and oblique-aerial views long favoured by Burtynsky organize the surface of the earth into shapes and grids, colour gradations and repeating geometric forms. Everything in the frame is made equivalent—human and non-human, structures and species alike. And when the horizon appears near the top of the frame, one has the feeling of being in control of the landscape before them, the single-point perspective rendering flat surfaces with illusionistic depth. The capacity to see what is beyond human sight, whether by attaching cameras to kites, pigeons, planes, satellites or drones, has had such usefulness for military and industrial efforts that it's hard to disassociate this angle of view from its symbolic power. By looking, we can walk into polluted and inaccessible landscapes confident we need never experience them in reality. Perspective gives us the benefit of distance, rather than vice versa.
Edward Burtynsky,
Makoko #2, Lagos, Nigeria,
2016. Pigment inkjet print, 1.48 x 1.98 m. Courtesy the artist and Nicholas Metivier Gallery, Toronto.
I had already seen Burtynsky's Makoko #2, Lagos, Nigeria but it wasn't until the shuffle of gallery-goers pushed me up against its surface that I realized how many of the people depicted were looking back at the camera. It struck me that we aren't really meant to see people in the frame at all, although they are clearly there, seeing us. Instead we follow the river as it leads into the distance, with rooftops and buildings unfolding into infinity as though this city is so big its edges can never be seen. Once I saw a face, I saw many. Of course, the "eye in the sky" shooting from a low vantage point would have been conspicuous and likely quite loud. Most people look amused or curious, some look annoyed, the children look excited and several are laughing. For people living at the waterline, like the inhabitants of the world's largest floating city, vulnerability to sea levels rising and other climate-related disasters is a constant reality. My position, as viewer, was transposed with the artist's flying camera and it was a startling moment of recognition—to be held accountable by the subjects of a photograph in this way, subjects who were never meant to be seen as subjects. The inequalities embedded in aerial photography became visible to me, obvious.
Disturbing as they are, the images in the "Anthropocene" exhibition don't necessarily reveal a new truth of the world as we know it today, or elicit a call to action. Rather I worry that their primary effect is to produce viewers who simply accept the current scale of industrial pollution, a familiarity with destruction that is a bit too comfortable. The images are beautiful, the terror of the industrial sublime is evident, but art isn't only about beauty—it should also be about generating dialogues that are contrary and contradictory. The film is the most successful component because it offers context, with narrative accounts that make the complexities of our age seem all the more bizarre. In the cinema, we are captive to screen and sound and the resulting emotional impact is visceral. The feelings of urgency and helplessness are apt, but the film drew me into a way of sensing the problems of the Anthropocene that the exhibition didn't. Whether any art can instigate change is up for debate but at this critical moment, where it will take so much more than individual will to produce change, it is dangerous to continue to uphold the aesthetics of destruction.