A new study released today has some promising information for art galleries in Canada. Funded by the Canada Council for the Arts, the Ontario Arts Council and the Department of Canadian Heritage, the insights in Canadians' Arts, Culture or Heritage Participation in 2016 are based in StatsCan data and indicate that art-sector engagement is often higher than many expect.
"Art gallery attendance has been increasing consistently," says Kelly Hill, president of Hill Strategies Research, which authored the study. "It was one of the most positive indicators we could find in the data: the percentage of Canadians attending public art galleries has gone up consistently."
In 1992, when StatsCan began collecting data on attendance at public art galleries, only 20% of the population, or 4.2 million people, had attended a public gallery that year. In 2016, the year for which the most recent data is available, that has doubled to 39% of Canadians, or 11.5 million people.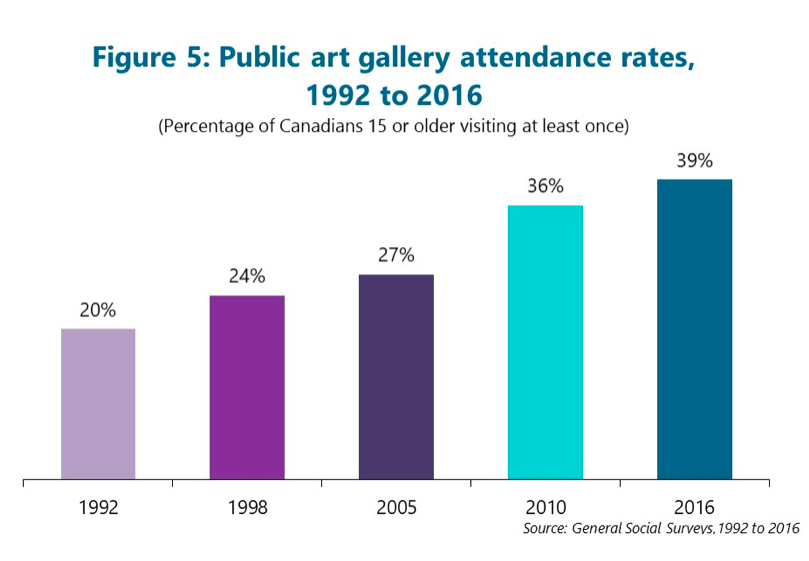 A chart from the Hill Research study Canadians' Arts, Culture and Heritage Participation in 2016 shows how Canadian art gallery attendance has doubled since 1992. Graphic: Hill Strategies.
"Another finding I think is interesting is the number of people making art," says Hill. "One of the headline findings is that one-half of Canadians over the age of 15 made or performed art in 2016. …Numbers don't usually surprise me, but I found that surprisingly high."
When it came to making or performing art, craft practices led the way, with 18% of Canadians, or 5.2 million, aged 15 or older having made craft works in 2016. That was followed by music, with 15% of Canadians, or 4.3 million, performing or practicing music in 2016. And visual arts actually came in third in terms of creative activities, with 13% of Canadians 15 or older, or 3.8 million people, engaged in visual-art making in 2016.
After those top three activities—craft, music and visual art—Canadians were engaged in writing, dancing, audio-visual and interactive media, theatre and other creative arts activity.
Overall, the study cast a wide net in terms of defining arts participation in Canada. Even reading a book or going to a movie qualified in wider stats showing that 99.5% of Canadians 15 or older in 2016 participated in some kind of arts, culture or heritage activity.
"We intentionally did not draw any distinction between 'high arts' and 'low arts,'" says Hill, noting that "those terms are fairly outdated. …Reading is a cultural activity." He also states that breakdowns are available in the study for different activities, like visiting galleries, and that whereever possible, the study stuck to definitions that StatsCan itself developed in 2010.
The areas that did seem to be suffering or on the decline in terms of participation, according to the study, were mainly listening to music on CDs, vinyl and other conventional formats.
Looking ahead, Hill says that StatsCan is not expected to collect arts participation data again for another five or six years, since the last two collections were in 2010 and 2016. However, in the meantime, he hopes to tackle a demographic breakdown related to the current participation statistics and data sets.
The full study can be read on the Hill Strategies website.