In Newfoundland and Labrador, as in much of North America, 2017 was a year of contested identity, Indigenous-led resistance to colonial attacks on the environment and Indigenous peoples' way of life, and vertiginous economic decline.
In this territory alone, controversy grew over revocations of Qalipu Mi'kmaq First Nations status; Amnesty International, among others, called out the government for the Muskrat Falls project and related protester imprisonment; and a Royal Newfoundland Constabulary officer was acquitted of rape after he said that he wasn't aware that the victim, who asked him for a ride home while he was on duty, was too intoxicated to consent. (The morning after the latter verdict, St. John's downtown was covered in graffiti urging people to support sexual-assault survivors.)
In short, it was a year of historic coming together to make voices heard through protest and artistic expression, and of fraught, heartbreaking coming apart. The work of the province's artists and curators reflected a year of borders being shored up and torn down. Here are three of their projects that stand out most.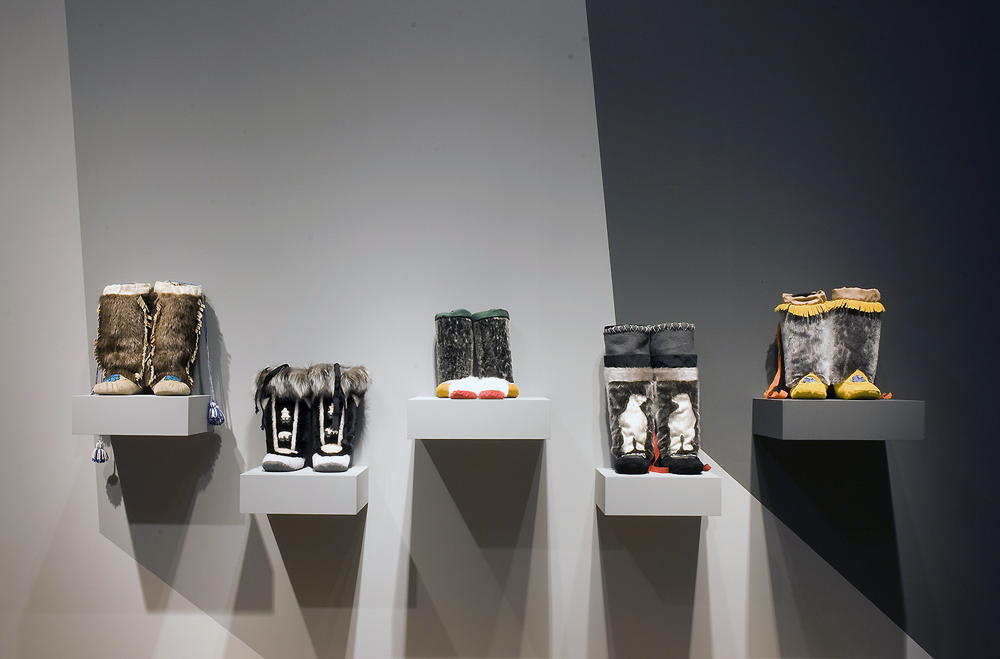 Kemek (boots) displayed to represent five Nunatsiavut communities in "SakKijâjuk: Art and Craft from Nunatsiavut" at the Rooms.
SakKijâjuk: Inuit Fine Art and Craft from Nunatsiavut
One of the most exciting, downright revolutionary and celebratory exhibits of 2017 was "SakKijâjuk: Inuit Fine Art and Craft from Nunatsiavut," which continued at the Rooms in St. John's till January 15 before touring the country. The exhibition brings together work by 47 artists and artisans from Northern Labrador. It has been called the first of its scale to exhibit the work of Labrador Inuit artists.
Expertly crafted functional pieces embellished with intricate and imaginative designs were featured alongside contemporary photography and sculpture. Susannah Igloliorte's embroidered jacket, for example, which shows figures tumbling playfully across the land, is displayed with Ryan Winters' paradoxically atmospheric and crisp photograph of a cargo ship; the photo captures the black harbour streaked with light from a community across the bay, and in the foreground the ship in an eerie blast of white light.
Exhibition curator Heather Igloliorte, an Inuk from Nunatsiavut currently based in Montreal, divides the work into generational categories; Elders, Trailblazers, Fire Keepers, and Next Generation. By exhibiting 87 distinct pieces, created over a period of nearly 70 years, Igloliorte gives viewers a sense of the vast diversity of work being made Northern Labrador.
In the handsome hardcover book that accompanies the exhibition, Igloliorte says art made by Labrador Inuit in the 18th, 19th and early 20th centuries is displayed in museums around the world, but has rarely been included in conversations about Inuit art in Canada. Similarly, until recently, this work has been largely ignored by publications on modern Inuit art.
Igloliorte writes, ""Our elders, artistic frontrunners, and younger generations of artists have never before had the opportunity to show their works together, or to take up this kind of space in our national and provincial institutions."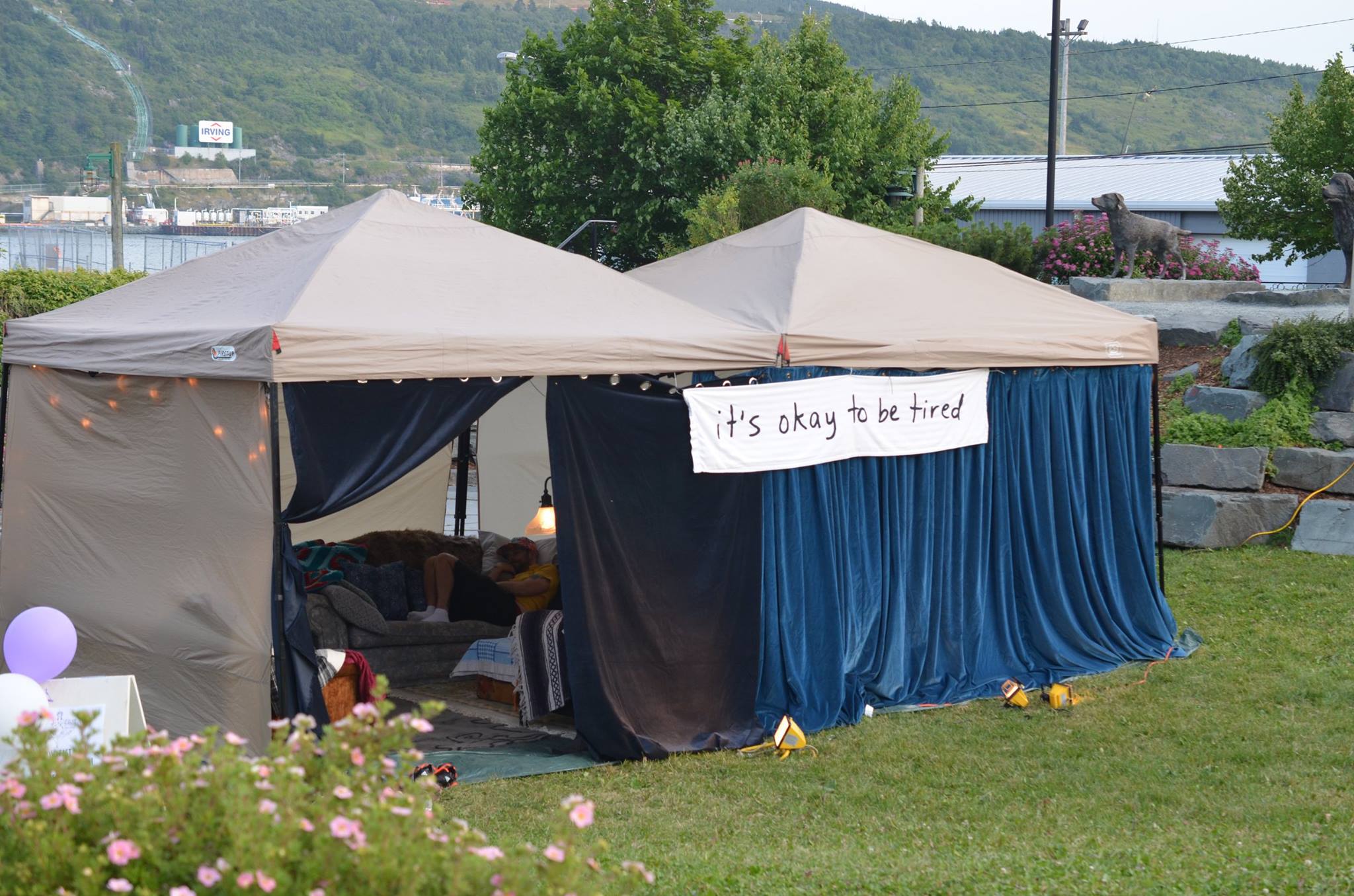 April White's project it's okay to be tired was part of the Hold Fast festival in St. John's this summer, offering a restful space next to the city's harbour, across from Irving oil tanks and next to permanent sculptures of a Newfoundland dog and Labrador retriever. Photo: Eastern Edge Facebook page.
Hold Fast Contemporary Art Festival
This summer Eastern Edge added a new artist-in-residency program to their annual Hold Fast contemporary art festival. During some of the stickiest days of July people were invited into the gallery to visit Montreal-based artist Vicky Sabourin as she worked on a multi-chapter exhibition called "Becoming Invisible."
"Becoming Invisible" incorporated found specimens and pieces Sabourin crafted; in the open studio a jar of rust-coloured pond water sidled up to a cluster of ceramic barnacles, and a felted bird perched near a pile of beach rocks. Sabourin's work blurs the border between natural and fabricated worlds, it was hard to tell which pieces she had created and which she had unearthed.
In August Sabourin was joined by a slew of other visiting artists who all participated in the Festival's Art Crawl, a night when performances erupted all over downtown St. John's and audiences rushed from venue to venue, taking in as much art as possible before the big closing night party.
As part of the crawl, Ray Fenwick performed Secret Life of Plants at the Anna Templeton Centre. Fenwick stood in an alcove full of plants lit by murky, green light. For about 20 minutes he urged the plants to communicate with him, sometimes pleading with just his eyes and other times employing high and squeaky or thunderingly deep voices. This performance piece verged on stand-up comedy and had the audience rolling with laughter, Fenwick's humour conveyed a meaningful commentary on isolation and the need to be understood.
On a large tent pitched in Harbourside Park a banner announced, "it's okay to be tired"— part of April White's interactive installation by the same name. White wrestled with the idea of rest as resistance in a capitalist system; inside the tent, viewers were invited to snuggle into one of two couches or stretch out on a futon mattress. Pillows stuffed with indiscernible audio-devices whispered instructions for relaxing, reassuring the listener that "it's okay to be tired". A computer monitor in the corner showed a watercolour animation of White's face that shifted through each micro-expression of a yawn as you moved the mouse. Many visitors drifted across the border of sleeping and waking with their faces pressed into the talking pillows.
At the Christina Parker Gallery, Sabourin removed beach rocks from the belly of a life-size felted horse and climbed inside. During her moving four-hour performance piece, Warmblood, Sabourin silently enacted the story of a rider who is forced to kill her horse and climb inside its warm body for survival. Curled inside the horse with only her legs sticking out, when Sabourin moves inside the horse she brings it to life, making the border between fantasy and reality shimmer in and out of view.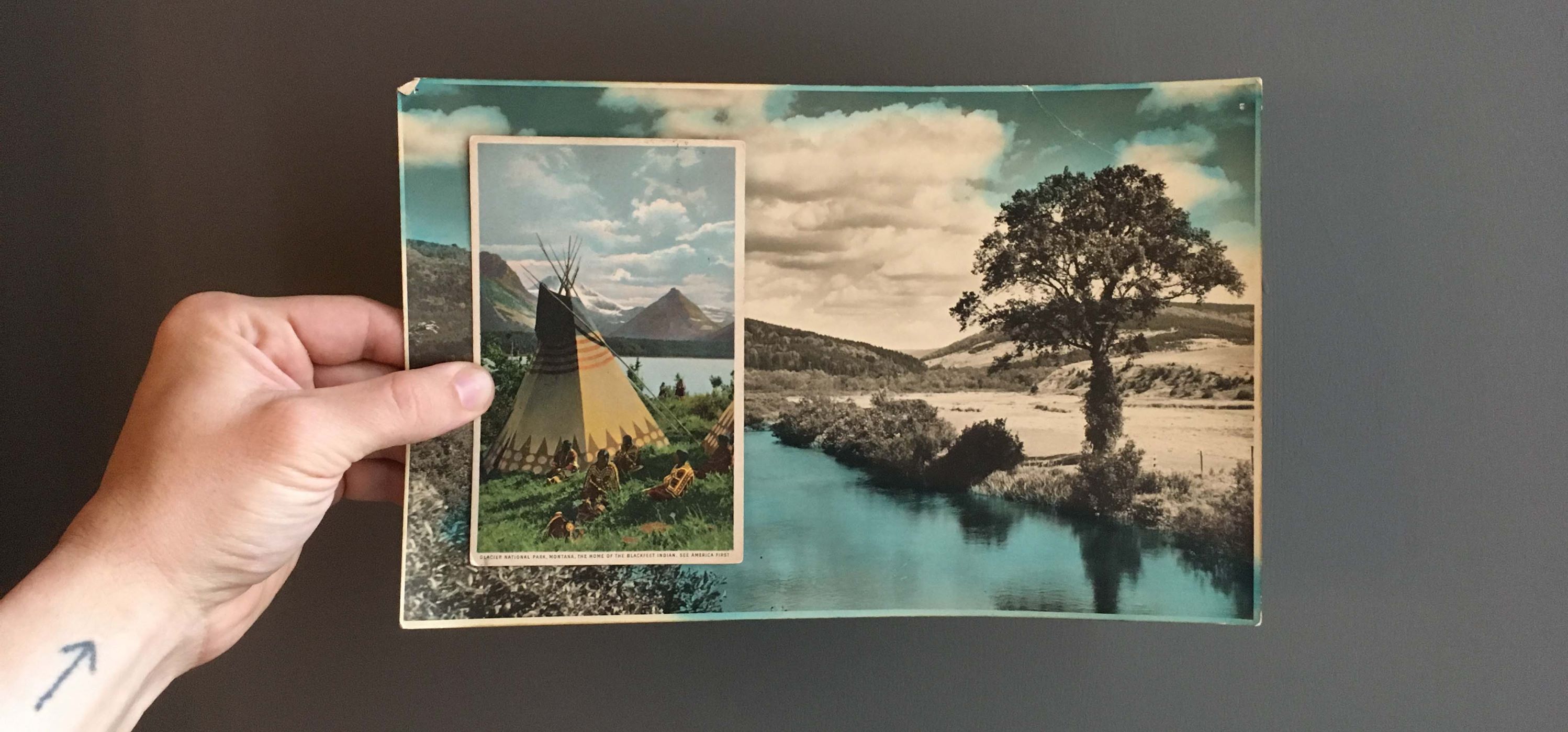 Logan MacDonald's project The Lay of the Land at Eastern Edge explored how First Nations communities across Canada enforce their borders.
The Lay of the Land
In late October, Logan MacDonald's "The Lay of the Land" opened at Eastern Edge. The multi-media exhibition, which closed just recently, on December 8, documented ways that First Nations communities across Canada enforce their borders in the face of corporate and governmental encroachment.
In an accompanying artist statement, MacDonald said of "The Lay of the Land," "…I was lucky to make it coast to coast, but I am all too aware that there is much more to see and more people to meet. This work is a beginning. It is in progress…"
In 2017, thousands of Newfoundlanders and Labradorians had their applications to the newly established Qalipu Mi'kmaq First Nations band rejected by Indigenous and Northern Affairs Canada—and thousands who had been granted status as founding members of the band had their status revoked. There was confusion and frustration about a newly implemented enrolment process that sometimes divided families, granting some family members status and rejecting the others. For many this felt like the continuation of a long history of colonial governments attempting to silence Indigenous peoples in the province.
Originally from Corner Brook, MacDonald identifies as a settler with European/Mi'kmaq ancestry. In a panel discussion about Indigeneity and the Legacy of Cultural Erasure Within NL, MacDonald spoke about how the work reflected his complicated relationship with his own Indigeneity and his struggle to connect with Mi'kmaq culture in a way that feels authentic and respectful.
In the gallery, three photographs lay face-up on a structure of wood and concrete blocks. The image in the centre showed a small stretch of pavement spray-painted with the words "NATIVE LAND"; the two framing photographs were close-ups of the forest floor. In this piece titled Coast to Coast (NL, ON, YK) the spaces between the photographs compressed the huge distances MacDonald travelled researching this body of work. The industrial materials supporting the photographs made the piece appear unfinished, reflecting MacDonald's statement that the project is an ongoing exploration.
The political climate in Newfoundland and Labrador promises to heat up to boiling in 2018 with people beginning to receive a second wave of rejection letters in response to appeals for status with the Qalipu First Nation, fears about flooding at Muskrat Falls becoming more urgent, and activists speaking out about the ineffectuality of the government's new Committee on Violence Against Women and Girls. In the coming months, I expect more work that filters this tumult through radical and nuanced artistic expressions.