Winter 1986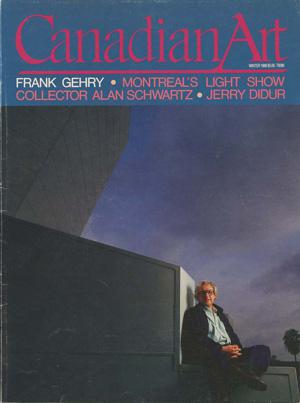 On newsstands December 15, 1986 to March 14, 1987
Volume 3, Number 4
Features
Frank Gehry, Master Builder
The art world salutes a Toronto-born, Los Angeles-based architect in a major retrospective. By Adele Freedman
Lights Fantastic
An international group of artists took over an underground shopping mall in Montreal with an ambitious light show. By Lorne Falk
Sudden Impact
From funk ceramics to dreamlike Japanese gardens. The leaps-and-bounds evolution of Regina artist Jerry Didur. By Nancy Tousley
The Collector
Alan Schwartz loves painting and everybody loves Alan Schwartz. A portrait of a remarkable private buyer. By Sandra Martin
Moments in Timelessness
Art and craft merge in the unforgettable photography of the late Michael Lambeth. By George Bogardi
The Declaration of Independents
Freelance curators are opening up new avenues for the exploration of contemporary visual art. By Susan Crean
Collage
A jury on trial at the Calgary Olympics, Joseph Martin resigns from the National Gallery, Melvin Charney's tribute on The Hill, Collins and Milazzo hit Toronto, new ideas from Art Metropole, and the Bovey report.
This Winter
Medrie MacPhee at Mira Godard, Shelagh Alexander in Montreal, Joanne Tod at Carmen Lamanna, a Graff retrospective at the Musée d'art contemporain, Oonark at the Winnipeg Art Gallery, and The Idea of the North in NYC.
Point of View
An off-the-wall look at a medium that commands a religious devotion from its disciples. By Brian Shein
Reviews
General Idea: "The Armoury from the 1984 Miss General Idea Pavillion" By Tim Guest Art in Victoria: 1960-1986/Maxwell Bates By Robin Skelton Liz Magor By Peggy Gale Cynthia Short By Anna Babinksa Greg Curnoe: nü wërk By David McFadden John Fox: Recent Paintings By Liz Wylie Life Like It: Some Halifax Video By Earl Miller 1986 Baker Lake Print Collection By Ian Wiseman Caryn Nuttall: Victoria Regina Has Posthumous Fun in the Colonies By Dorothy Labarge Mark Prent: New Sculpture By Linda Genereux The Art of the Northern Tlingit By Ramsay Cook Kurelek: A Biography By Terrence Heath Cover: Architect Frank Gehry framed by the soaring metal-clad wall of his California Aerospace Museum. Photo by Michael Pilon.