Winter 1985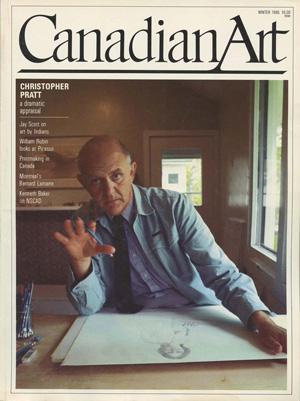 On newsstands December 15, 1985 to March 15, 1986
Volume 2, Number 4
Features
I Lost It at the Trading Post
Artists Carl Beam, Robert Houle, Clifford Maracle, and others challenge the stereotypes of "Indian art". By Jay Scott
Notes from NSCAD
Having weathered conceptual art, process painting and natural basketry, can the "best art school in North America" survive faculty unionization? By Kenneth Baker
Bernard Lamarre
As a guiding force behind the Lavalin collection and the Montreal Museum of Fine Arts, he wields supreme influence on the Quebec arts scene. By Véronique Robert
Christopher Pratt
Master of transcendent archetype or laureate of the middle way: a dramatic appraisal By Gary Michael Dault
The Private Picasso
A personal selection of Picasso's paintings at the MMFA is rich in resonance and invention. By William Rubin
Tales from the Cameron
The Goldstein Chapel, the Alien Lounge and other mixed-media legends in the making. By Hans Werner
The Special Pleasures of Original Prints
What they are, how they're made and how they're different from "limited edition" reproductions. By Glen Warner
Collage
Sprucing up the towers of power, Minotaur magic, the AGNS plays post office, Canadian comics go to Paris and a dog show at Harbourfront.
Previews
A Binning bonanza, Morrice at the MMFA, Girling watching, Canadian design then and now, and Pennys for our thoughts.
Book Reviews
Ramsay Cook on the heritage of northwest-coast Indian art, Mary Pratt's cookbook creations and a round-up of the best books for Christmas.
Art & Money
Lisa Balfour Bowen take a look at the brave new marketing at the Art Gallery of Ontario.
Reviews
The Second Generation: Fourteen Saskatchewan Painters By Robert Enright David Alexander: Expanding the Tradition By Peter Millard The Group And Individuals: Themes and Forces in Canadian Art 1916-1945 By Robert Stacey D.P. Brown: Twenty Years By Nancy Tousley Dennis Tourbin, John Boyle and Dorothy Caldwell By David McFadden Aurora Borealis By Peggy Gale Cover: Portrait of Christopher Pratt by John Reeves.