Summer 1988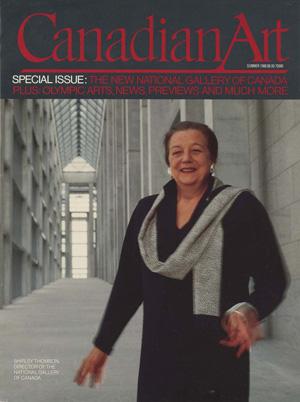 On newsstands June 15 to September 14, 1988
Volume 5, Number 2
Features
Ottawa's Crystal Palace
The new National Gallery of Canada building is spectacular, but is it enduring architecture? A critical tour. By Larry Richards
History in the Making
How the National Gallery came to be where—and what—it is today. By Maria Tippett
Art's First Lady
As the NGC's new director, Dr. Shirley Thomson inherits a difficult job and a troubled institution. By Peter Day
Degas: A Retrospective
Surprisingly little is known about Degas's large body of work, but one thing is certain: he has been an acknowledged master for the past century. By Michael Pantazzi
The Rideau Street Chapel
Preserving a shard of our architectural past within the walls of our architectural future. By Kay Kritzwiser
Painting the Town
During the Olympics, Calgary hosted not only sports events but a number of exhibitions. Nancy Tousley rates the players.
Collage
The Andy Warhol auction, Toronto's WaterWorks transforms the city's pumping station, the Halifax home of Morse's Tea becomes the new home of NSCAD, a benefit auction to help prevent nuclear war, Canada and the Venice Biennale, media arts at Banff, and last but by no means least, Moshe Safdie strikes again. By Sarah Milroy.
This Summer
Quebec artists fill the Musée d'art contemporain, Wanda Koop shows in Winnipeg and New York, Guido Molinari has his first Toronto show in six years, the Canadian north through the eyes of Rae Johnson, the Naylor Collection goes on display at the WAG, Jane Buyer's "shelf works," Picasso's sketchbooks on view at the AGO, and Gerhard Merz at both the AGO and Cold City Gallery.
Reviews
Inherent Vice: Chris Cran By Nancy Tousley Gordon Smith: Recent Work By Maria Tippett Robert Scott By Karen Wilkin Judith Schwartz By Gary Michael Dault The History of Culture X: A Psychiatric Fantasy By Henry Lehmann Paul-Emile Borduas: Ecrits, Volume 1 By Ramsay Cook The Winnipeg Perspective 1988: Theatre/Tableaux By Janis Runge Complex Objects, Simple Forms By Robin Laurence Purloined Portraits By Meeka Walsh Cover: The new director of the National Gallery in the Gallery's brand-new quarters. Photo by Richard Desmarais.