Summer 1987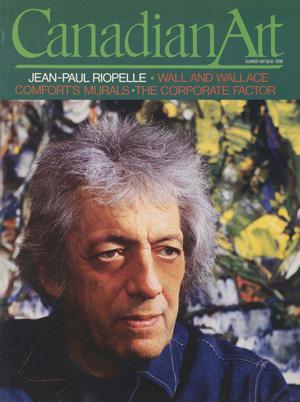 On newsstands June 15 to September 14, 1987
Volume 4, Number 2
Features
The Lion in Autumn
The magical past and clouded present of Jean-Paul Riopelle. The artist at home and abroad.
By Lisa Rochon
Outsiders In
Vancouver artists Jeff Wall and Ian Wallace make photo-based works attuned to the concerns of European curators.
By Peggy Gale
Enigma Variations
Pierre Théberge dreams up crowd-pleasing major attractions for The Montreal Museum of Fine Arts.
By Adele Freedman
Mural Roots
Charles Comfort's murals for the 1937 Toronto Stock Exchange building preserve a post-Depression belief in industry.
By Rosemary Donegan
Mas' Appeal
Island to island artists bring Trinidad-style political savvy to Toronto's Caribana.
By Marni Jackson
Big Brother, Can You Spare a Dime?
Cultural marketing and the high-stakes give and take of corporate funding to the arts.
By Carol Off
Collage
A sneak preview of the new National Gallery of Canada in Ottawa, the shake-up at the Vancouver Art Gallery, Canadians go to Documenta 8, The Power Plant lights up, a tussle over the new Mackenzie Art Gallery in Regina, and a look at Elizabeth Chitty's performance project.
This Summer
AA Bronson's underground history of artists' events, Carol Wainio in Montreal, Winnipeg relives 1912, "The Girls" revisisted, two generations of Alberta painters, Weegee, Betty Goodwin and Bruce McLean.
Point of View
Confessions of an art addict.
By Peter Gzowski
Reviews
Jocelyne Alloucherie/Claude Mongrain
By George Bogardi
Morbid Symptoms: Arcadia and the French Revolution/Genius Loci
By Peggy Gale
Rockwell Kent: The Newfoundland Work
By Ron Shuebrook
Horatio Walker, 1858–1938
By Tom Smart
Quoi Faire? Quoi Dire? Jacques Arsenault, Paul Bourque, Hermenegilde Chiasson, Yvon Gallant
By Ian Wiseman
Visionary Apparatus: Michael Snow and Juan Geuer
By David Bonetti
Robert Youds
By Linda Genereux
David Clarkson
By Linda Genereux
Robert Bowers
By Karen Wilkin
American Folk Art: Expressions of a New Spirit
By Gloria Hickey
Culture's Nature: Landscape in the Art of Gerald Ferguson, Douglas Kirton, Jeffrey Spalding and David Thauberger
By Nancy Tousley
Allan Sekula Geography Lesson: Canadian Notes
By Gerald Peary
Ten Years Later: CAG 10th Anniversary Exhibition
By Erich Ranfft
Colette Whiten
By Connie Hitzeroth
Tomiyo Sasaki: Four Video Installations
By Margaret Allan
Cover: Jean-Paul Riopelle, in front of one of his '60s palette-knife paintings, at a friend's home in Montreal. Photo by Basil Zarov.