Summer 1986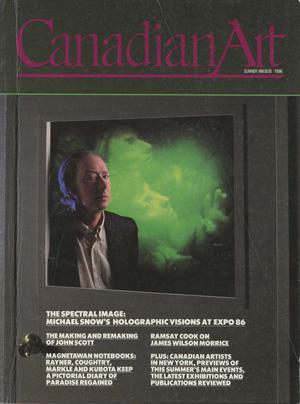 On newsstands June 15 to September 14, 1986
Volume 3, Number 2
Features
The Making and Remaking of John Scott
The multi-faceted creator of vulnerable bunny people, instruments of space-age doom and startling gender transformations. By Jay Scott
The Hard-Won Simplicity of David Bolduc
Artist and author examine new canvases rich in burning light. By John Metcalf
Ghost Lustres
Michael Snow's brilliant holographic images form a must-see high point of Expo 86. By René Blouin
The Gentle Odyssey of James Wilson Morrice
A Victorian master's passage through more tranquil days. By Ramsay Cook
Magnetawan Notebooks
Rayner, Coughtry, Markle and Kubota at work and play in the woods. Produced by Gary Michael Dault
Canadian Artists in New York
Big city, high stakes, hard sell and the obligatory disco-of-the-week. By Ross Skoggard
Collage
Closed doors for Canadians abroad, Icarus gets airborne, Molson's golden rules for public art, the Vancouver Art Gallery keeps its head and an update on the Montreal museum-go-round.
This Summer
Previews of exhibitions at Expo and elsewhere on our western shores, Riopelle at Gallery Moos, General Idea hits the road and China in Regina.
Book Reviews
In praise of exhibition catalogues, a massive study of Impressionism, a Harold Rosenberg collection, lives of female Surrealists and Avedon's anguished annals of the American West.
Art & Money
Carol Off documents the riches-to-riches story of the National Gallery of Canada's Vatican Splendour.
Reviews
Betty Goodwin: Passages By Serge Bérard Jack Bush: Early Works/Jack Bush on Paper: Works from 1949-1975 By Gary Michael Dault Luminous Sites: 10 Video Installations By Renee Baert Graham Metson: Wartime By Heather Laskey Natalka Husar: Behind the Irony Curtain By Marshall Webb Spaces and Places: Eight Decades of Landscape Painting in Alberta By Liz Wylie Convergence of Metamorphoses By Nancy Tousley John MacGregor: New Sculpture By Hans Werner New Canadian Sculptural Ceramics By Ian Wiseman Michaelangelo Pistoletto: The Orchestra of Rags/Dennis Oppenheim Launching Structure #2 and Janice Kounellis: Untitled Installtion/Tom Dean: Excerpts from a Description of the Universe 2 By AA Bronson Cover: Michael Snow emerges from a group of holographic phantoms - part of his epic creation, The Spectral Image, on show at Expo 86. Photo by Michael Pilon.